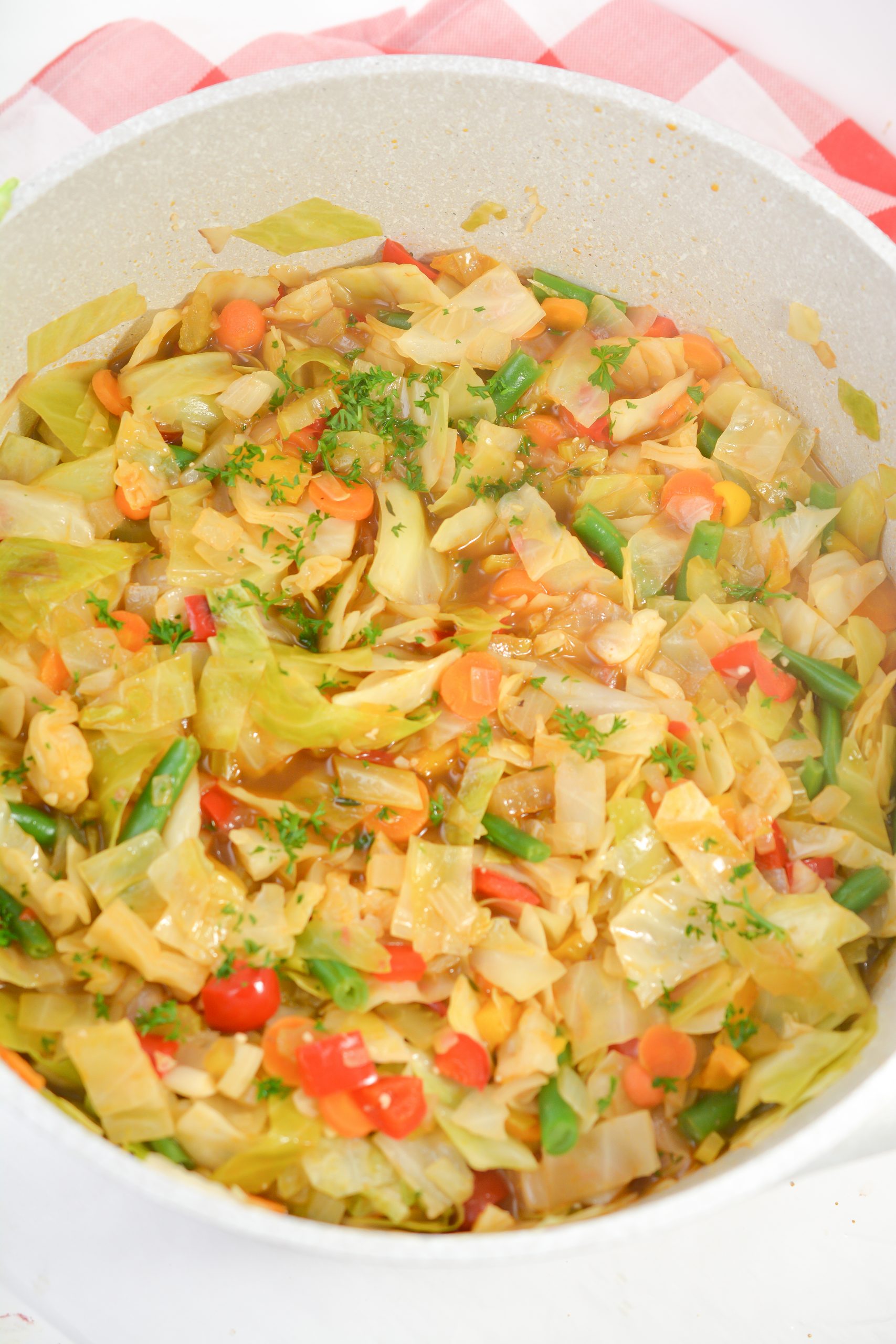 When it comes to healthy meals and calorie watching recipes you may want to go ahead and add this one to your Pinterest board right now! If you are a soup lover and like to eat healthy and nutritious meals, this one's for you.
There are so many reasons why you need to try the famous, Weight Watchers Zero Point Cabbage Soup. Most people are drawn to this recipe for one reason only — the minimal calories! If you are following the Weight Watchers plan this Zero Point Cabbage Soup is a must to add to your weekly menu. If you haven't tried it well, today is the day to head to the grocery store and stock up. Not only is it filling but it's yummy comfort food and so easy to make. Not to mention, all it is is Zero Smart Points. Yes, Zero!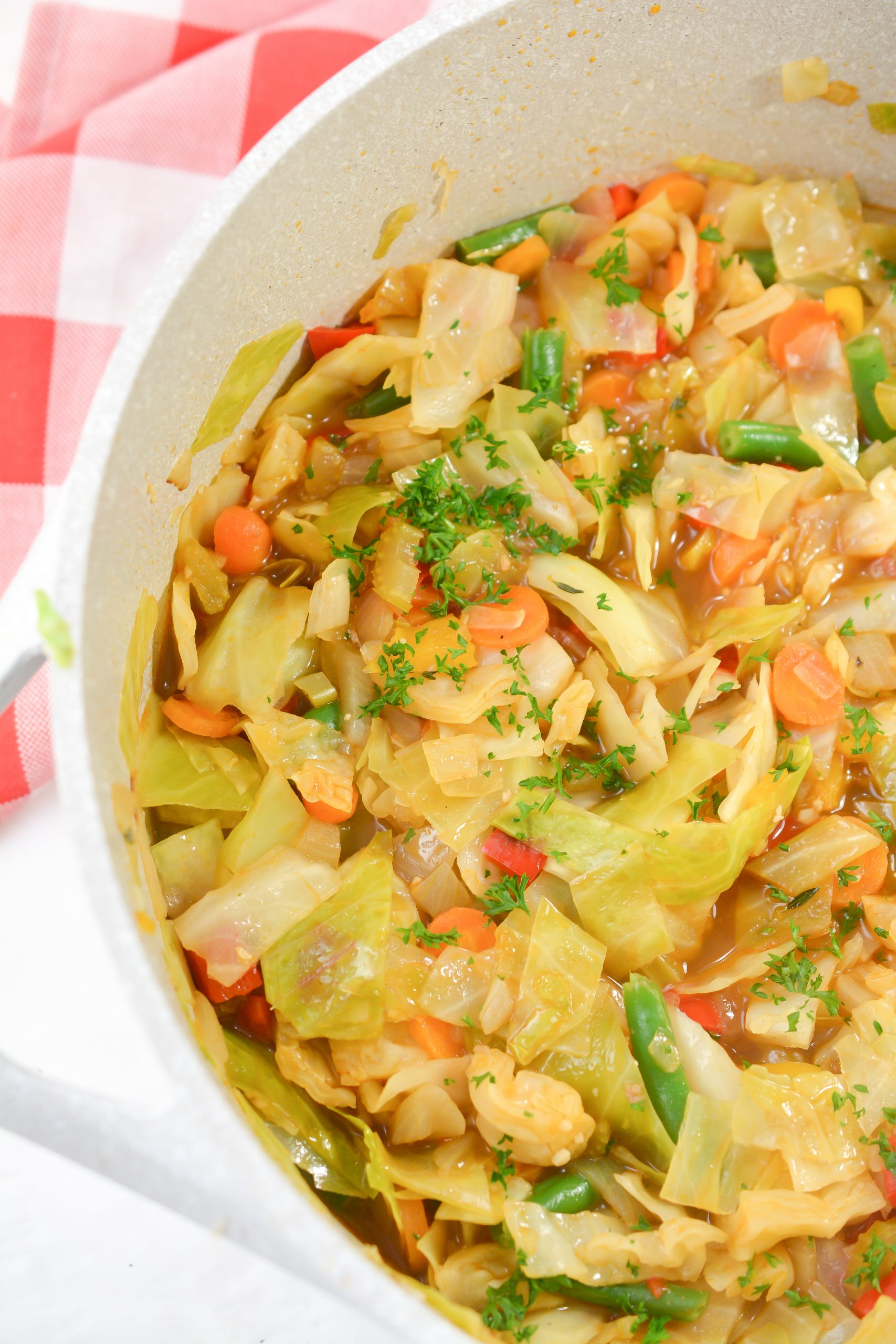 This version of cabbage soup has been around for years! Do you remember the cabbage soup diet fad? Perhaps they got some inspiration from it! But let's not let that stop you from trying this delicious soup. If you aren't counting calories as closely you could even have this soup on the side of your steak or another dinner entree. It can be served as an appetizer or alone because it's absolutely a full dinner itself. It will fill you right up.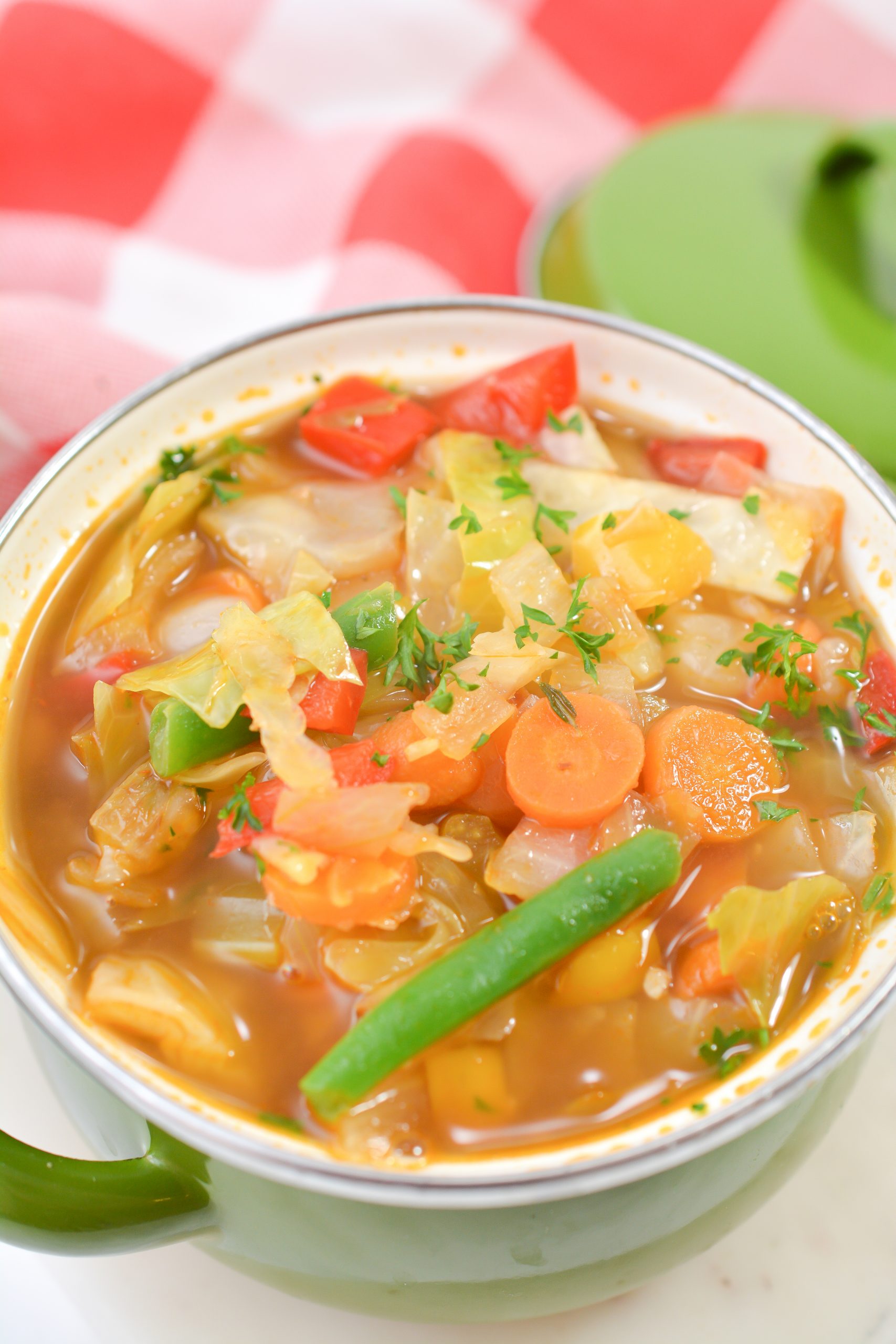 Many soups can be bland but this recipe is tasty and fresh! It's packed full of vegetables like carrots, celery, red and yellow bell peppers, and green beans to name a few of the favorites. And it's packing the bunch with the flavorful species! It truly is the perfect soup when counting points and waiting until a special occasion to use your Weight Watchers Smart Points.
You can eat as much as you want without hitting your points. Let's also not forget the nutritional benefit behind this soup. All of the vegetables make it such a great healthy meal.  Are you wondering about the base? Well, in addition to the fresh vegetables the base is made with oh-so-sweet tomato paste and salty beef stock. Sweet and salty is the perfect mix.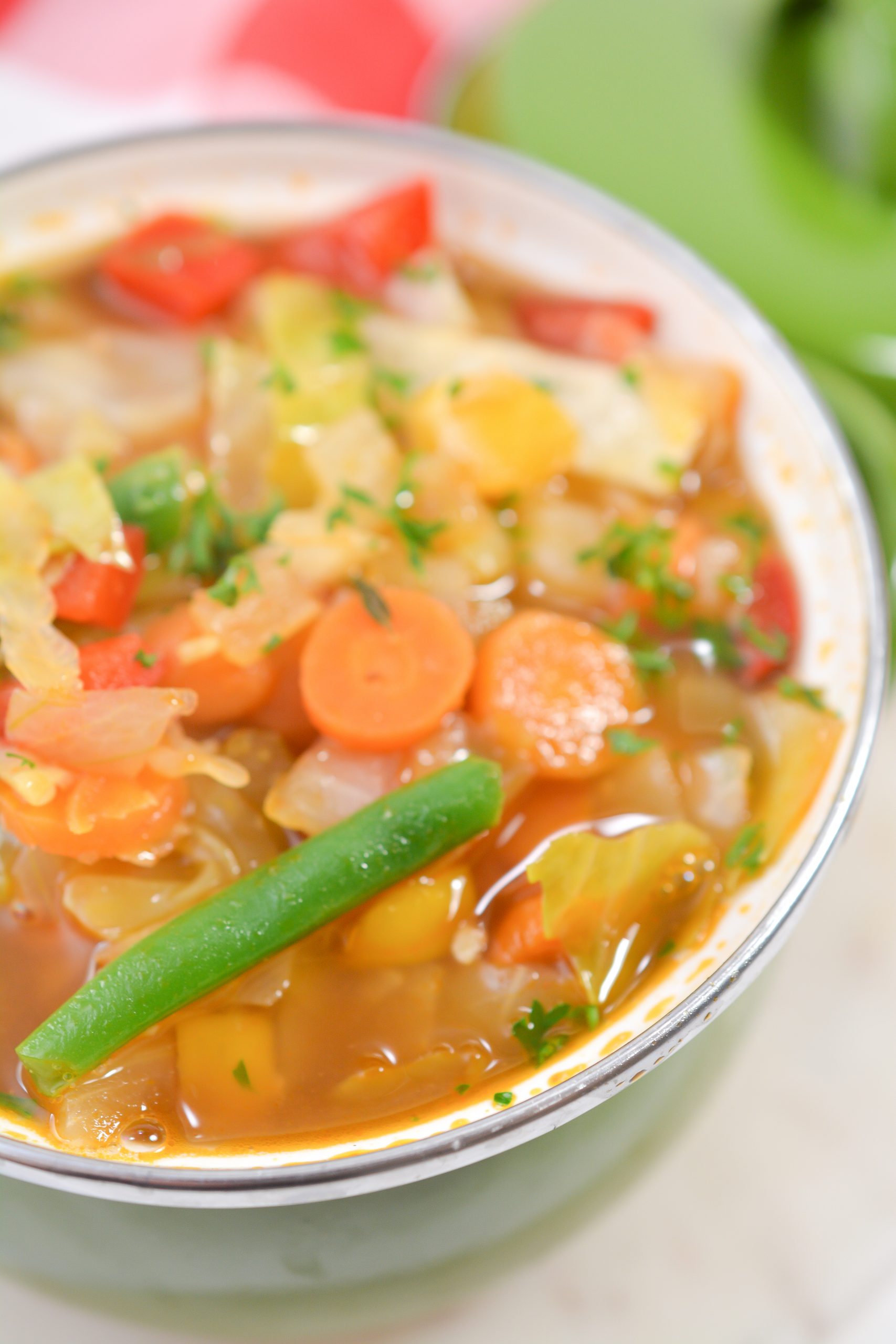 Keep in mind when making soup you don't have to stick to just one cooking method. There are multiple ways you can put together soup. From stovetop to slow cooker or even the Instant Pot. They are all just so easy and any option works for this Zero Point Cabbage Soup. No cabbage soups are alike but this one is a for sure must-try. You definitely need it in your life!
It is so easy and hardly takes any time. It's a great meal to prep on the weekends and has leftovers throughout the week. When it comes to meal prep, this recipe would be perfect to add to your meal planning each month. Especially because of the calories! 
Did you make it? Tell us just how it went in the comment section below. Let us know. Enjoy!
Yield: 6
Zero Point Cabbage Soup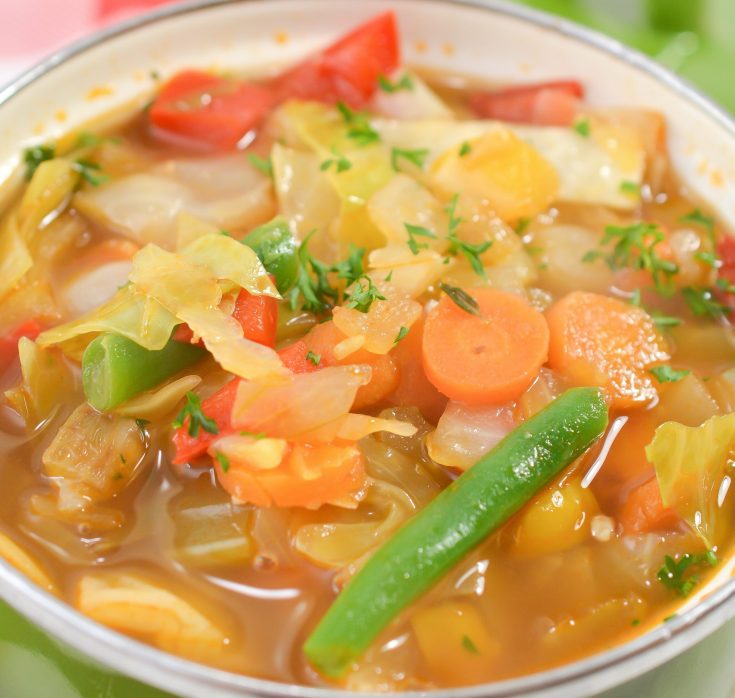 Ingredients
1 Medium heat of cabbage chopped
2 Tbsp. Olive oil
2 Small onions chopped
1-2 C. Carrots chopped
3 Sticks of celery chopped
Small red bell pepper chopped
Small yellow bell pepper chopped
3 tsp. Minced garlic
3 C. Beef broth
1 Tbsp. Tomato paste
½ C. Green beans cut into pieces
Salt and pepper to taste
Fresh thyme to taste
Instructions
Heat the olive oil over medium high heat on the stove.
Add the onions, carrots, celery and bell peppers to the large saucepan with the heated oil, and stir to combine. Cook for 6-7 minutes.
Mix the minced garlic, thyme, salt and pepper as well as the tomato paste into the saucepan, and stir to combine.
Saute another minute.
Pour in the broth and cabbage, bring to a boil, reduce the heat to low and then simmer for 10-12 minutes.
Stir in the green beans and cook for 3-4 minutes until they have softened.
Enjoy!
Notes
WEIGHT WATCHERS POINTS INFO :
Freestyle plan  –  0 SmartPoints per portion
WW Blue plan  –  0 SmartPoints per portion
WW Purple plan  –  0 SmartPoints per portion
WW Green plan  –  0 SmartPoints per portion
Now, remember to save this recipe on Pinterest for later 🙂