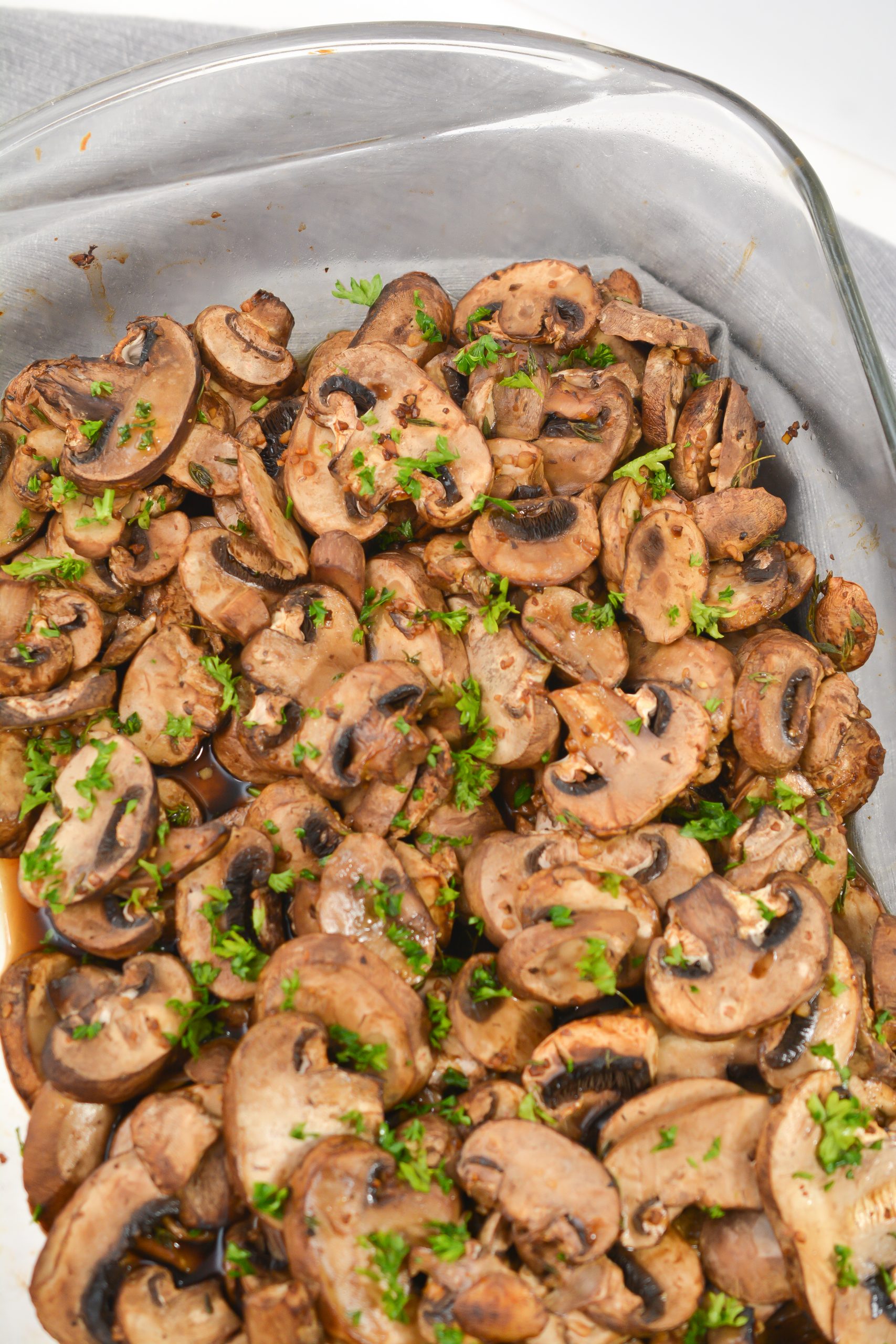 Where are the mushroom lovers? If you are looking for a drool-worthy side you don't need to look any further. This is the best one yet when it comes to the perfect side.
These Balsamic Roasted Garlic Mushrooms will literally melt in your mouth. Tossed in a combination of garlic, dried herbs, olive oil, and balsamic vinegar and roasted until they are so tender. The texture is just too good to describe and the bold flavor is perfectly caramelized perfection. You won't even believe it until you try these Balsamic Roasted Garlic Mushrooms!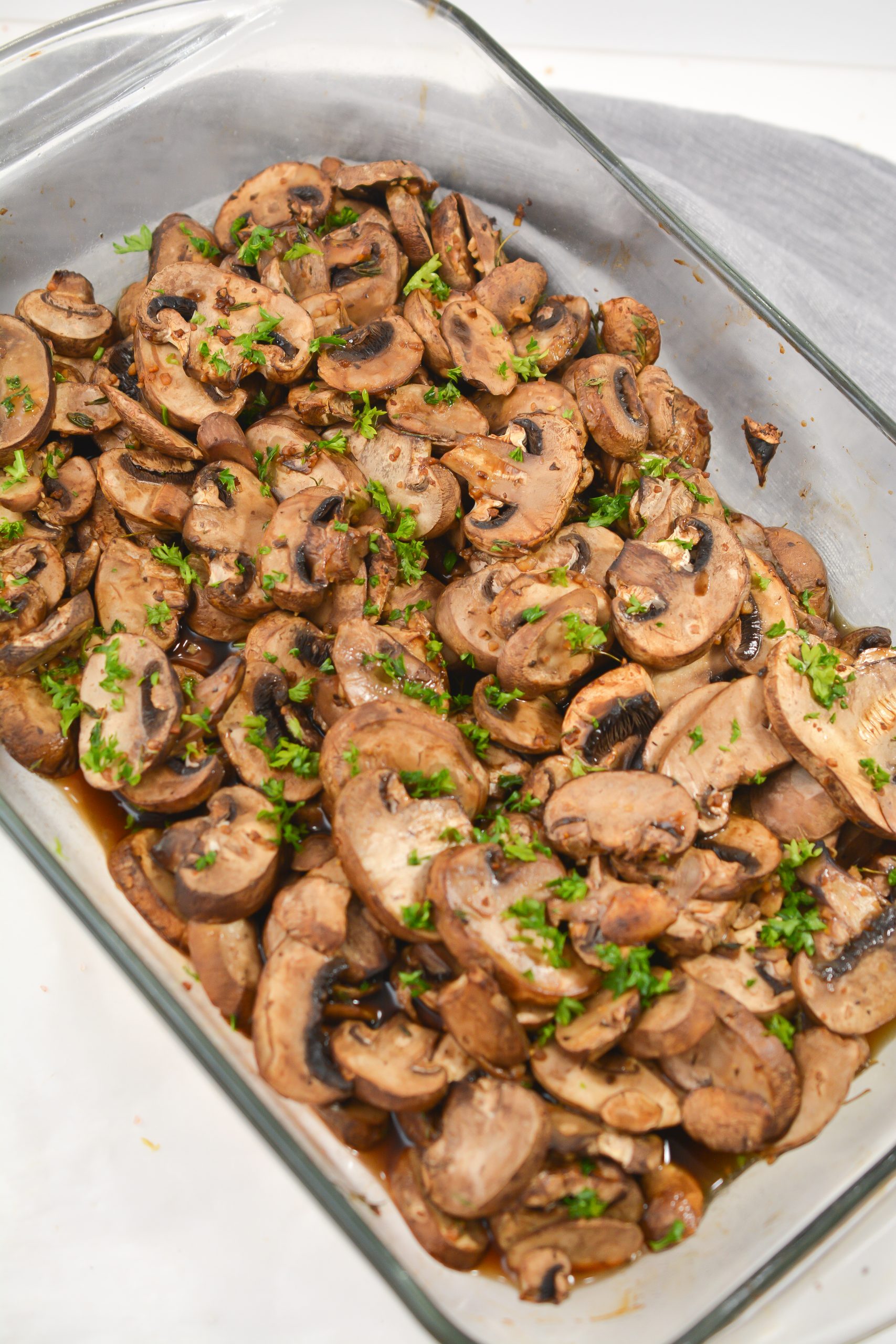 They are hands down the best side when you are looking for quick weeknight dinners because they are ready in 30 minutes! Just 30 minutes. What's not to love?
The roasted mushrooms will soon be a side you will want at all of your family dinners. It pairs so well with steak, chicken, pork chops, or pork loin. It truly goes well with just about anything you make for dinner. You can even put them on top of your meat to bring it up a notch! And you can make the dish multiple ways if you don't want to follow the recipe and roast them on the stove. If you don't feel like turning on the oven you have options. You could roast them on your grill in your backyard or even cook them in a large skillet.
Keep in mind if you cook them in a large skillet they might not have those crispy edges you get when roasted them in the oven. However, you can saute them just as easily on the stovetop for about 10-15 minutes over medium heat. They are just as good no matter how you cook them. The flavor is still beyond delicious!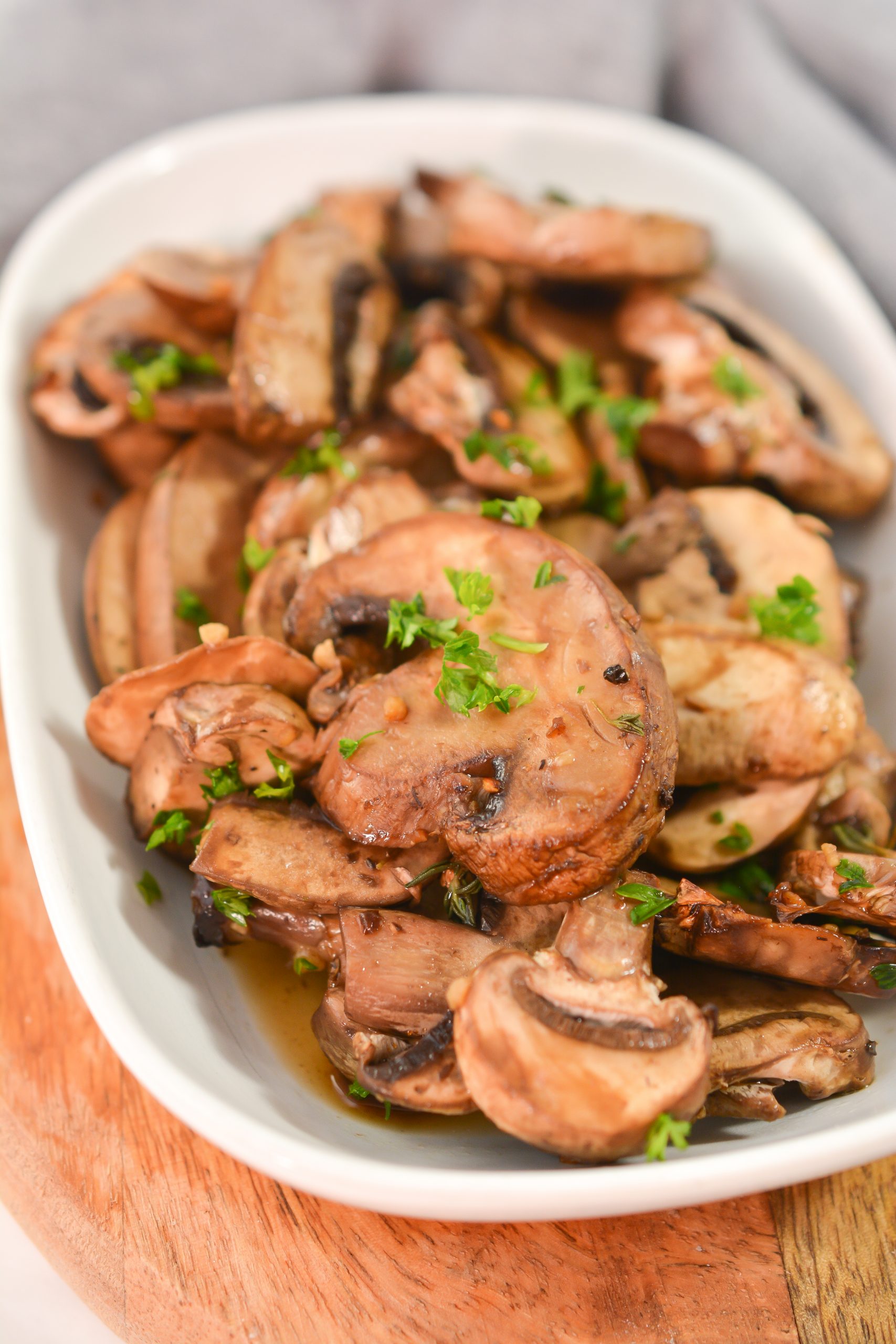 Not only are they done in just 30 minutes but you only need eight ingredients. Anything that is quick and easy and doesn't break your budget at the grocery store is always a plus. If you want to be extra fancy you can even add fresh herbs from your garden to this recipe. It's the perfect touch to be able to pull herbs from your garden and add them to a recipe.
You will definitely want to make sure you keep these recipe ingredients on hand always because it will soon be a staple side in your home. And honestly, you will most of the time want to make double the recipe because you will be surprised how quickly you eat them up! If you do happen to have leftovers just make sure you store them in an airtight container in a refrigerator. They will need to be eaten within 3-5 days.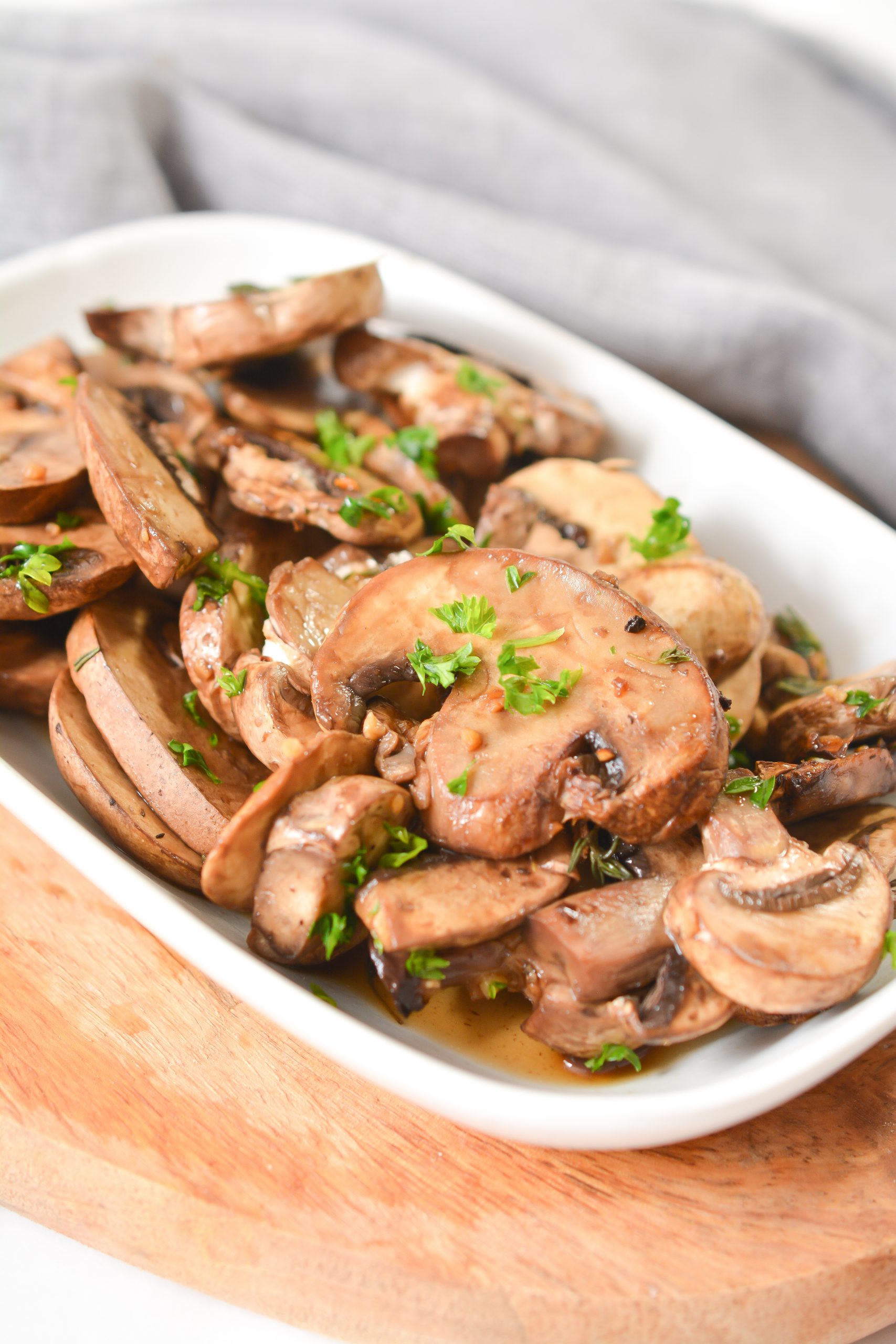 This side dish is perfect for every occasion, from your next dinner party you are hosting to a holiday spread to just an ordinary everyday dinner. You will soon fall in love with this mushroom side and count down to the next time you are making them!
Did you make it? Tell us just how it went in the comment section below. Let us know. Enjoy!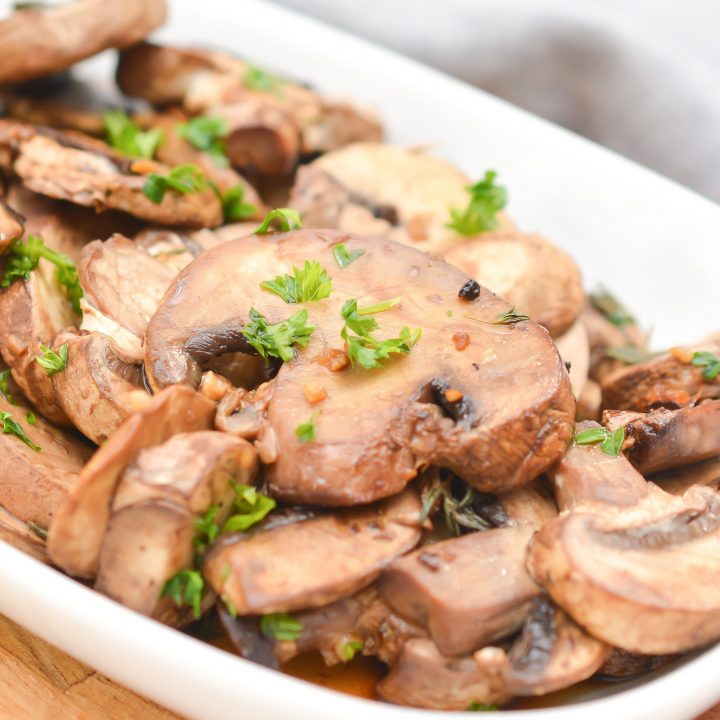 Balsamic Roasted Garlic Mushrooms
Ingredients
2 lbs. Sliced mushrooms
3 Tbsp. Balsamic vinegar
1 Tbsp. Olive oil
3 tsp. Minced garlic
2 Tbsp. Soy sauce
½ tsp. Fresh chopped thyme
Salt and pepper
Parsley for garnish
Instructions
Preheat the oven to 400 degrees.
Place the sliced mushrooms, balsamic vinegar, olive oil, minced garlic, soy sauce, thyme and salt and pepper to taste in a large mixing bowl, and stir to combine well.
Pour the mushrooms into a well greased roasting pan or casserole dish, and bake for 20 minutes, or until the mushrooms are tender to your liking.
Garnish with freshly chopped parsley before serving.
Notes
WEIGHT WATCHERS POINTS INFO :
 BLUE POINTS: 4
GREEN POINTS: 6
PURPLE POINTS: 4
SMART POINTS : 2
Nutrition Information
Amount Per Serving
Calories

89
Total Fat

4.1g
Saturated Fat

0g
Trans Fat

0g
Cholesterol

0mg
Sodium

465mg
Carbohydrates

9g
Fiber

2.4g
Sugar

4.1g
Protein

7.8g
Now, remember to save this recipe on Pinterest for later 🙂