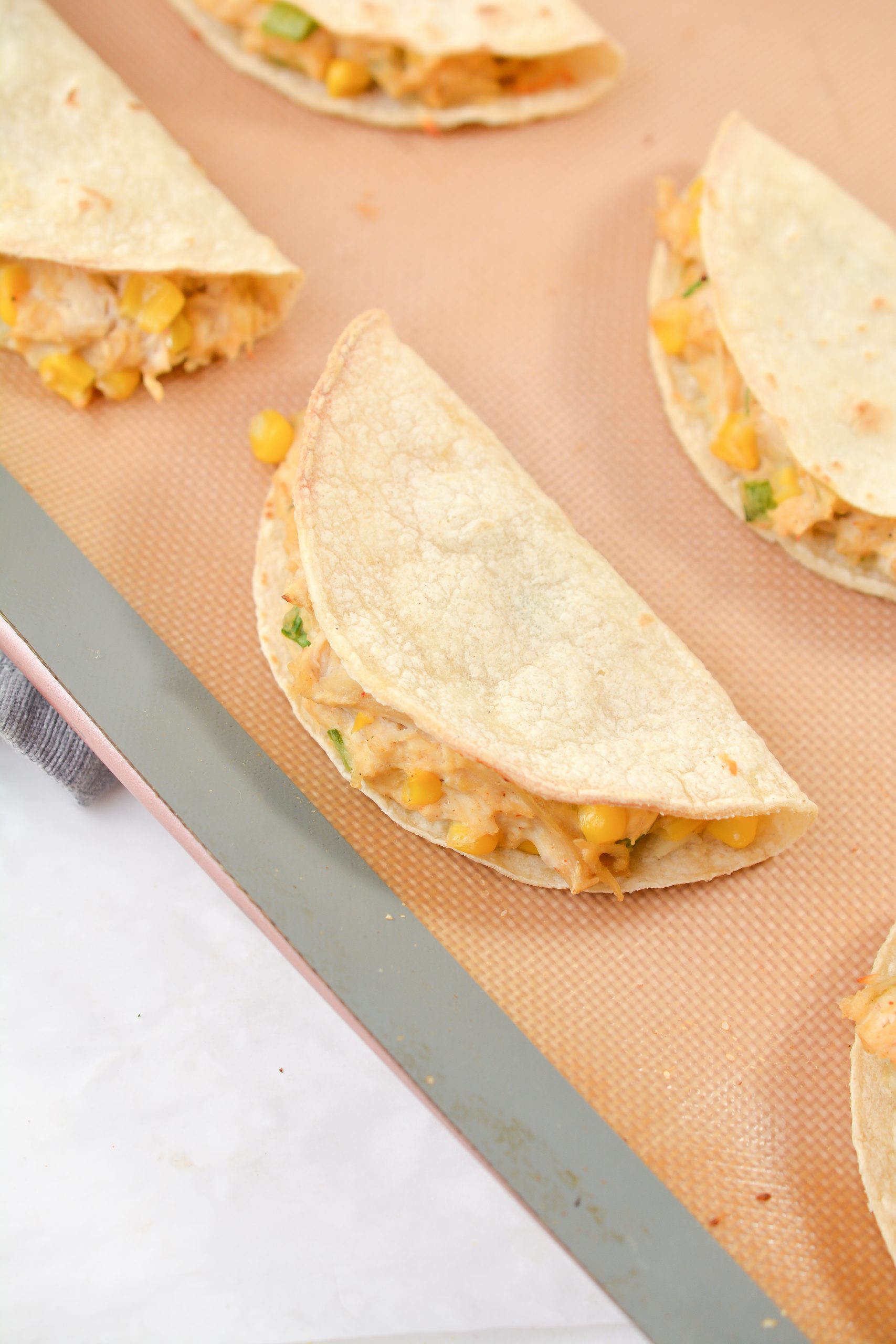 Who doesn't love tacos? They are everyone's favorite! Most could eat tacos, chips, and salsa every day. And well, this is just another recipe to add to that list of favorites. Whether you are looking for the next best easy dinner for Taco Tuesday or you just want something delicious for dinner, look no further!
White Chicken Chili Tacos will be your new favorite dish for a weeknight family favorite. You will most likely have a new chicken taco addition after you make these. It is the best tacos ever! Make sure you prepare extra because you will need them. You will want them for leftovers and that is a promise.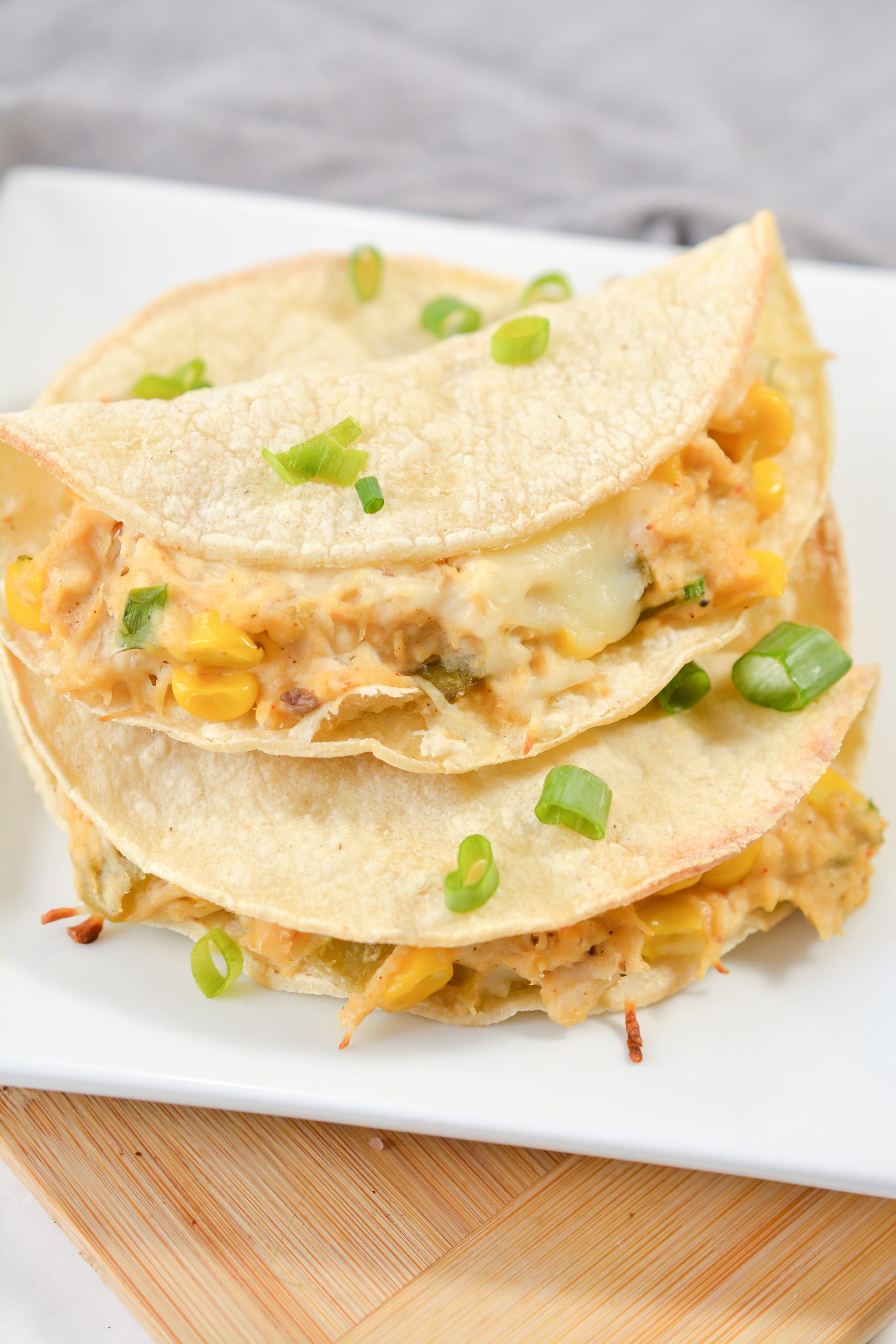 Any recipe where you can have options is always a plus. Just because this recipe called for the oven doesn't mean that is the only option. You can always let it simmer in the crockpot all day which is just as good. It's a great option if you need to think ahead and make sure dinner is ready on time before your workday. It is just so delicious on a cold day! Not to mention, it's family-friendly and kid-approved. Everyone can personalize it on their own by adding their favorite toppings to the tacos too. If they want! It's always an option with tacos. But, one thing is that it will for sure be devoured quickly by everyone at the table.
They are just so easy to make and you will easily be wanting to make them once a week. The chicken is just super juicy and delicious making it amazing for flavorful leftovers throughout the week. And if you want to take it up a notch you could make cornbread on the side or some tortilla chips, salsa, and guacamole. They are all a great addition to this yummy meal.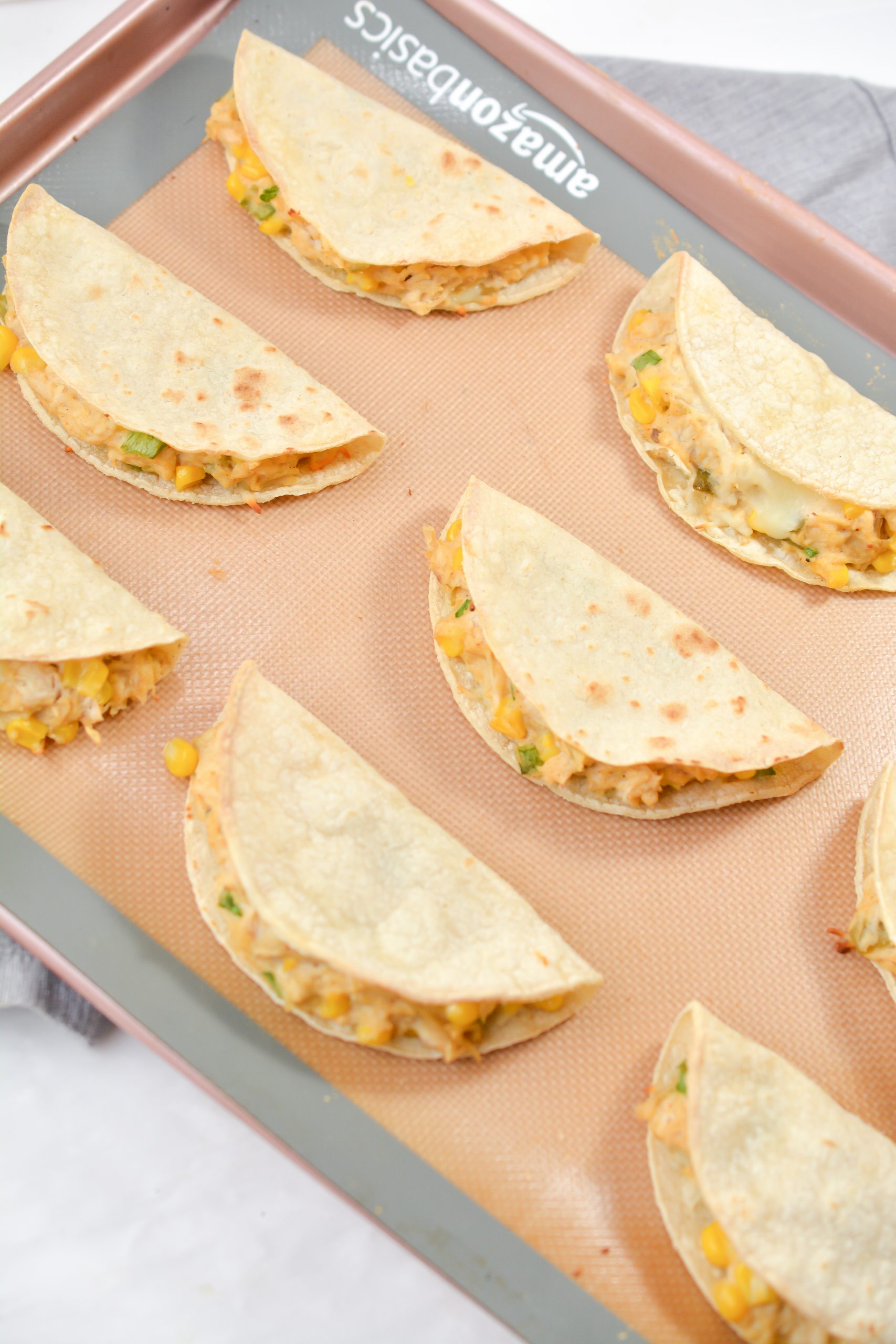 This is also a go-to recipe if you are having a festive fiesta dinner party or guest over. You can make large amounts easily and it won't go to waste. It's so good to the last drop! If you are creating a taco bar at your dinner party, these White Chicken Chili Tacos would be a great addition to your spread. 
While this recipe is only 2 Weight Watchers points, you can always make it paleo too. Instead of tortillas, you can use paleo-friendly tortillas or even lettuce wraps. Lettuce wraps are a very healthy alternative! At the end of the day, when it comes to dinner time this will hand down be your new favorite White Chicken Chili Taco recipe that will be on your table weekly. Or more with leftovers!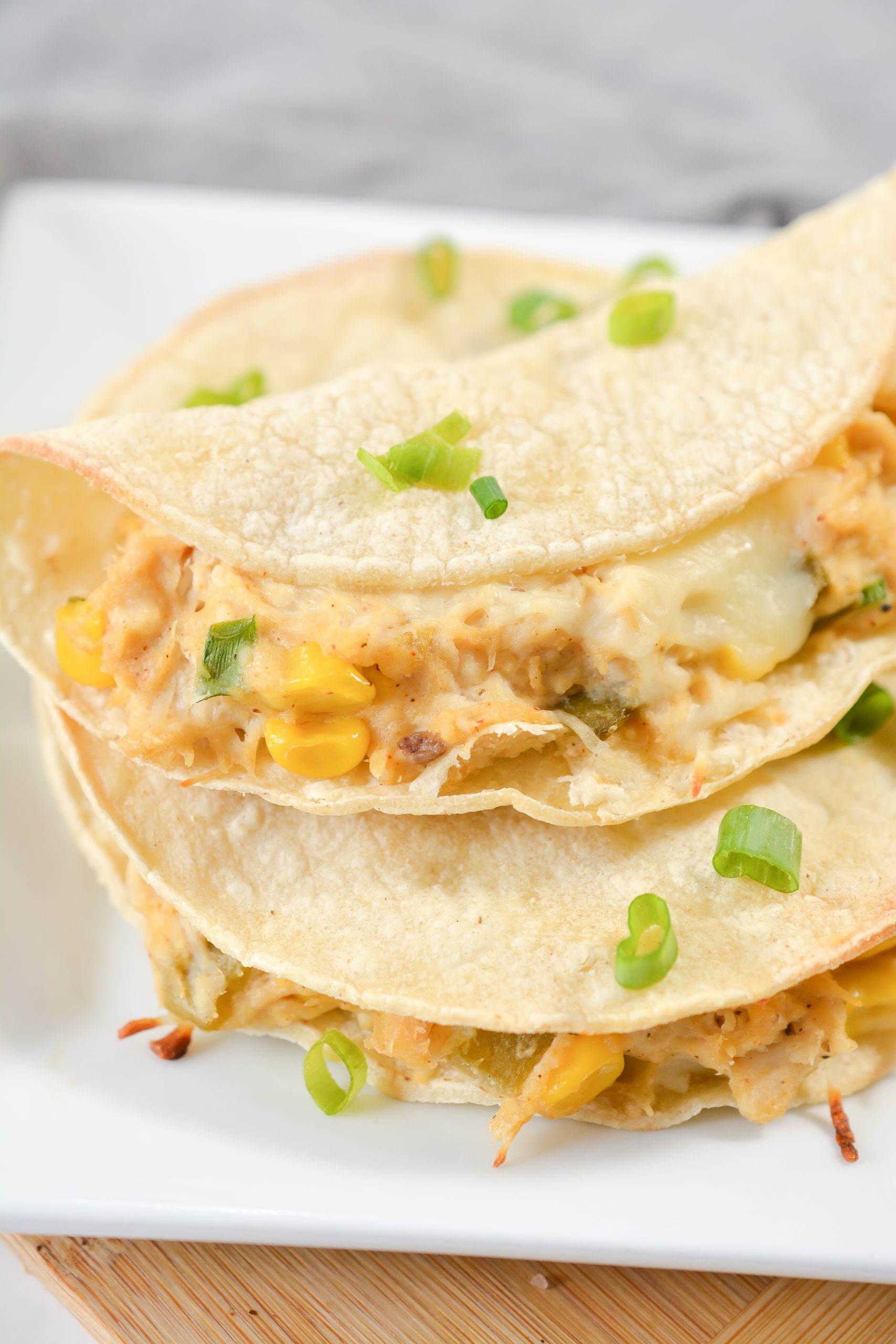 Did you make it? Tell us just how it went in the comment section below. Did you serve cornbread with it? Did you have leftovers? Let us know. Enjoy!
Yield: 14
White Chicken Chili Tacos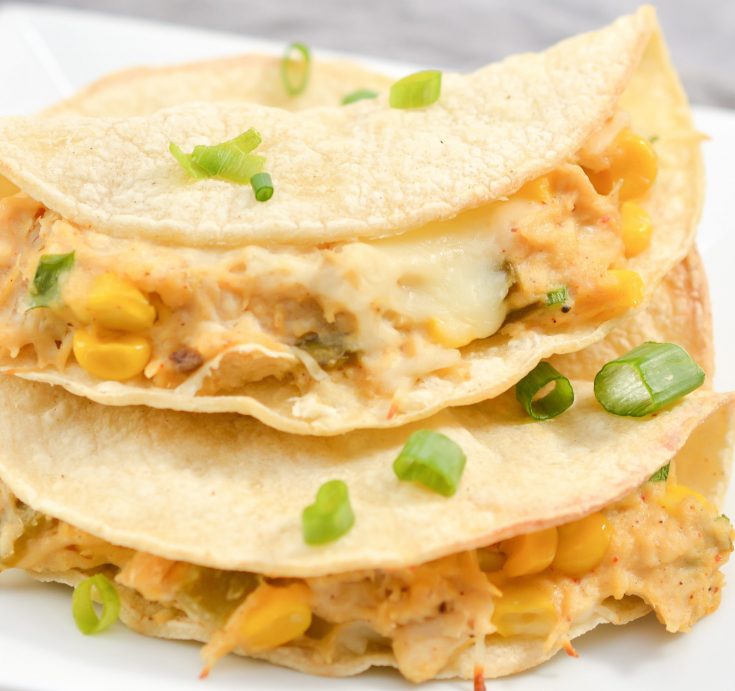 Ingredients
14 Small corn tortillas
1 ½ Tbsp. All purpose flour
1 Tbsp. Butter unsalted
¼ C. Sour cream light
½ C. Skim milk
½ C. Chicken broth
1 Tbsp. Chopped canned green chilis
¼ tsp. Cumin
¼ tsp. Chili powder
Salt and pepper to taste
8 oz. Shredded chicken
¾ C. Frozen corn
¼ C. Green onions
3.5 oz. Shredded mozzareella cheese
Instructions
Preheat the oven to 400 degrees.
Add the butter to a saucepan over medium heat on the stove
Stir the flour into the melted butter in the saucepan, and cook for about a minute.
Slowly whisk in the milk, chicken broth, cumin, green chilis, chili powder, sour cream and salt and pepper to taste.
Cotinue to simmer the sauce until it thickens.
Place the shredded chicken, corn and green onions in a mixing bowl.
Pour the sauce over the chicken mixture, and stir to combine.
Heat the tortillas on both sides in a skillet over medium heat on the stove.
Fill one half of the tortillas with some of the chicken mixture, top with a tablespoon of shredded cheese, and fold the second half of the tortillas over the filling to form a taco.
Place the tacos on a baking sheet and bake for 12-15 minutes.
Enjoy!
Notes
WEIGHT WATCHERS POINTS INFO :
Freestyle Smart Points - 2 
(blue & purple) 2 Points
(green) 3 Points
Nutrition Information:
Yield:
14
Amount Per Serving:
Calories:

102
Total Fat:

3.3g
Saturated Fat:

0.8g
Carbohydrates:

10.8g
Fiber:

1.4g
Sugar:

2.1g
Protein:

7.2g
Now, remember to save this recipe on Pinterest for later 🙂