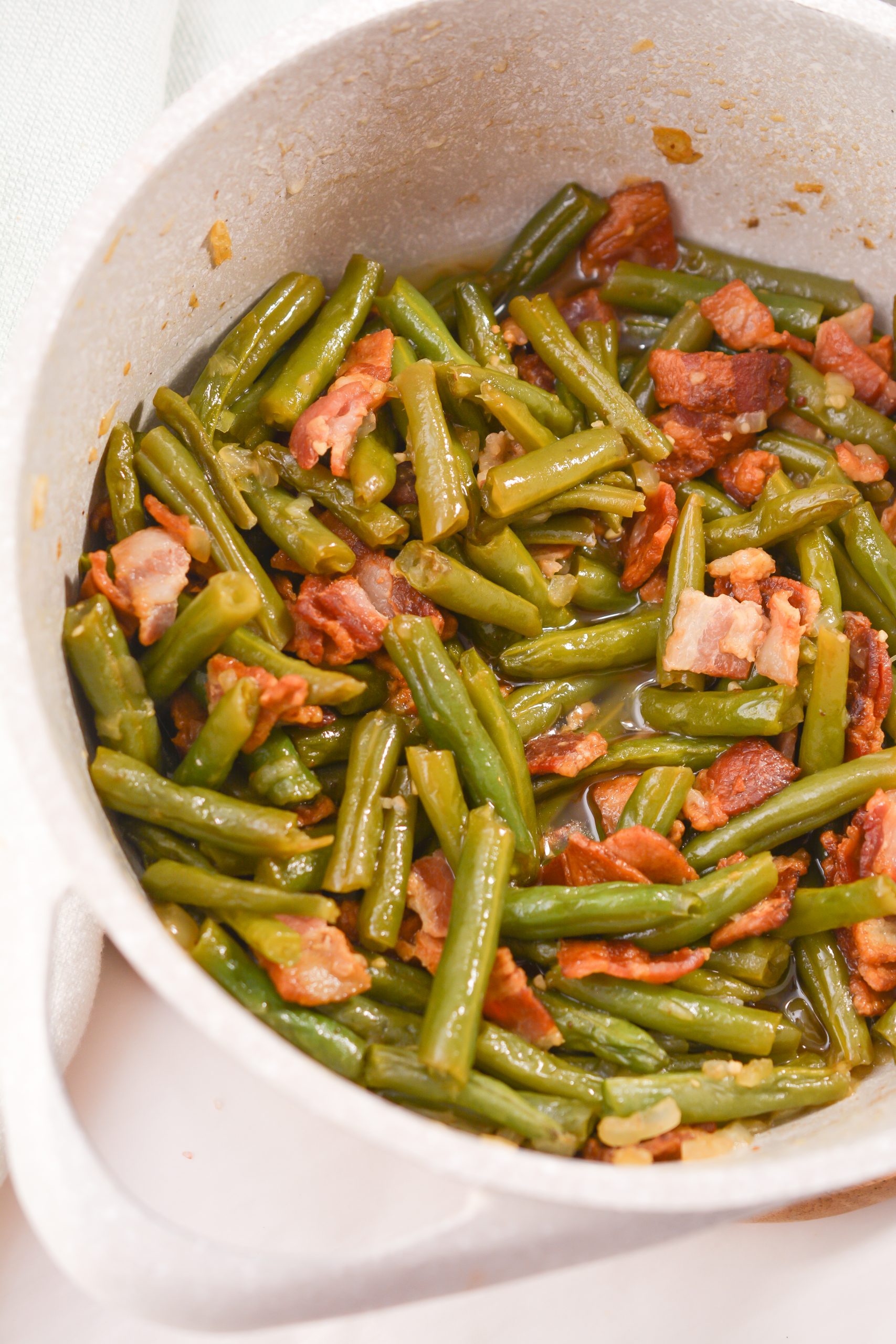 This isn't just another green bean casserole. It's not one you will find on the back of a green bean can either. There is just something about fresh green beans with a robust bacon and garlic flavor. Is your mouth-watering yet? This will soon be your most requested recipe after your guest leaves the table and cleans their plate.
They will be begging you for every detail of just how you made these green beans. It is just super easy to make if you have a potluck around the corner. They are SO good!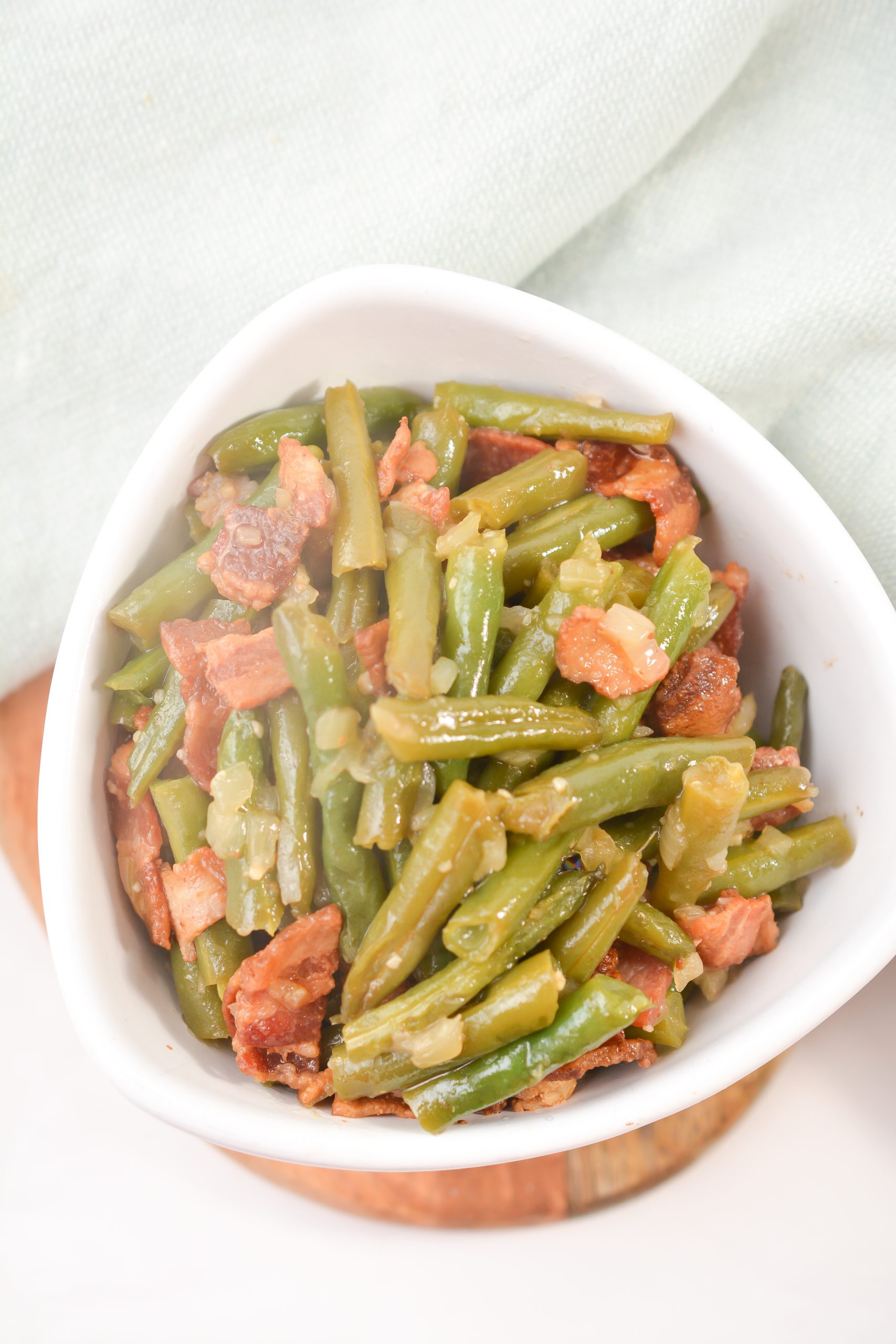 Sometimes you just don't want to serve the same green bean casserole. It gets old serving the same one each Thanksgiving, doesn't it? Well no matter what holiday it is, Smothered Green Beans needs to be on your menu. It doesn't necessarily need to be a holiday to make this dish either. You can always add it as a side to any dinner. It pairs well with steak, salmon, chicken or pork loin, and even rice. It goes well with the Hearty and Tasty Chicken Stuffing.
It's so easy to make, it doesn't need to be a holiday to pull out this recipe. The Smothered Green Bean is so simple and anyone can make this dish. Your kids could even help! Not only can anyone make it but everyone will be asking for seconds.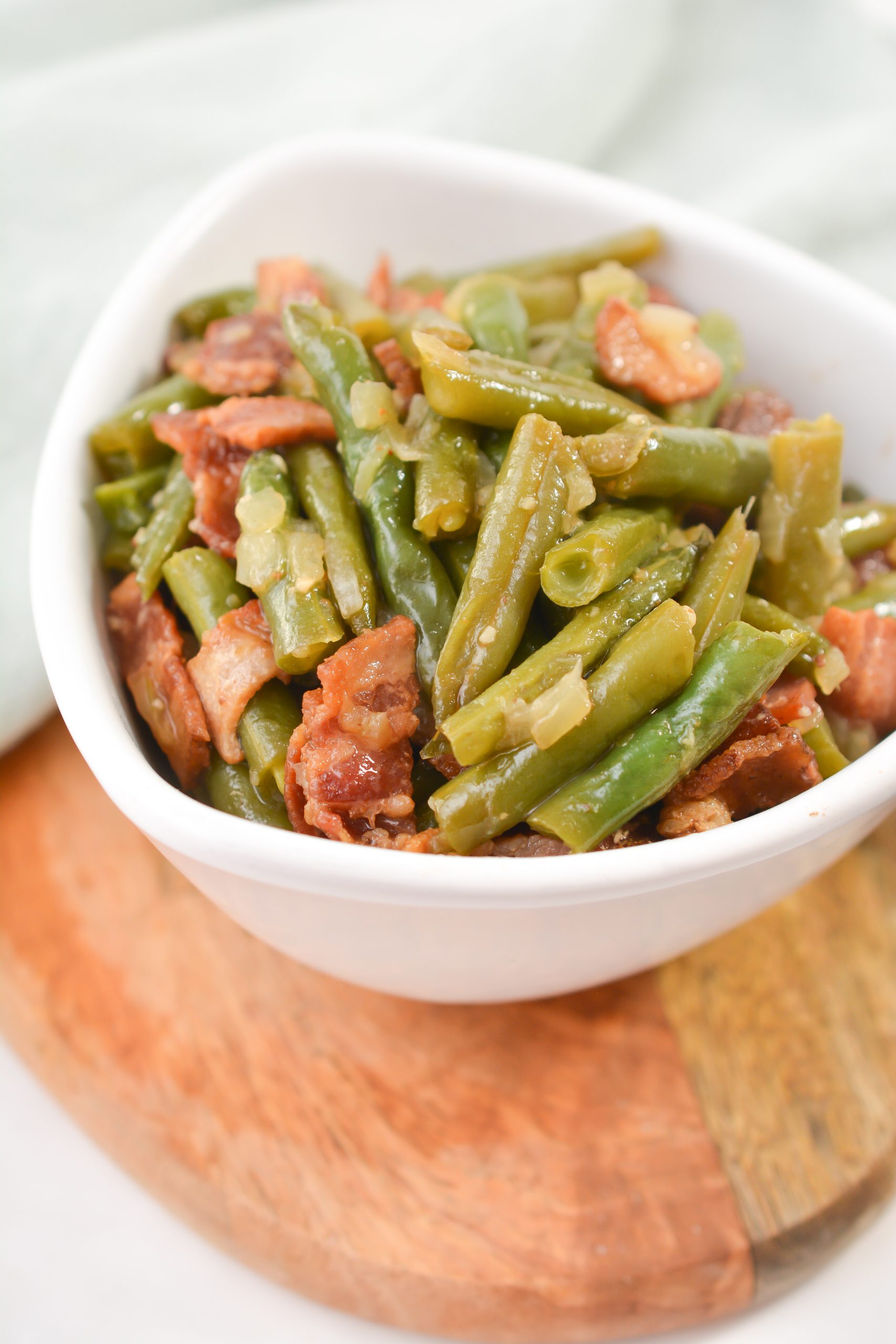 The best part about Smothered Green Beans is you don't need to prepare for this side. It takes only minutes to put it together. Yes, minutes! It's easy to throw in the pan while you are preparing your other recipes. If you want, you can even prepare the bacon ahead of time and your Smothered Green Beans would be ready to serve in just minutes from stove top to table. It doesn't get much better right? A delicious side dish in minutes! Who wants boring green beans anyway. This recipe will truly speak for itself. This is definitely the one that will have you coming back for seconds and even thirds. You will have plenty of rave reviews from your family or dinner guests. 
Maybe you want to use them to make a full dinner with your Smothered Green Beans? Here are just a few ways you can. Try adding in meatballs, kielbasa, and even Italian sausage would be deliciously mixed in with the green beans. They are all easy dinner ideas that really make this dish complete!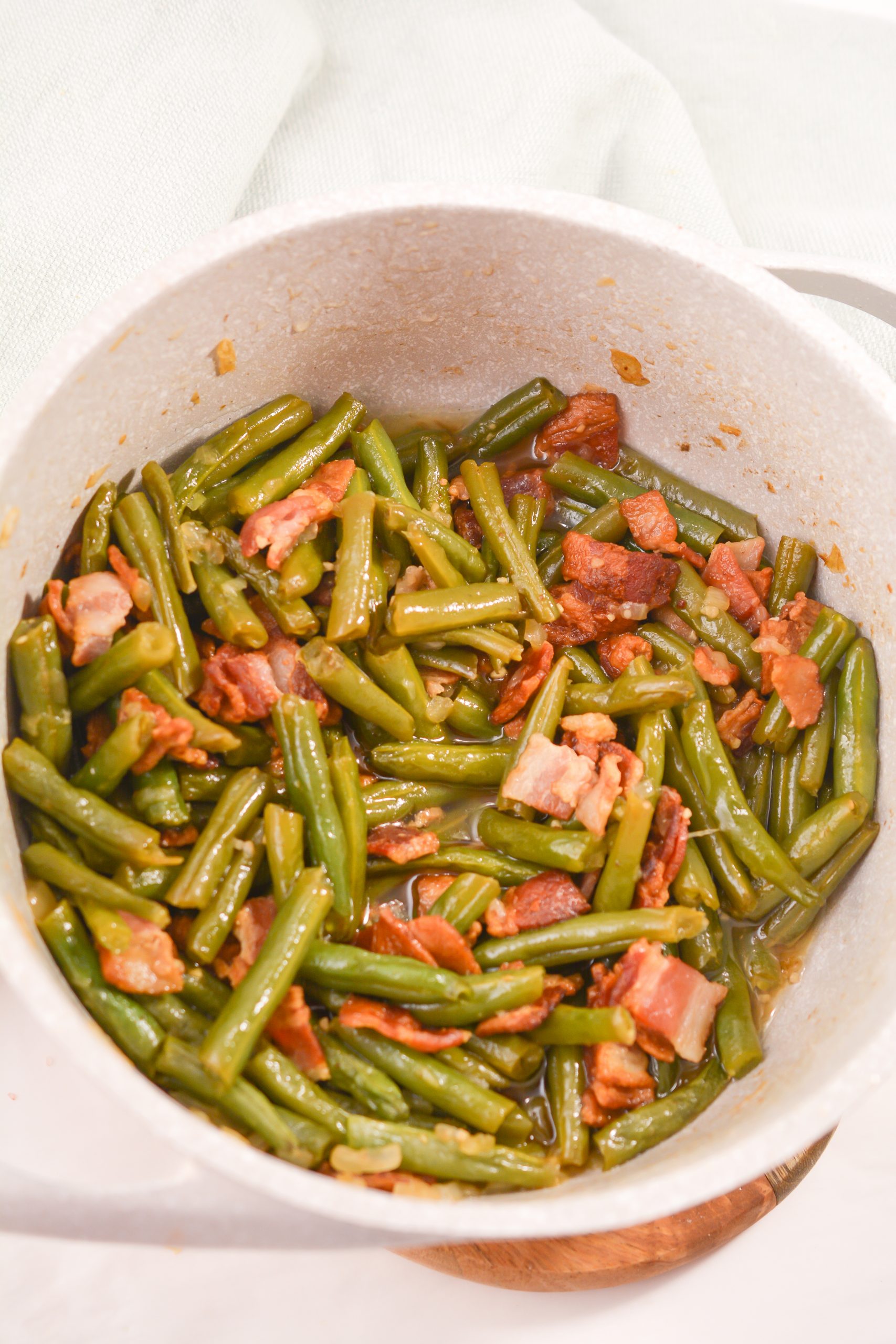 Unlike some leftovers, these green beans will hold their flavor. If you have leftovers, even days after they will still be just as good as the day you made them. Another reason right they are the perfect dish! Everyone always goes crazy over them and it's such a nice change from the classic green bean casserole everyone loves. Whether you are preparing for your next big holiday spread or you just need a delicious side to show off, Smothered Green Beans is a sure 5-star dish. They really are out of this world delicious. 
Did you make it? Tell us just how it went in the comment section below. Let us know. Enjoy!
Yield: 4
Smothered Green Beans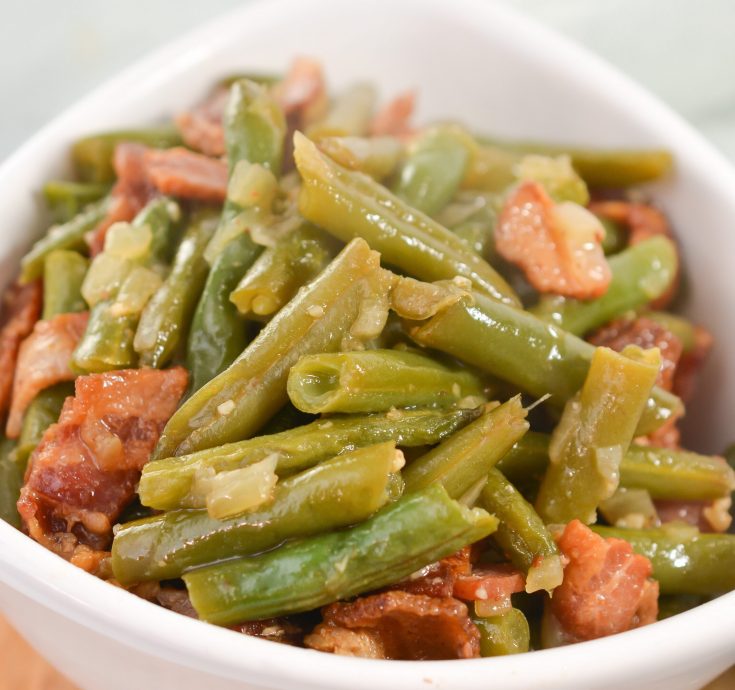 Ingredients
1 lb. Green beans cleaned, trimmed and broken into pieces
6 Slices of bacon chopped
½ C. Onion minced
1 tsp. Minced garlic
1 C. Water
⅛ tsp Salt
Pepper to taste
Instructions
Place the bacon into a saucepan over medium high heat on the stove. Saute until the fat on the bacon begins to render.
Add the onion and garlic to the saucepan, and saute another minute.
Pour the water and the beans into the saucepan, and reduce the heat to medium. Cook until the beans become tender. If the water runs out before the beans are tender enough, add a little more water and continue to cook.
Add salt and pepper before serving.
Enjoy!
Notes
Weight Watchers Points Info :
3 Smart Points
Nutrition Information:
Amount Per Serving:
Calories:

Calories: 97
Total Fat:

5.4g
Saturated Fat:

1.7g
Trans Fat:

48g
Cholesterol:

14mg
Sodium:

343mg
Carbohydrates:

7g
Fiber:

2.9g
Sugar:

1.9g
Protein:

6.2g
Now, remember to save this recipe on  Pinterest for later 🙂