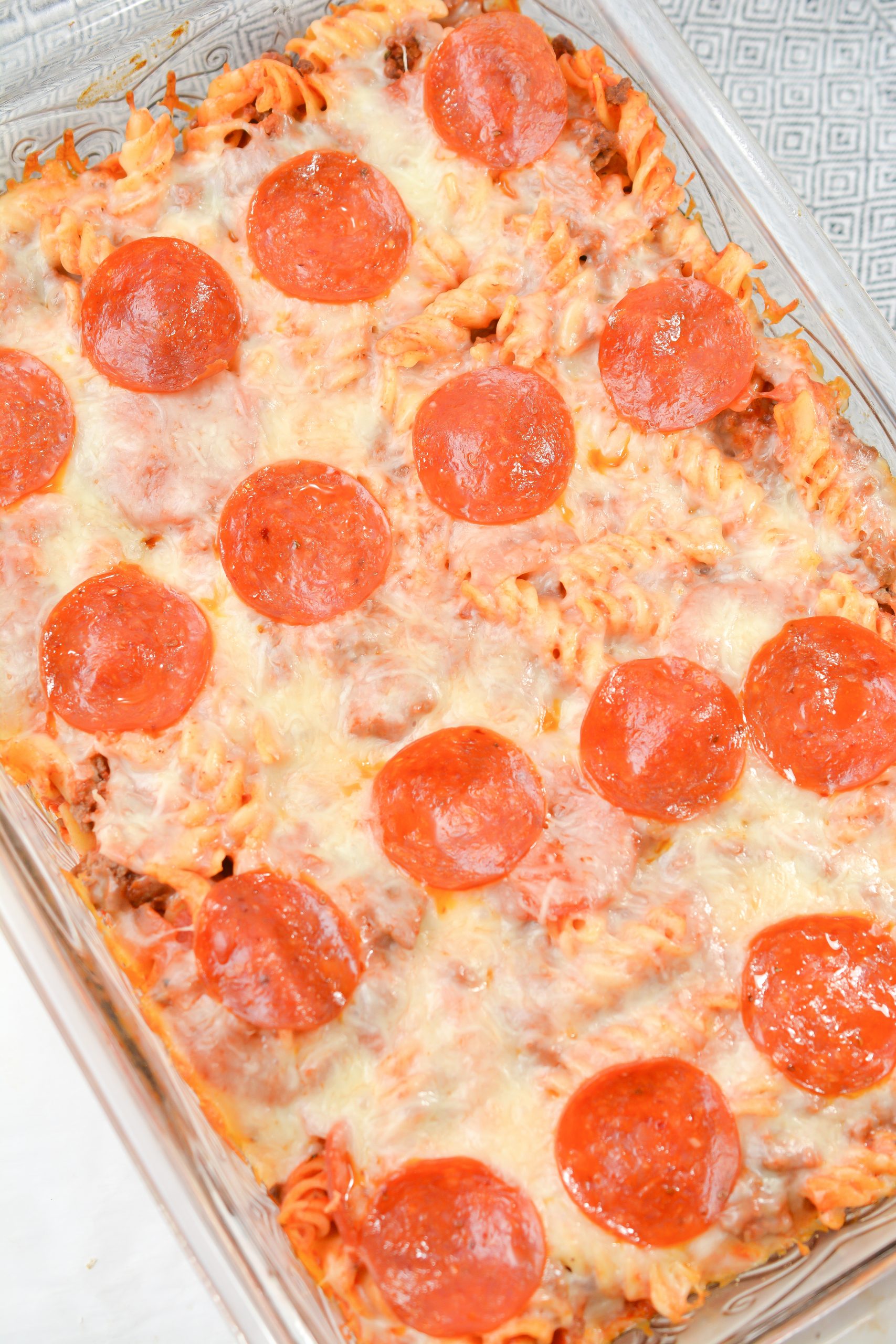 This mouth-watering casserole combines two of your most likely favorite foods – pizza and pasta. It's sure to be your favorite as it combines whatever your favorite pasta is and pizza. It is a great family meal and is perfect for weeknight meals.
The best part about this casserole is you can prep it ahead of time and throw it in the oven once you are home from a long day. No matter how old your kids are, even teenagers and adults will love this quick and easy dinner meal.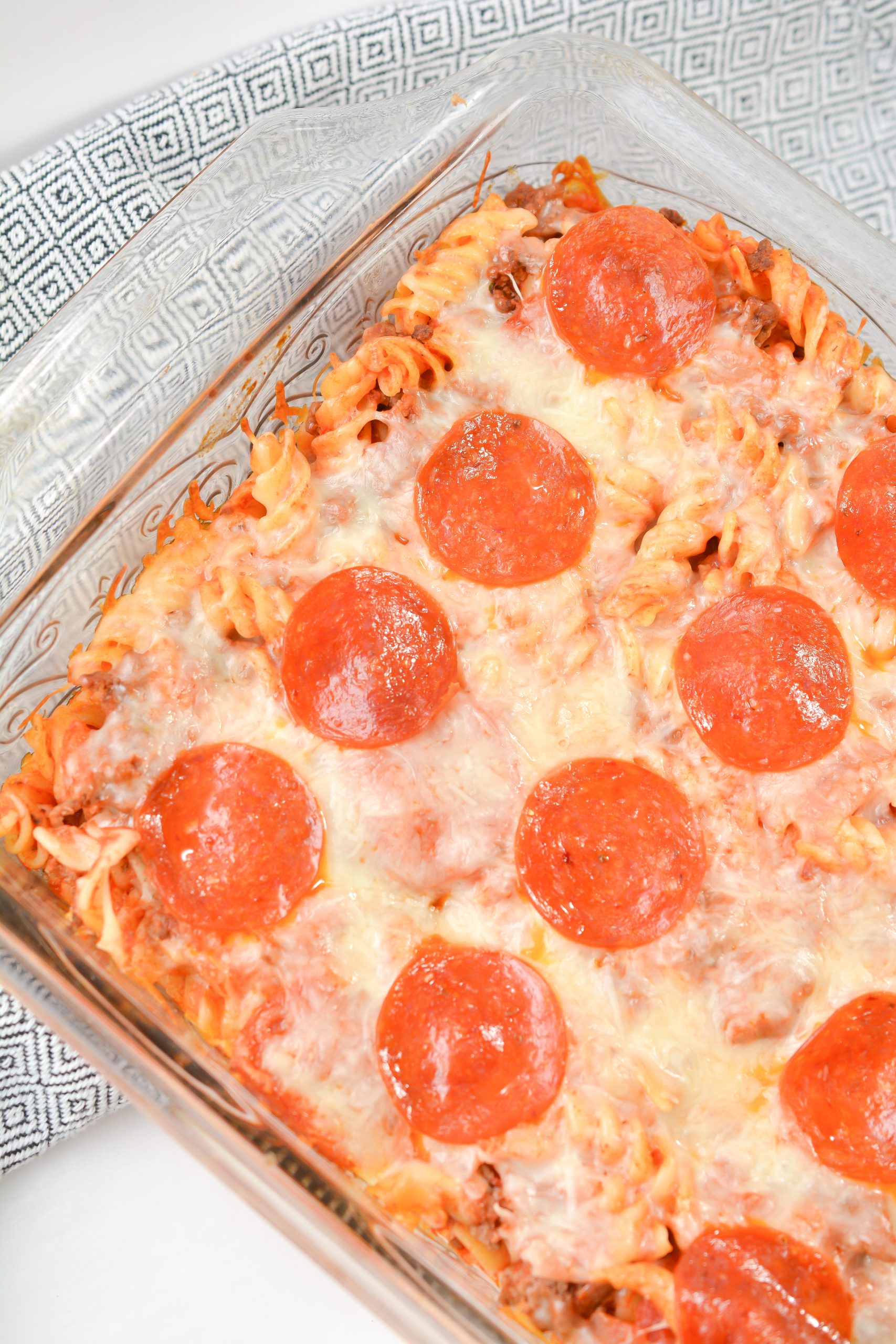 With it only being 3 Weight Watchers points, the ground turkey and low carb pasta make it more of a healthy option. Keep in mind you can always switch up the pasta. And If you wanted, you could even add in sausage to change it up with the pepperoni but this recipe doesn't call for it. But, it's always an option. You can serve this dish with warm garlic bread and a fresh green salad to complete the meal. Another option would even be garlic cheese rolls! They would be perfect with this and fill you right up for the night.
Another reason this casserole is sure to be a favorite is that it's loaded with all of your favorite seasonings. Italian seasoning, onion, garlic, and olive oil all help bring this casserole to life! Everyone in your family will surely have clean plates when you make this for dinner. They will definitely be asking for seconds.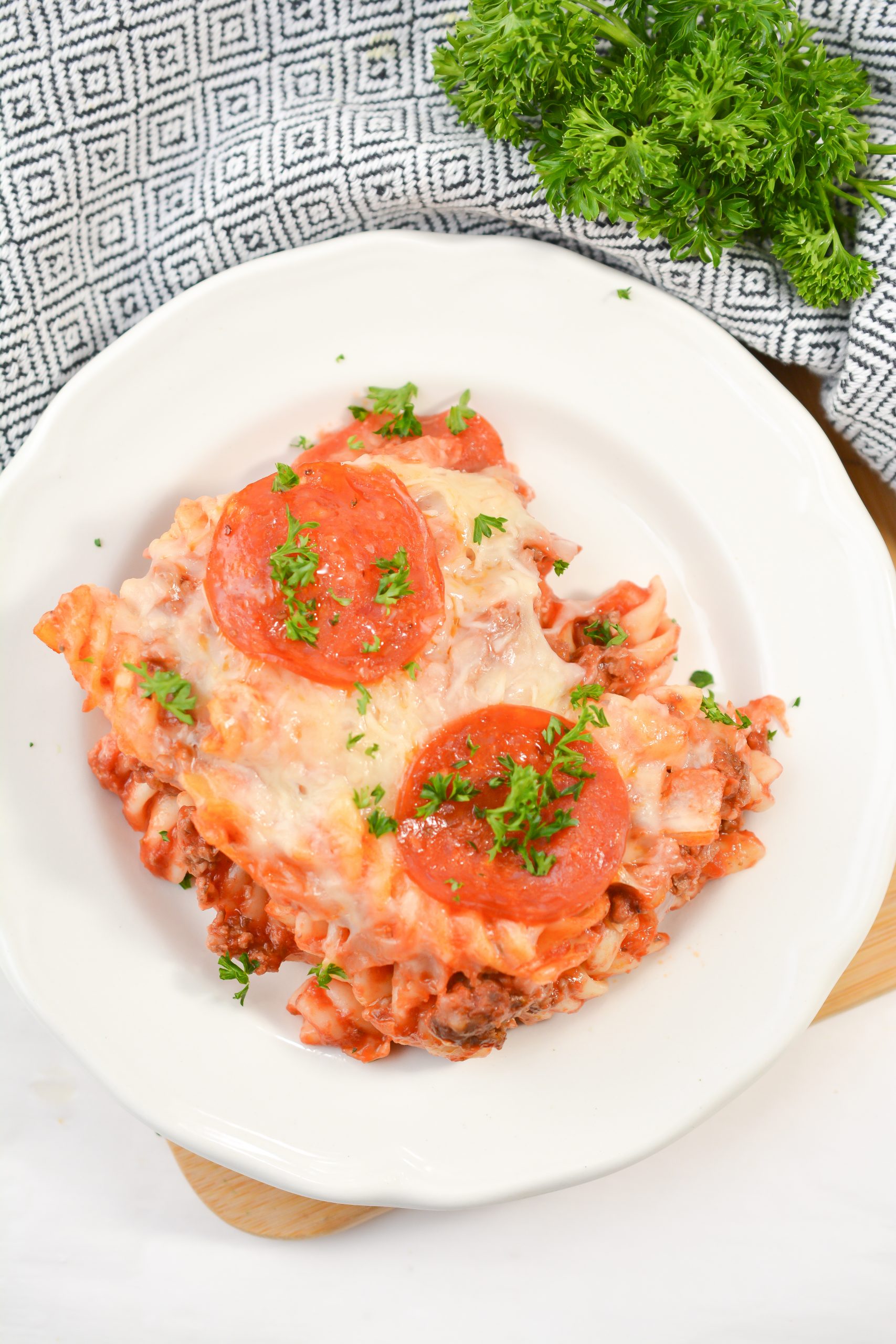 When you are just tired of pizza delivery, this recipe is just as easy and tastes even better than what the delivery driver can bring you. Just think – your favorite pasta layered in sauce and covered in your favorite topping. You just can't go wrong with pizza and pasta together. It's a crowd favorite!
This recipe isn't just about the pizza and pasta combined together. But who doesn't love the ease of casseroles? One dinner dishes are truly a favorite in any household because you get to clean less. When putting together this casserole all you have to do is put all of your favorite ingredients together in a dish and throw it in the oven. Easy peasy! It truly becomes a favorite recipe for even the cook because it's so yummy, so easy and versatile for all.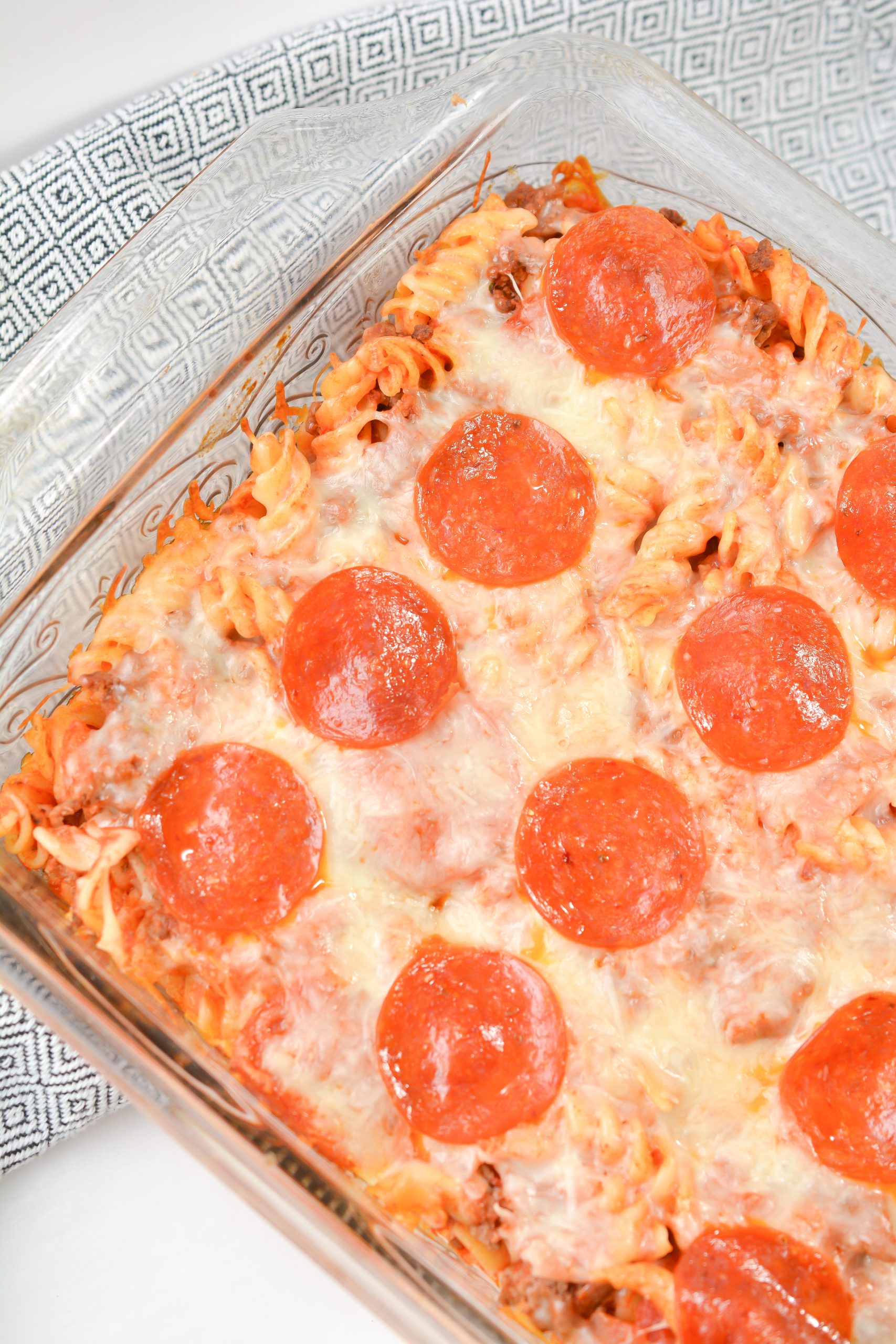 While the pepperoni pizza casserole is a favorite, it's just like pizza. Keep in mind you can add any topping ingredients to anything you like. If you are vegetarian you could top this casserole with more veggies like spinach and zucchini or even make it a Hawaiian pizza with ham and pineapple. If you don't want to turn on the oven, you can always throw it all in a skillet. Making it a one-pot pepperoni pasta skillet. You truly have endless options with the same result – delicious! You just can't go wrong with a one-pan casserole dish your entire family will be asking just when it's on the menu again. It just does not disappoint.
Enjoy!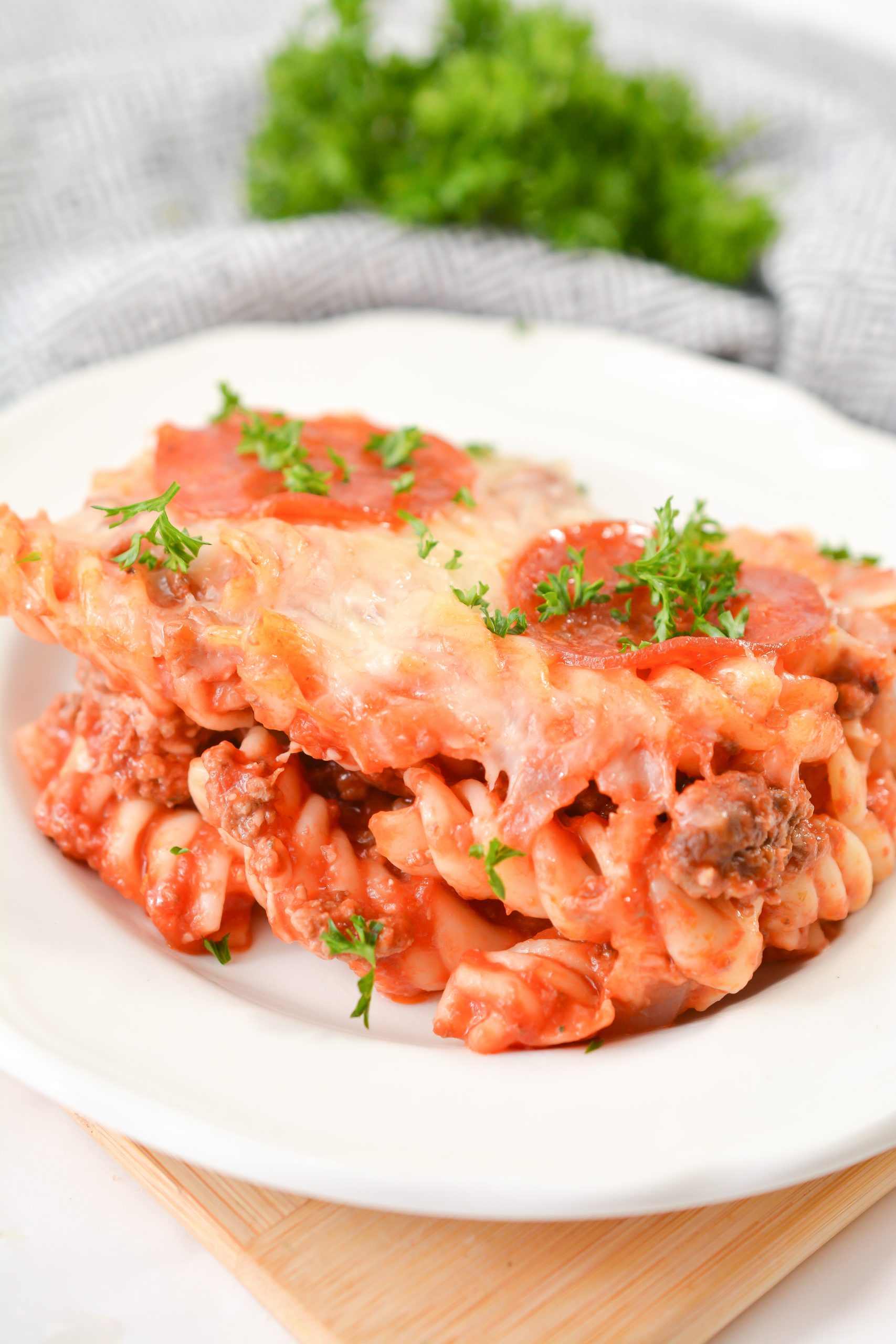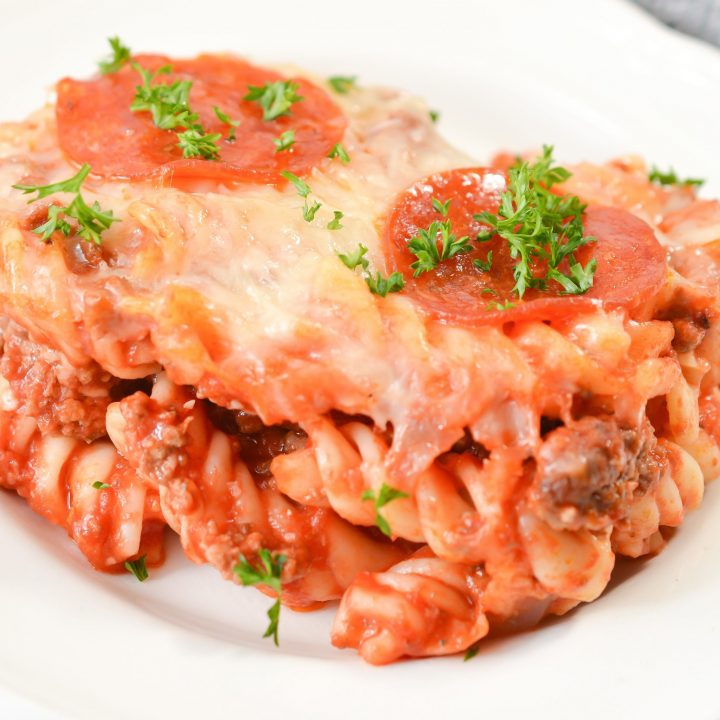 Pepperoni Pizza Casserole
Total Time:
1 hour
5 minutes
Ingredients
1 lb. Ground turkey
1 Onion chopped
1 tsp. Minced garlic
30 oz. Tomato sauce
2 tsp. Olive oil
12 oz. Rotini low carb pasta
1 tsp. Italian seasoning
1 C. Non fat Mozzarella shredded cheese
1 C. Reduced-fat Mozzarella shredded cheese
32 Slices turkey pepperoni
Instructions
Preheat the oven to 350 degrees.
Cook the pasta to your liking and drain well.
Cook the ground turkey, onion, and garlic in olive oil in a skillet over medium-high heat until the meat is completely browned. Drain if needed.
Reduce the heat in the skillet to low, stir in the tomato sauce and Italian seasoning.
In a large mixing bowl, combine the meat sauce, pasta, 1 cup of cheese, and 16 slices of pepperoni. Stir to combine well.
Press the mixture into a 9x13 baking dish and top with the remaining cheese and pepperoni.
Cover in foil and bake for 20 minutes.
Uncover, and bake for an additional 10 minutes before serving.
Notes
Weight Watchers Points Info :
3 points per one-cup serving on all 3 plans: Blue - Purple - Green
Nutrition Information
Yield

12
Serving Size

one-cup serving
Amount Per Serving
Calories

180
Total Fat

10g
Saturated Fat

4g
Trans Fat

0g
Unsaturated Fat

5g
Cholesterol

32mg
Sodium

62mg
Carbohydrates

8g
Fiber

1g
Sugar

1g
Protein

18g
Now, remember to save this recipe on Pinterest for later 🙂