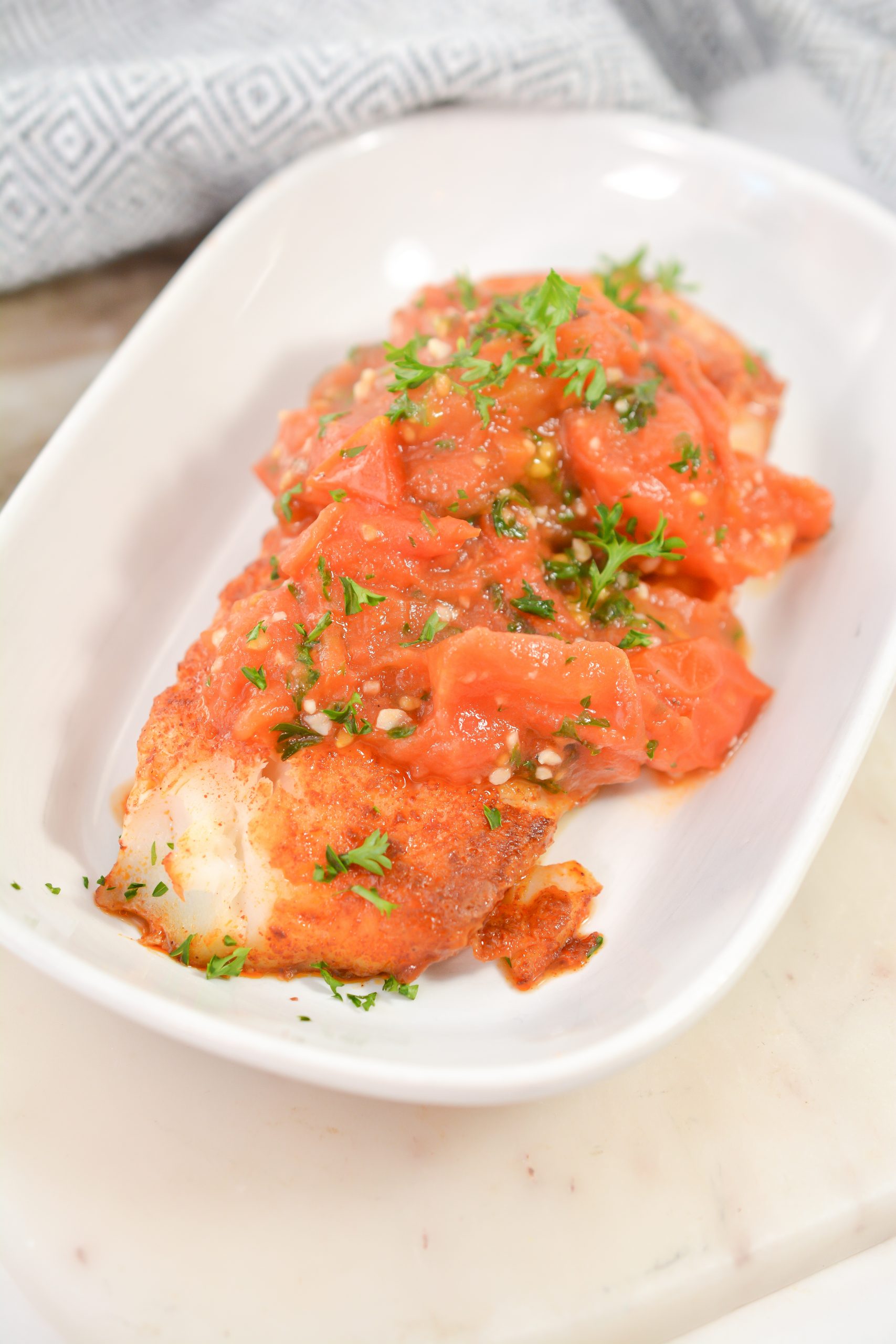 Cod fillet is just so easy to cook with endless flavor. This recipe is sure to be a favorite go-to dinner for all of you cod lovers out there. Especially if you love tomatoes too. How can you not love cod? Not to mention all of those mouth-watering ingredients; white wine, garlic, olive and oil and parsley to name a few.
Fish should be essential in your diet. It's so good for you and if you are going for a healthy diet, it's low in Weight Watcher points and should be on your menu twice a week if possible. It is such a healthy option for dinner because it's packed with vitamin B-12 and it's a lean protein. While it might be a little higher in sodium, eating it in moderation makes it a very healthy lunch or dinner option. When you go to the grocery store you will find two options of cod, Pacific Ocean cod and Atlantic Ocean cod. Keep in mind it's your choice which type of cod to purchase. Both are fine for this recipe but if you want larger fillets you should buy the Pacific Ocean cod. No matter which you choose they are both great sources of omega 3 fatty acids which as you know is great for the heart.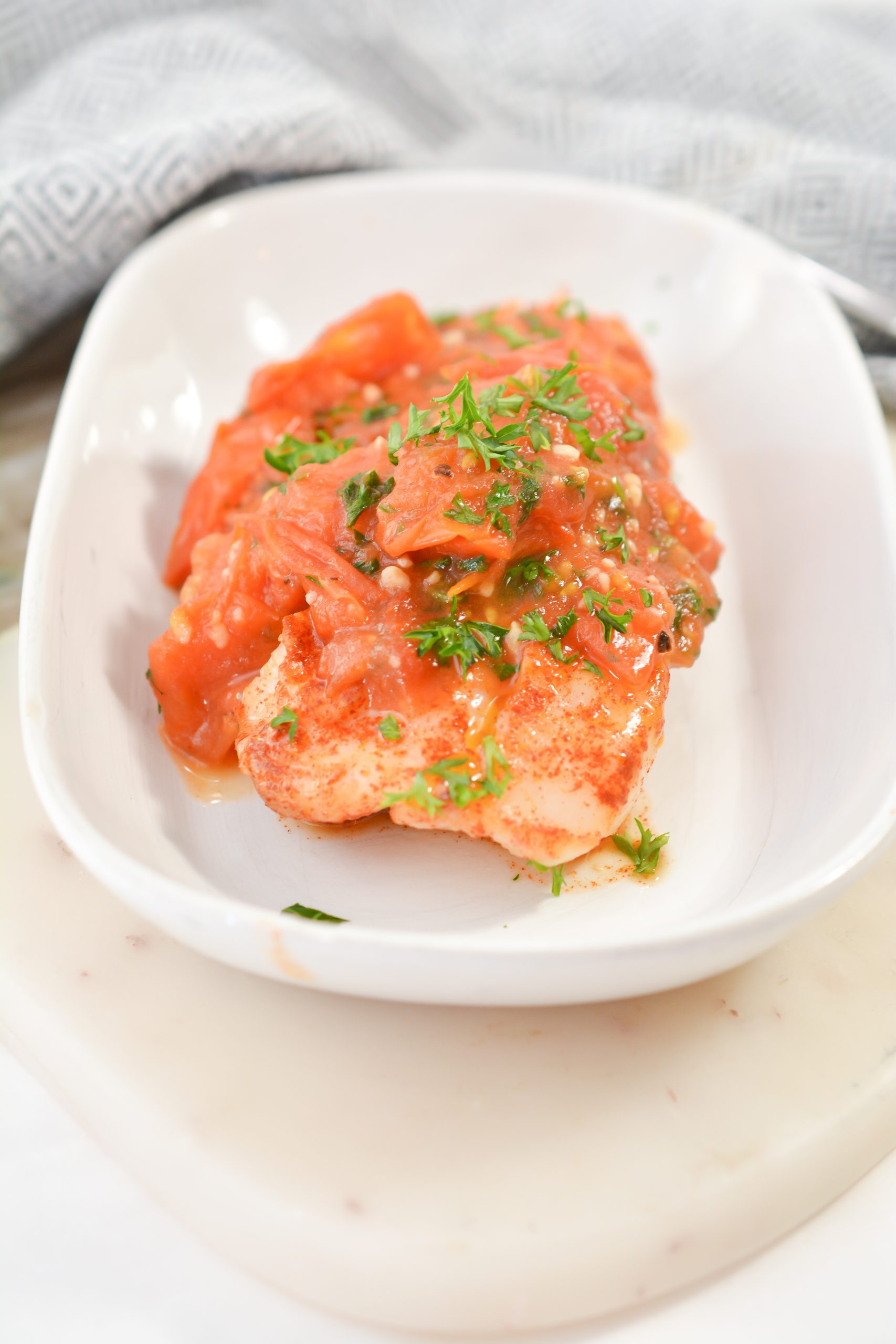 If you feel the need to add a side to go along with the cod jasmine rice, brussel sprouts, green beans or other vegetables would be a good option. You could even add it all together with the cod because the tomato sauce pulls it all together so well. It's not just a comfort food dish for the winter months but it's a great light summer recipe that would go great with a side salad while dining on your patio.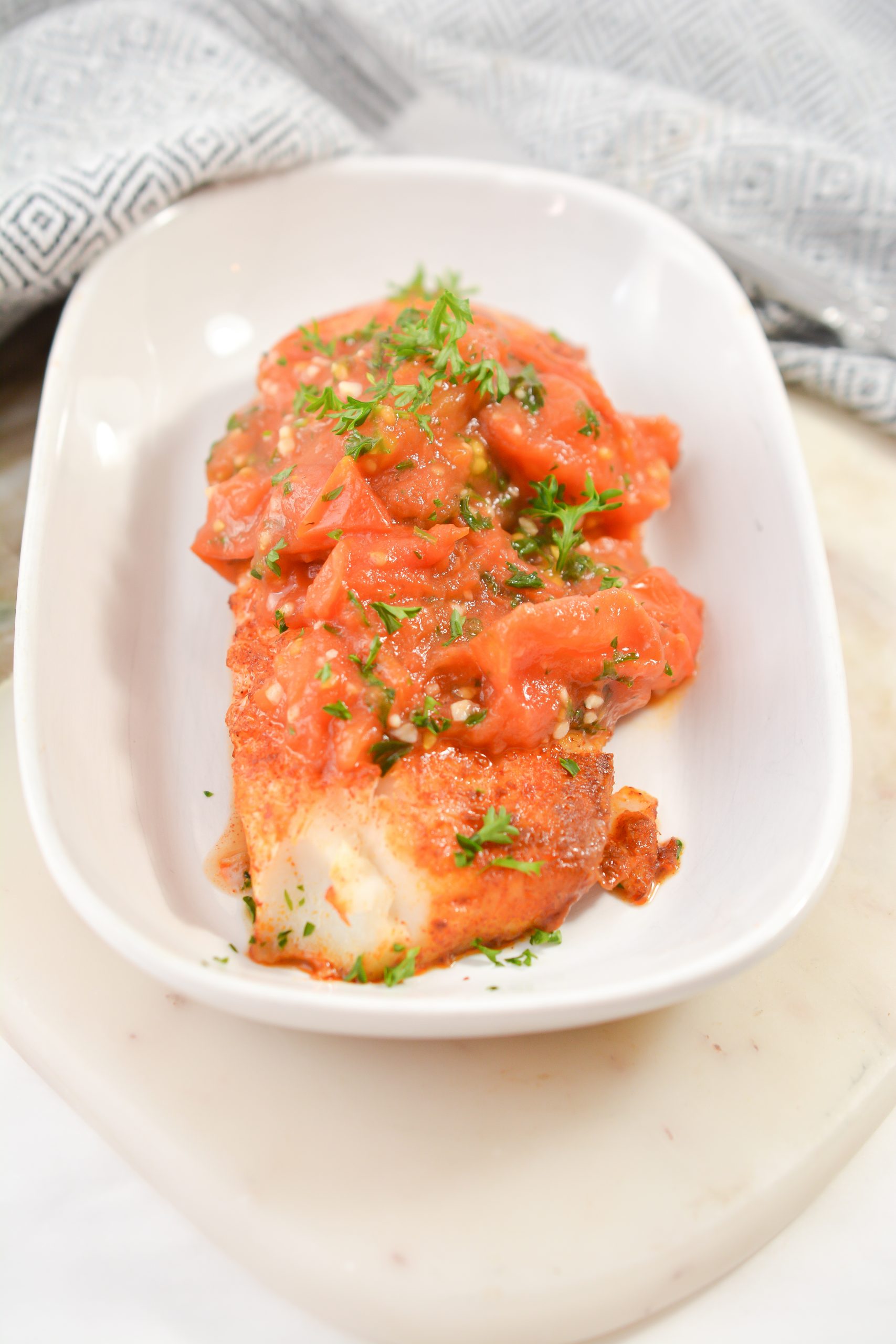 The best part about this cod dish is it is great for leftovers and cooked in a yummy tomato sauce it becomes a great comfort food dish. While you might not have leftovers because this dish is just so good, you can store the leftovers in the fridge or the freezer which is so convenient when cooking for a large family.
Keep in mind if you do save it, cooked fish can be frozen up to 30 days. Personally, in the fridge is your best bet as it keeps the taste of the fish but only up to 2 days. When you freeze it, it can take away from the texture of the fish so just keep that in mind when making large amounts to freeze.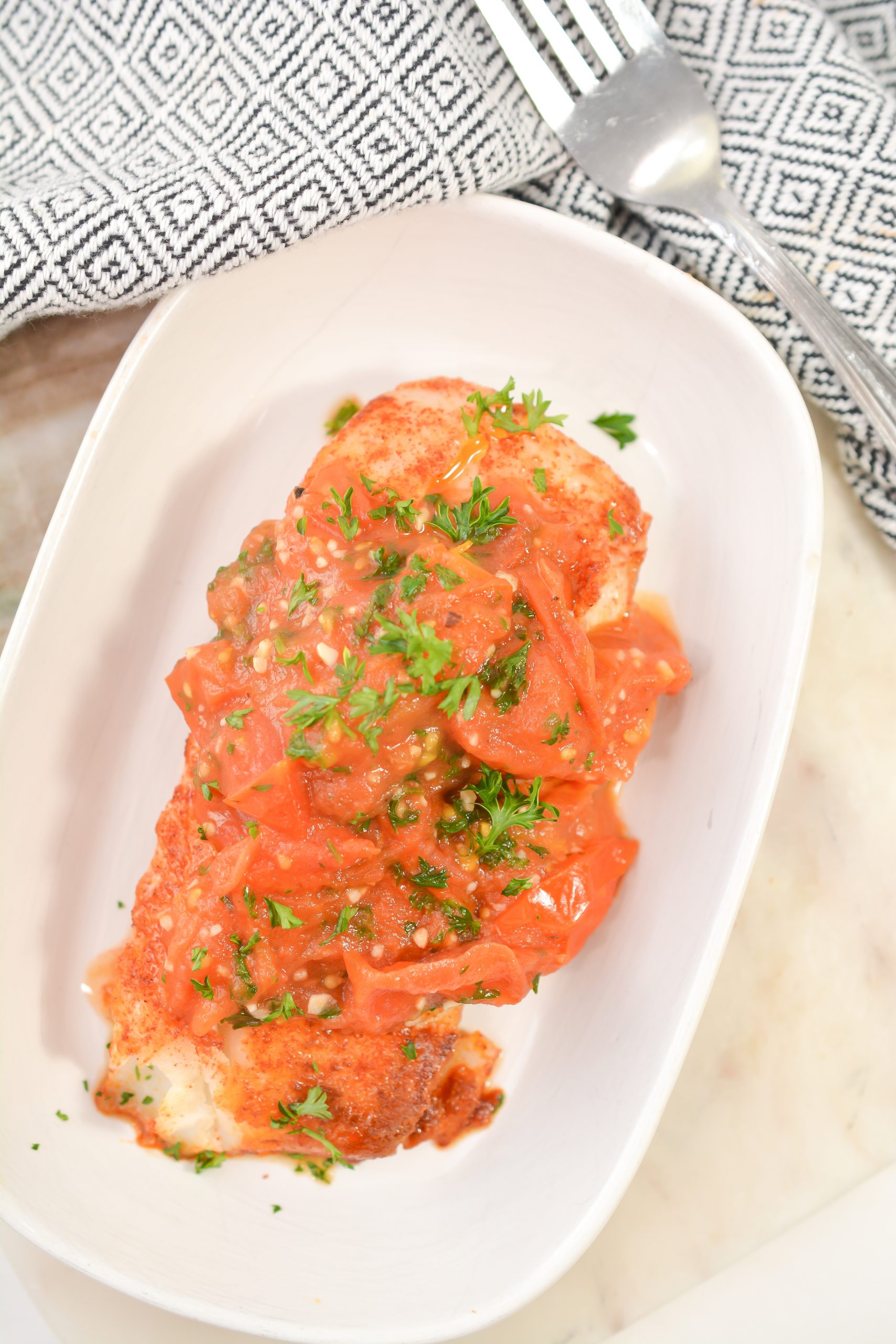 For those who might not be up to par in the kitchen and feel they could use some cooking lessons, this dish is easy enough to make you feel like a professional chef. You just can't mess it up! It's just such an easy dinner option for anyone to throw together. The best part is most of the ingredients you probably already have in your pantry and won't have to head to the store.
Drop a comment below after you pin this to your food board on Pinterest and leave a comment once you've tried it! Enjoy!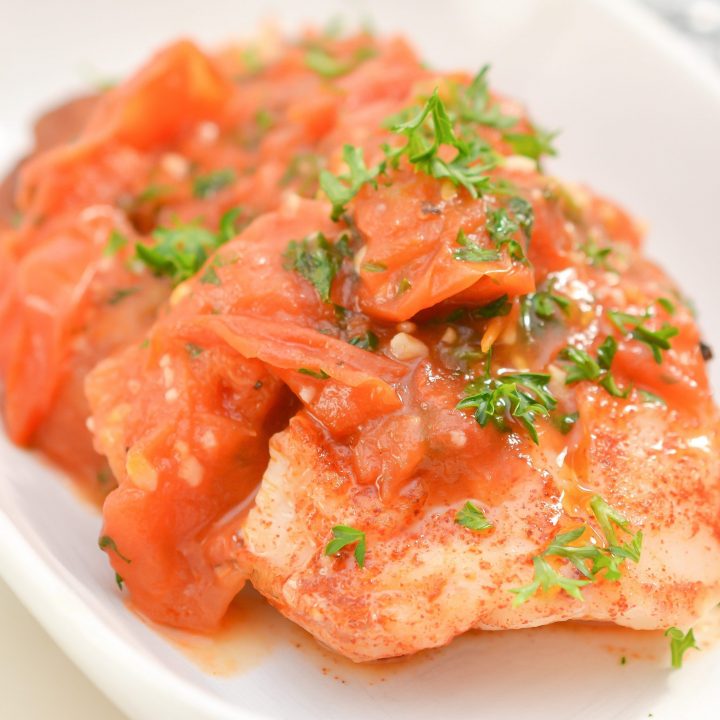 Super Easy Cod Fish in Tomato Sauce
Ingredients
4 (4 oz) Cod fillets
2 Tbsp. Olive oil
½ tsp. Salt
½ tsp. Paprika
For the sauce:
1 Tbsp. Olive oil
1 lb. Cherry tomatoes
2 tsp. Garlic minced
¼ C. White cooking wine
¼ tsp. Red pepper flakes
⅓ C. Chopped fresh parsley
½ tsp. Salt
½ tsp. Pepper
Instructions
Heat 2 tbsp olive oil in a skillet over medium-high heat.
Season the fish on both sides with salt and paprika. Place the fish into the heated skillet and sear for several minutes on both sides until cooked through.
Add 1 tbsp. Olive oil and cherry tomatoes to a small saucepan over medium-high heat. Cook for about 10 minutes until the tomatoes soften. Mash them open with a potato masher or the tines of a fork.
Place the white cooking wine into the saucepan with the tomatoes, and cook another 3-4 minutes over medium heat.
Mix the minced garlic, salt and pepper, and parsley into the saucepan, and cook another 1-2 minutes.
Serve the fish with a helping of tomato sauce on top.
Notes
Weight Watchers Points Info :
WW Green plan – 7 SmartPoints
WW Blue plan – 6 SmartPoints
WW Purple plan – 6 SmartPoints
Freestyle plan – 6 SmartPoints
Nutrition Information
Yield

4
Amount Per Serving
Calories

158
Total Fat

13g
Saturated Fat

2g
Cholesterol

63mg
Sodium

572mg
Carbohydrates

7g
Fiber

1g
Sugar

2g
Protein

32g
Now, remember to save this recipe on Pinterest for later 🙂