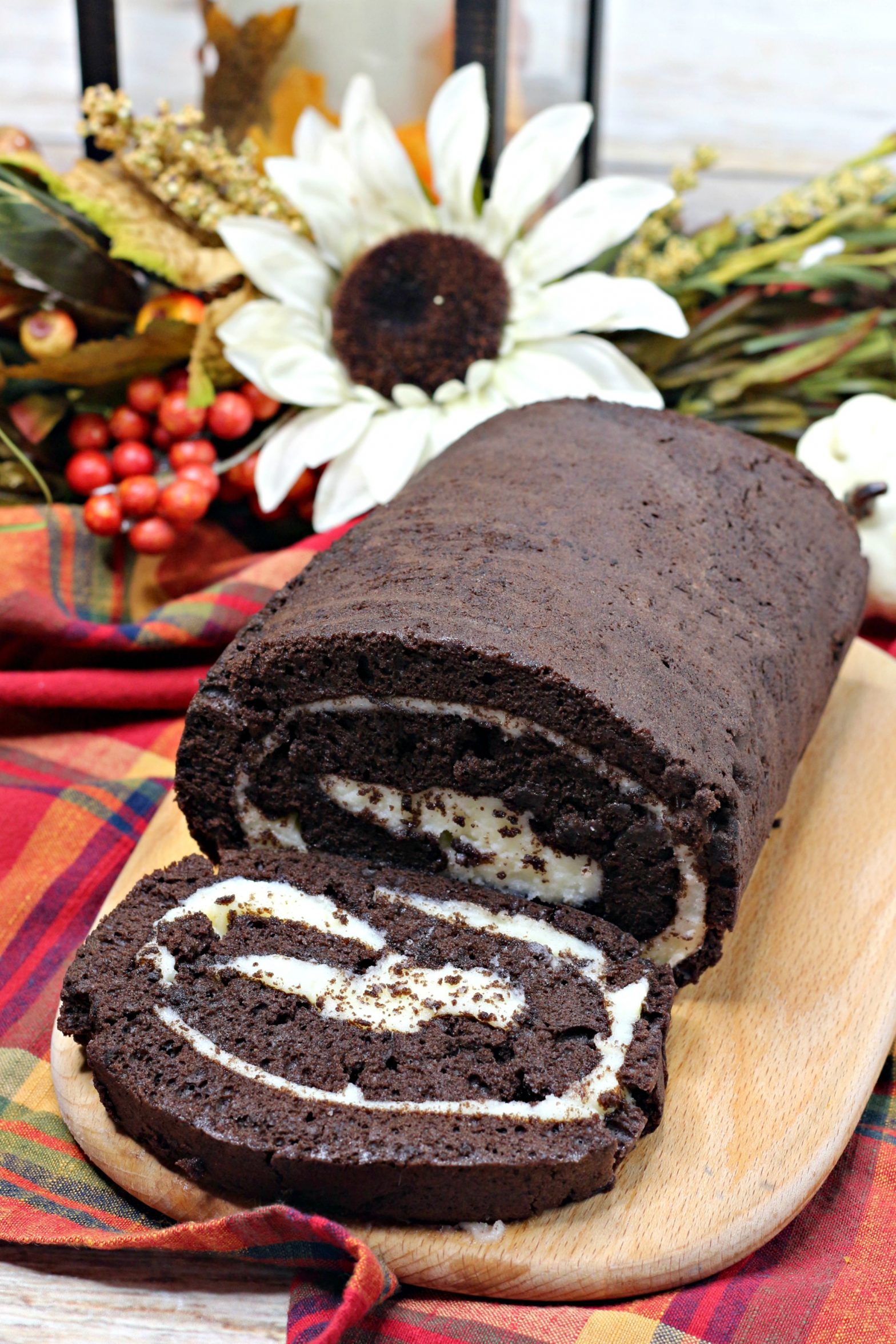 Pumpkin is a staple of fall. We carve them, decorate them, and, most importantly, eat them. They have a distinct earthy taste, and some can be a little more bitter when enjoyed by themselves. We traditionally add into pie and include complimentary spices to enhance the flavor.
Most stores sell a pumpkin spice mix made of cinnamon, ginger nutmeg, and allspice or cloves. So if you do not have any on hand or don't feel like making a trip to the store, don't worry; you can create the spice at home.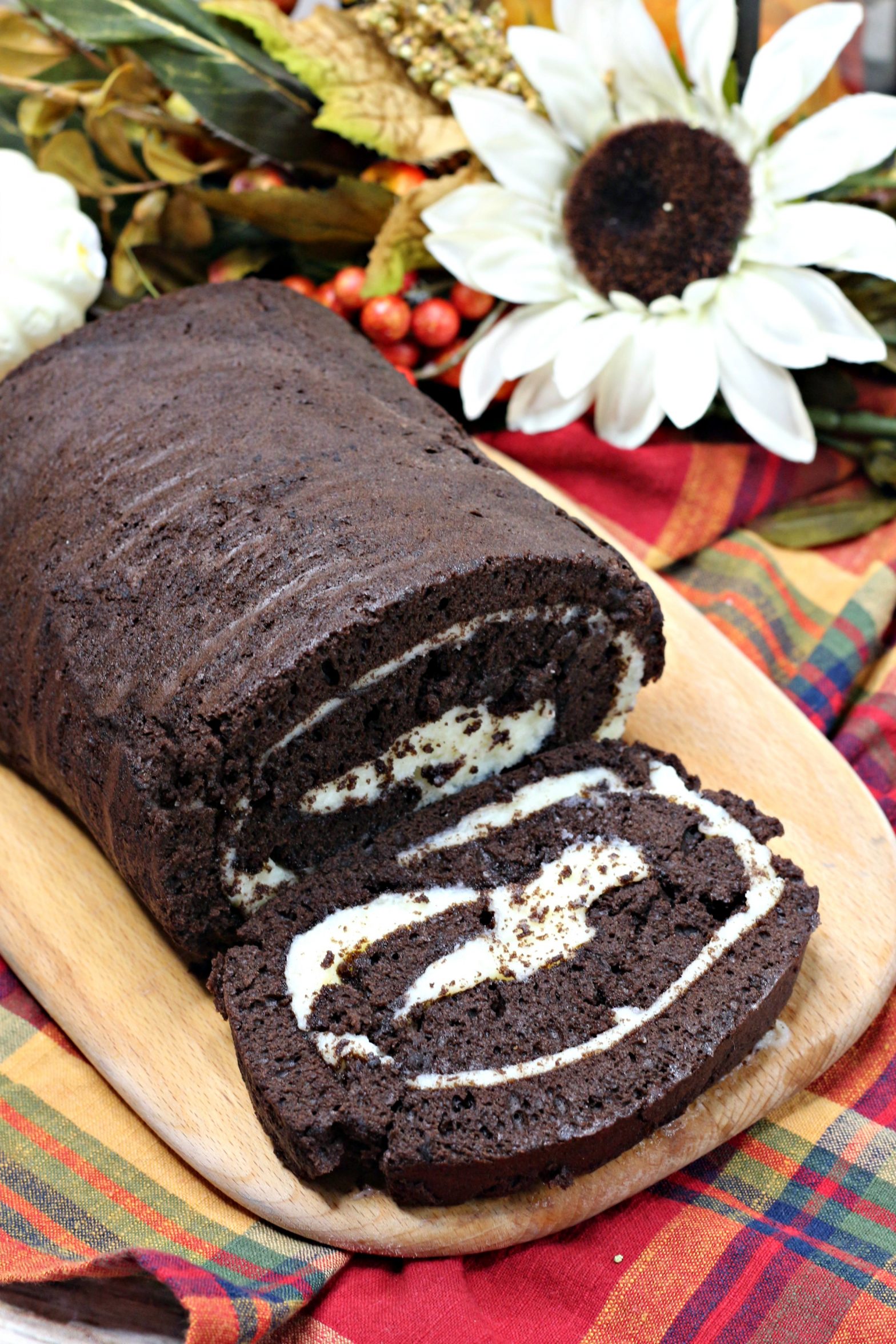 I have enjoyed many spice rolls in my time and wanted to recreate using one of my favorite dessert ingredients, chocolate. My Chocolate Pumpkin Spice Rolled Cake has every essence of the homestyle pumpkin spice roll with an extra kick of delicious Hershey Cocoa Powder.
Roll cake has been around for many years and has tons of variations. Besides the pumpkin spice roll, you probably have enjoyed a swiss roll at one point in your life. A spice roll cake is a sponge cake that has been laid flat and filled with whipped cream, jam, or frosting before being rolled up into a spiral.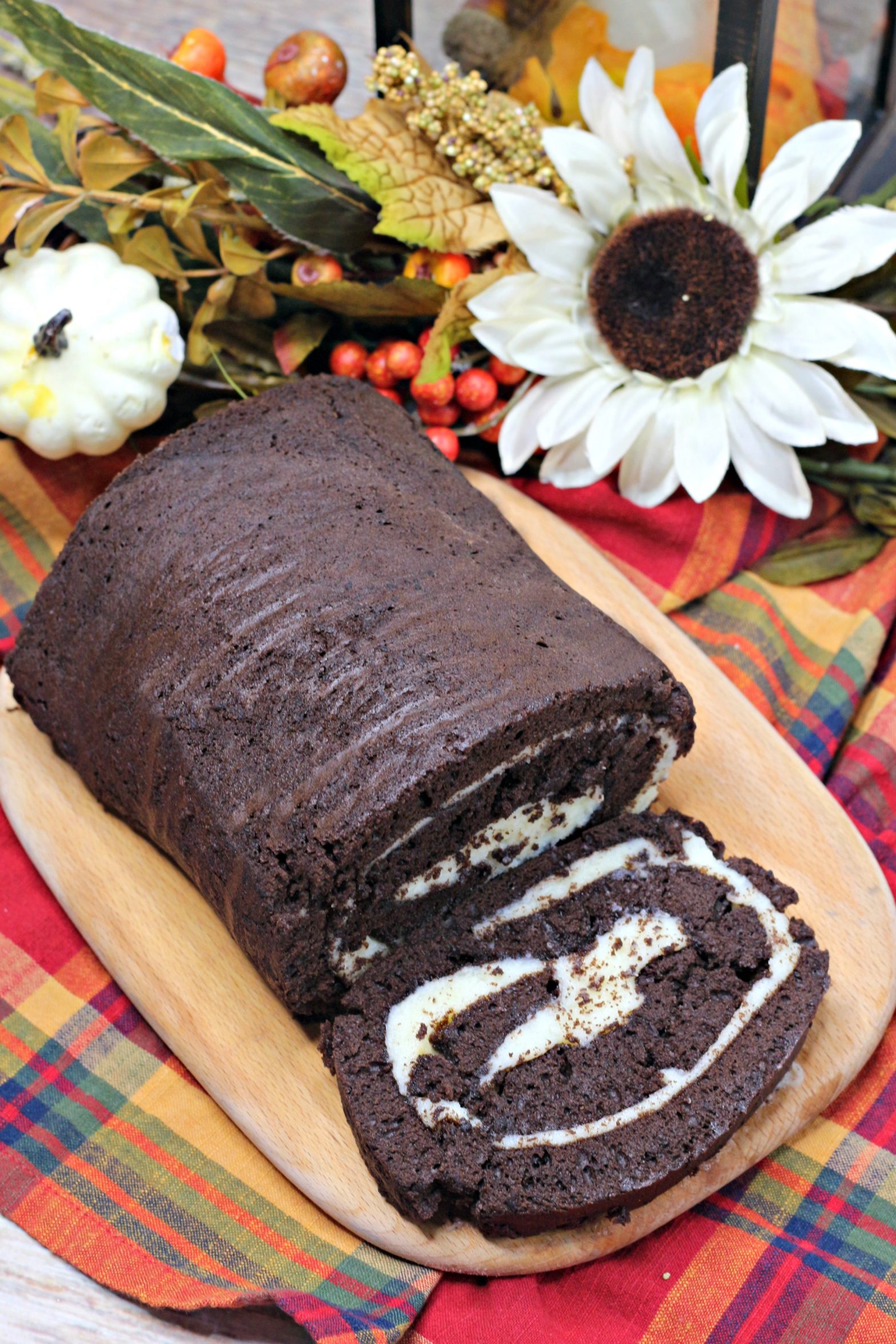 The cake is so light and airy but still holds up well when being rolled. Let's talk about the essential part, the filling. No roll cake is complete without its gooey center.
The center filling in my Chocolate Pumpkin Spice Rolled Cake has double the fluff. Most homemade whipped creams are done by beating heavy whipping cream for a while until stiff peaks form. With my roll cake, I added Marshmallow fluff! As a kid, how many of you enjoyed a Nutella and fluff sandwich? Marshmallow fluff is very sticky and thick. Because of the texture, it adheres well to any ingredient and will hold its shape.
Fluff is the spreadable version of complete marshmallows.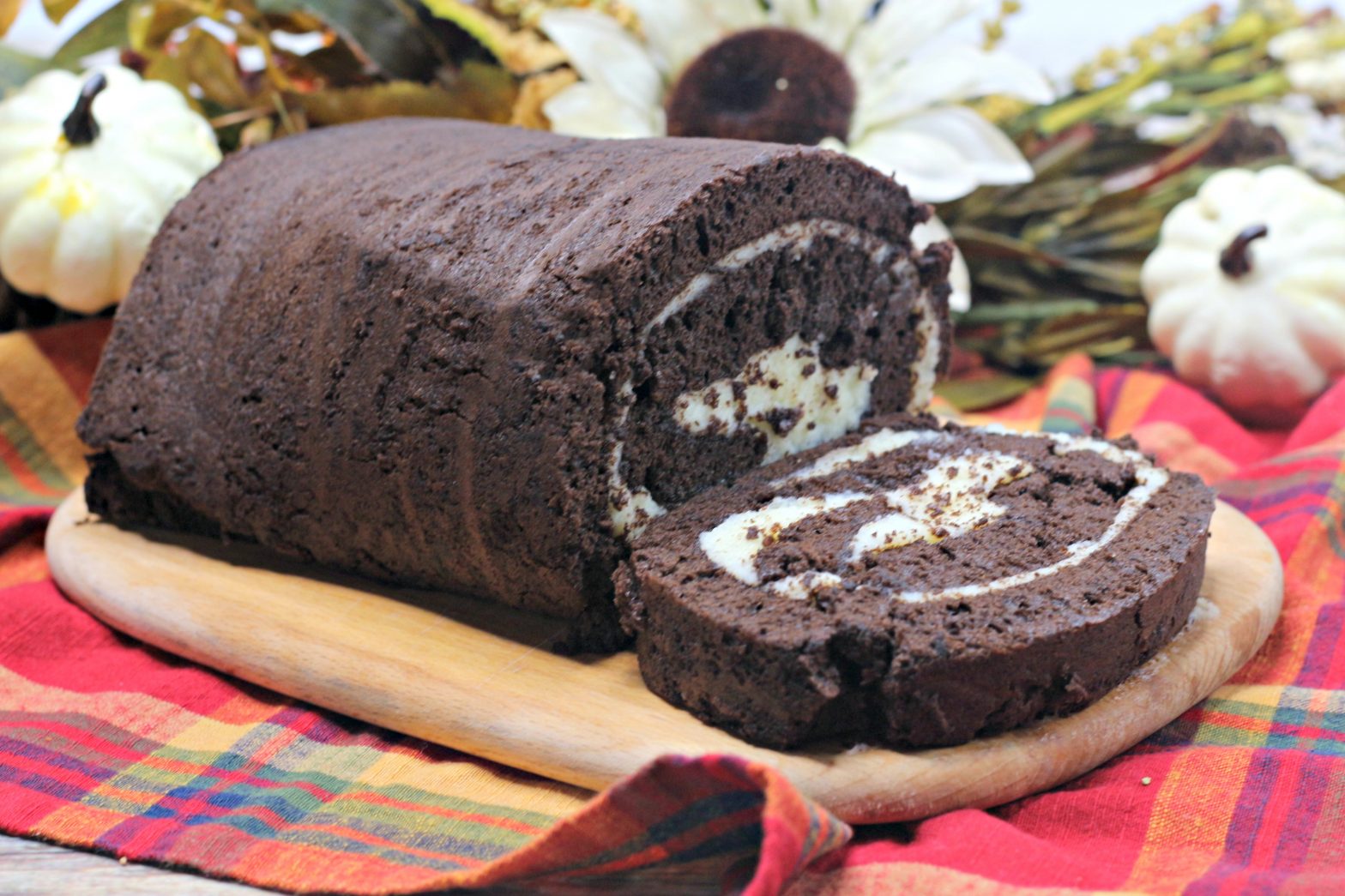 The cakes are made with pumpkin puree, pumpkin pie seasoning, and cocoa powder. Usually, the powder will create a binding effect as opposed to using chips or syrup.
While your cake is baking in the oven, you can start preparing your filling. Both mixtures will be married together at the end. Before you roll the cake, you want to make sure it has ample time to chill, so it does not fall apart. After you have rolled up the cake, you can sprinkle extra confectioner's sugar on top for added taste and appearance.
The most crucial step is chilling in the refrigerator overnight to ensure it holds its shape before serving. Thanksgiving or Friendsgiving is a busy day full of cooking, laughing, and catching up with family. Your time will be focused on the main course, sides, and hosting your guests. Baking dessert is the last thing on your mind. Bake and roll the night before, then simply remove from the refrigerator right before serving alone or with your favorite ice cream.
Did you make it? Tell us just how it went in the comment section below. Let us know. Enjoy!
Looking for a chocolate roll cake? This simple Chocolate Pumpkin Spice Rolled Cake is a great roll cake recipe that is perfect for the holidays and whenever you a great tasting dessert.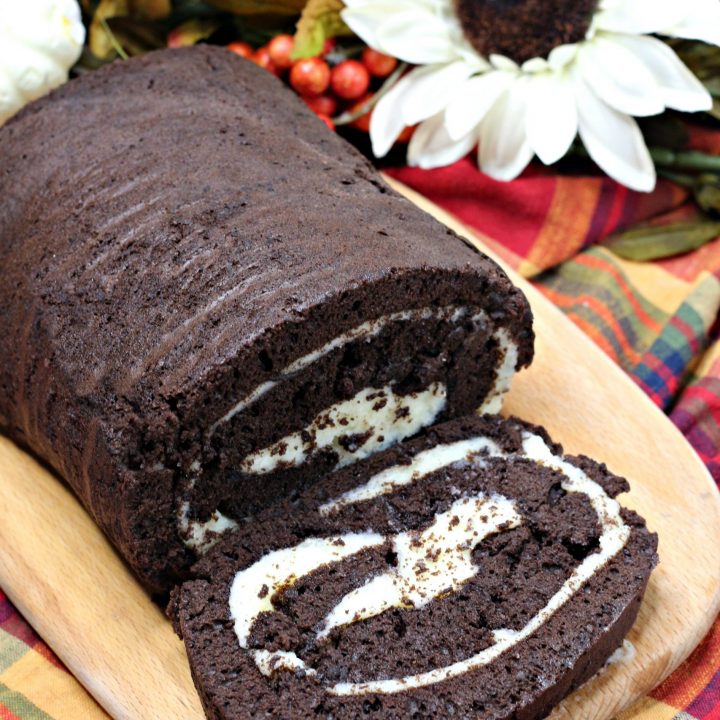 Chocolate Pumpkin Spice Rolled Cake
Ingredients
1/2 C flour
¼ C Dark Chocolate Hershey coco powder
½ tsp baking powder
½ tsp baking soda
2 tsp pumpkin pie spice
1 tsp ground cinnamon
¼ tsp kosher salt
3 large eggs
2 tsp pure vanilla extract
1 C sugar
⅔ Pumpkin Puree
Whipped Filling ingredients :
1 C heavy whipping cream
3 tbsp powdered sugar
1 tsp pure vanilla extract
1 tsp pumpkin pie spice
3 tbsp marshmallow fluff
Instructions
Preheat oven to 350 degrees and line a 15x10 cookie sheet with parchment paper
Using a large mixing bowl, whisk together the flour, cocoa powder,
baking powder, baking soda, pumpkin pie spice, ground cinnamon, and
salt
Using another large bowl, whisk together the eggs and sugar until combined
Whisk in the vanilla and pumpkin puree until combined
Using a rubber spatula, fold in the dry ingredients until combined and smooth
Spread an even layer of batter onto the cookie sheet
Bake in the oven for 13-16 minutes or until the top of the cake
springs back when lightly touched
As soon as the cake is pulled from the oven, do not hesitate in removing it from the pan and onto the counter
Using your hands, carefully roll the cake into a log
Place onto a wire rack to cool completely

Whipped filling :

Using a large bowl and hand mixer, whip together the heavy whipping
cream, powdered sugar, vanilla, and pumpkin pie spice until stiff
peaks form
Beat in the marshmallow fluff until combined


Building the cake roll :

Carefully unroll the cake
Spread the filling into the center of the cake, make sure to leave
about an inch away from the edge
Re-roll the cake again while peeling away the parchment paper
Wrap the roll in plastic wrap and place into the fridge overnight

Unwrap the cake roll and slice


Enjoy!