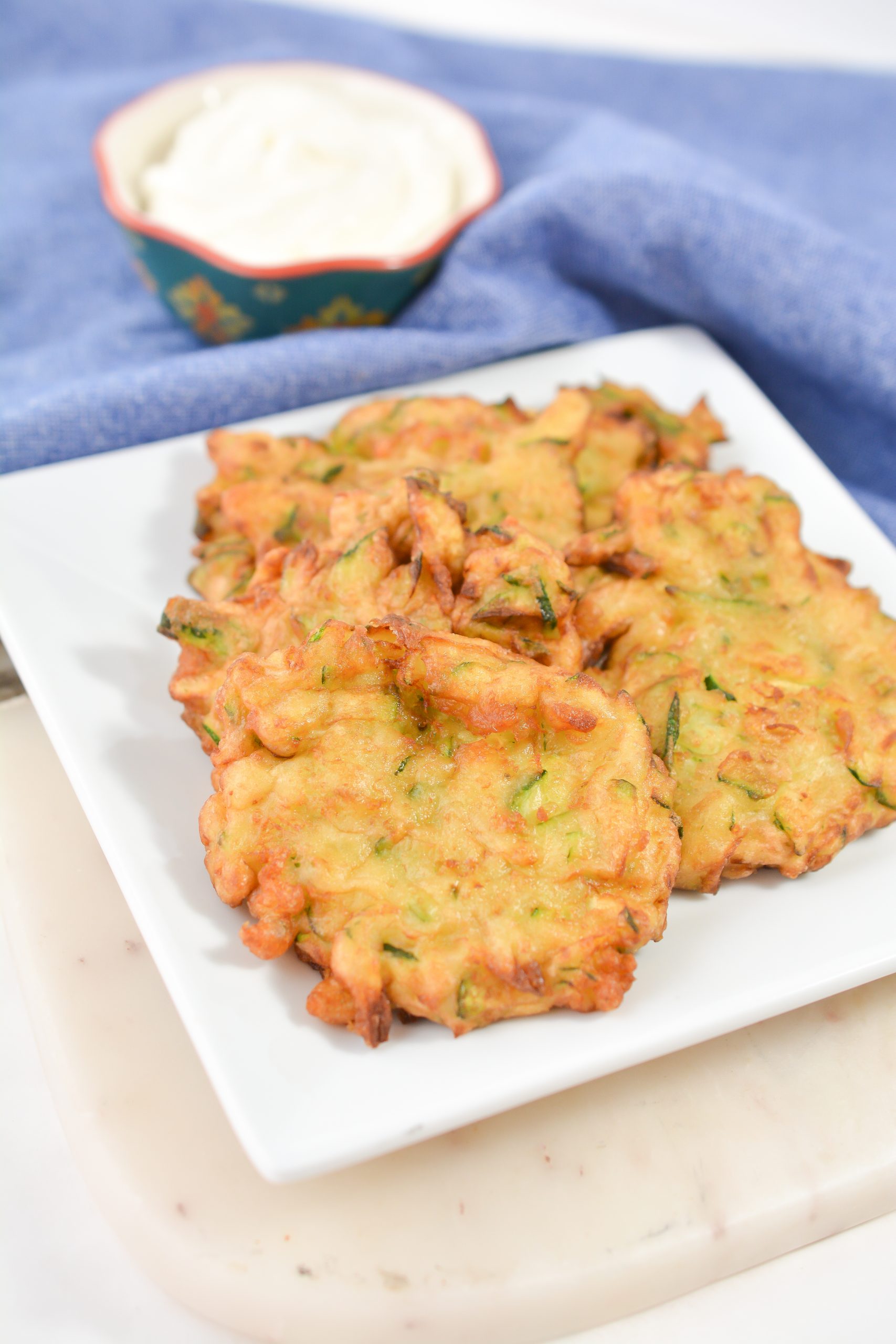 Let's get a pancake party started! You are probably thinking as you read the title to this recipe that it just doesn't sound appealing but think again. These will go so fast! They are fluffy and light hot cakes that will soon be a family favorite as they fly off plates.
Everyone will soon be requesting them! Don't let the name fool or scare you. They are perfect for using up your summer zucchini from the garden. A stack of pancakes will definitely not last long.
1 – 4 PersonalPoints per serving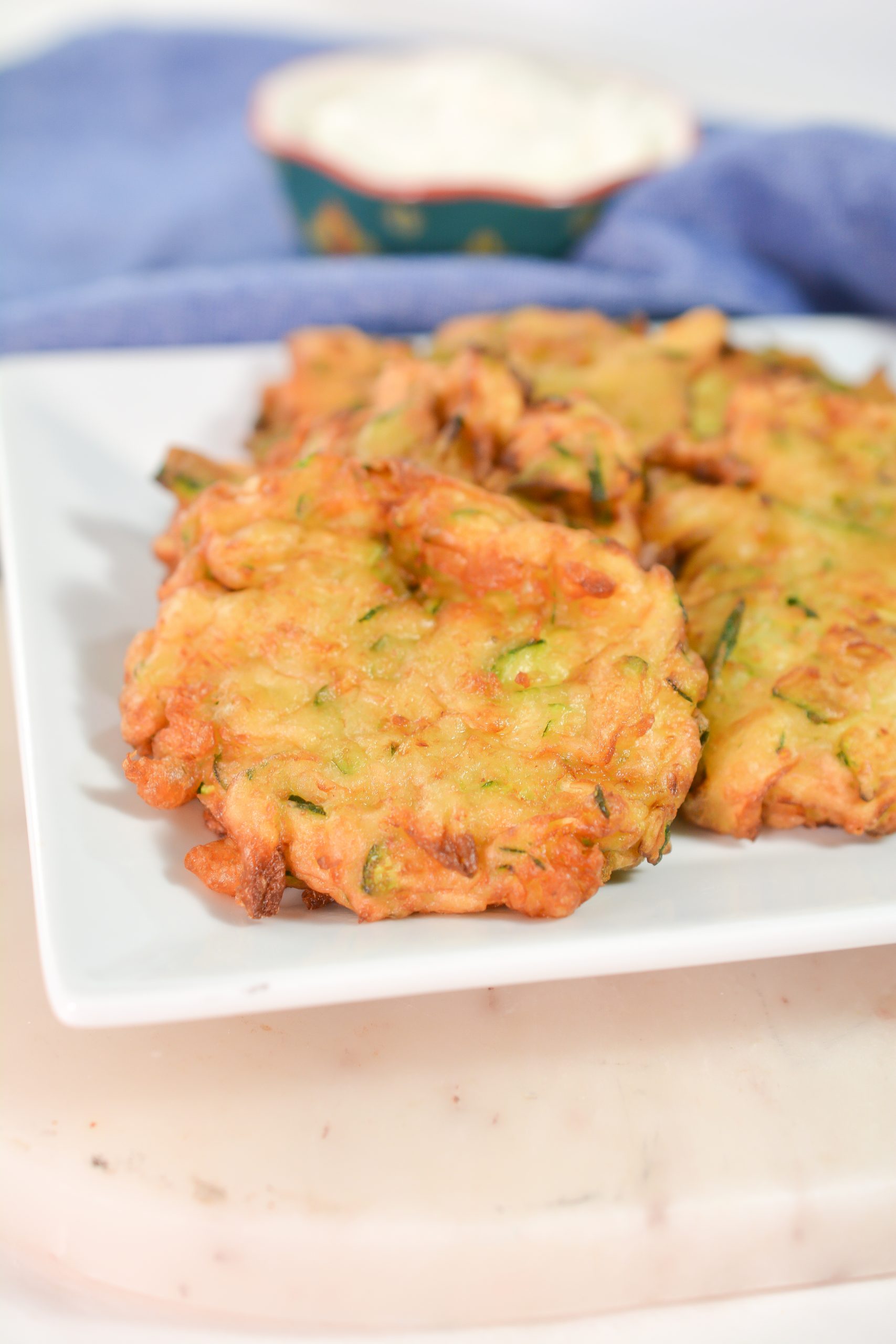 You may know Zucchini Pancakes as Zucchini Fritters too. They aren't just low calorie but they are a great way to sneak veggies into a meal. No one would even know there are fresh vegetables in these pancakes. While they may look different from a classic pancake, you can still fool the family and sneak the veggie in them. These pancakes aren't just for breakfast either. They are great for dinner too. Or, as an appetizer at your next dinner party or even a late-night snack. They are unbelievably easy to whip up and a great way to enjoy the perfect vegetable, zucchini!
Flip, cook and serve. Let's not forget to top it with a spoonful of sour cream or marinara sauce. Or both – let those around you decide which they prefer but both sour cream and marinara sauce are a great asset to these Zucchini Pancakes. If you are going to have them for breakfast you should top with maple syrup and butter for the perfect breakfast. A great way to start the day! You can have breakfast for dinner any day. Scramble up some eggs and bacon to put on the side and you've got yourself a delicious plate of food for dinner.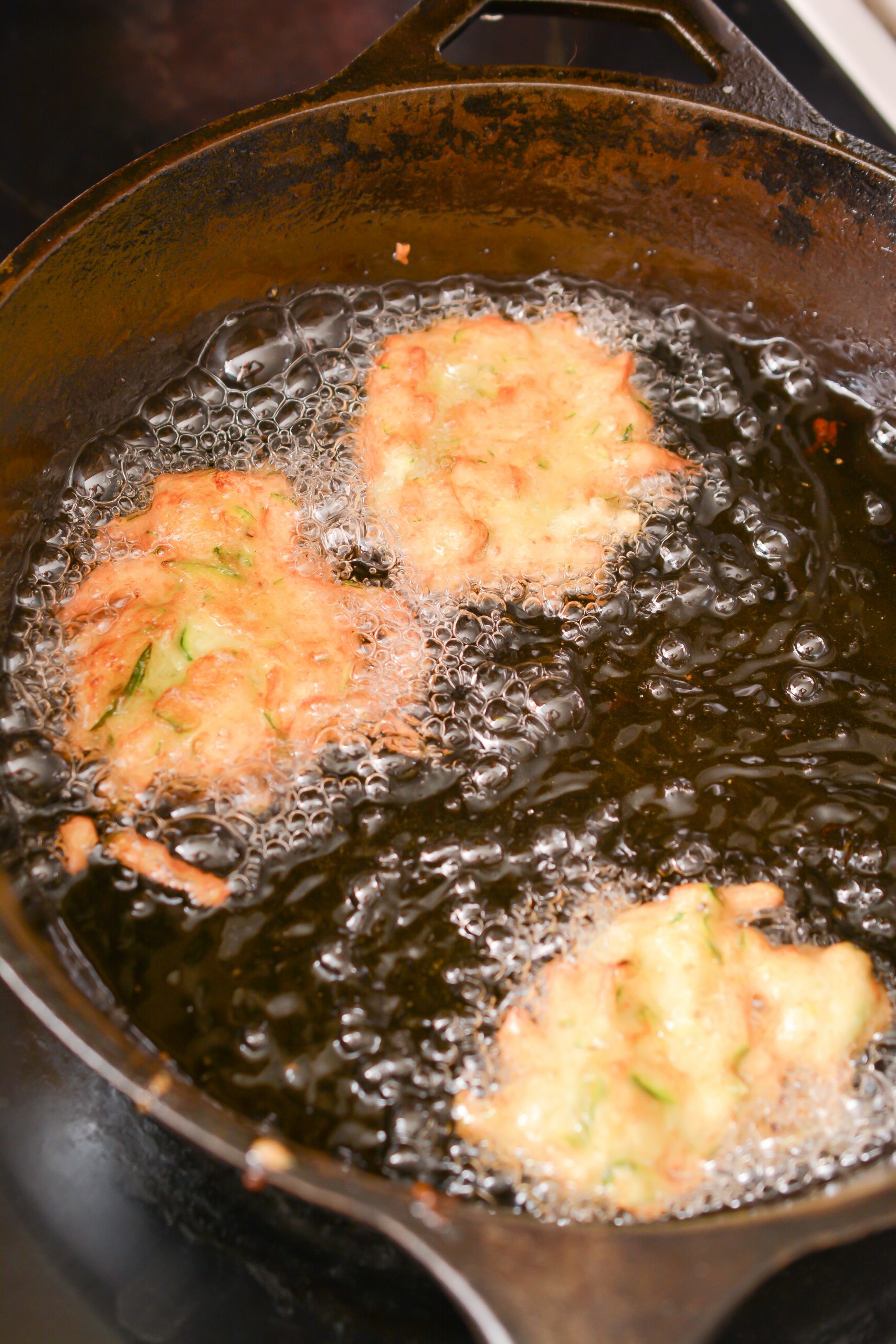 They are perfectly delicious bites of goodness! A cross between a fritter and a pancake; soft and tender in the inside and crisp on the outside. They are almost like a hush puppy texture. If you have ever had Zucchini bread, this is a healthy alternative in pancake form. You won't regret making these pancakes for all to enjoy.
Can freeze these Zucchini Pancakes?
Wondering if you can freeze these babies? Well yes you can! You should always keep a stash in the freezer anyway for those very busy mornings. They freeze so well. You'd never even know they were frozen. All you have to do is make sure when placing them on a large plate, they aren't touching at all. Put them in the freezer for around 25 – 30 minutes, until they are completely frozen. Once they are fully frozen you can put them in a freezer container or freezer bag for up to 60 days! When you need to reheat your frozen fritters you just need to put them in the microwave and reheat them for about 30 seconds, per pancake. They stay fresh in the fridge too! As long as they are in an airtight container no longer than 2 – 3 days.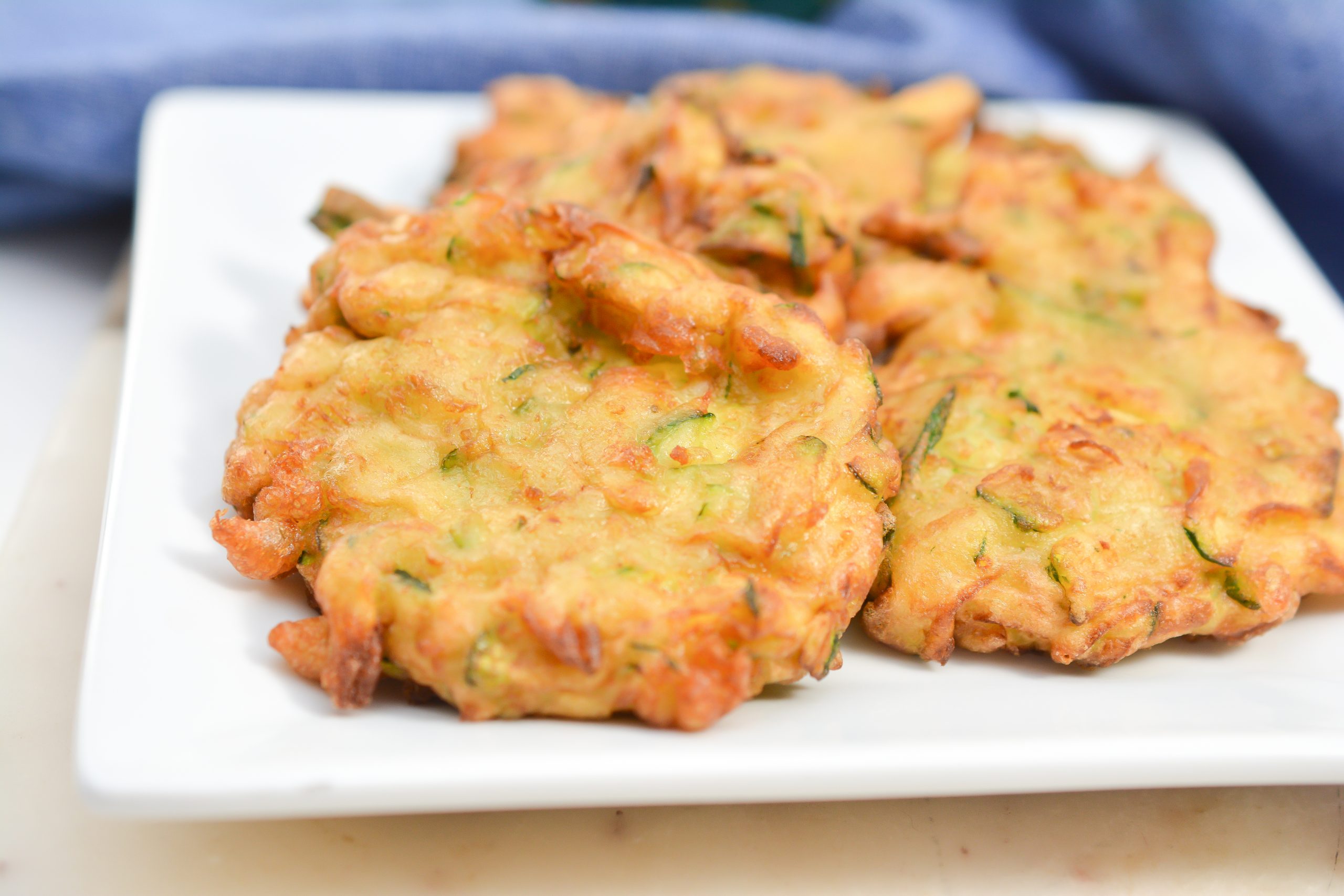 Did you make it? Let us know! Tell us just how it went in the comment section below. Did you top them with sour cream or butter and maple syrup? Enjoy!
Ingredients
2 Medium zucchini shredded
2 Tbsp. Red onion finely shredded
6 Tbsp. All-purpose flour
1 tsp. Baking powder
1 Tbsp. Parmesan cheese
¼ tsp. Garlic powder
Salt and pepper to taste
Oil for frying
Instructions
Place all of the ingredients with the exception of the oil into a mixing bowl, and combine well.
Heat a few inches of oil in a deep-sided skillet over medium-high heat on the stove.
Once heated, drop spoonfuls of the mixture into the oil, leaving room between each pancake so that they do not stick together. Flip when browned on one side, to brown the other side as well.
Remove, and let drain on a paper towel-lined rack before serving.
Enjoy!
Notes

1 - 4 PersonalPoints per serving
Nutrition Information
Yield

5
Serving Size

1
Amount Per Serving
Calories

79
Total Fat

3g
Saturated Fat

0g
Trans Fat

0g
Unsaturated Fat

3g
Cholesterol

1mg
Sodium

178mg
Carbohydrates

10g
Fiber

1g
Sugar

2g
Protein

2g
Now, remember to save this recipe on Pinterest for later 🙂