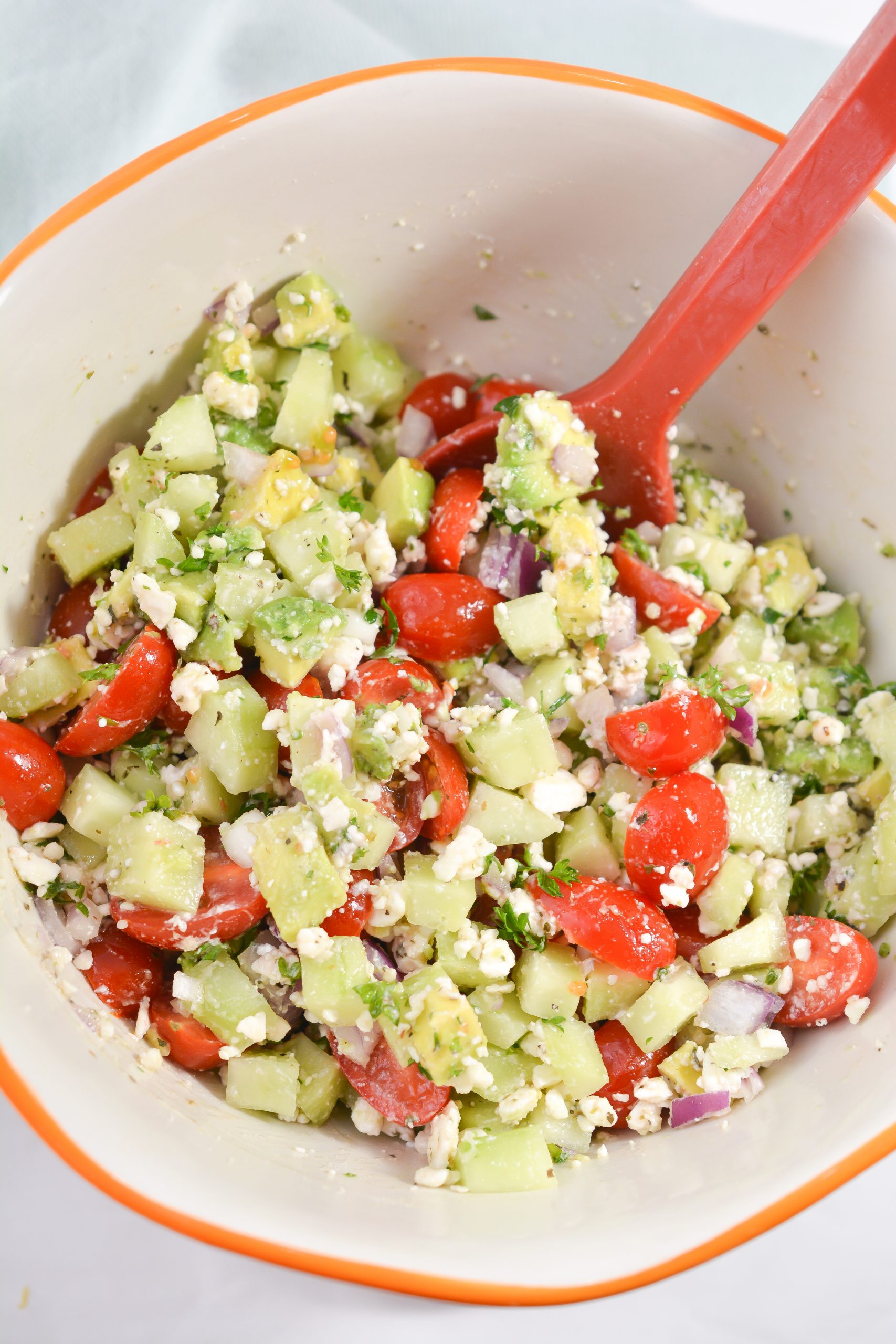 Chicken Caesar Salad, Cobb Salad, Raspberry Vinaigrette Salad, Garden Salad, and Chef's Salad are all your usual go-to salads of choice.
Usually, you eat them as a meal but sometimes you grab a salad on the side of your steak. But now you can go ahead and add a newfound love to your favorite salad list. Introducing a favorite classic, Tomato, Cucumber, and Avocado Salad. If you are finding this recipe in the summertime you most likely will be able to find all of the vegetables in your own backyard garden.
Homegrown tomatoes and cucumbers are so good. It's an excellent, easy salad that everyone will love.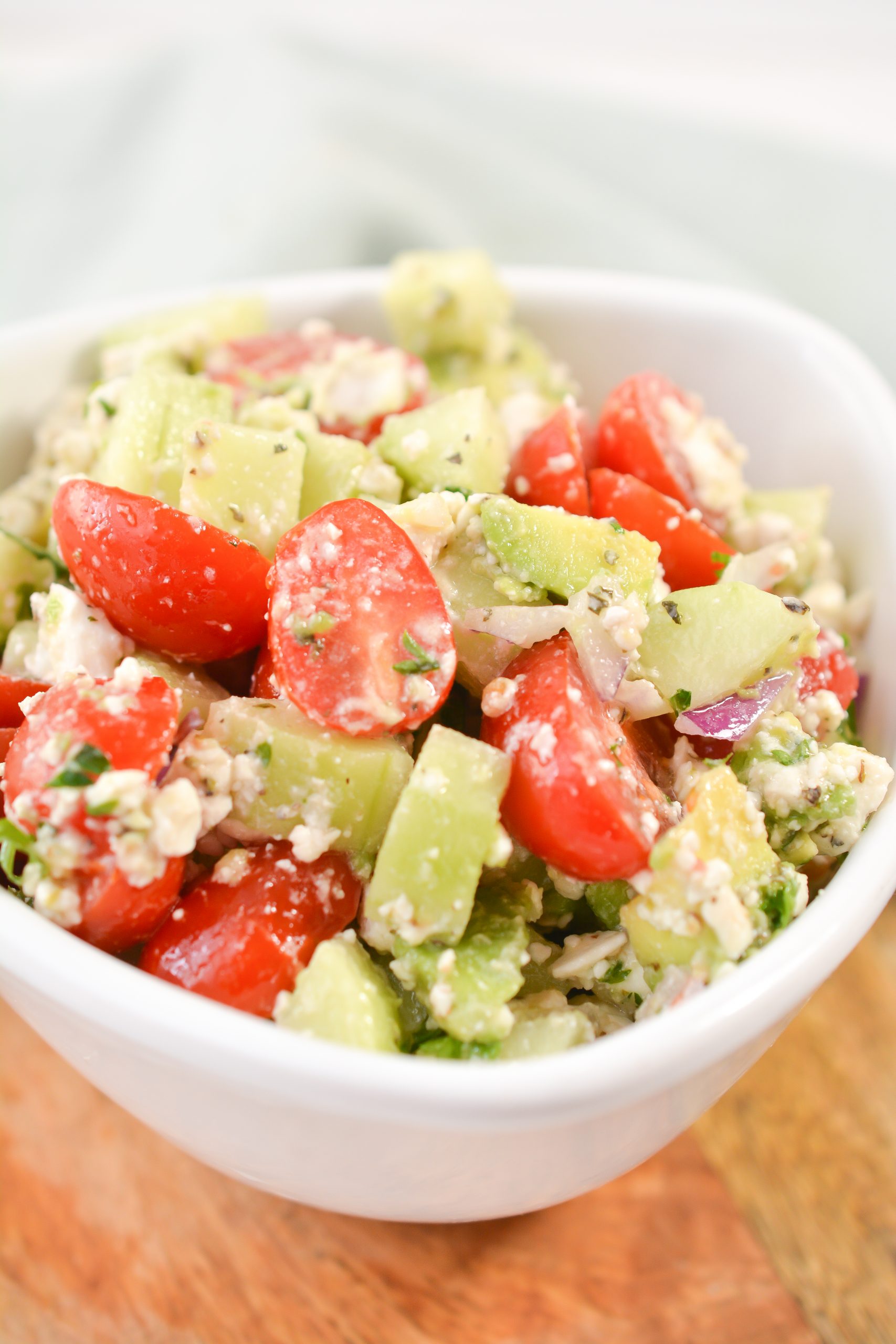 Let's get straight to the point. You are going to be obsessed with this salad. On those oh-so-hot summer nights where you just don't feel like cooking, this salad only takes 15 minutes. Bonus: no oven required! You won't have to turn on the oven and worry about heating up the house when it's already 100 degrees outside.
It's great to have for lunch too! Make it ahead and time and meal prep into containers so it's ready to eat. When you are craving a fresh salad this will give your regular salad a new, satisfying twist. It's easy, healthy, and just so simple to make in less than 15 minutes.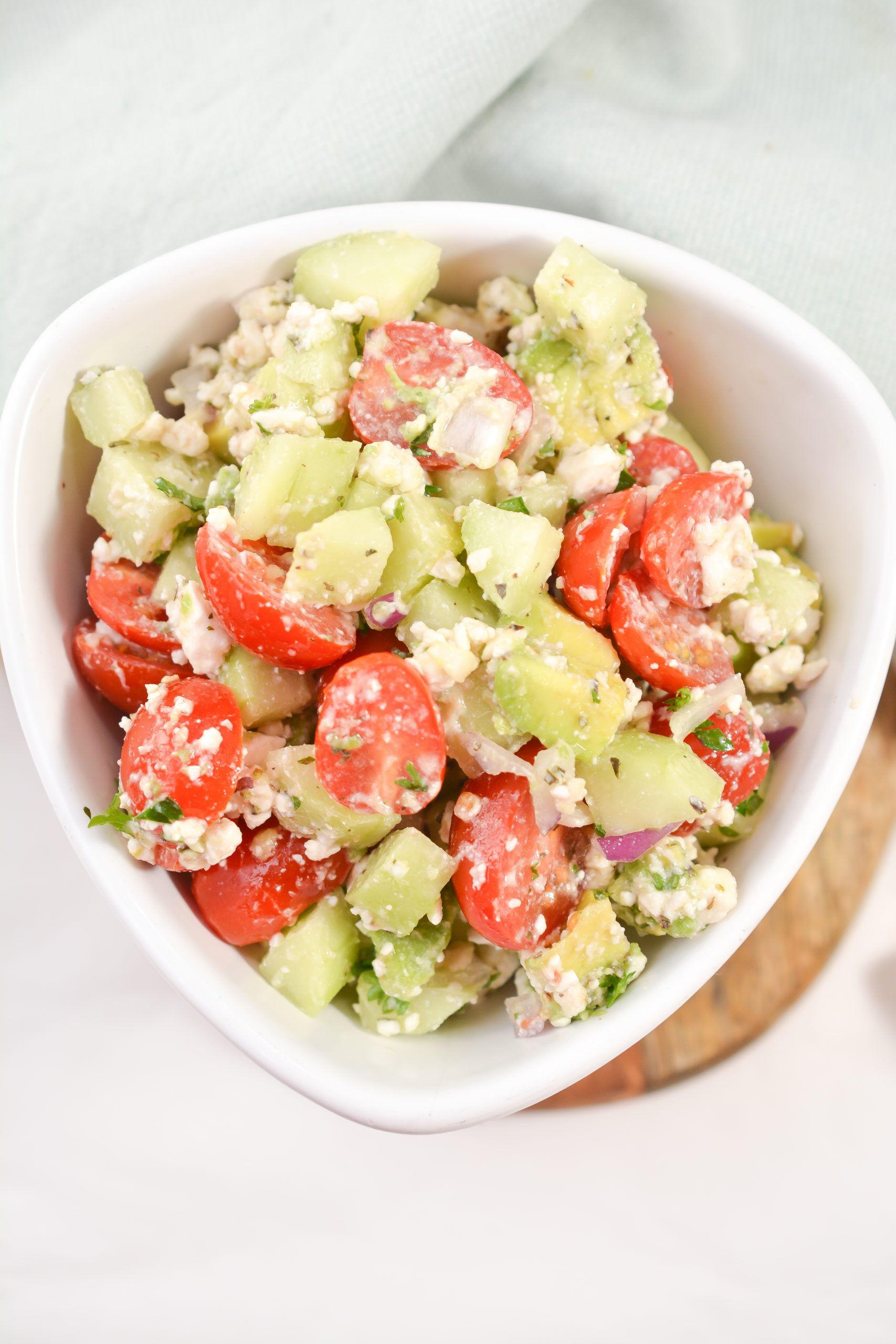 Heading to your church potluck or maybe your parent's house for lunch? If you are heading somewhere and need to bring a dish, everyone will love this salad. It should always be in rotation especially in the warmer months. You will be eating it all summer longer! It's just loaded with the best veggies.
Crisp cucumber, yummy avocado, and lots of juicy tomatoes. It's just so flavorful and good on warm days. It's satisfying and so fresh! You will soon be completely obsessed with this salad. What's not to love?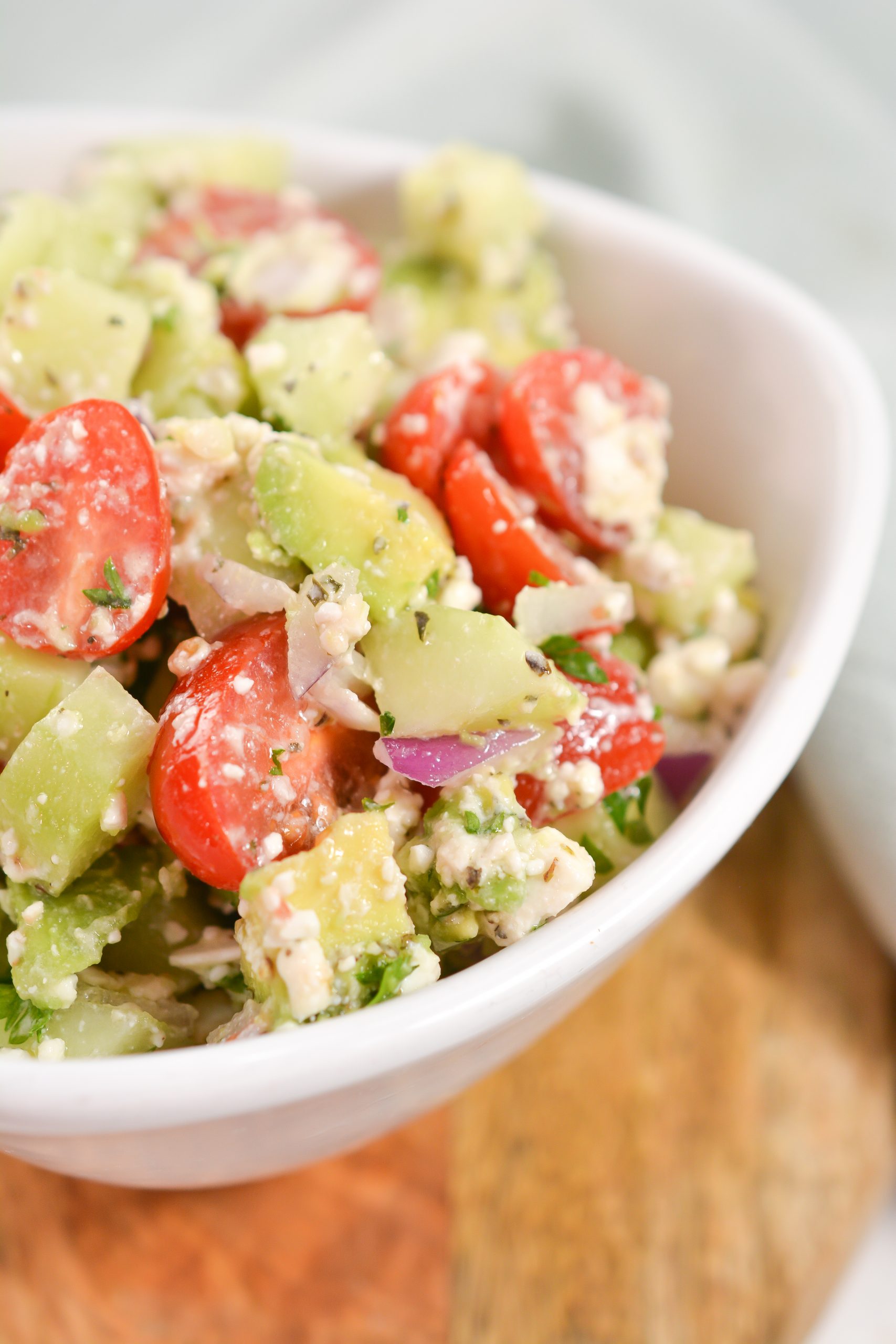 Serve it with some fresh squeezed lemonade or sweet tea from a pitcher. It makes the perfect salad when you are hosting a luncheon with friends in the backyard. It's ready in just 15 minutes and your guest will enjoy every single bite. It's really so good any time of the year for a little reminder of summertime.
Who doesn't love a fresh salad straight from farm to table? If you feel like you need to make it more of a meal even though it's truly a meal in itself you can always pair it with a piece of chicken. Slice a few lemons on top of the chicken for some added protein. It's easy to throw the chicken on the grill so you will still be able to put together an easy dinner without heating up the house.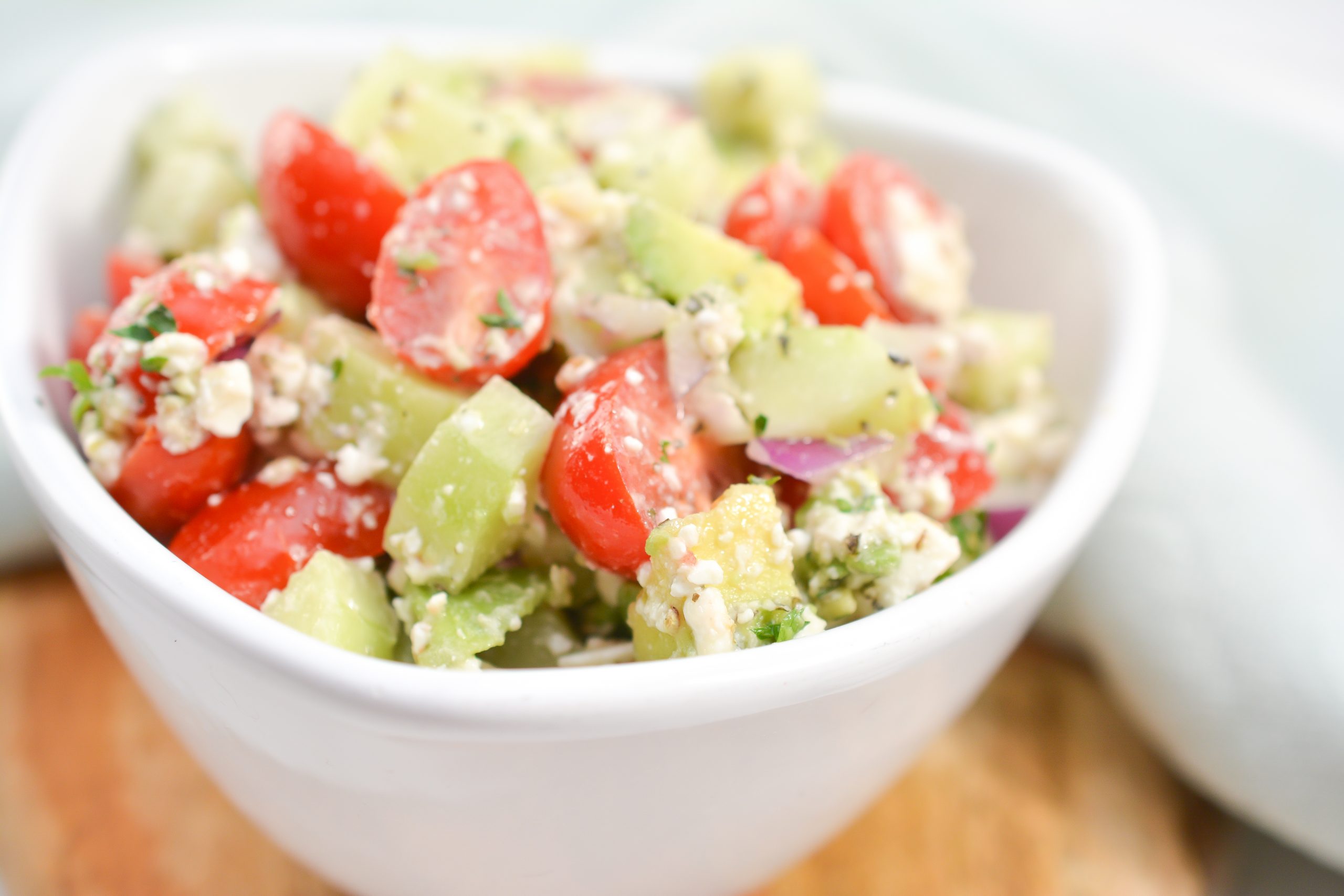 No matter how you serve it one thing will remain true – it's just as delicious by itself or paired with other sides as a meal. It's one of those salads everyone will constantly be wanting more of and will be the hit of the next neighborhood block party.
Did you make it? Tell us just how it went in the comment section below. Let us know. Enjoy!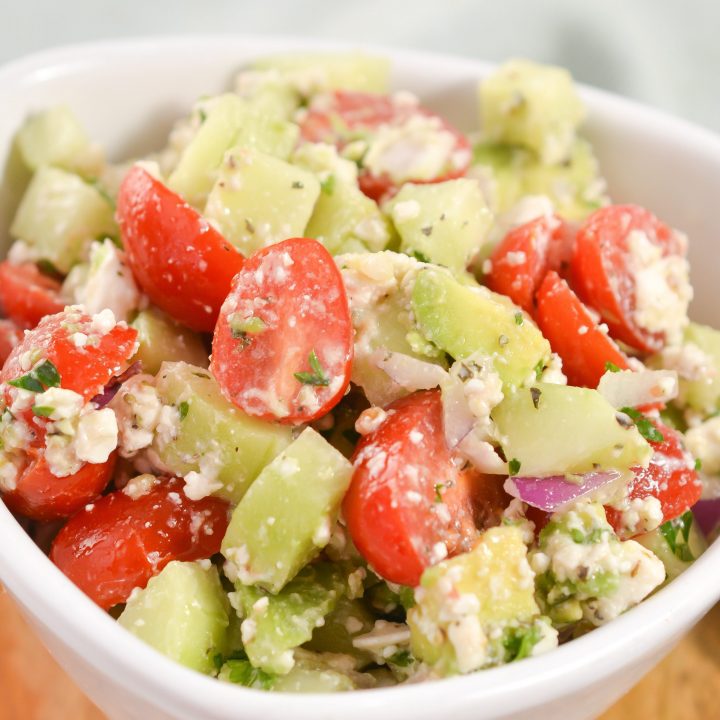 Tomato, Cucumber and Avocado Salad
Ingredients
2 C. Cherry tomatoes sliced in half
1 Cucumber peeled, deseeded and chopped
1 Avocado diced
2 Tbsp. Minced red onion
4 oz. Feta cheese crumbled
2 Tbsp. Fresh chopped parsley
1 Tbsp. Red wine vinegar
2 Tbsp. Olive oil
Salt and pepper to taste
Instructions
Add the ingredients to a large mixing bowl, and stir to combine well.
Serve right away, or chill before serving if you prefer.
Notes

Weight Watchers Points Info : 5 PersonalPoints per serving
Nutrition Information
Yield

4
Serving Size

4
Amount Per Serving
Calories

178
Total Fat

10.3g
Saturated Fat

4.3g
Carbohydrates

10.8g
Fiber

4.5g
Sugar

0g
Protein

6.1g
Now, remember to save this recipe on Pinterest for later 🙂