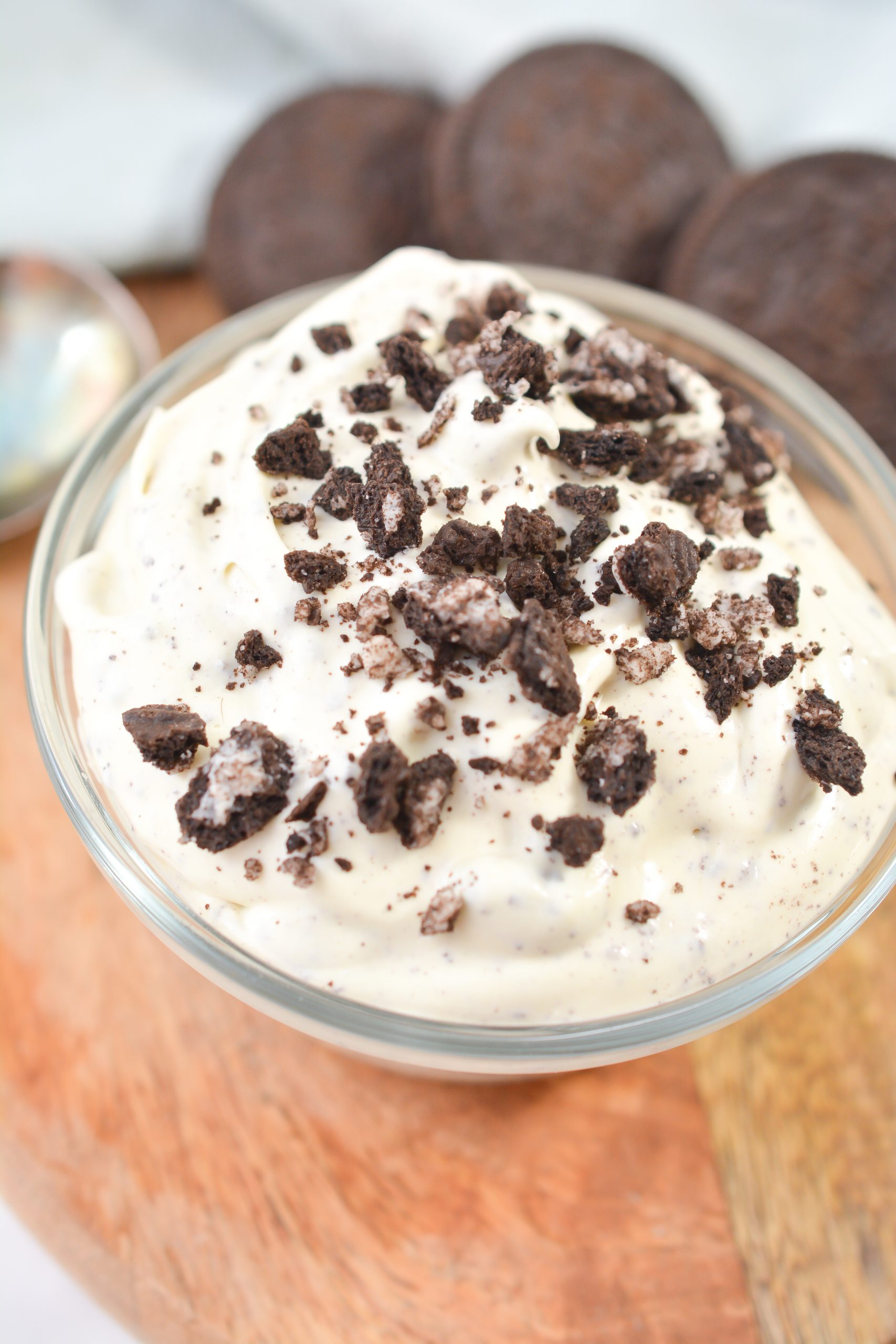 Are you ready to try the most delicious dessert? Thrown together with just four ingredients you most likely have in your pantry, it takes zero time to put it together and WOW guests.
Oreos have always been the classic cookie. It's just something about an Oreo that is just so good. No matter how old you are! It will always be a family favorite. So why not take your favorite cookie and turn it into a dessert? Especially a dessert you will want to make over and over again.
4 PersonalPoints per serving
Desserts on repeat are the way to go! This is one recipe that will be your classic go-to when you need a dessert and quickly. It will also be a refreshing afternoon snack on a warm day. Now you might notice the Weight Watchers points. If you are following the Weight Watchers program you may recognize the Oreo Fluff recipe too.
It really is heaven in a bowl! And it's actually not going to be a ton of calories and sugar like most desserts that taste this good.
You can serve Oreo Fluff in a bowl or even use it as a drip for pretzel or fresh fruit. It looks so pretty on the table. It's a mouse-like dessert. No matter how you eat it, it's just as delicious. It's beyond easy to just grab a spoon and dig right in. If you need to bring something to your next BBQ or just have a sweet craving, it's an easy dessert to quickly whip right up for all to enjoy. As you spoon this out after dinner, your family will all be thanking you for the sweet treat.
Unlike some desserts, you can make this a few days ahead of time. Just make sure you save the Oreos and add them in right before you serve your Oreo Fluff. When they are stored in the fridge they tend to soften. You want them fresh as a topping! If you have leftover, don't fret. You can easily store it and it is still just as good as the day before. You can store it and keep it fresh for about 3 days.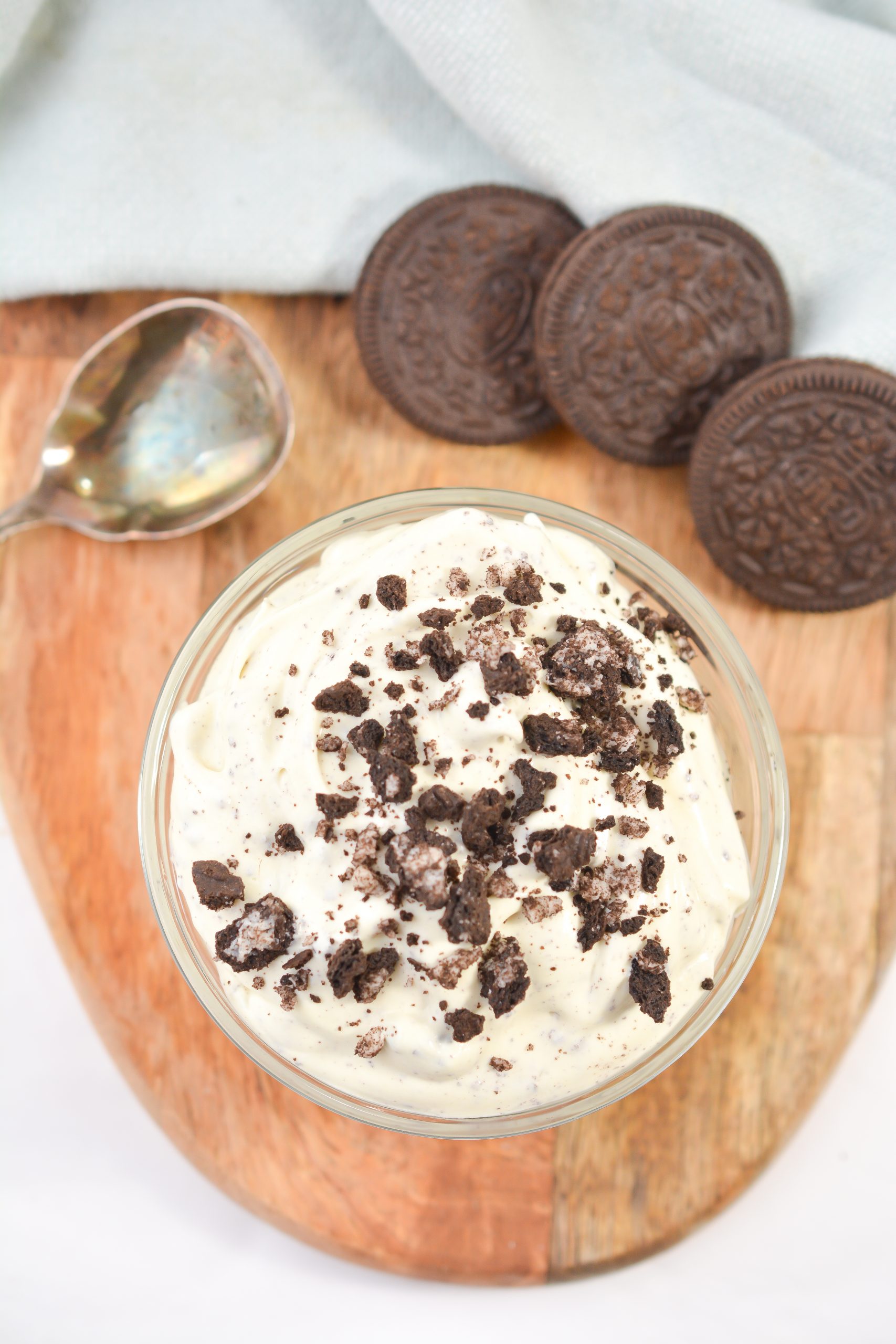 If you are wanting to take this recipe up a notch, there are some variations to Oreo Fluff. You don't have to stick to regular Oreo's. You could go for Golden Oreos on top or even Mint Oreos.
The Mint Oreos or Thin Mint Oreos are just as yummy and give it a little twist! If you want you could even make it more fun for a party or for your kids by adding in gummy worms. What a surprise inside the Oreo Fluff they will find! This is another recipe and dessert where you most likely won't have any leftovers. So if you want them, you should double up on the ingredients. It always goes so fast.
Did you make it? Tell us just how it went in the comment section below. Let us know. Enjoy!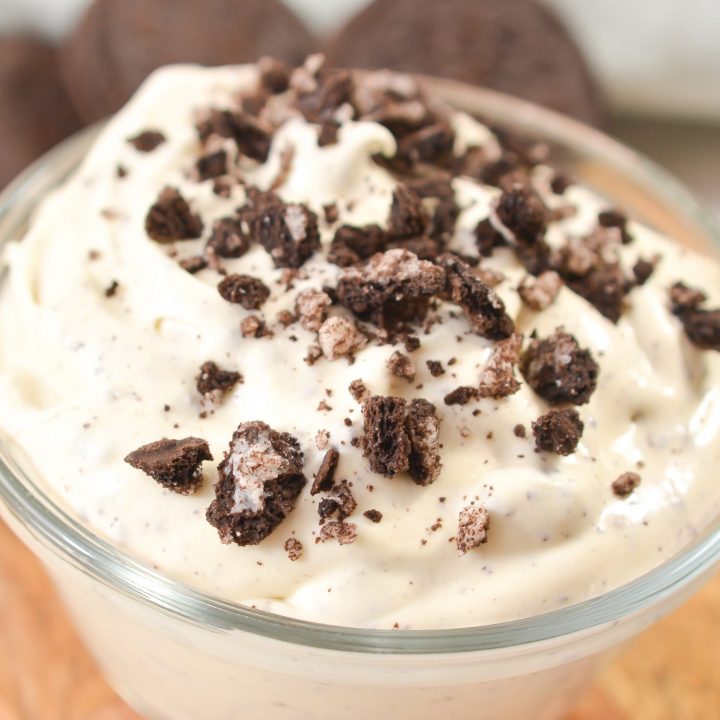 Oreo Fluff
Ingredients
1 Box Vanilla instant pudding mix
2 C. Skim milk
6 Reduced fat Oreo cookies crumbled
8 oz. Fat free Cool Whip topping
Instructions
Whisk together the pudding and milk in a large bowl until well combined. Allow to sit for 5 minutes to thicken and set.
Fold the cool whip into the pudding mixture until well incorporated.
Mix the Oreo crumbs into the mixture.
Chill for a minimum of 1 hour before serving.
Enjoy!
Notes

Weight Watchers points:  4 PersonalPoints per serving
5 points if using non sugar-free pudding
Nutrition Information
Yield

10
Serving Size

1/2 cup
Amount Per Serving
Calories

149
Total Fat

4g
Saturated Fat

2g
Carbohydrates

29g
Sugar

10g
Protein

2g
Now, remember to save this recipe on Pinterest for later 🙂