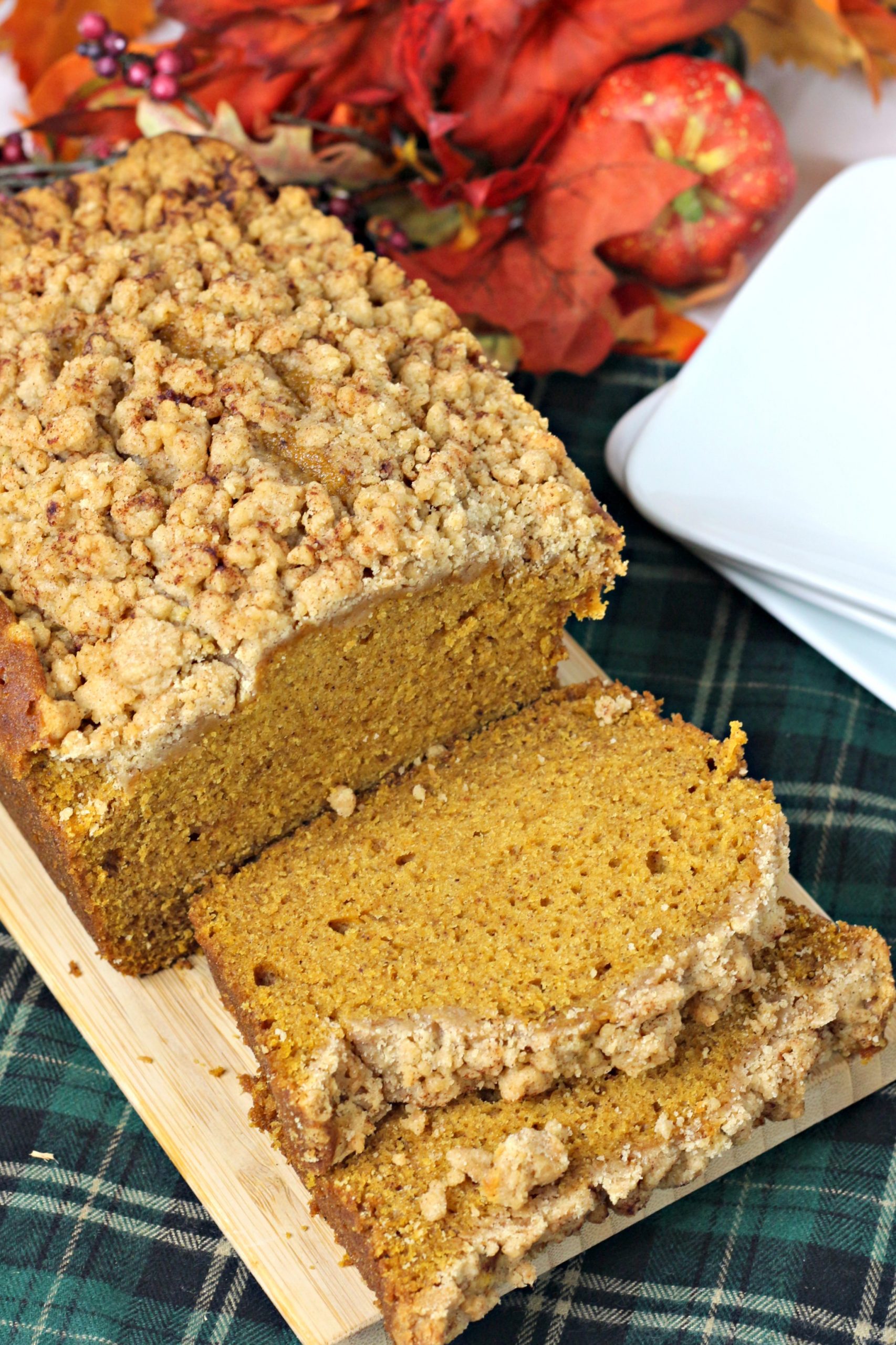 Hello all! Today, a brand new recipe that you can probably smell through the photos, Pumpkin Crumble. A crumble has more of a cake consistency and more dense. The crumble is noticeable on top of the bread loaf. It is usually filled with fruit or brown sugar.
Crumble topping is made by mixing flour, brown sugar, cinnamon and butter together. The butter will absorb all the dry ingredients creating a flaky consistency that will sprinkly perfectly on top of the bread.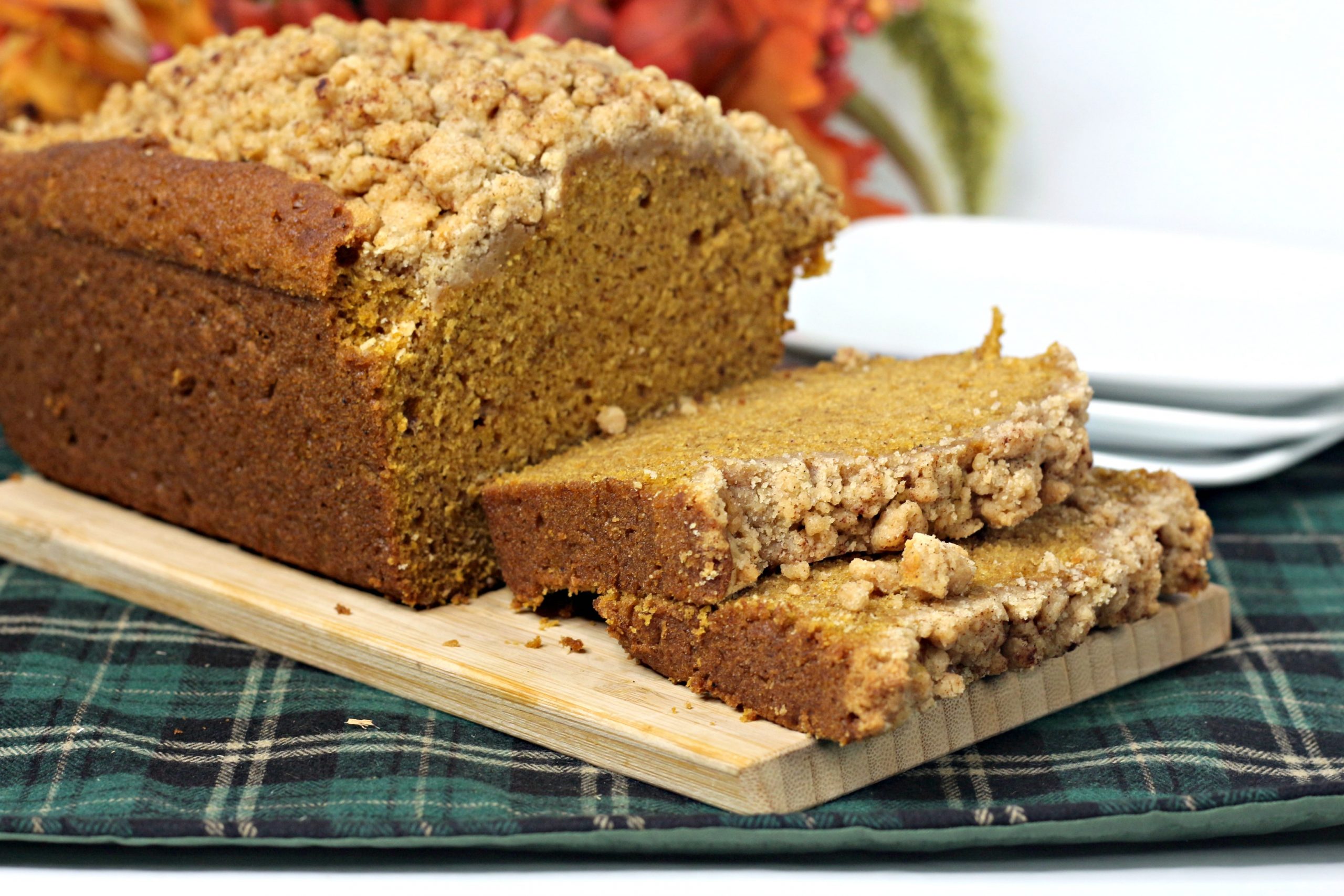 Crumble cakes pair perfectly with a hot cup of tea or coffee. The stronger the drink the better it will taste against such a sweet dessert. Since we are talking about coffee and tea, this bread is great at breakfast time.
Our lives usually consist of a drive-thru or 711 in the morning, but we deserve better! Make this bread at the end of the night, store it in the fridge, and simply warm up a slice or two in the morning with some jam or butter.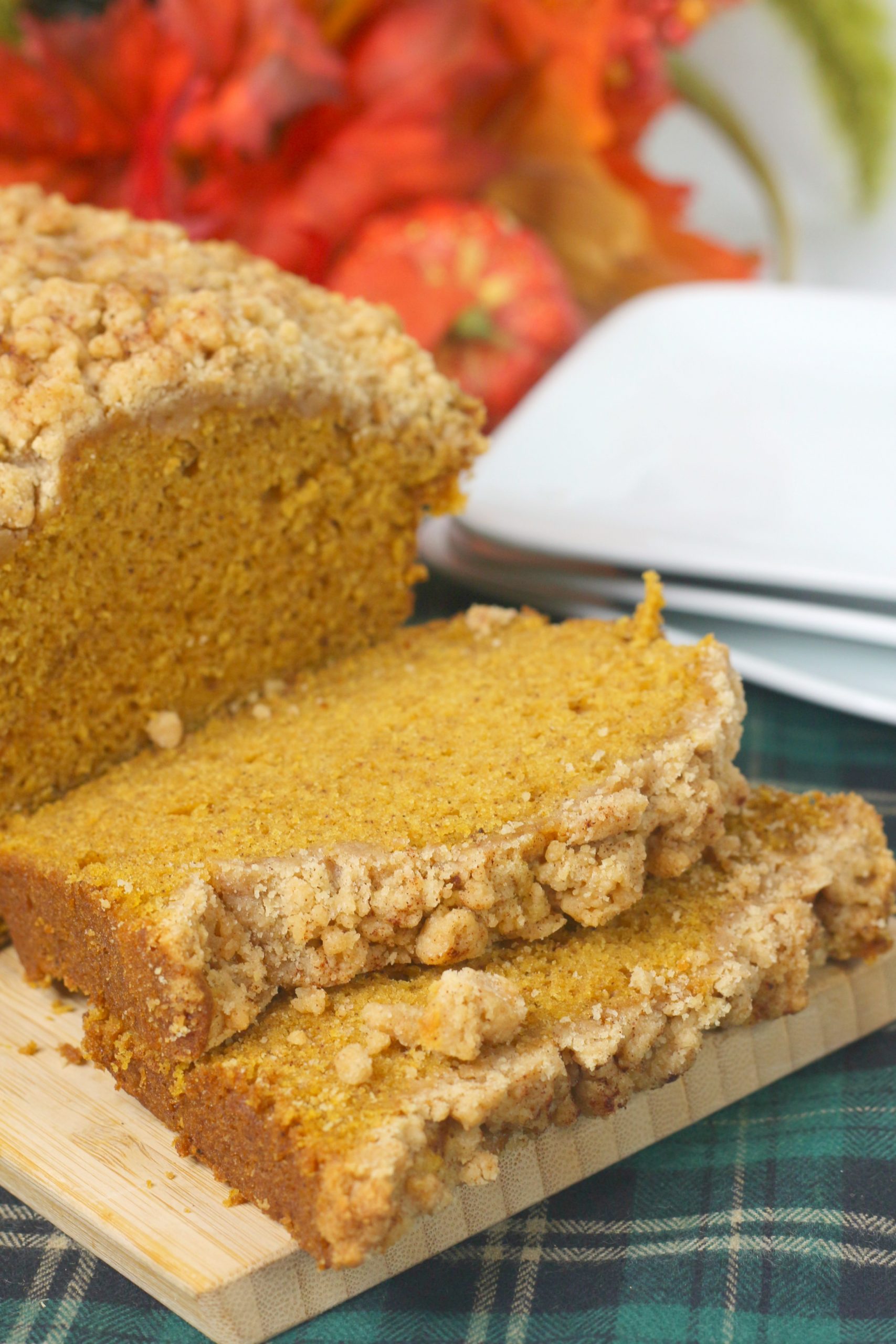 In this recipe, we created our very own, homemade pumpkin spice. Simply go into your pantry and grab out ground cinnamon, cloves, allspice, nutmeg, and ginger. If you don't want to make your own you can purchase from the store pre-mixed. Using the homemade mix from this recipe has more flavor than the pre-mixed spice.
Pumpkin is one of the best ingredients in any dessert. It has a subtle, buttery, and earthy flavor. It goes perfectly with anything sweet or savory. Whether it is a dessert or the main dish pumpkin is used all over the world. If you are making this dish in the fall then the best way to get pumpkin puree is to get your hands dirty. Scoop out the pulp and remove the seeds.
Once you do this, bake the pumpkin and blend the mixture till it is completely smooth. You do not want any stringy pieces from the pulp messing up the dough.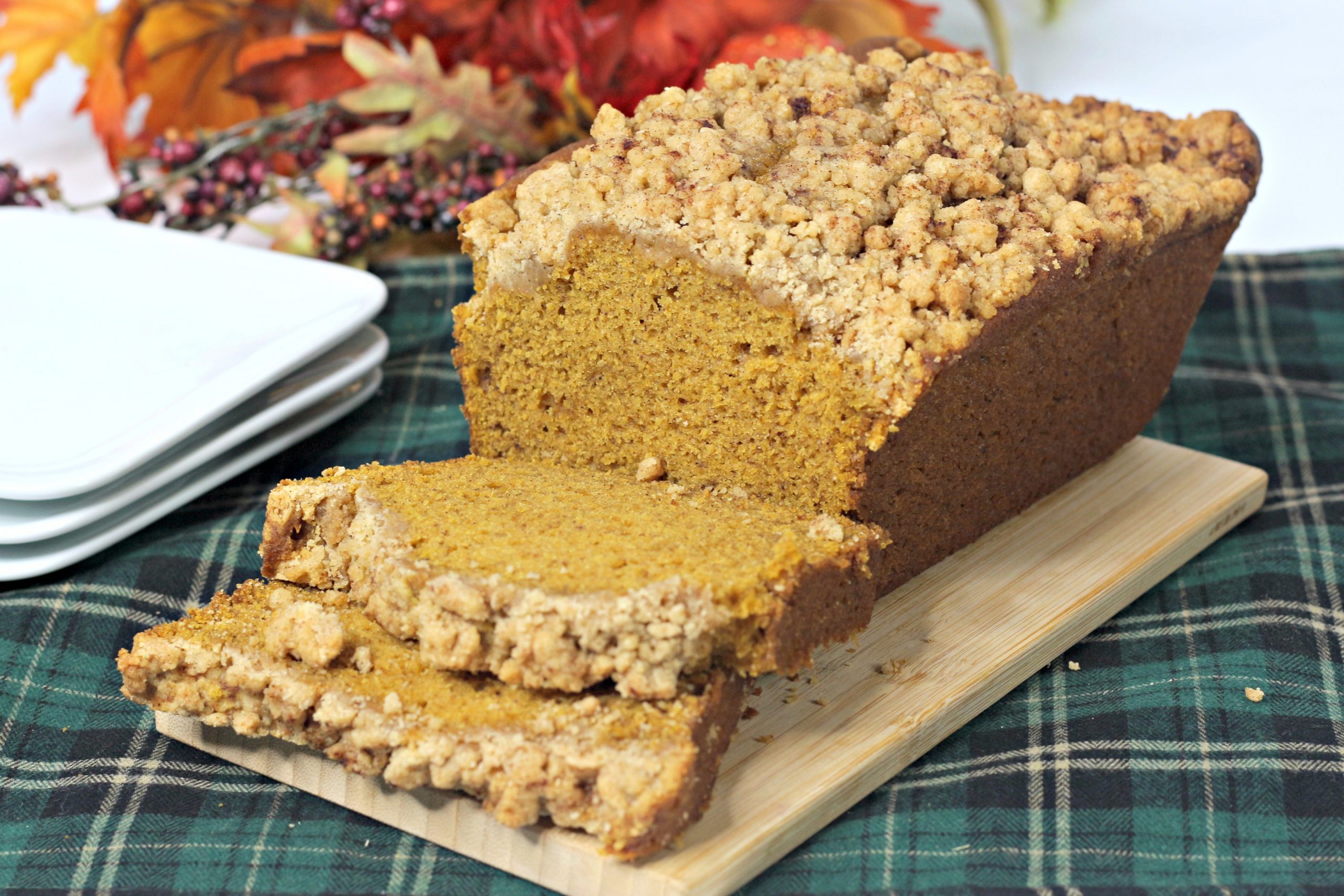 If pumpkin is one of your favorite flavors then go grab yourself some pumpkin-flavored coffee, creamer or even tea! I know most of us have had pumpkin coffee but you can't knock pumpkin spice tea if you have no tried it! A lot less intense of a flavor than coffee but compliments the bread perfectly.
For a Pumpkin Crumble the best flavor pairing of coffee would be a light roast. When enjoying your cup of coffee make sure to take a sip first and really get a good squig down so your taste buds can evaluate the boldness and roasted flavor.
We typically go for the strongest coffee possible to keep up with our busy schedule, but do you really think about how it pairs with your food?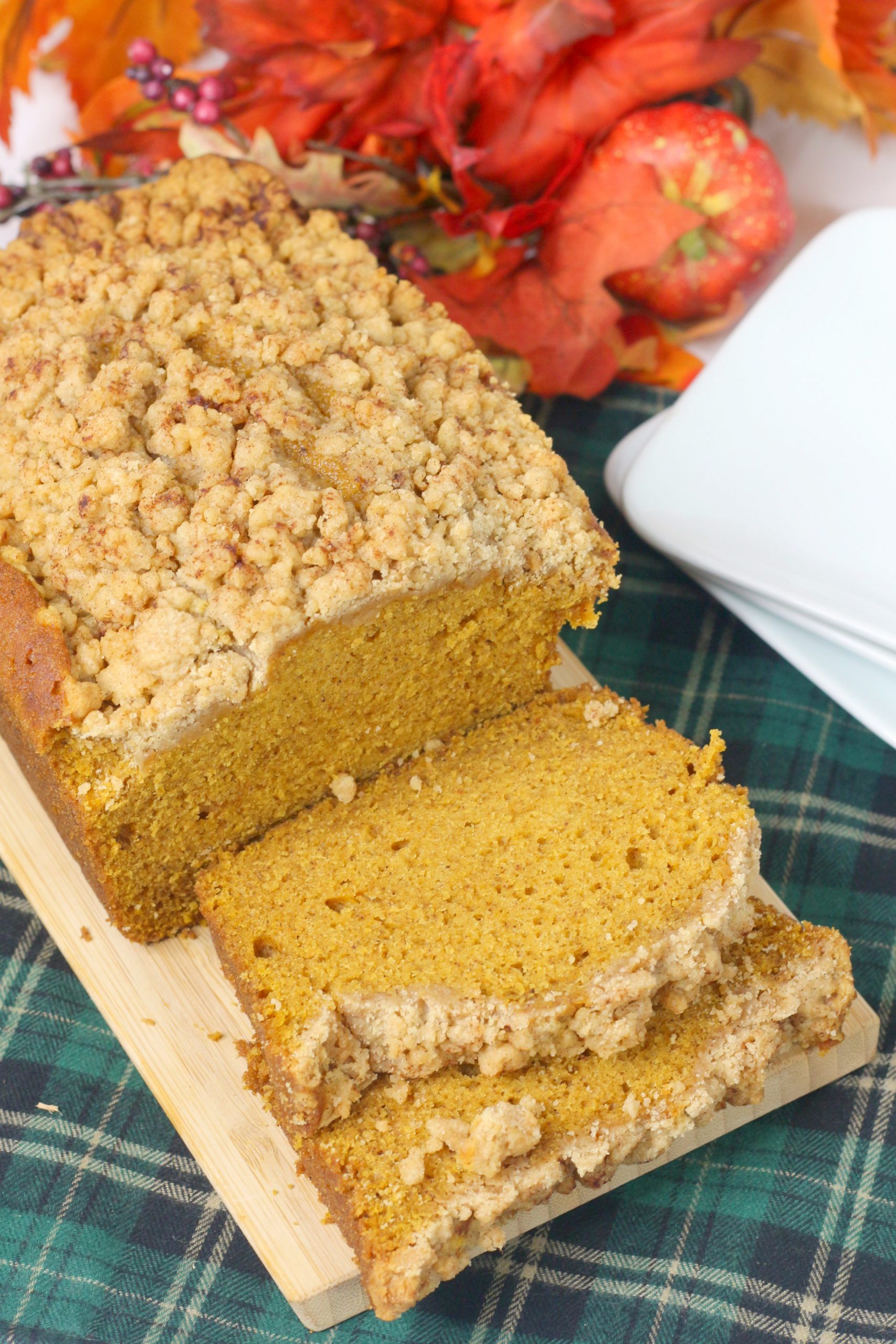 When you have some downtime, try to research what flavors you are looking for and what pairs best with your morning Pumpkin Crumble or any other breakfast food you maybe pairing it with.
For an even healthier snack, try adding fresh-cut bananas or strawberries onto your bread. Skip the jam and butter, get all those essential vitamins to boost your overall health. Whether you add butter, jam, fruit, or nothing to your Pumpkin Crumble, you are in for a real treat!
Did you like it? Tell us just how it went in the comment section below. Let us know. Enjoy!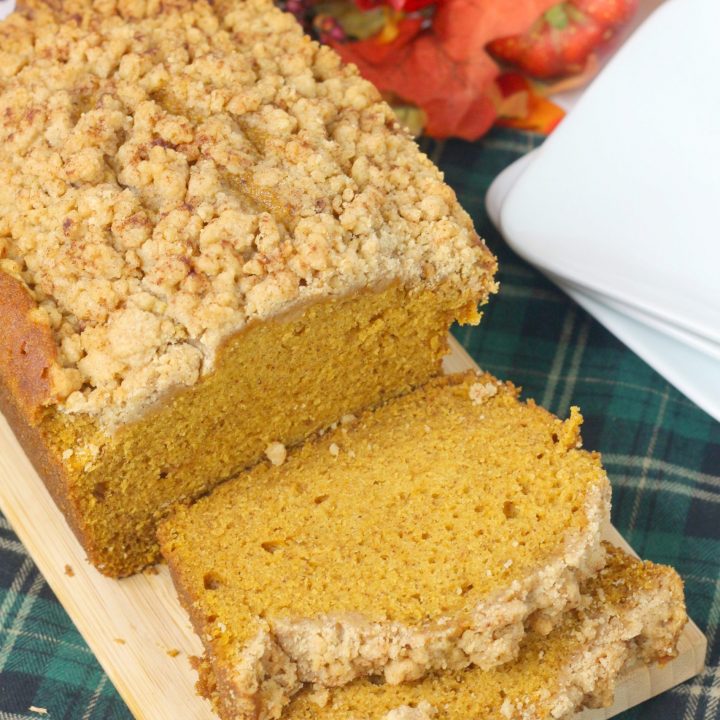 Pumpkin Crumble
Ingredients
3 1/3 C flour
1 1/2 tsp salt
2 tsp baking soda
1 1/2 tsp ground cinnamon
1/2 tsp ground nutmeg
1/4 tsp ground ground cloves
1/4 tsp ground allspice
1/4 tsp ground ginger
2 C sugar
1/2 C brown sugar
1 C canola oil
4 eggs, large
1 15oz can pumpkin puree
2/3 C water
1 tsp pure vanilla extract
Crumble ingredients :
½ C cold butter, cubed
½ C light brown sugar
¾ C flour
2 tsp ground cinnamon
Instructions
Preheat oven to 350 degrees and grease two 8x4 bread pans
In a large bowl, mix flour, salt, baking soda, cinnamon, nutmeg,
cloves, allspice, and ginger together.
Add in granulated sugar and brown sugar; mix until combined.
Make a well in the center and add in the oil. Mix just until the oil is combined
Add in the eggs, 2 at a time, mixing after each addition
Add in the pumpkin puree, water and vanilla extract, mixing until well combined.
Divide the batter between the two bread pans. Set aside.
In a separate bowl, mix flour, brown sugar and cinnamon together. Cut
in the butter with a fork or pastry cutter and mix until it resembles
coarse crumbs.
Sprinkle the crumb topping evenly over both batters.
Bake for 55-65 minutes, or until a cake tester comes out clean.
Allow to cool for 10 minutes before removing loaves from the pans,
placing them on a wire rack to finish cooling.

Slice, serve and enjoy!