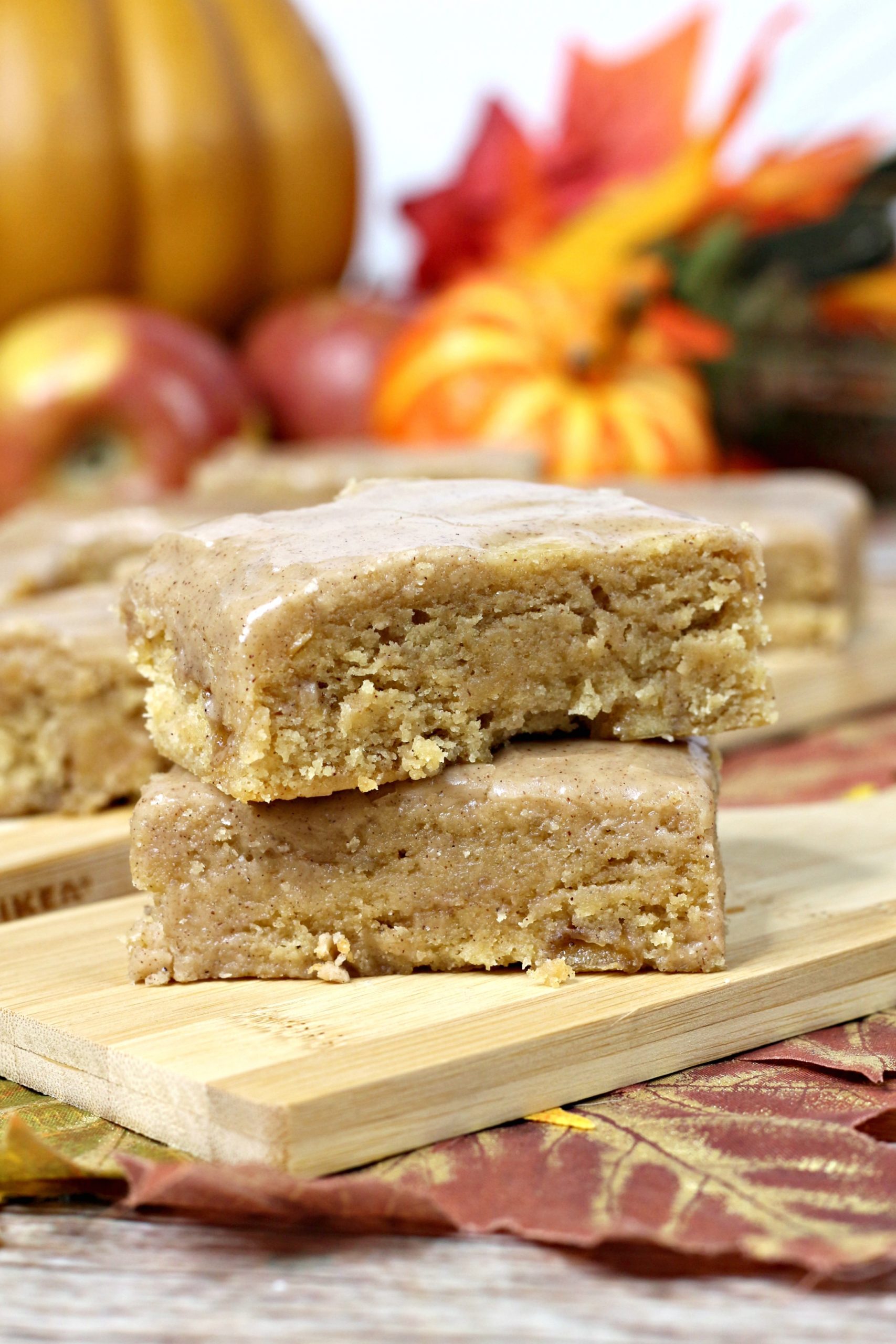 Halloween is one of the most popular holidays for kids. Who doesn't love carving pumpkins and eating a lot of candy? No matter how old you are, carving pumpkins is so fun! We love it!
But who said Halloween is only for candy from the grocery store? We don't think so! That's why today, we are bringing you this sweet treat, Pumpkin Maple Apple Blondes. Have you ever had blondes? Not the girls! But the sweet treats are made by using vanilla instead of cocoa in the batter. That's where the name blondie comes from! So fun, right?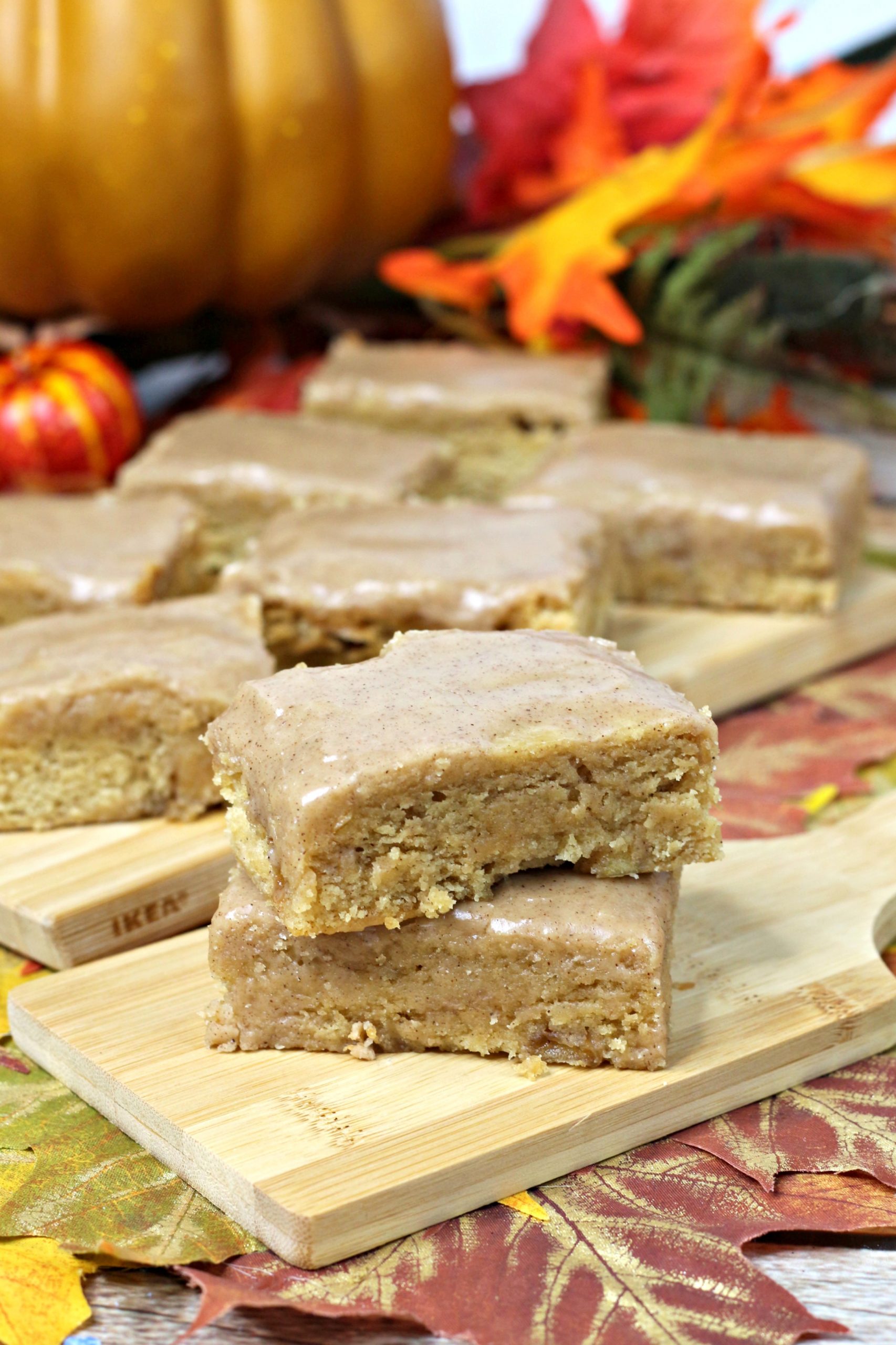 These blondes have three perfect layers that get better with each bite. Do you prefer regular brownies or frosted ones? We like both! The icing can be a turn-off for some people because it is too sweet, but this recipe is perfectly balanced with flavor and texture.
It's a brisk Saturday afternoon, and you are exploring your local pumpkin patch looking for the perfectly round pumpkin that will sit on your porch. Lighting up the sidewalk for the ghouls and goblins will be there on October 31st—setting up a table to dig into your pumpkins to design faces and shapes with the kiddos.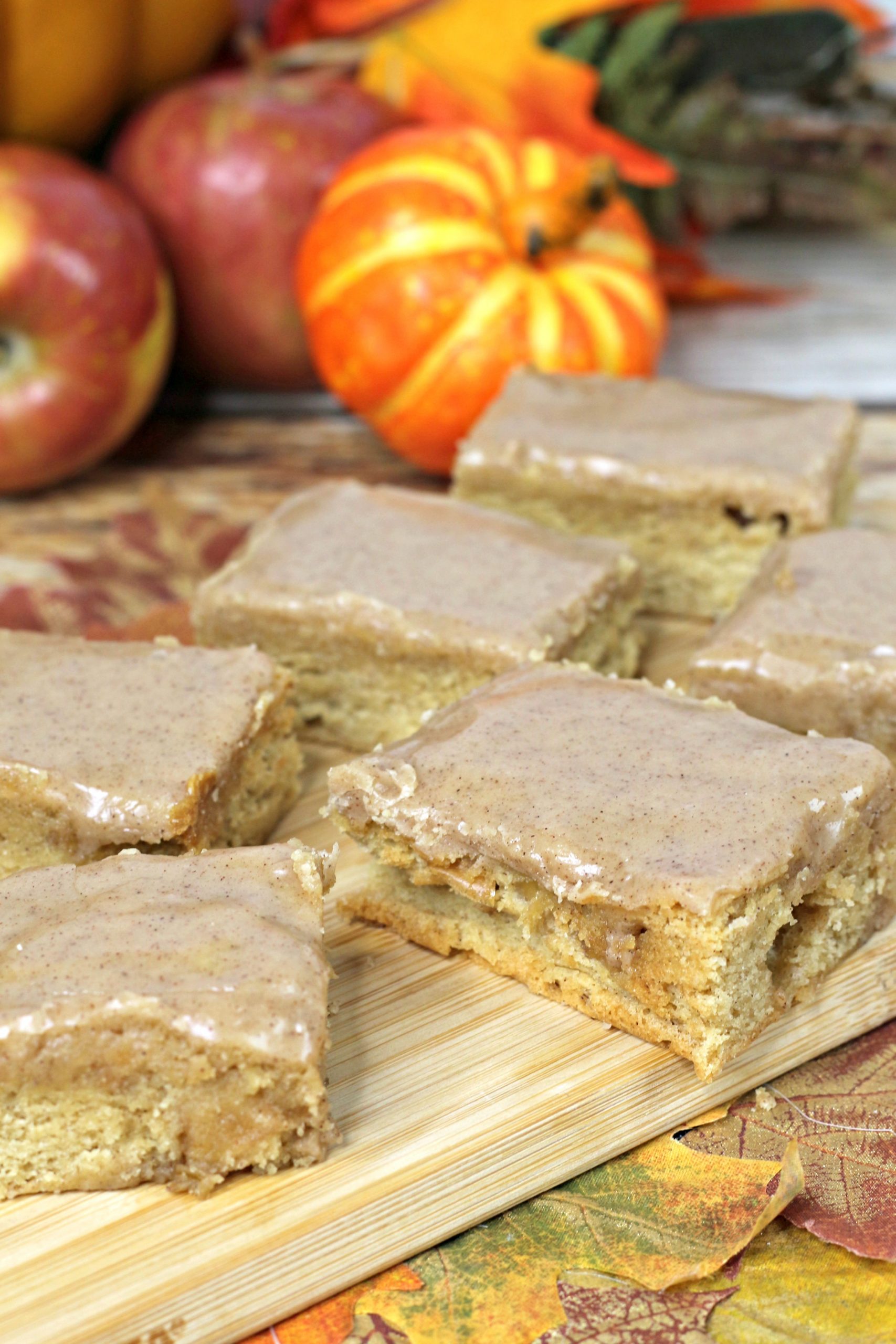 After all that hard work, you guys deserve a snack! Why not have these Blondes baking during the carving so you all can enjoy your masterpieces with a bit of a treat!
While you are on the pumpkin patch, you might as well get some apple picking in too! Have you ever gone to an apple orchard? It is so fun and a beautiful experience you should do at least once in your life. We need fresh Gala apples for this recipe, and you can grab some while on your adventure for pumpkins.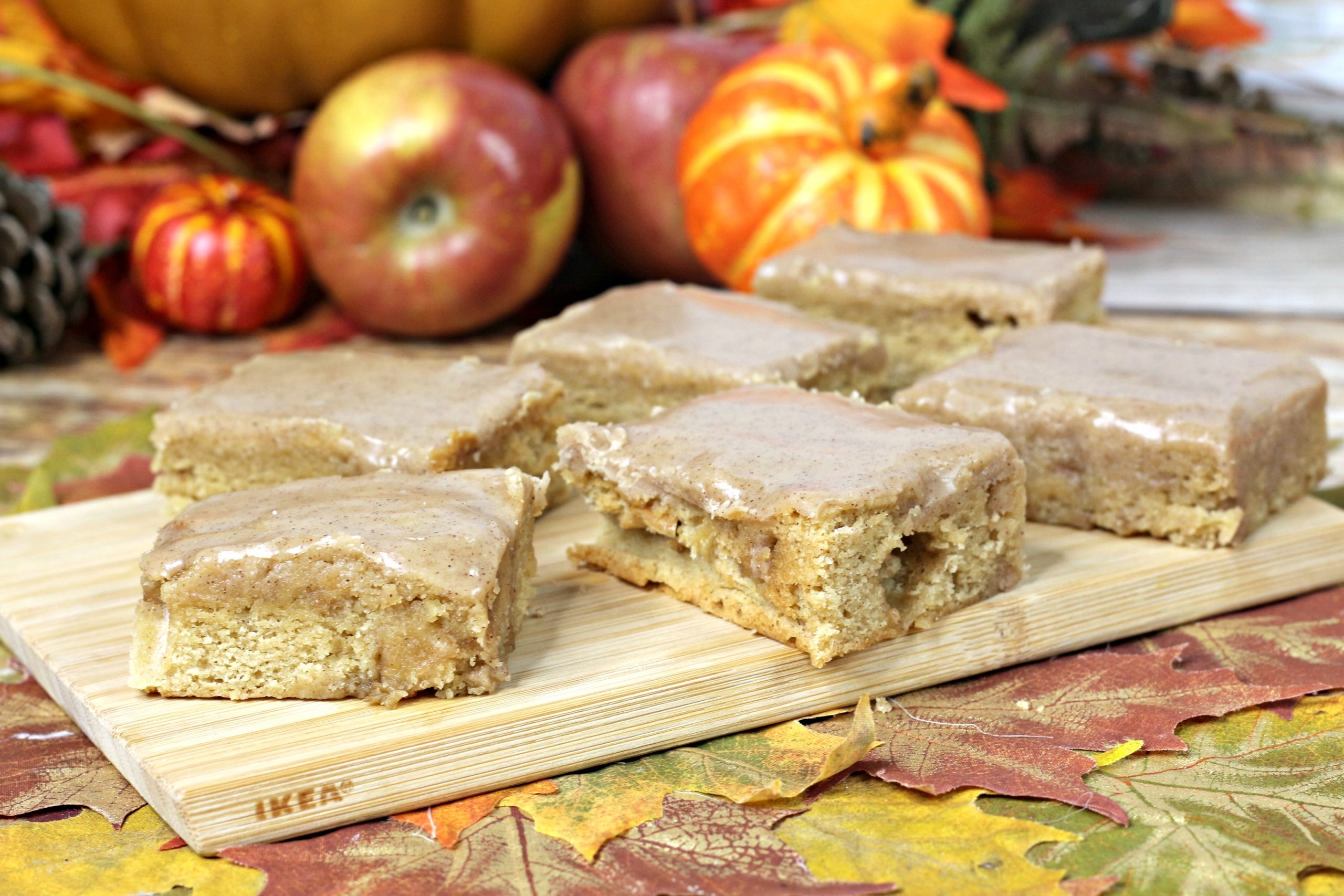 Can you tell the difference between sure apples? It can be challenging but let us help you narrow down the flavor profile in these Gala Apples. It is the number one apple used in the United States as of 2018. It is surpassing Red Delicious with its mild crunch and sweet flavor. They also have a hint of vanilla, and a flowery aroma to them once cut.
The blonde brownies are topped with an Apple Pie Spice Filling and then a Pumpkin Maple Glaze.
Fresh picking your apples ensure's their freshness for this dessert. Using any apple with brown spots can alter the flavor and make them less sweet. Cut them into small pieces right before mixing. Apple's would turn brown from the oxygen in the air if left uncovered for too long.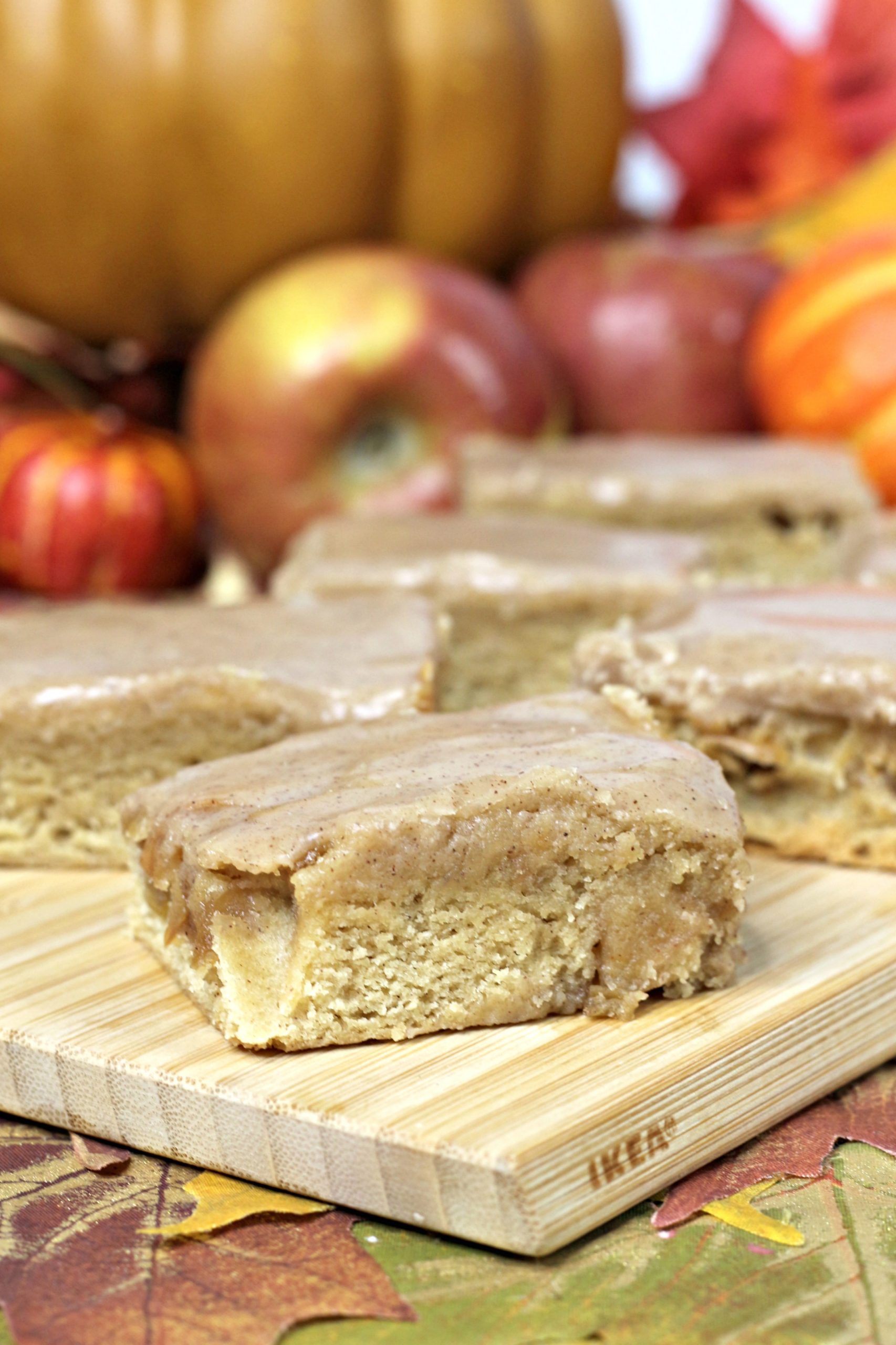 The Pumpkin Maple Glaze is where it's at! Combining brown sugar, butter, maple syrup, powdered sugar, pumpkin pie spice, and vanilla extract to create perfection.
What would you serve this with?
We recommend a cold glass of milk or, if you are of age, a crisp seasonal beer with pumpkin or apple flavor. Hard apple cider is also a perfect pairing with these Pumpkin Maple Apple Blondes.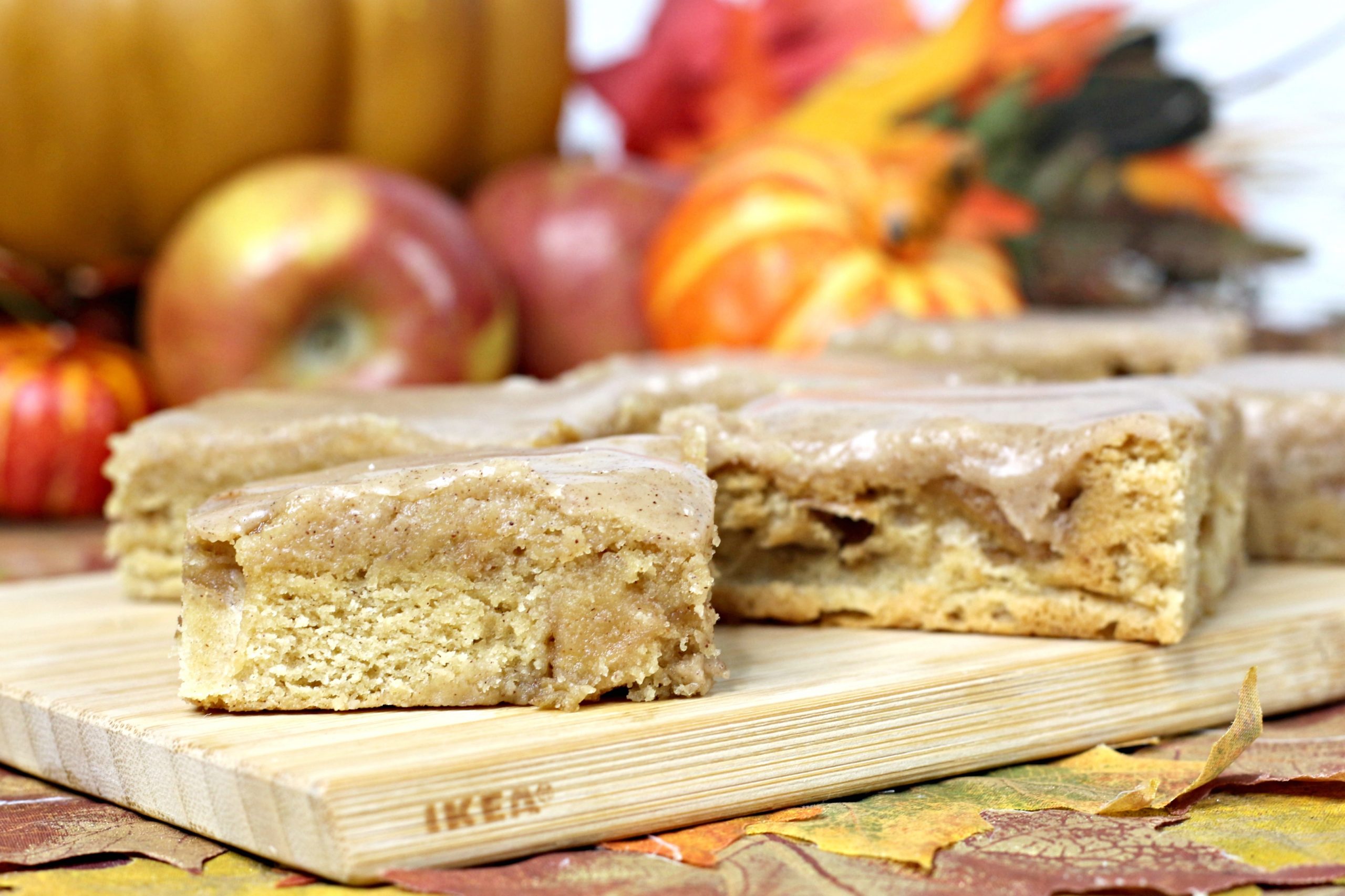 Did you make it? Tell us how it went in the comment section below. Let us know. Enjoy!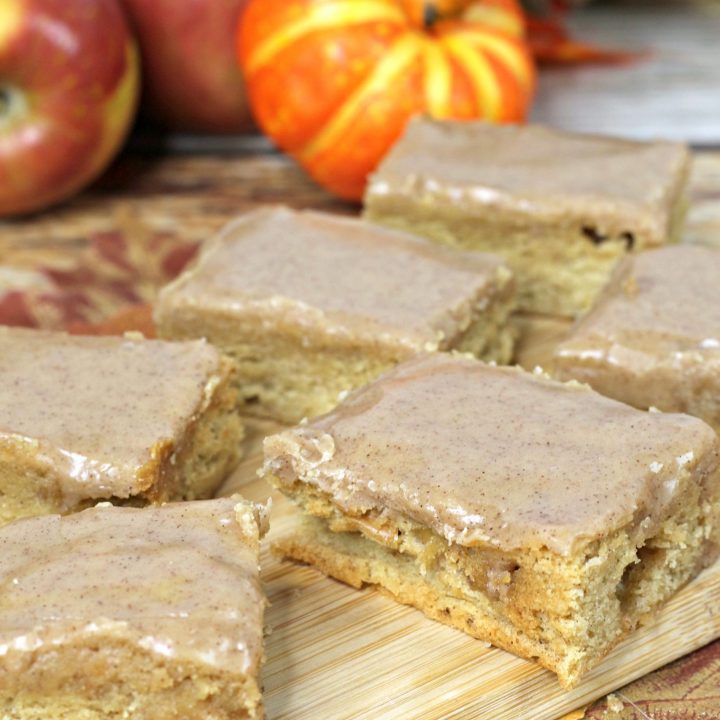 Pumpkin Maple Apple Blondes
Ingredients
Blondies Ingredients :
2 C flour
1 tsp baking powder
1/2 tsp kosher salt
1 C unsalted butter softened
1/4 C sugar
1 C dark brown sugar
2 large eggs
1 1/2 tsp pure vanilla extract
1/2 tsp ground cinnamon
½ tsp Pumpkin Pie Spice
Apple Pie Spice Filling :
2 large Gala Apples chopped finely
2 Tbsp light brown sugar
1 Tbsp unsalted butter
1/2 tsp pure vanilla extract
1/2 tsp ground cinnamon
Pumpkin Maple Glaze:
2 Tbsp unsalted butter
¼ C pure maple syrup
½ C powdered sugar
¼ tsp pure vanilla extract
¼ tsp pumpkin pie spice
Instructions
Apple Filling :
Using a medium pot over low heat, cook the apple filling mixture for about 5-7 minutes or until apples have cooked.
Allow to cool completely
Blondies :
Preheat oven to 350 degrees and spray a 11x7 baking dish with pam baking spray
Using a large bowl, cream the butter, brown sugar and sugar until
light and fluffy
Beat in the eggs, 1 at a time until combined
Beat in the salt and vanilla
Using a medium bowl, whisk together the flour, baking powder, ground
cinnamon and pumpkin pie spice
Gradually mix in the dry ingredients into the wet
Spread half of the batter into the pan
Spread half of the apple filling onto the top of the batter
Spread remaining batter over the apple filling
Place into the oven and bake for 25-30 minutes or until a toothpick comes out clean
Maple Pumpkin Spice Glaze
Using a small pot, melt the butter, maple syrup, vanilla, cinnamon and
pumpkin spice over medium heat
Once butter has melted, remove from heat and whisk in ½ C powdered
sugar until smooth and combined
Spread evenly over the bars and allow to cool completely



Cut and enjoy!