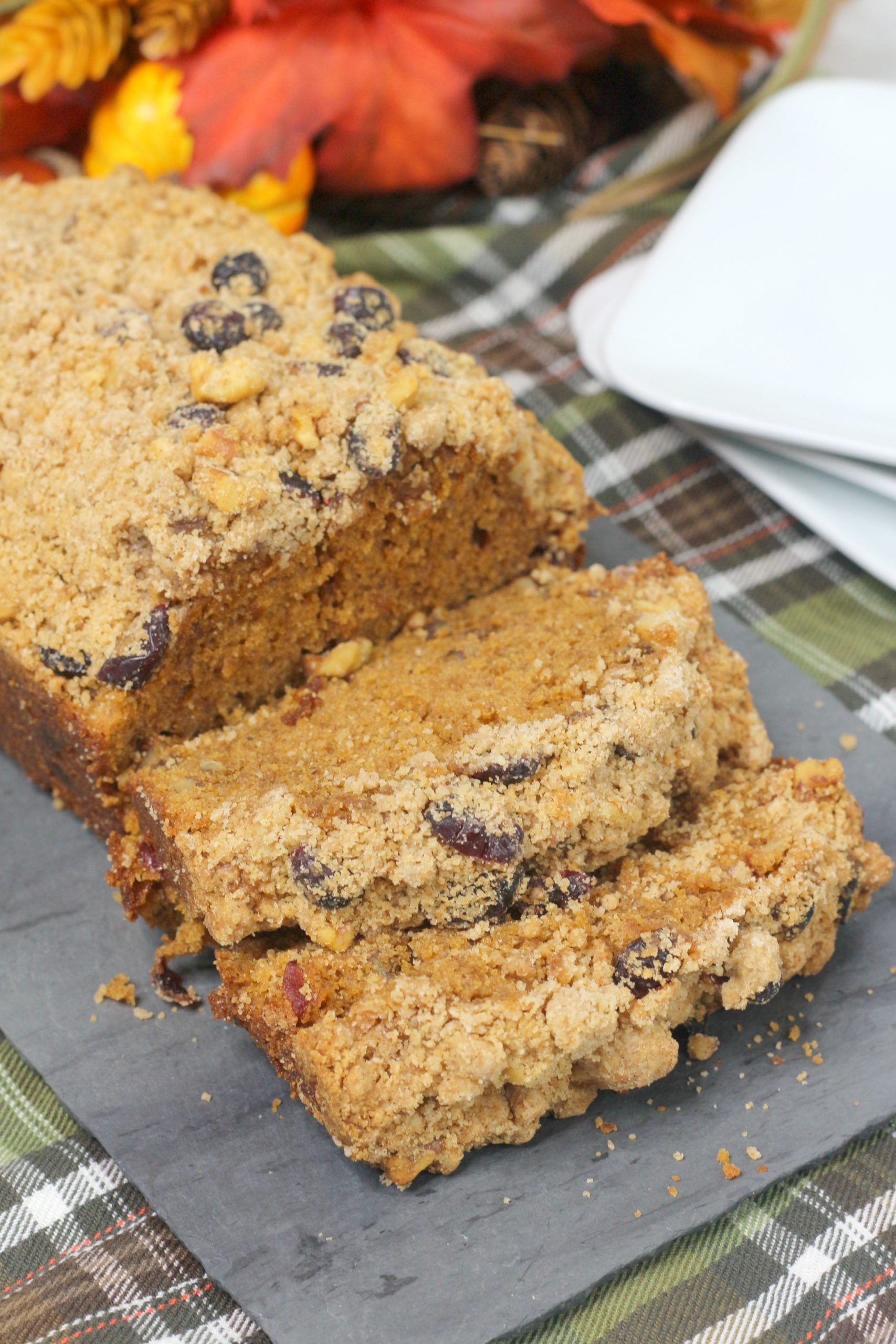 Do you wish you could enjoy more foods that were delicious and good for you? Today we bring you, Pumpkin Cranberry Walnut Streusel Bread.
Cranberries are considered a superfood and full of antioxidants. Cranberries are also well known for helping with Urinary Tract Infections. They had other benefits including decreased blood pressure, improves immune functions, and helps fight against certain types of cancers. So as you can see, they pack a punch of health benefits!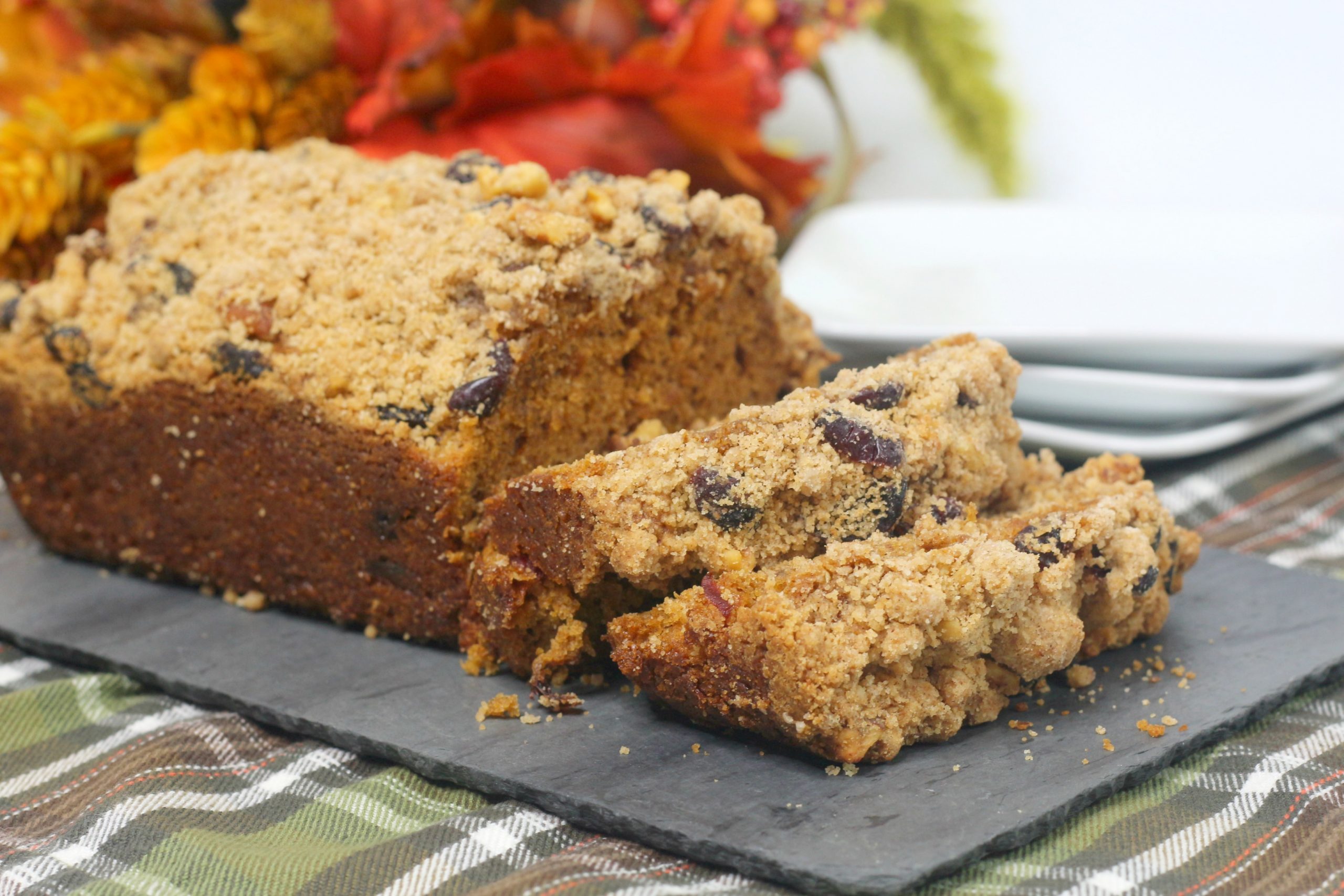 Most people don't like to eat them by themselves so they add them into desserts of all kinds.
Streusel is what you call the mixture that is added on top of the bread. Most of the time it includes some sort of nuts or spices.
This recipe has a whole bunch of wonderful walnuts. Walnuts have amazing benefits for your body too, including a healthy gut, antioxidents, omega 3's, support weight control and so many more. So you can imagine the benefit you will get eating both of these together.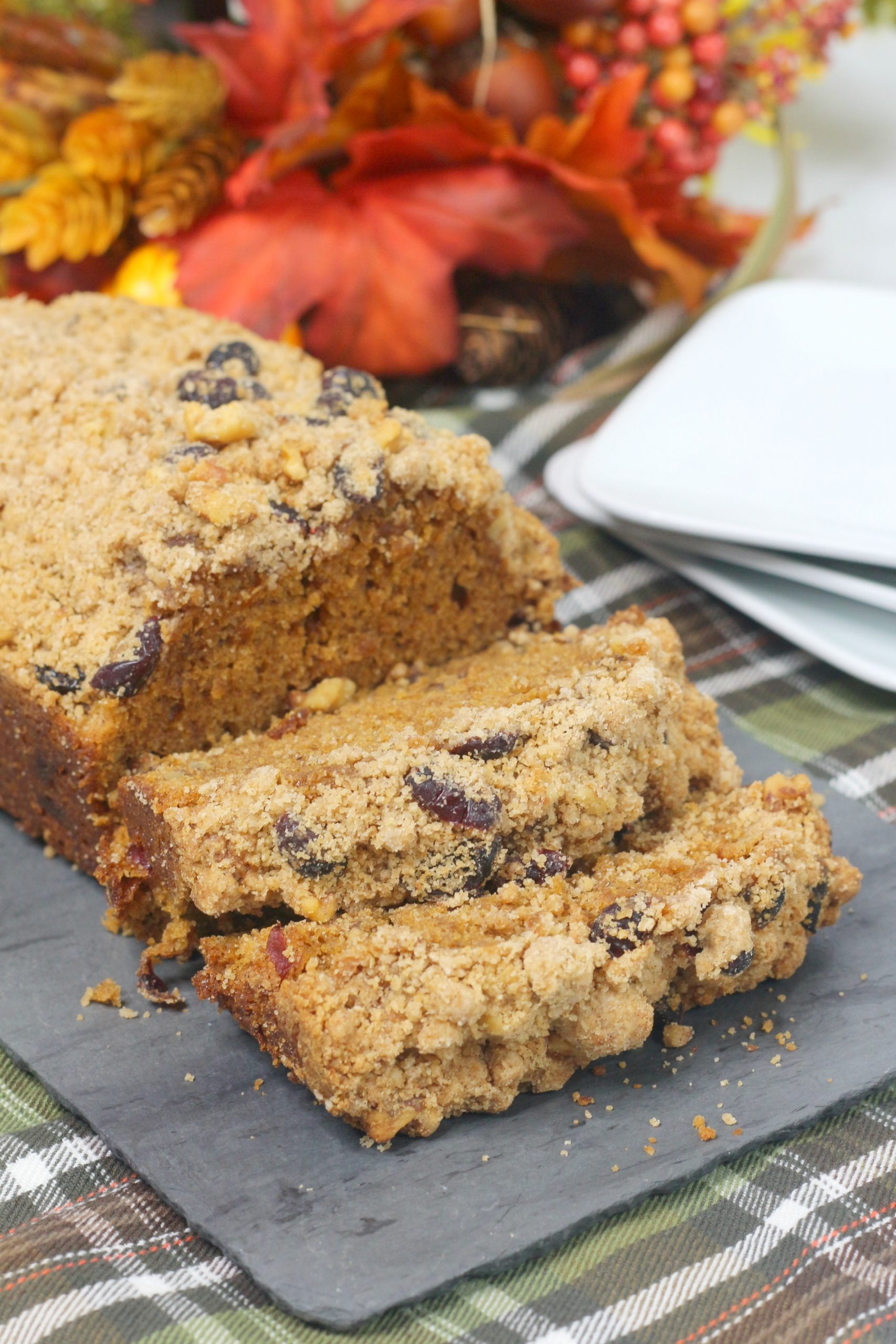 Pumpkin puree is the main ingredient that makes the bread very moist and also dense. It adds tons of air pockets for the bread to breathe while baking.
A streusel also has that wonderful brown sugar we all love. Brown sugar is white sugar with added molasses which adds the caramel color and taste.
If you are sick of the same old breakfast consisting of eggs, bacon, and toast then you can switch it up with this delectable treat. The taste is almost too good to call bread. It seems more like a dessert food but in fact, with all the added health benefits it is super beneficial for your body.
This bread crumbles so easily that toasting it in the traditional toaster may be a challenge. If you have a toaster oven or just a conventional oven that works great! Both sides will get nice and crispy.
Melted butter or some sort of spreadable cheese works great with this dish. Another breakfast flavor that is equally amazing is any sort of jam or jelly. The fruity jelly works great with the pumpkin and cranberry flavor infused into the bread.
With a cup of fresh coffee, your morning will be complete and your energy level will be higher than if you fill your body with fatty and greasy breakfast foods.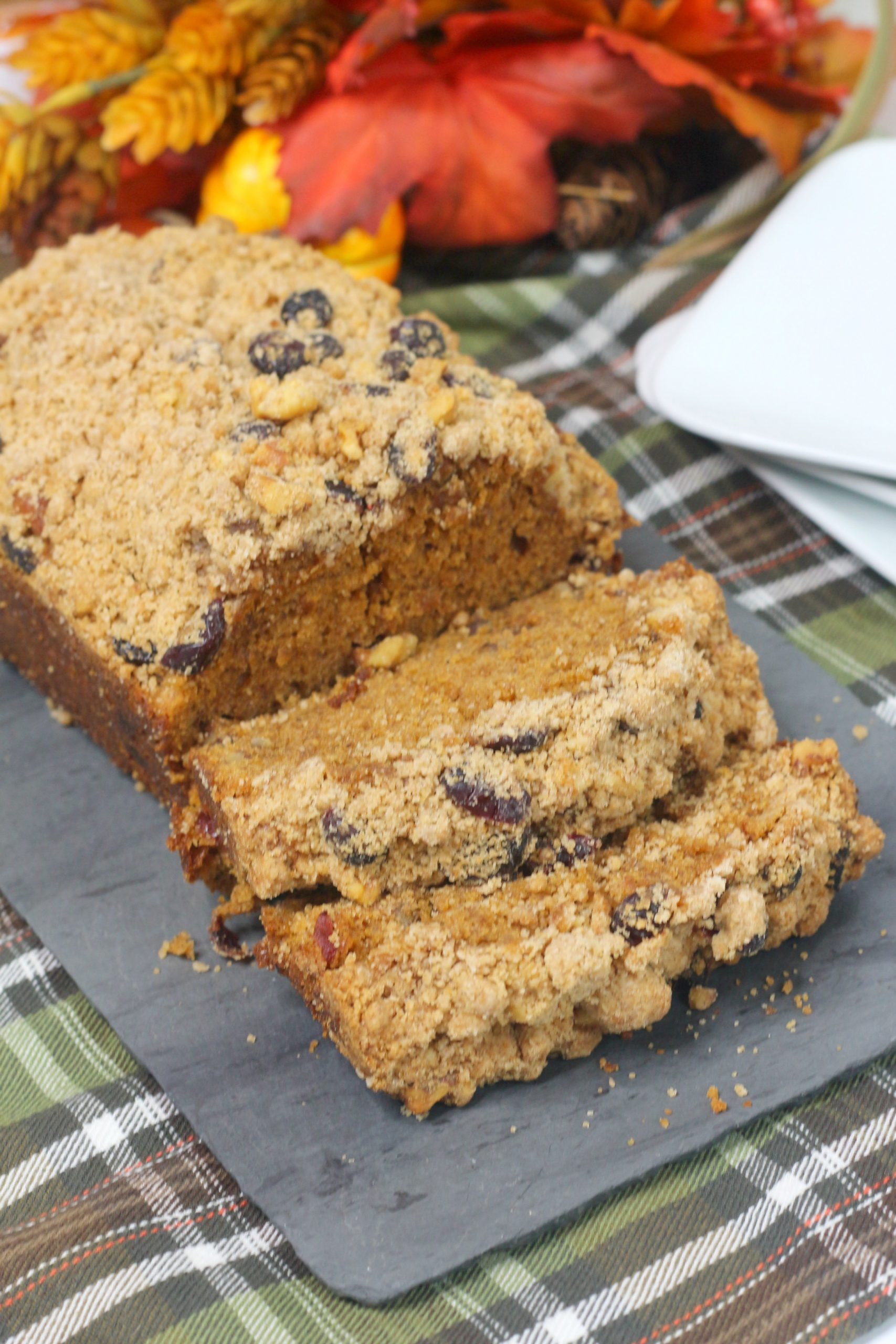 We don't think about how often our bodies miss out on essential nutrients from the food we eat. Supplementing it with vitamins is very helpful but we still need the basic vitamins and nutrients from superfoods like cranberry and walnuts.
Going to a holiday party and not sure what to bring? Make a few of these bread in separate pans, wrap them in a holiday bow and you got the best gift in the house. A lot better than those store-bought cookies, even though they are super yummy. Trust me, this Pumpkin Cranberry Walnut Streusel Bread will be the hit of the party.
Did you make it? Tell us just how it went in the comment section below. Let us know. Enjoy!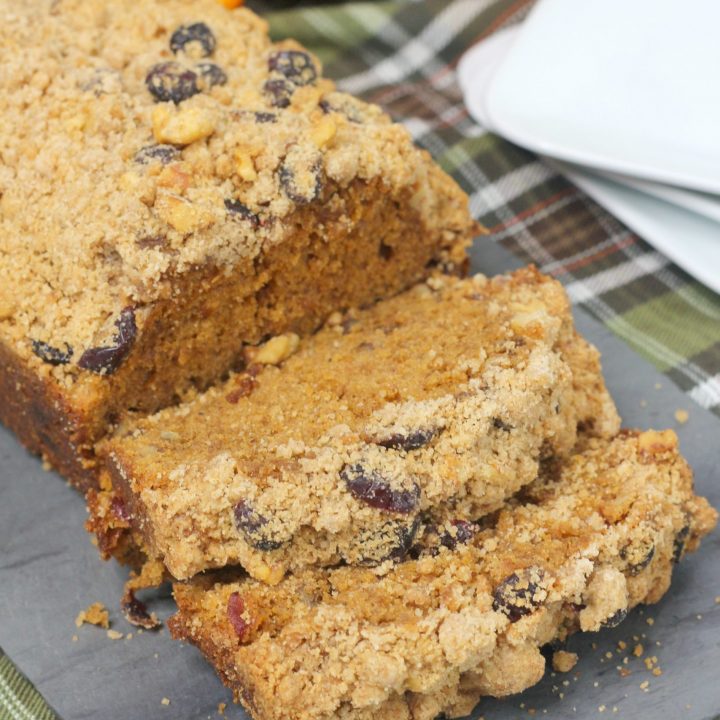 Pumpkin Cranberry Walnut Streusel Bread
Ingredients
½ C unsalted butter, softened
½ C sugar
¼ C light brown sugar, packed
1 tsp pure vanilla extract
2 Lg Eggs
1 C pure pumpkin puree
¼ C milk
1 ½ C flour
1 ½ tsp baking powder
½ tsp baking soda
½ tsp kosher salt
½ tsp ground cinnamon
¼ tsp ground nutmeg
¼ tsp ground ginger
1 C chopped walnuts
1 C dried cranberries
Streusel Topping Ingredients :
1 ½ C flour
¾ C light brown sugar, packed
⅓ C sugar
¼ tsp kosher salt
½ tsp ground cinnamon
¾ C unsalted butter, cubed
1/2 C chopped walnuts
1/2 C dried cranberries
Instructions
Streusel Directions :
Using a medium bowl, whisk together the flour, brown sugar, sugar, salt, cinnamon, walnuts and dried cranberries
Using your fingers or a fork, work the butter into the dry mixture until clumps form set aside
Pumpkin Bread Directions :
Preheat oven to 350 degrees and spay a 9x3 loaf pan with pam baking
spray, set aside
Using a large bowl, beat together the butter, sugar, and brown sugar
until combined and fluffy
Beat in the vanilla, eggs, and pumpkin puree
In a medium bowl, whisk together the flour, baking soda, baking powder, salt, ground cinnamon, ground nutmeg and ground ginger
Gradually mix in half of the dry ingredients
Gradually mix in the milk
Gradually mix in remaining dry ingredients until combined
Fold in the chopped walnuts and dried cranberries
Pour the batter into the loaf pan
Top with the crumble
Place in the oven for 55-65 minutes or until a toothpick comes out clean

Enjoy!