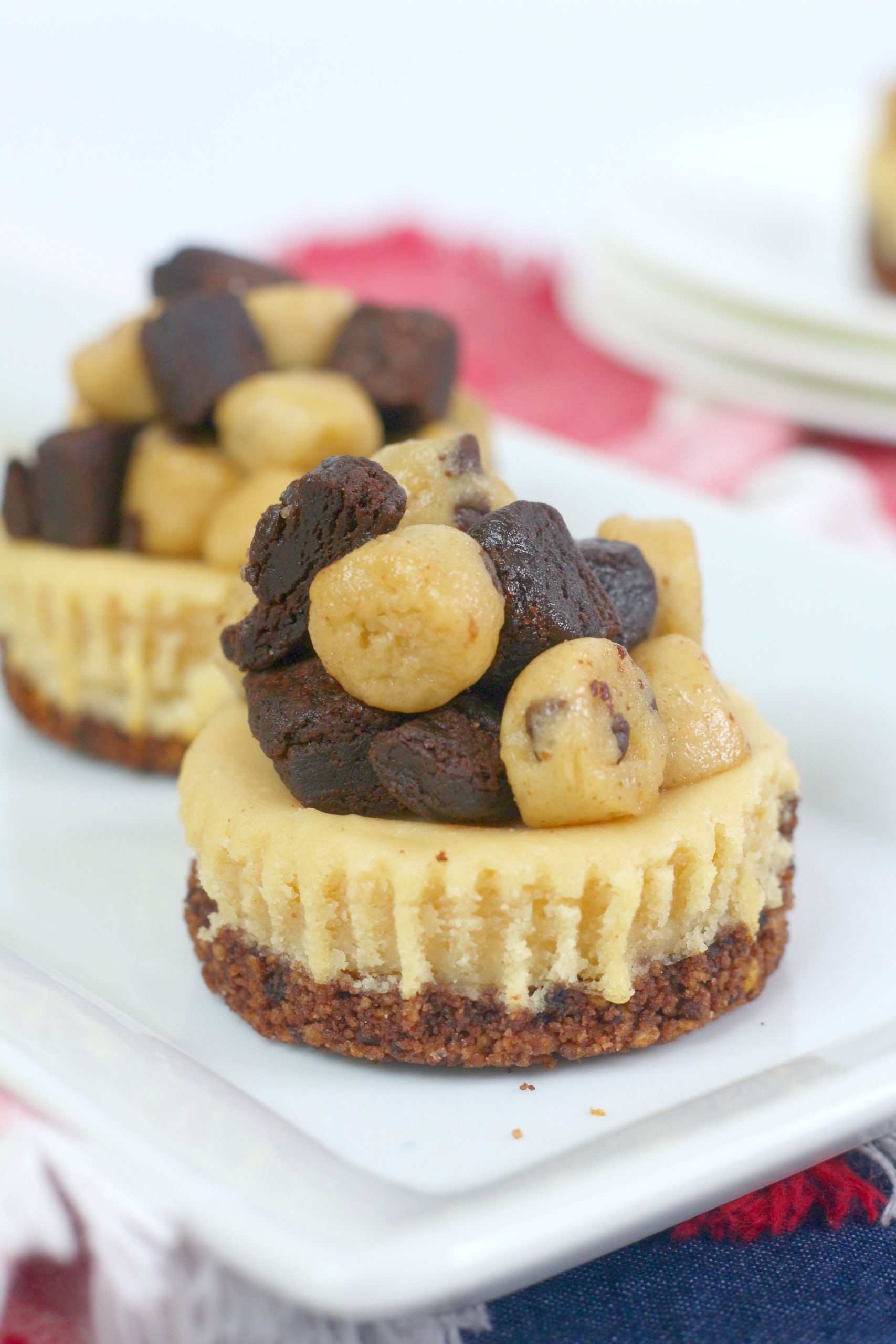 Hey friends! I hope everyone is having a wonderful day and staying safe!
What are two flavors for a dessert you would love to see together? If it's Peanut Butter and Brownie then hang out for this wonderful treat sent from heaven.
My Peanut Brownie Dough Cheesecake. It is so rich my taste buds are tingling just thinking about it. Layers of delicious flavors will be gone in a flash by anyone around them.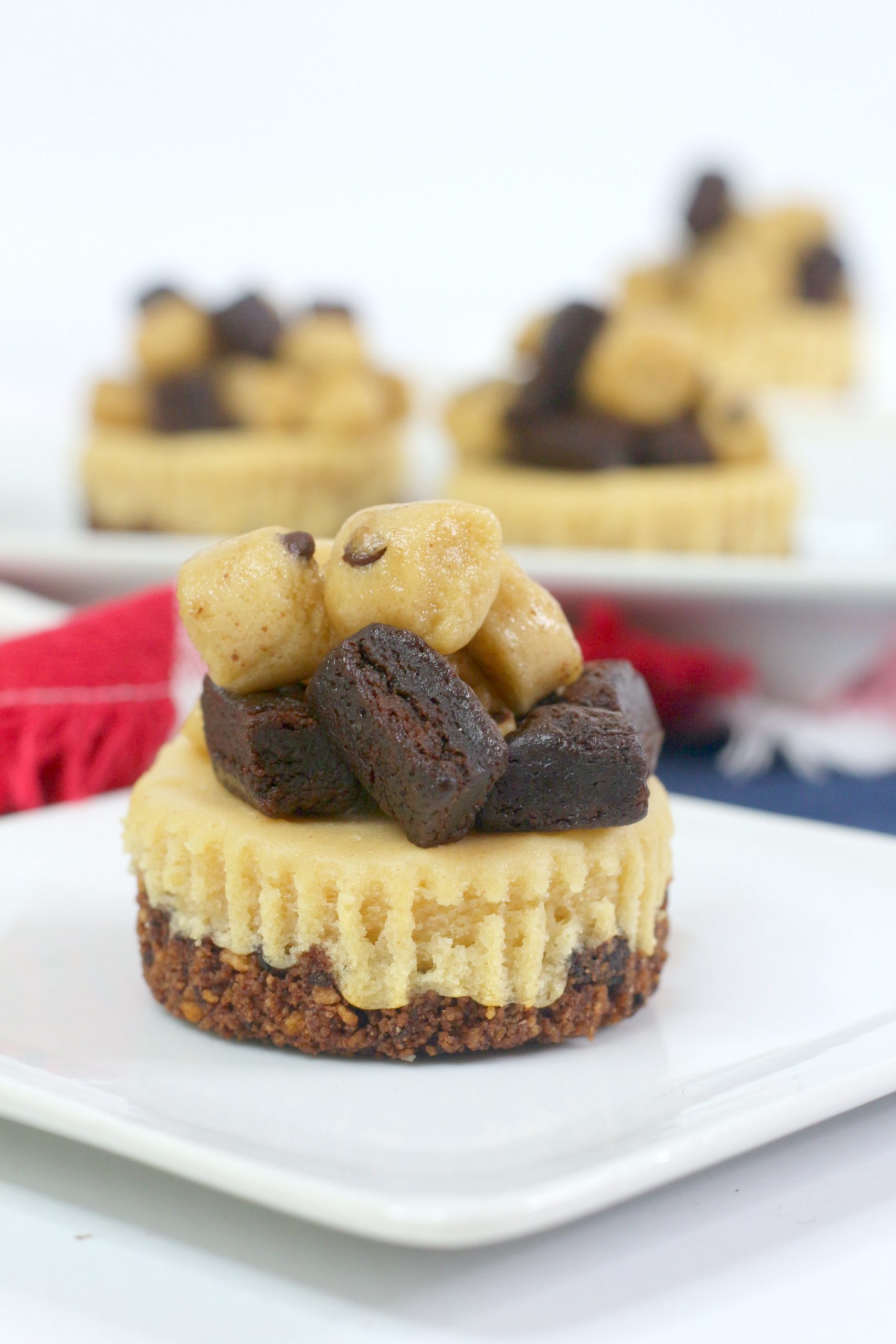 The brownie layer is all homemade. I did not cheat and use brownie mix from the box but used semi-sweet chocolate chips. Pre-made batter is great in a pinch but if you have the time do not skimp on the homemade baking. It is a lot easier than you might think!
Peanut butter is where you can really get creative. Some people like texture in their foods. If that's you then chunky peanut butter is the best.
The small pieces of peanuts add a slight crunch between the doughy texture of all the other ingredients. If you prefer smooth peanut butter make sure to stir it up well. If not the natural oils from the peanuts will be sitting right on top and interfere with the rest of the ingredients. The brand I used is an organic brand called Once Again which I ordered from nuts.com. If you have a natural grocery store near you and you are more health conscience check out what they have available.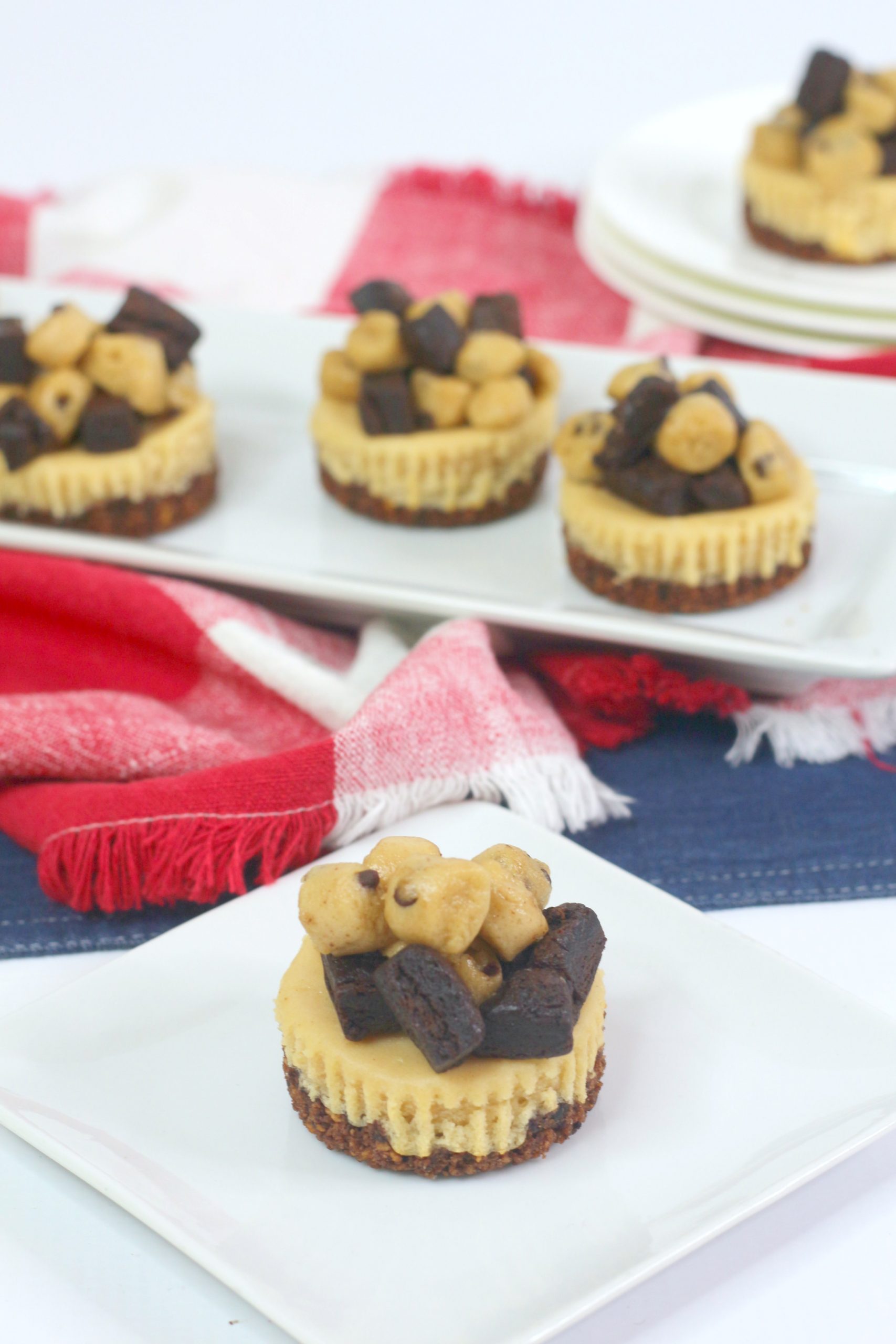 You only have to wait about 25 minutes to dive into the most amazing dessert you have ever had! Grab a glass of ice cold milk and you are ready for a cozy night on the couch.
For all you wine drinkers you know how well chocolate and wine go together. The bitter and dry taste of the red wine brings down the intense sweetness of the dessert. Especially if you like these ingredients but by itself the cheesecake is just too intense for you. That's okay!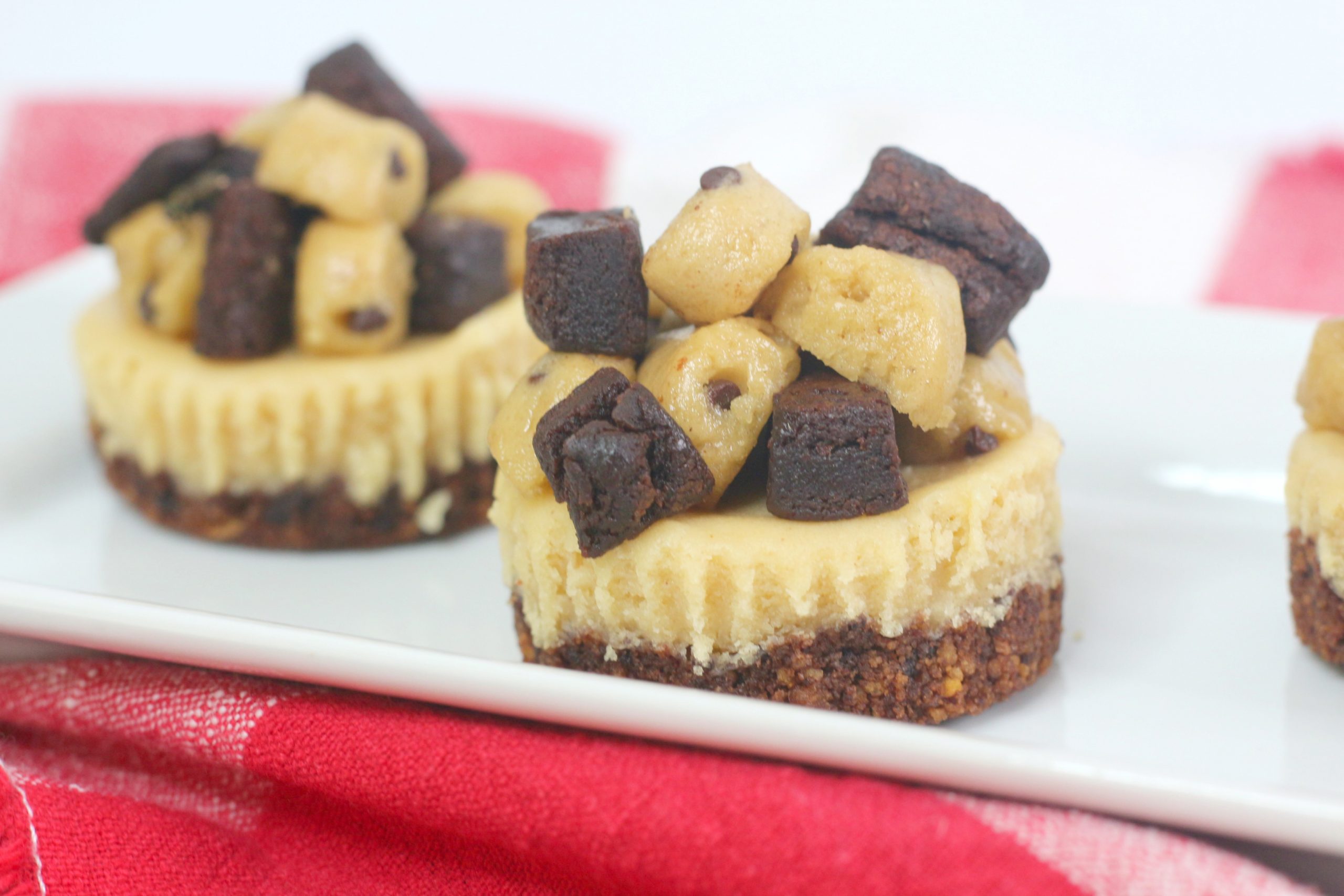 Another thing you can do is use dark chocolate if you want more of the bitter flavor from your chocolate instead of a creamy and smooth taste. The flavor profile will skyrocket!
Now, let's talk about the added bonus, the brownie, and cookie dough bites! I actually found Ben and Jerry's sell just their filling separate from the ice cream so you don't have to spend time digging each morsel out. Also, they are ready to eat and you don't have to worry about getting sick from eating raw dough if you try and create your own. If you do, make sure you use a recipe that has no eggs to avoid salmonella.
Those chunks on top give you the organic flavor of the dough that we all crave after the rest of the ingredients have been properly baked.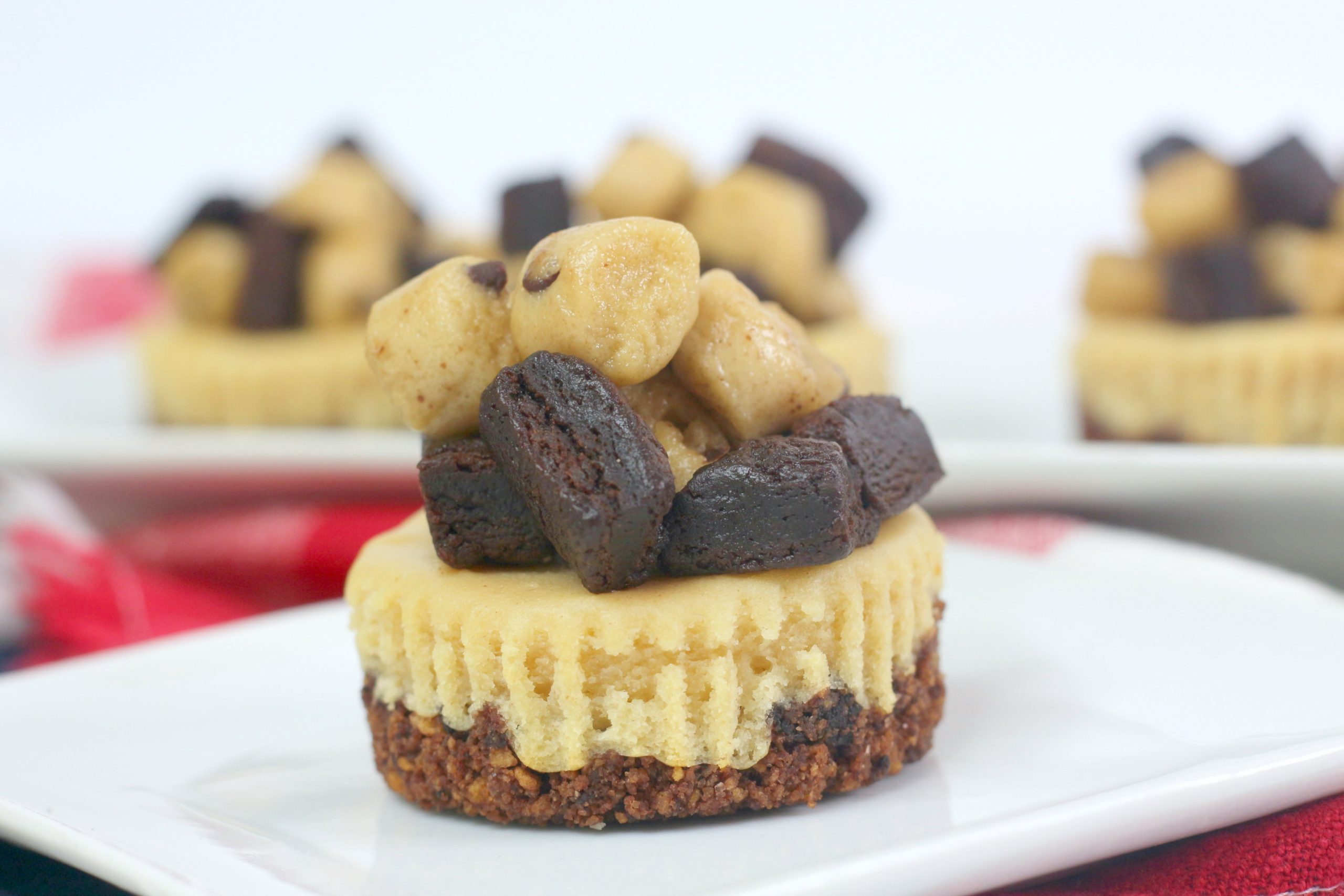 So grab a book or a good movie and enjoy these bite-sized snacks!
Did you make it? Tell us just how it went in the comment section below. Let us know. Enjoy!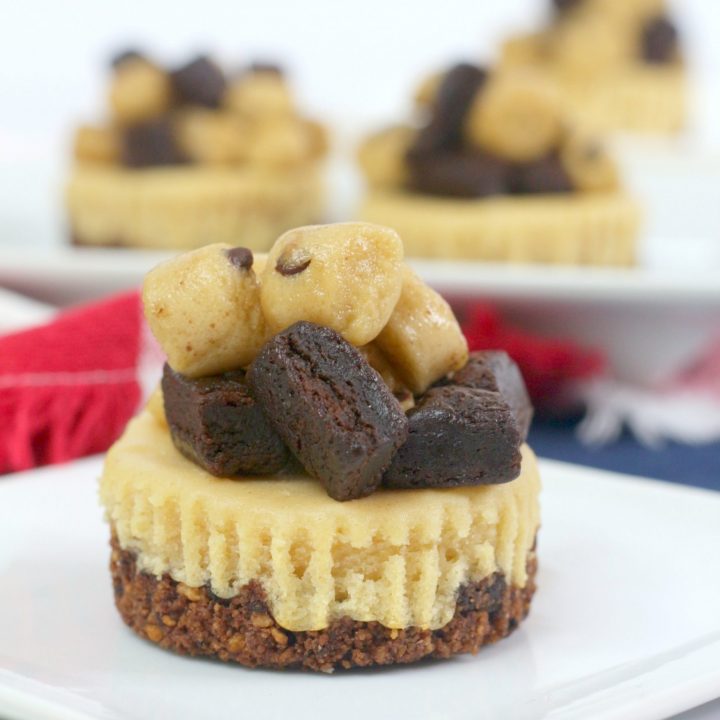 Peanut Brownie Dough Cheesecake
Ingredients
Brownie Layer :
¼ C unsalted butter
¼ C chocolate chips
¼ C sugar
1 large egg
½ tsp pure vanilla extract
⅓ C flour
¼ tsp kosher salt
Peanut Butter Cheesecake Filling :
16 oz cream cheese, softened
½ C Sugar
2 Lg eggs
½ C peanut butter
1 tsp pure vanilla extract
Topping
2 packages of Ben and Jerry's Half Baked Cookie Dough Bites
Instructions
Brownie Layer :

Preheat oven to 350 degrees and line a cupcake pan with cupcake liners
Using a medium microwave safe bowl, melt the butter and chocolate on
30 second increments until melted
Mix until combined and set aside to cool slightly
In another bowl, combine the sugar, egg and vanilla
Mix the sugar mixture into the chocolate mixture
Mix in the flour and salt until combined
Divide evenly into the cupcake liners

Peanut Butter Cheesecake Directions :

Using a large bowl, beat the cream cheese and sugar until combined and smooth
Beat in the eggs one at a time until combined
Beat in the peanut butter and vanilla until combined and smooth
Divide the cheesecake batter evenly into the cupcake liners
Bake in the oven for 20-25 minutes or until the edges are slightly golden
Remove from oven and allow to cool completely
Place into the fridge overnight
Top with the Ben and Jerry's half baked cookie dough bites