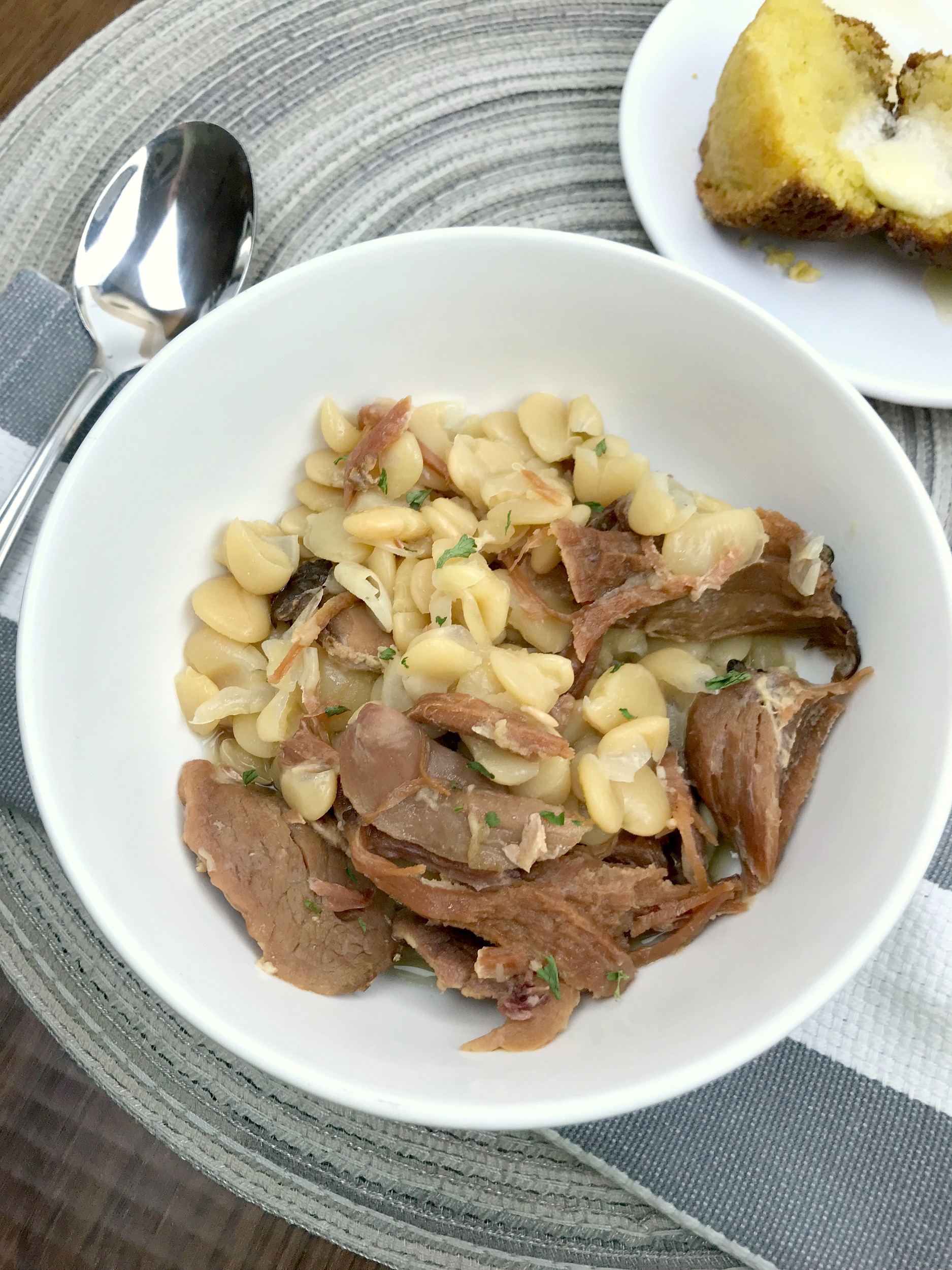 What are some traditional side dishes you frequently make? I am sure broccoli, mac n cheese, and mashed potatoes are on that list. Next family dinner you can surprise your family with my Instant Pot Lima Beans and Ham.
Lima beans are a turn-off to most kids and adults. They actually don't taste like most beans at all. But more of a nutty and earthy taste to them. Be careful when preparing them because if you overcook, they become bitter and not that great to enjoy.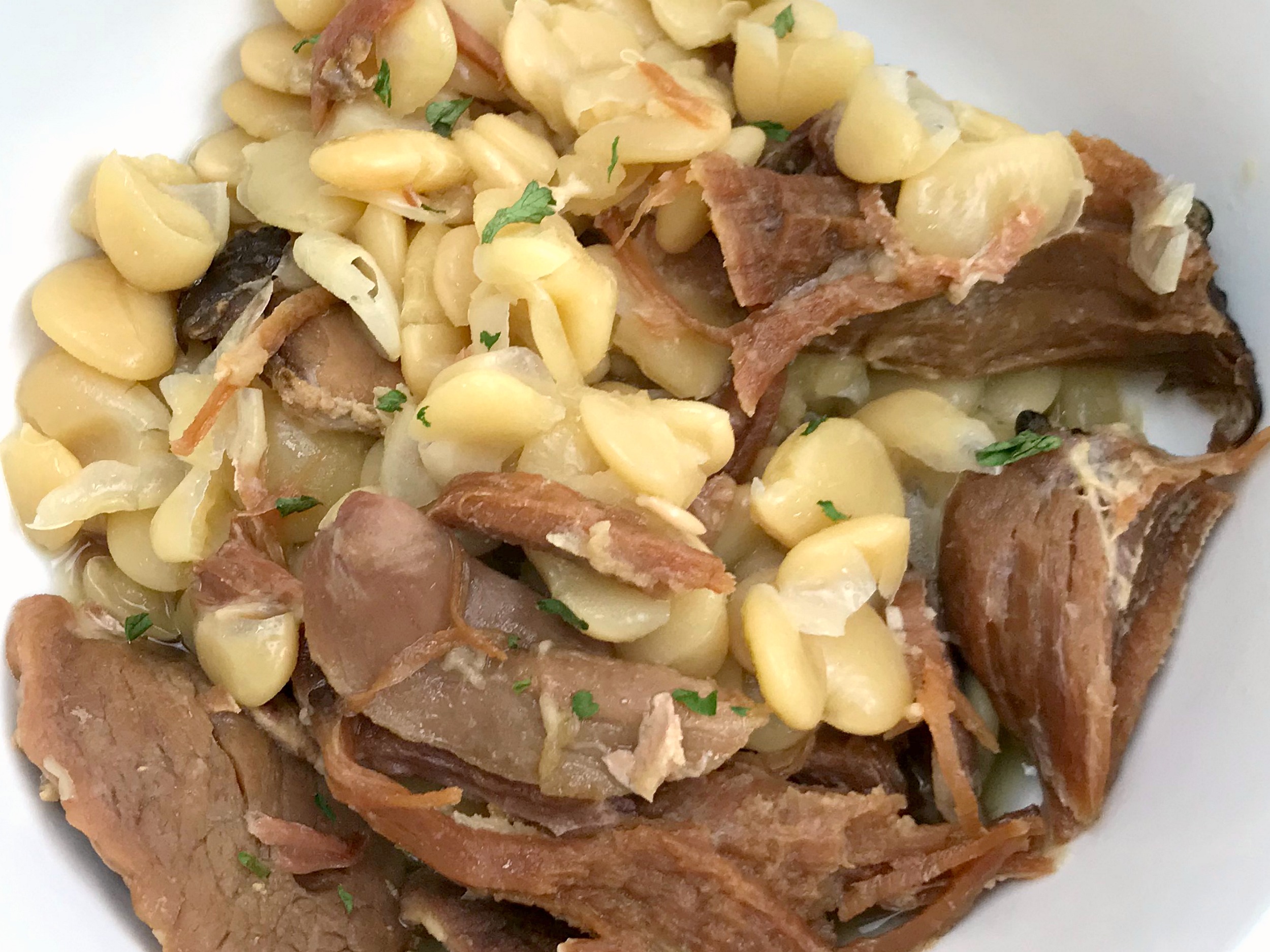 I experimented with a bunch of different ingredients to bring out the perfect flavor in the lima beans. Something my entire family would love. So I grabbed my handy dandy Instant Pot and got to work.
After many failed attempts, I stumbled upon smoked ham hock. A ham hock is a joint near the foot of the pig. Smoked ham hocks are usually sold at your local supermarket, or you can smoke your own. If you can't find any regular ham, hocks will work but just won't add that smokey flavor.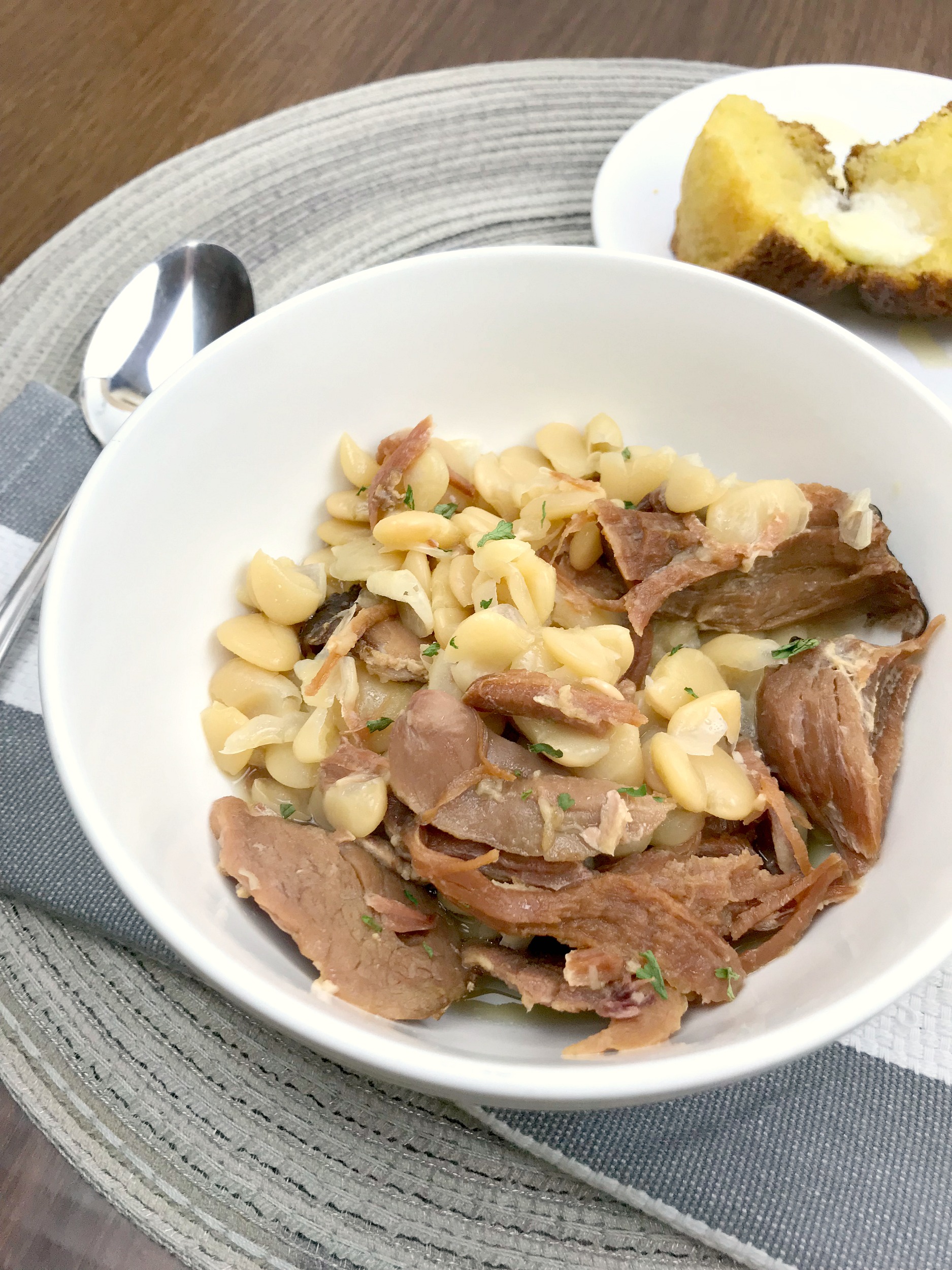 They add a good amount of protein which your body needs to function correctly. Traditionally ham hocks are used in southern greens like collard greens which have a bitter taste by themselves.
In the instant pot, they melted down so much it was incredible. All the fat renders out and seasons the beans, along with all the other ingredients, perfectly.
As you can see, most of the ingredients are one's you probably already have sitting around in your pantry. Dried garlic works fine, but there is nothing better than fresh garlic simmering in chicken broth and dissolving in ham fat. You can also buy minced garlic in a can that has all the juices from the garlic cloves. I like to pour a little of that juice into my dishes because I am a garlic fiend. We still have to social distance, so no one should smell the pungent garlic on your breath.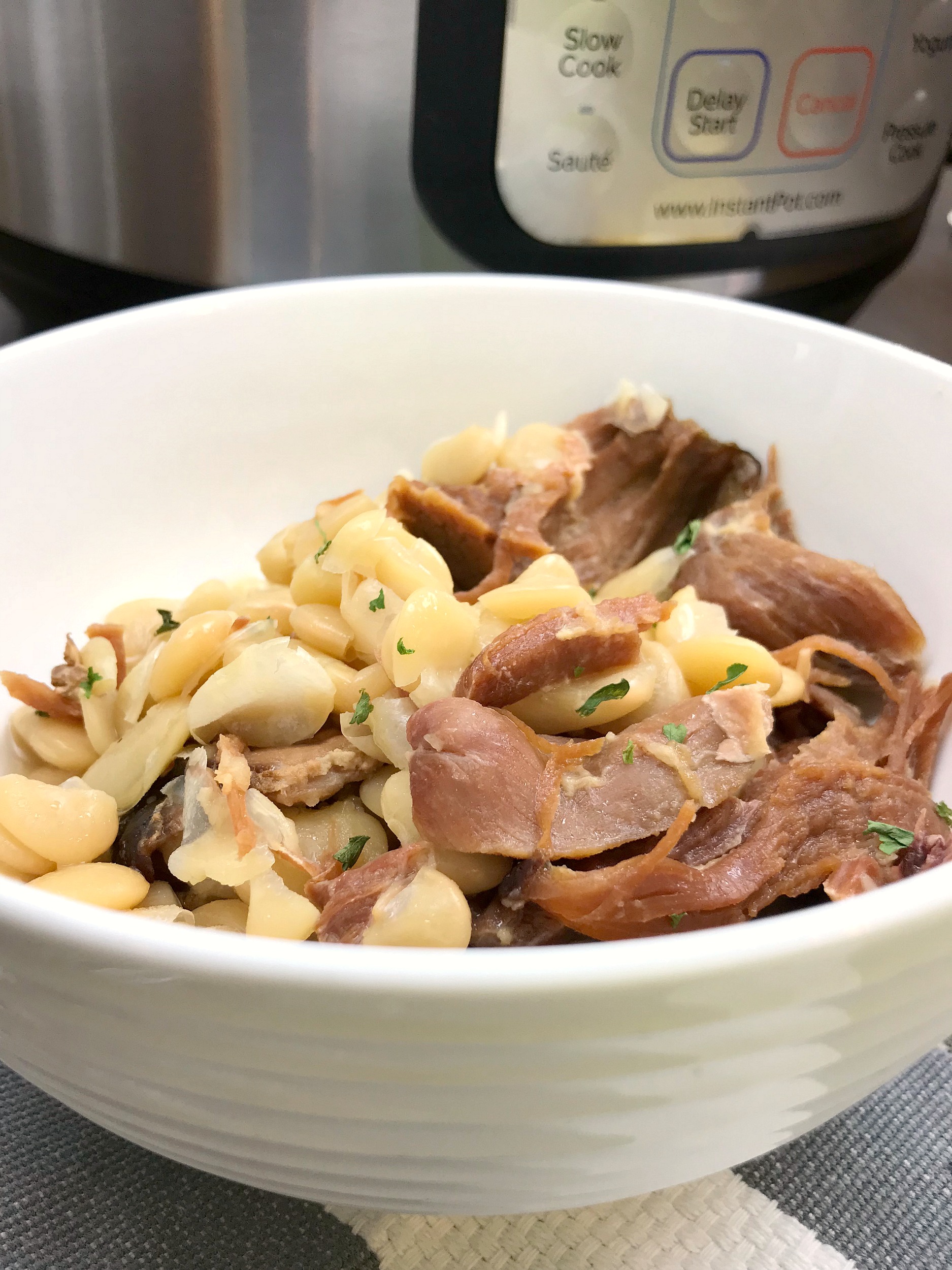 The crucial step in this process is sifting the lima beans. You have to do this in any fashion you purchase the beans to remove small pebbles or moldy beans. Simply put them in a sifter and shake out or pull out any beans that arent perfect. I always rinse my beans along with any veggies before cooking to remove pesticides and debris.
Even though most of us don't like the taste of lima beans, they are considered superfoods. You are feeding our bodies with essential protein and fiber. They are high in iron, so if you have an iron deficiency, you better start eating your lima beans.
In just one cup of lima beans, that is half a day's recommended iron serving! Incredible, and who knew?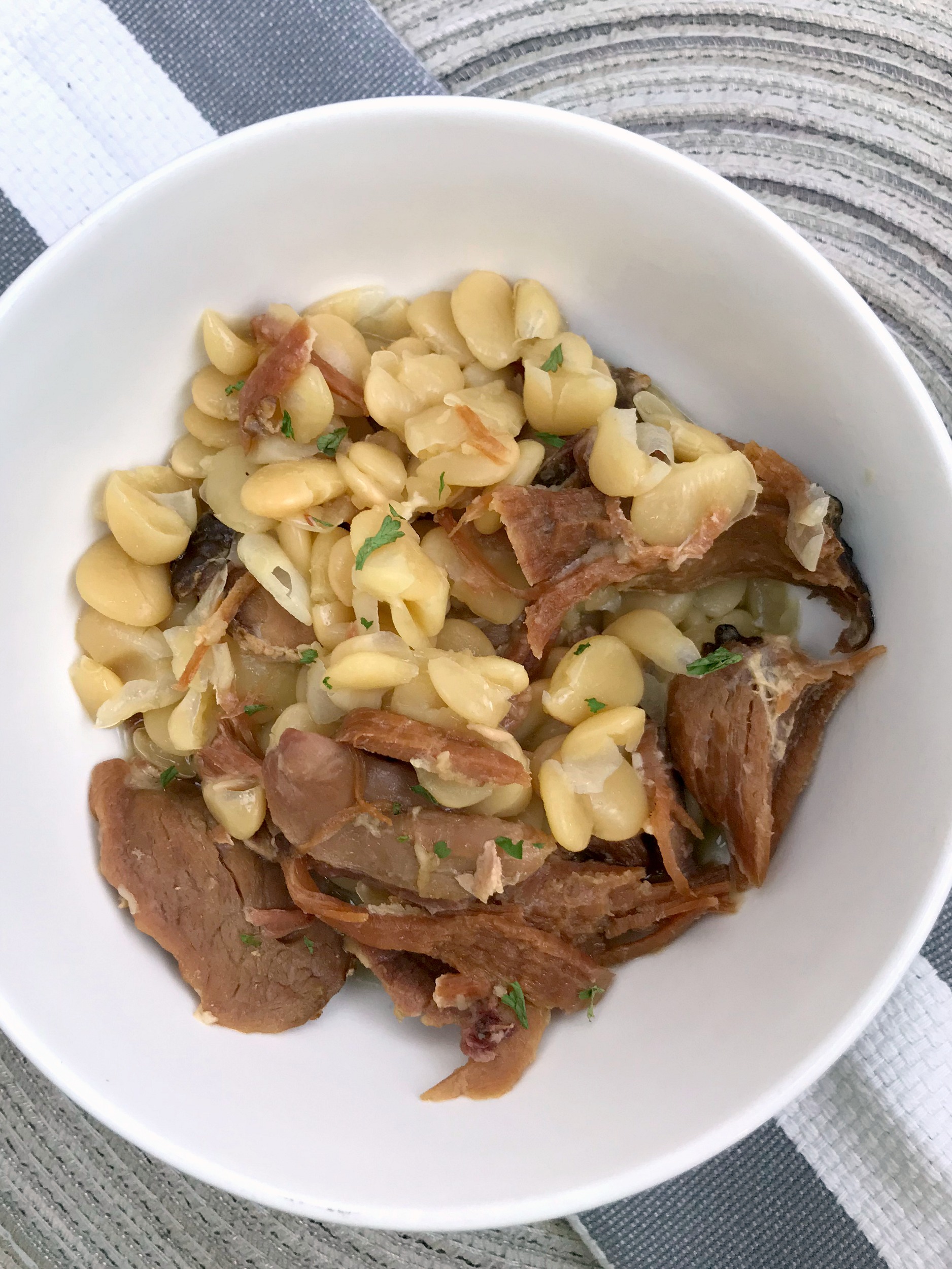 Set your pressure cooker to 10 minutes! That's it! You can still have a healthy meal after getting off of a long day at work in a flash. After the instant pot is done, remove the ham hock and pull away from the meat from the bone. It should be easy, as the ham is now so soft at this stage.
Chop your ham up into bite-size pieces and throw it back in. Top with some salt and pepper, and voila, you have dinner!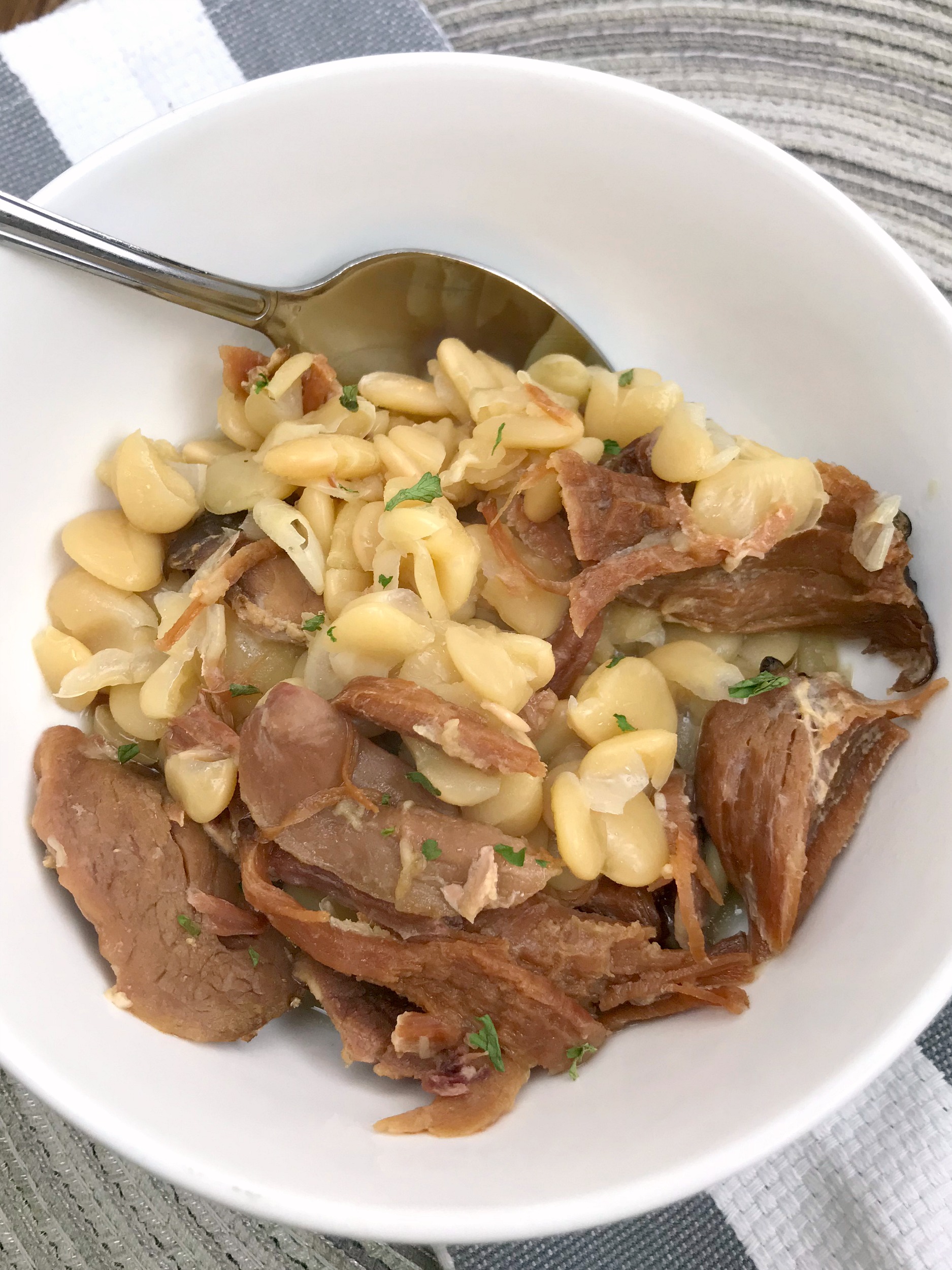 Did you make it? Tell us how it went in the comment section below. Let us know. Enjoy!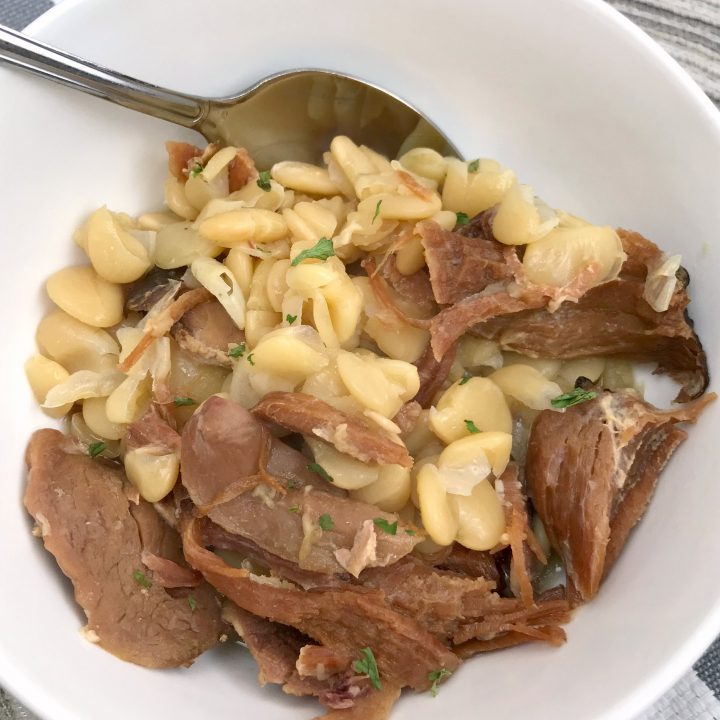 Instant Pot Lima Beans and Ham
Additional Time:
2 minutes
Ingredients
1 meaty ham bone or smoked ham hock
1 (16 ounce) bag dried baby limas
1 (32 ounce) carton chicken broth
2 cloves garlic, peeled
1 bay leaf
1 onion, peeled but intact
4 cups water
Instructions
1. Sort beans to remove rocks and moldy beans.
Rinse well.
2. Place beans in pressure cooker. Add the
remaining ingredients to the pressure cooker, not filling over half way to
avoid foaming.
3. Close and set the value to sealing. Set the pressure cooker to manual or pressure cook for 40 minutes. Naturally release for 10 minutes before a quick release.

4. Carefully remove garlic, bay leaf, onion, and ham
bone from the pressure cooker. Remove the ham from the bone, cutting into
smaller pieces if needed, and return to the pressure cooker