Have you ever traveled to the northeast of America? If so you probably enjoyed beautiful mother nature and some delicious seafood. The New England states are known for their lobsters, clams, oysters, and crabs. They serve these delicious foods from the sea in many ways.
Any restaurant you go to will have steamed lobster, oysters on the half shell, and what I am bringing you today, Clam Chowder.
Everything is so fresh because most places get it straight from the fisherman. Seafood is best served fresh. It does not last super long after being caught so you better eat it up quickly.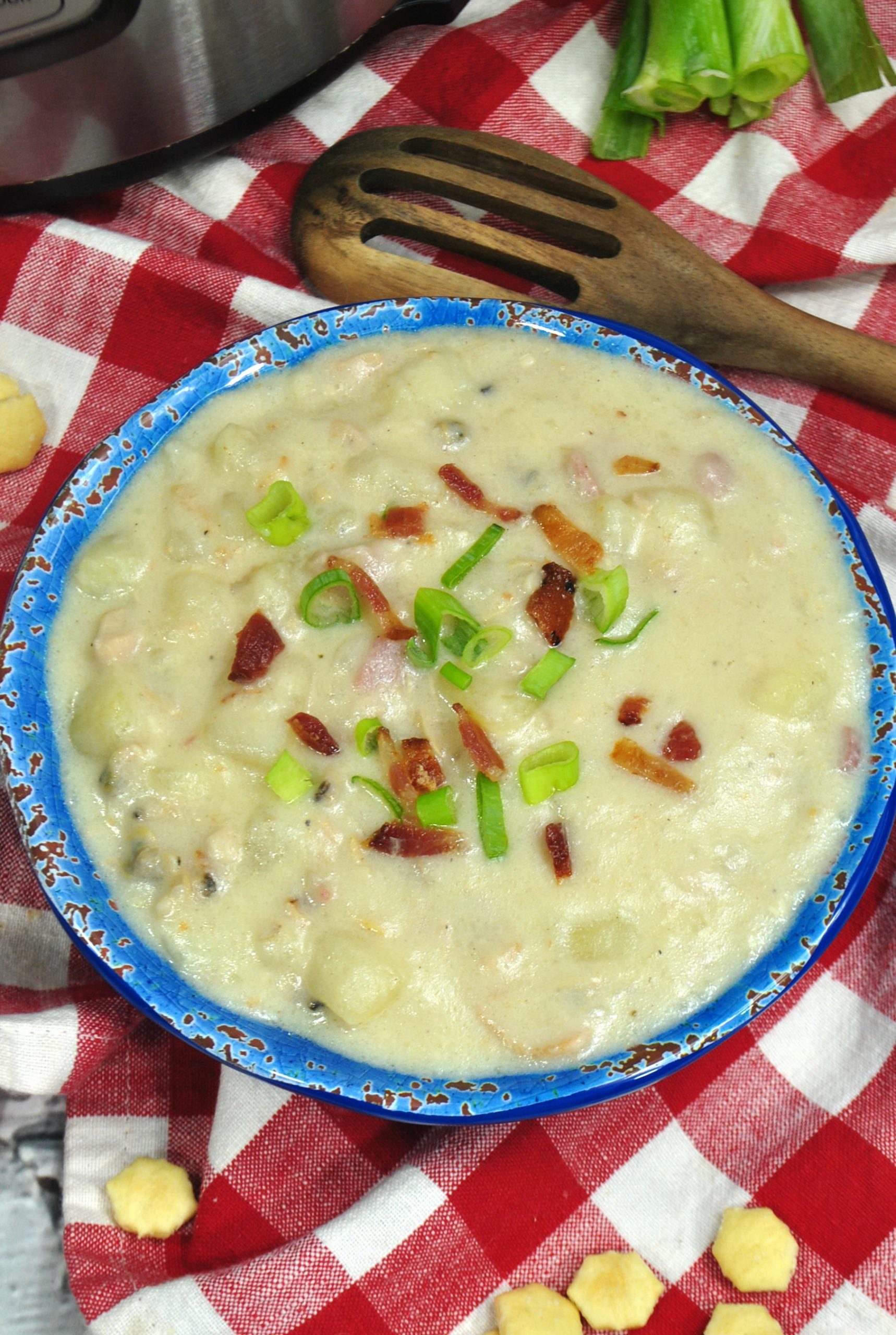 My dish uses one of my favorite kitchen appliances ever. It is fast, efficient, and makes everything in it so tender. It is my Instant Pot Clam Chowder!
The base is a creamy white sauce that will soak up the juices from the clams. You can buy clams whole and shuck them yourself or buy them ready to cook! I prefer the second method as shucking your own clams is quite tedious. Also if you are not used to picking seafood it probably will be a turn-off for you.
Picking seafood is time-consuming work and has to be done correctly for you to get the max amount of meat out of whatever you are picking.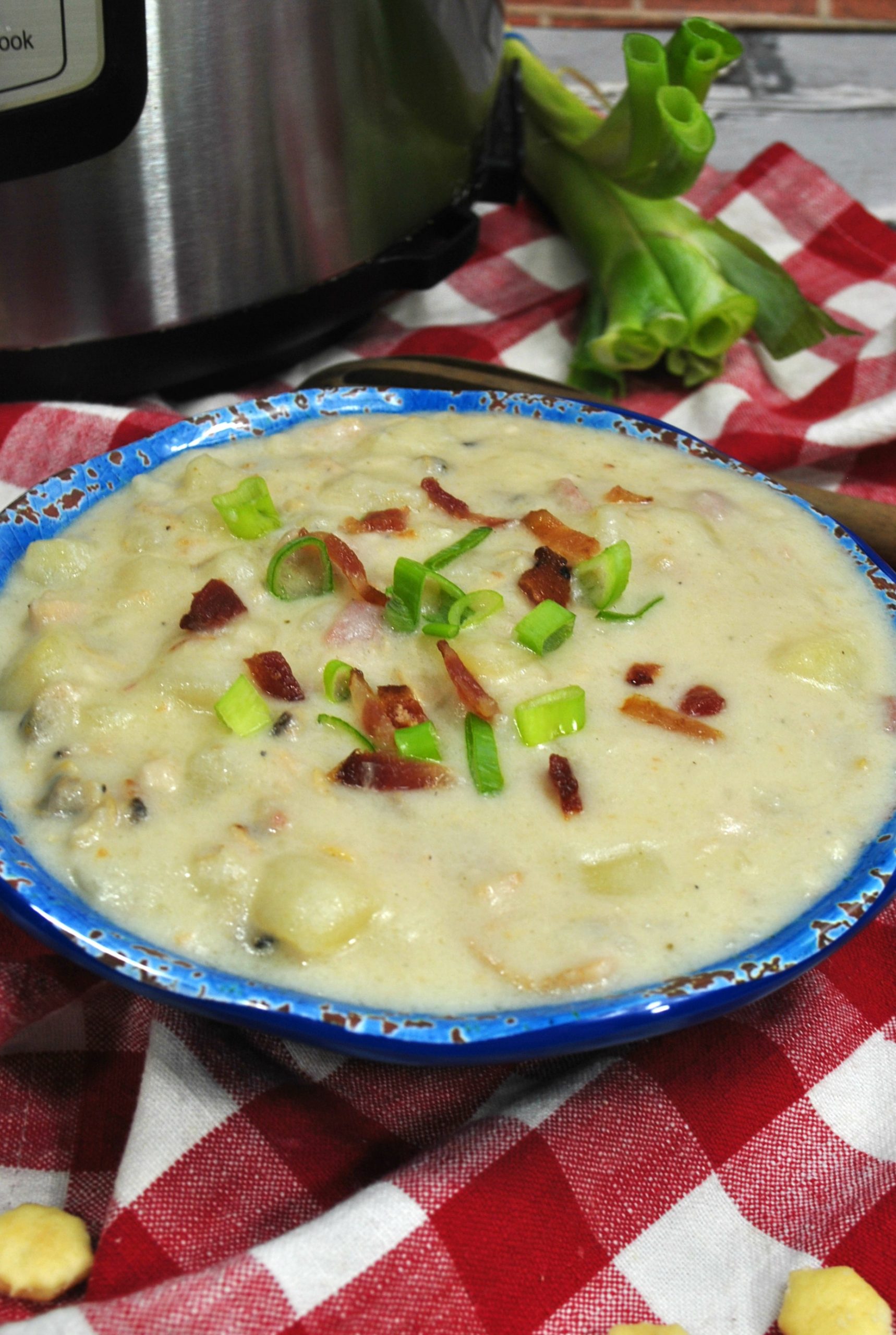 Seafood is very bland. Which makes it perfect for any dish! It has a flaky consistency and almost a buttery taste.
Clams are small and come in a hard shell. They are usually found on the beach or not far off the coast in tall grass or reefs.
Most chowders have potatoes and some sort of ham in them. I added bacon into my Instant Pot Clam Chowder because who doesn't look like bacon! It is crispy and bursting with flavor. Just make sure you dry off the excess grease before using or it will be soaked up in your broth.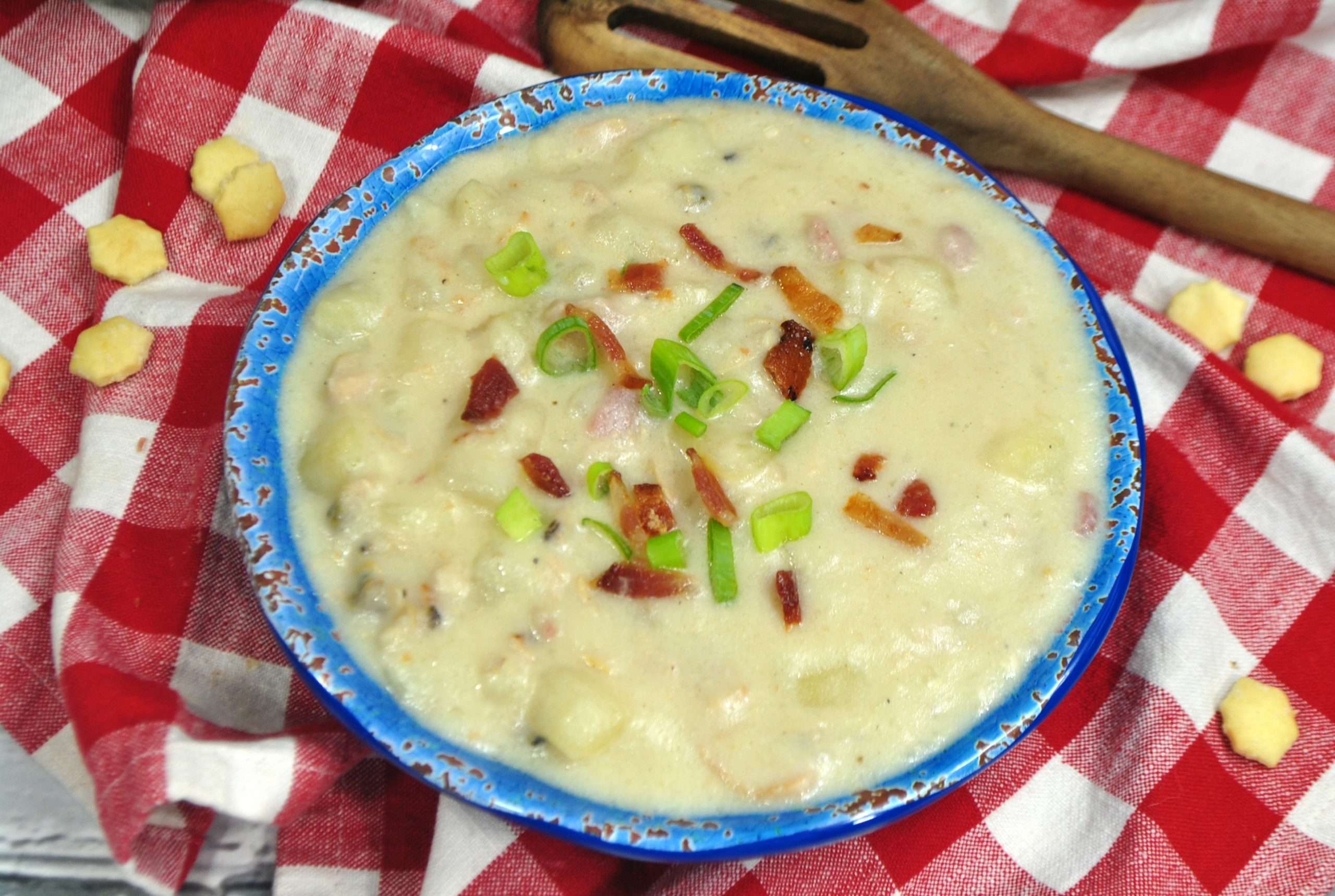 Adding clam juice will intensify the taste you desire. As I mentioned the actual clam does not have too much flavor and can be a turn-off texture to a lot of people. Especially when eating raw. It has an almost jelly consistency that most people can not tolerate without being cooked.
Potatoes take forever to soften when you bake them normally. But with the instant pot and all the wonderful juices, they tenderize in half the time as they would normally on the stovetop or in the oven.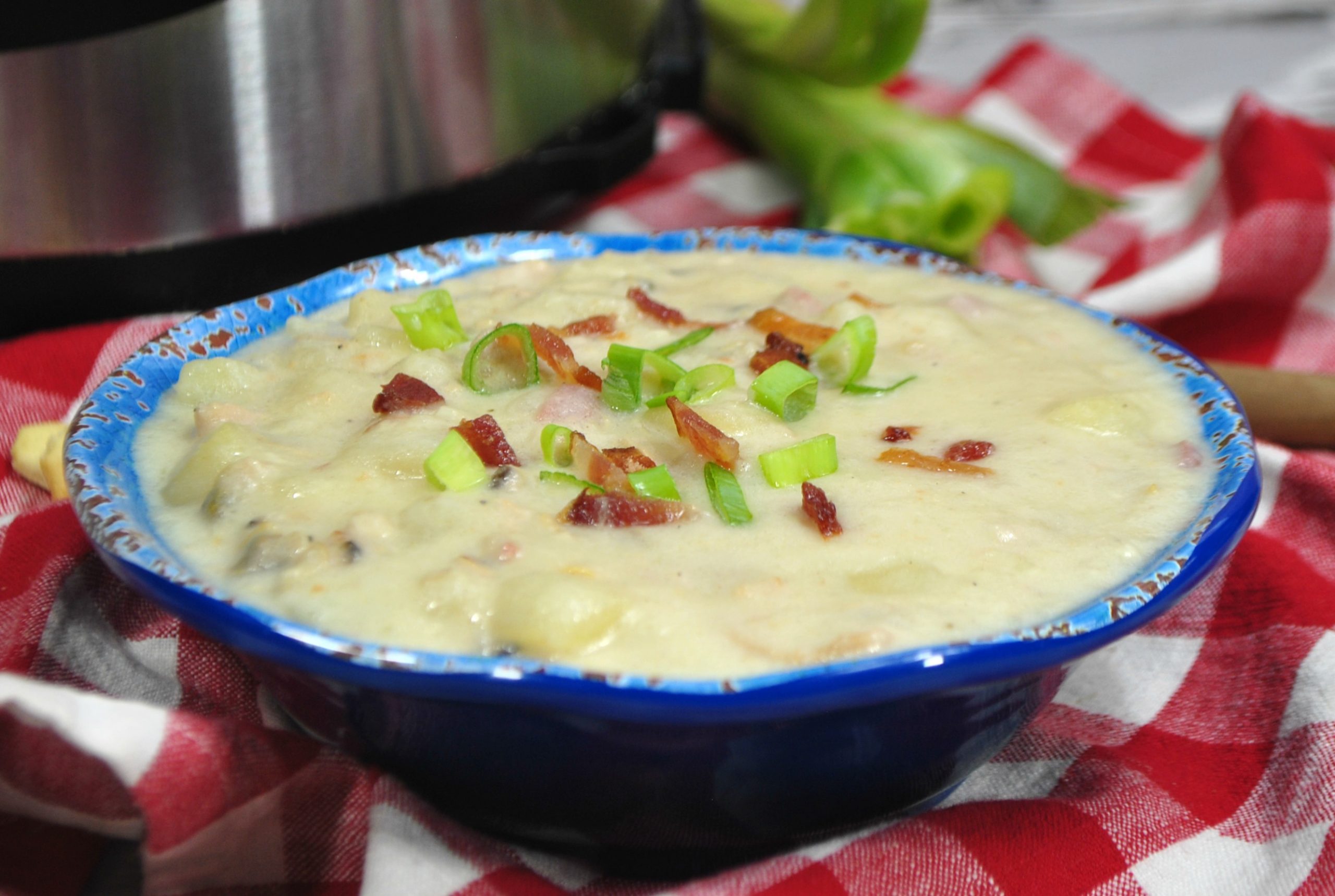 Thyme and garlic are all you need for your chowder to transport you to the dock on a warm summer day.
After using the saute' setting on your instant pot it is just a couple more steps till you have your finished product. I live to serve with some type of toasted bread to soak up all the flavor!
The best thing is you can divide it up into plastic containers, freeze and have your chowder ready at any time.
Did you make it? Tell us how it went in the comment section below. Let us know. Enjoy!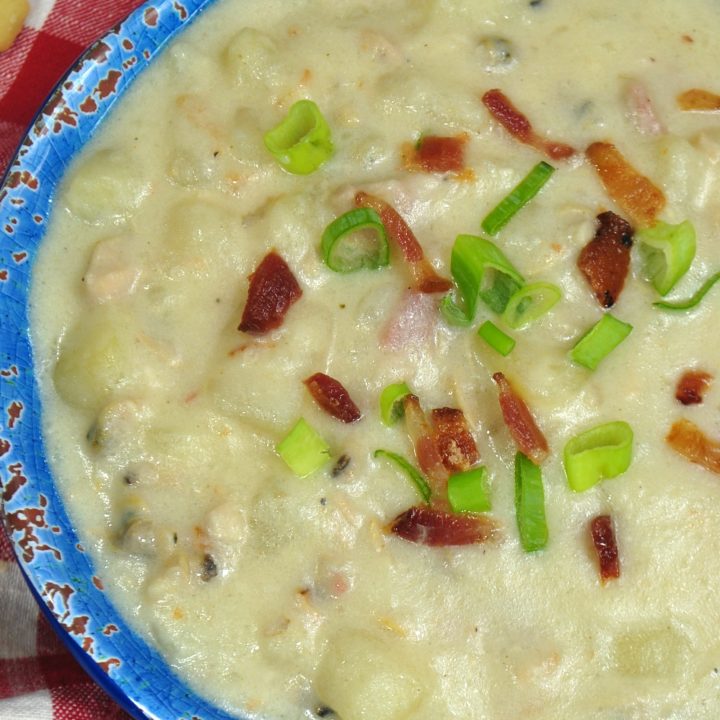 Instant Pot Clam Chowder
Ingredients
(3) 6.5 oz cans Chopped Clams
1 12 cup clam juice ( from the cans above )
5 slices Bacon, chopped into small bits
3 Tbsp un-salted Butter
1 Yellow Onion, diced
1/4 tsp Thyme
1 tbsp. minced garlic
1/4 tsp Salt
1/4 tsp Pepper
4 cups diced Idaho Potatoes
1 1/3 cups Half and Half
1 Tbsp Corn Starch
Green onions and bacon buts for garnish.
Instructions
Turn on the pressure cooker's Sauté function.
Add the chopped bacon.
Stir until cooked.
Add the butter, onion, and thyme.
Cook until the onion turns translucent.
Open the cans of clams and drain the clam juice into bowl.
Set to the side.
Add your clam juice to a liquid measuring cup.
Add enough water to the clam juice to make 2 cups.
Add the garlic, salt, and pepper to the Instant Pot.
Cook for 1 minute, stirring frequently.
Add the potatoes, and clam juice.
Stir to combine.
Put the lid on the Instant Pot and lock in place.
Turn the steam release knob to the Seal position.
Cancel the Sauté function.
Set to Manual.
Set to 4 minutes (High Pressure).
Do a natural release for 4 minutes.
Then do a controlled Quick Release.
Turn the Sauté function.
Add the clams and the half and half.
Stir to combine.
Add the corn starch and stir to combine.
Turn off the saute' function.