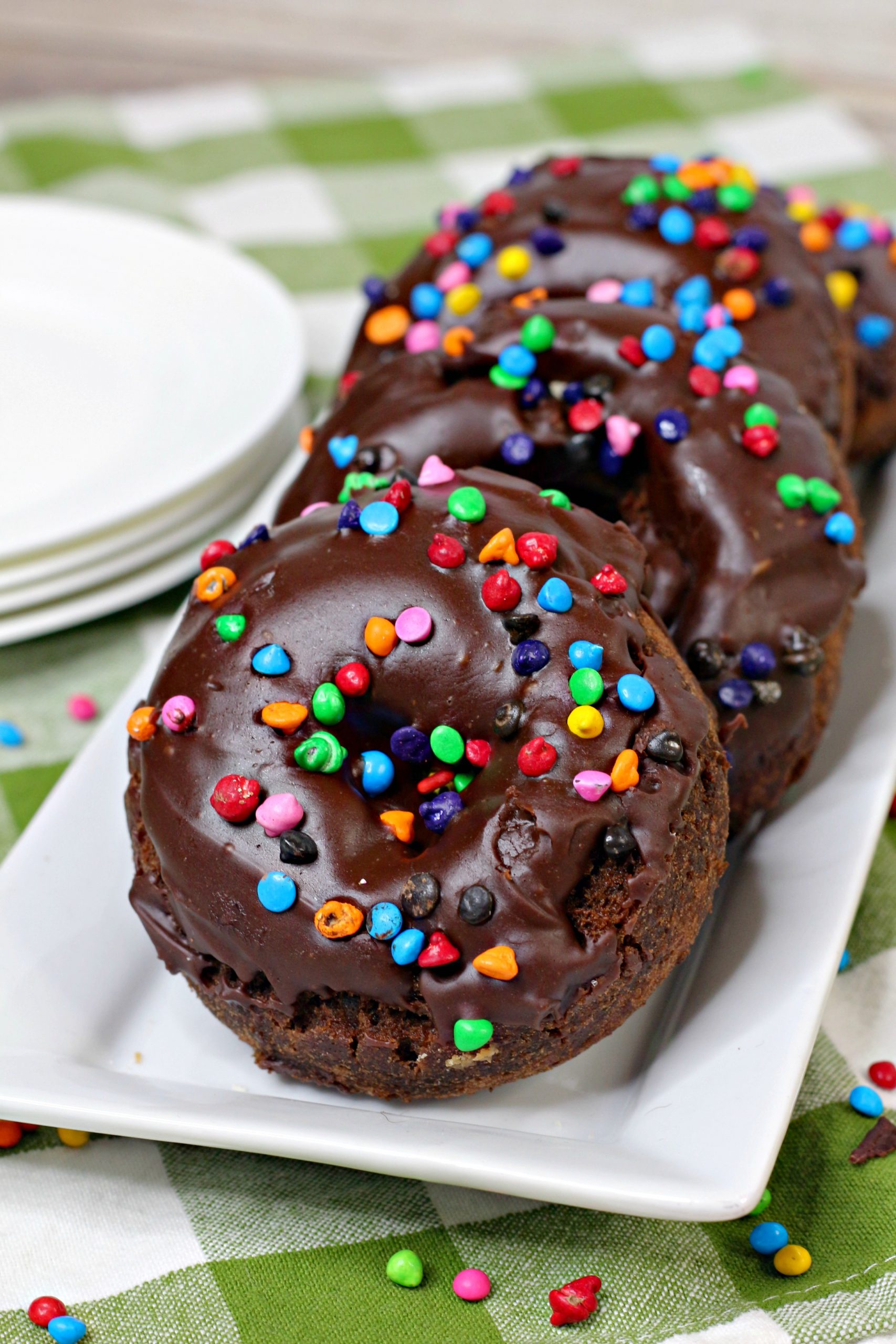 Go nuts for doughnuts! Yes, this recipe highlights the gooey and finger liking all-mighty doughnut. There are thousands of different flavors, shapes, and sized doughnuts.
The one I am bringing you today is Cosmic Doughnuts. These Cosmic Doughnuts are created with a base of dark chocolate with a chocolate ganache glaze on top with brightly colored sprinkles.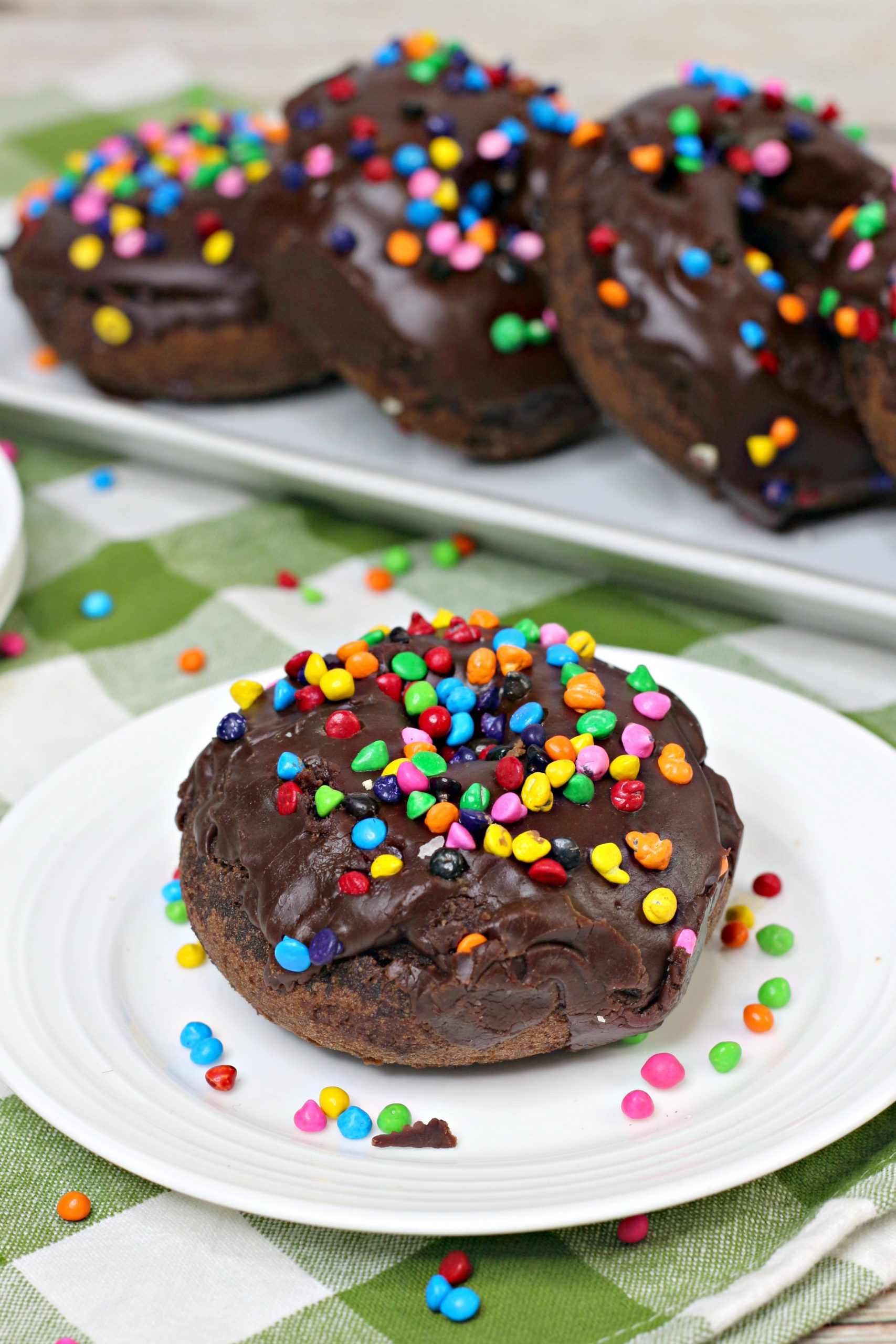 Most of us have memories as a child going to Dunkin Donuts, Krispy Kreme, or 711 to get some fresh breakfast heaven. Yes, it is breakfast food, but it is cheating food or a snack. I always try to supplement my sugar intake with something healthy so I don't feel so guilty. Most of us can not just have one doughnut, and we need one of each!
Have you ever tried creating your doughnuts at home? It might sound complex and time-consuming, but they are delicious and guaranteed fresh, which is a huge plus!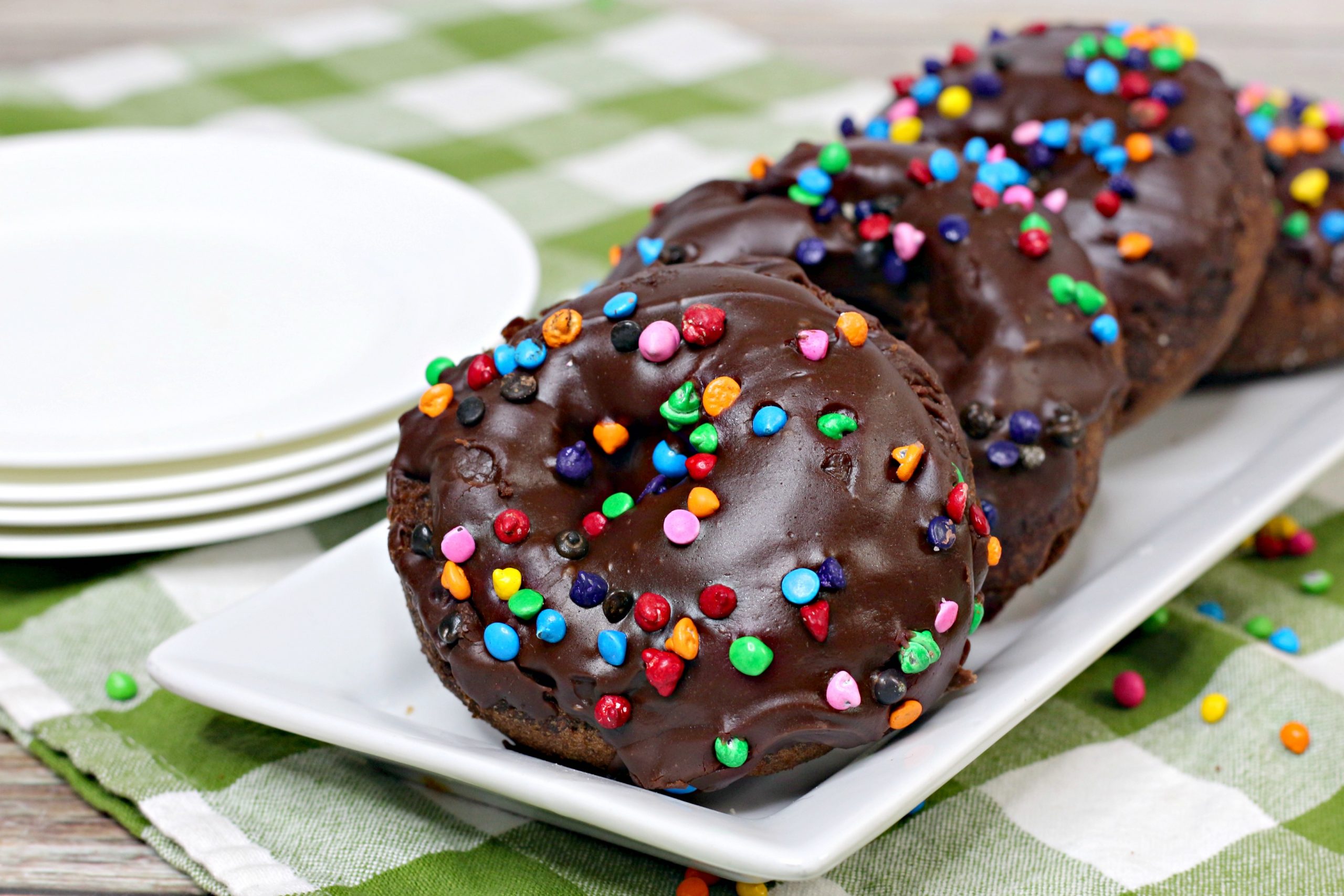 Easter is coming up, and if you celebrate it, these are perfect for your kids and a treat for yourself! Make it a memorable morning and a special memory with your loved ones.
Kids would make doughnuts a food group if they could, so let them help you make them; these would be such a special treat for them. There are so many ways you can recreate them. The world is your oyster when it comes to these delicious treats.
For this recipe, I recommend using a doughnut pan and bake in the oven. This will ensure each doughnut is entirely even and cooked to perfection. You can also free-hand it by heating oil on the stove in a deep skillet and piping the batter in. Both methods create delicious treats, but the pan mold will make them more presentable and hold their shape.
I have tried to freehand doughnuts, and they get eaten, but they aren't too pretty.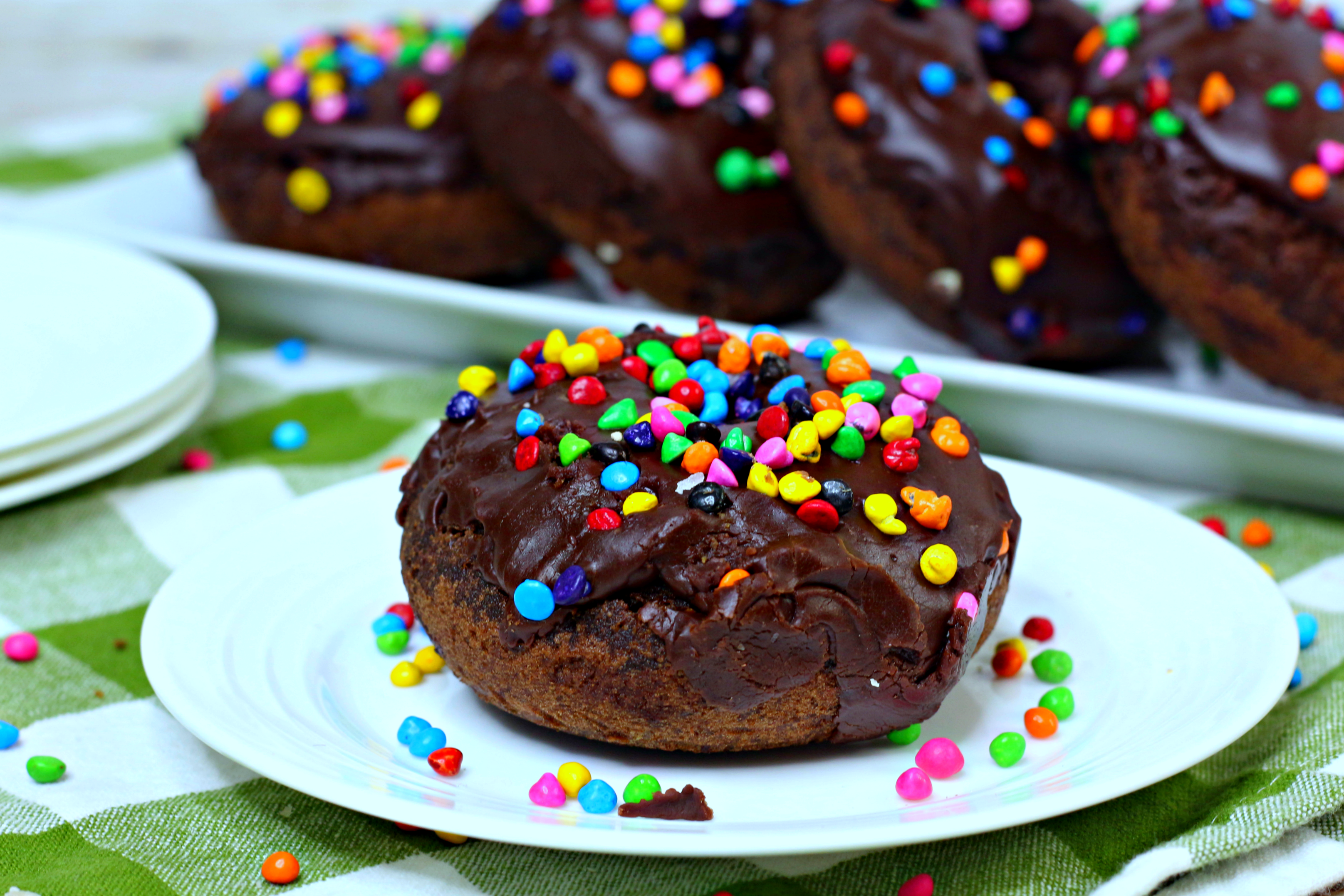 While your doughnuts are browning to perfection, you can start on your ganache. This glaze is buttery and full of flavor. It does harden as it dries, so only make the glaze right before the doughnuts are finished, or it will dry in your pan. Stir frequently to keep the smooth texture and the chocolate from burning on the bottom.
Typically, you wait for your dessert to cool before adding topping, but with doughnuts, you can pour the glaze on top of the doughnut from out of the oven. Then sprinkle the rainbow-colored chocolate chips immediately so they adhere to the ganache and don't flake off.
Nothing pairs better with chocolate than a cold glass of milk. Whether you are a dunker or not, milk is essential for doughnuts. These come out super gooey and not dry at all, which can happen with some recipes. They are not too sweet because I used dark chocolate on the cake base. Are you going to be trying these for Easter or maybe a lazy Sunday morning?
Did you make it? Tell us how it went in the comment section below. Let us know. Enjoy!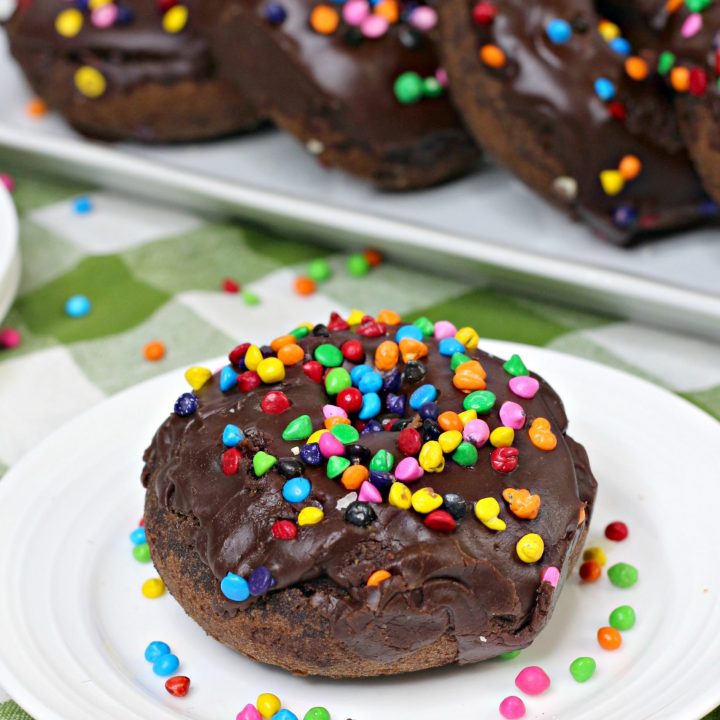 Cosmic Doughnuts
Ingredients
2 C Flour
3/4 C Sugar
1/2 C Unsweetened Dark Cocoa Powder
1 tsp Baking Powder
1 tsp Baking Soda
1 tsp Kosher Salt
1 C Whole Milk
2 Large eggs
4 tbsp unsalted melted butter
2 tsp Pure vanilla extract
1 large disposable piping bag
Gradually mix into the wet ingredients
Scoop the batter into the piping bag and fill the doughnut cavity about ¾ full
Bake for about 8 minutes to 10 minutes or until a toothpick comes out clean
Chocolate Ganache :
½ C semi sweet chocolate chips
⅓ C heavy whipping cream
1 C rainbow candy coated chocolate chips
Instructions
Preheat oven to 350 degrees and spray a doughnut pan with pam baking spray
Using a large bowl, mix the eggs, sugar, vanilla extract, milk, and melted butter, set aside.
Using a medium bowl, whisk together the flour, cocoa powder, baking powder, baking soda, and salt.
Gradually mix into the wet ingredients
Scoop the batter into the piping bag and fill the doughnut cavity about ¾ full
Bake for about 8 minutes to 10 minutes or until a toothpick comes out clean

Chocolate Ganache :

Using a small pot, bring the heavy whipping cream to a simmer
Pour the chocolate chips into a medium bowl and pour the hot cream
over the chocolate chips
Allow to sit for 2 minutes before whisking until smooth
Dip the doughnuts into the chocolate ganache and then place onto a wire rack
Sprinkle some rainbow candy coated chocolate chips on to the top of
the doughnuts



Enjoy!