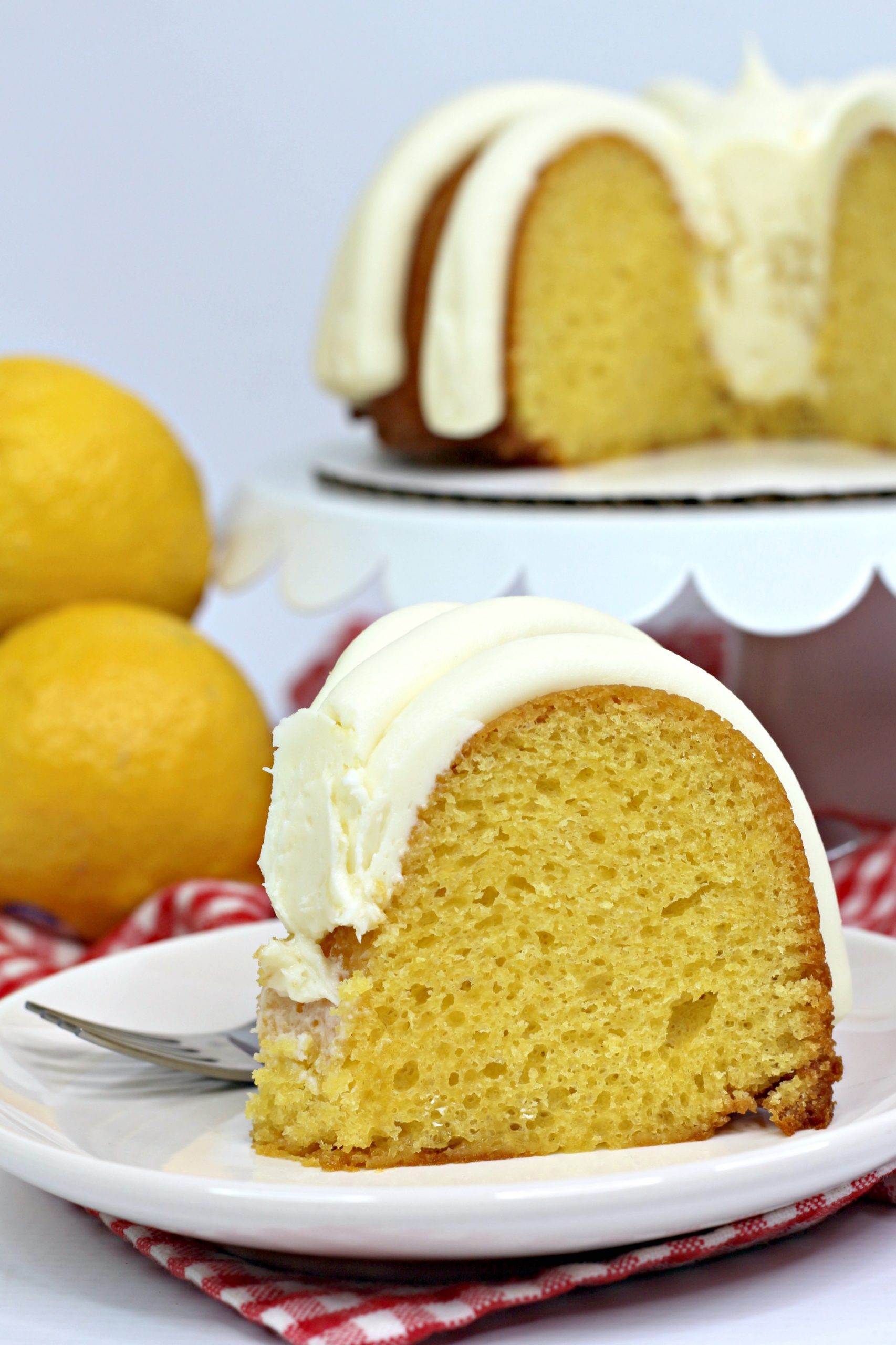 Good afternoon friends! I don't know if you are ready for the recipe I have for you today, Copycat Nothing Bundt Lemon Bundt Cake. Fun name, right? It just came to me and was too good not to use.
Their shape quickly identifies bundt cakes. They bake in a pan that has ridges and goes in the oven upside down. Once your cake has cooled si, you simply flip it onto your serving plate and top with cream cheese frosting.
You can also tell a bundt cake by the opening in the center. It is not just for looks but has a significant job.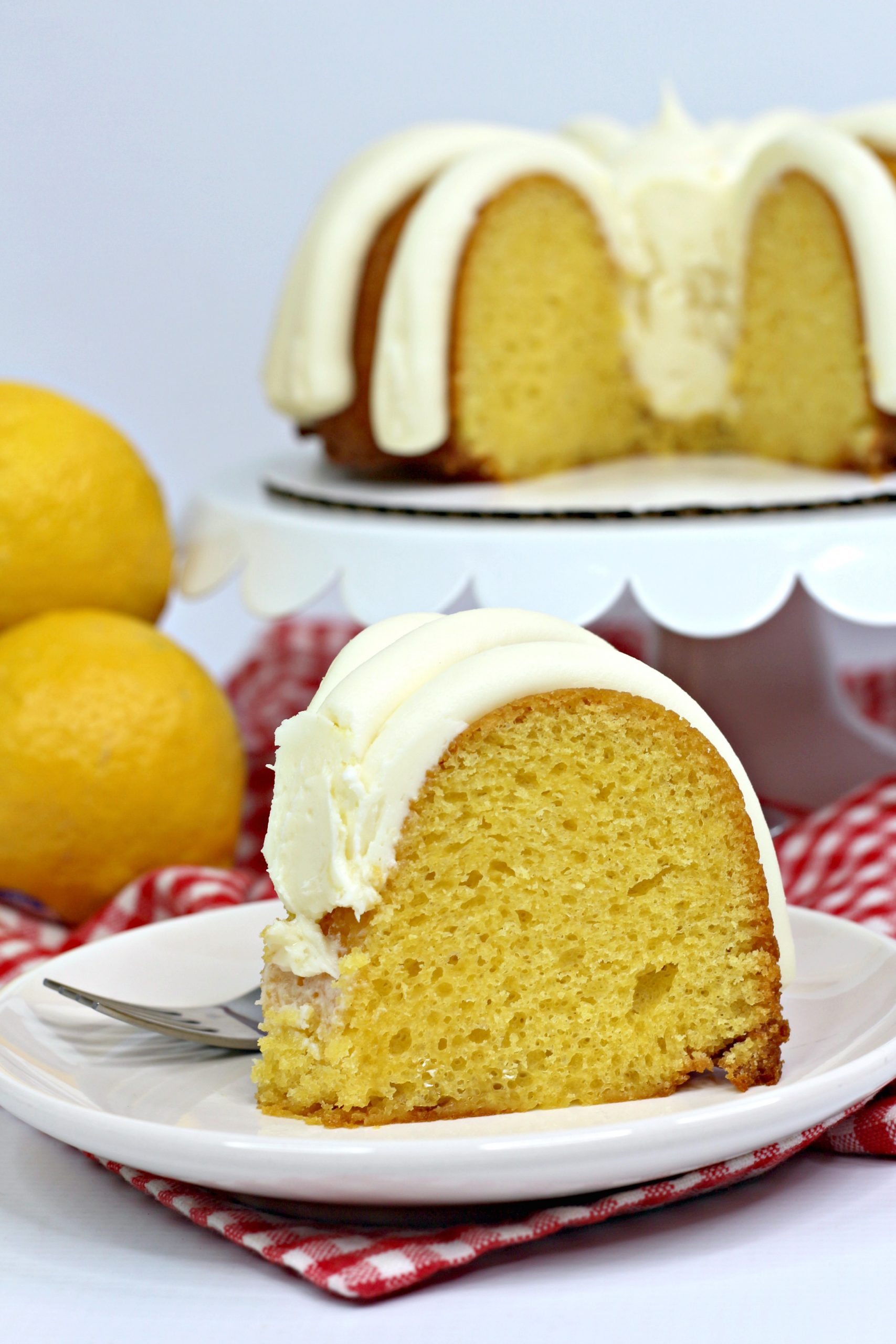 The pan shape helps to bake all the batter evenly, so you do not have any under-cooked areas. Especially if you are baking a dense dessert, this pan is your go-to!
You can always use the center to place decor as well. With this recipe, I would place some beautifully bright lemons with dainty white flowers. Such a simple thing makes a huge presentation.
My Copycat Nothing Bundt Lemon Bundt Cake is super moist because I included a lemon pudding mix. It makes this dessert so dense, and each mouthful has an explosion of flavor-packed behind it.
The pudding adds a light and subtle taste of lemon but ensures the cake will come out moist and stay moist without drying out, as some cakes will do after a while. You can see from the photos how airy and fluffy this cake is.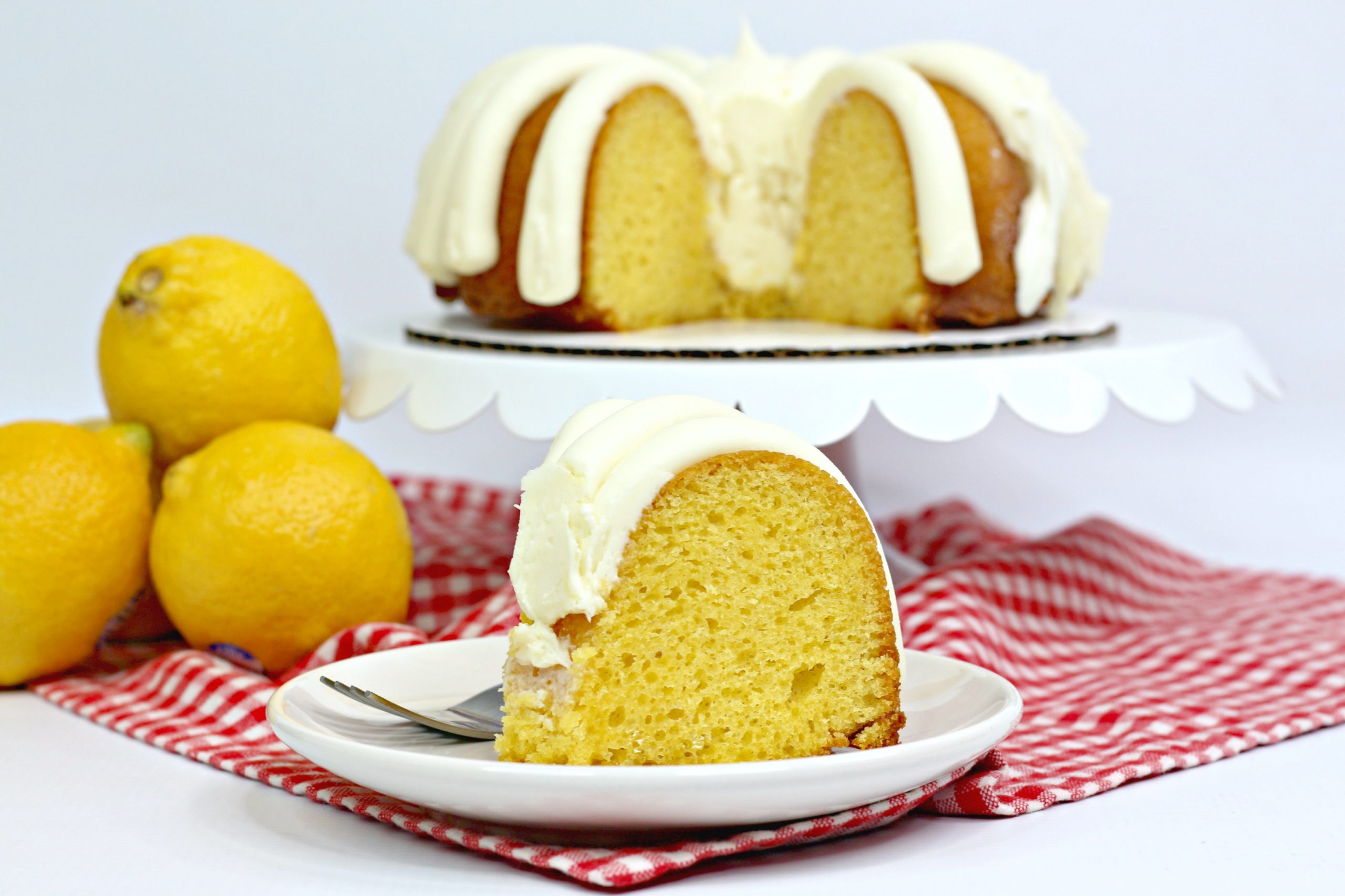 It is perfect for any spring get-together or simply to treat the kids after a long week of virtual learning. If you have gotten your COVID vaccine and are doing a brunch, this is the best dessert to serve your friends.
Cake pairs so well with many things, coffee, tea, champagne, or mimosa, just to name a few. Show your friends what you have learned during this long year of quarantine. I hope it is over soon!
The icing has softened cream cheese and powdered sugar which helps bind all your ingredients. Make sure to drizzle your icing on top of the cake once it cools but do not let the icing sit for too long.
After a while, the frosting will harden and start to flake. Pouring it on hot allows for those pretty drizzle marks down the side of your bundt cake.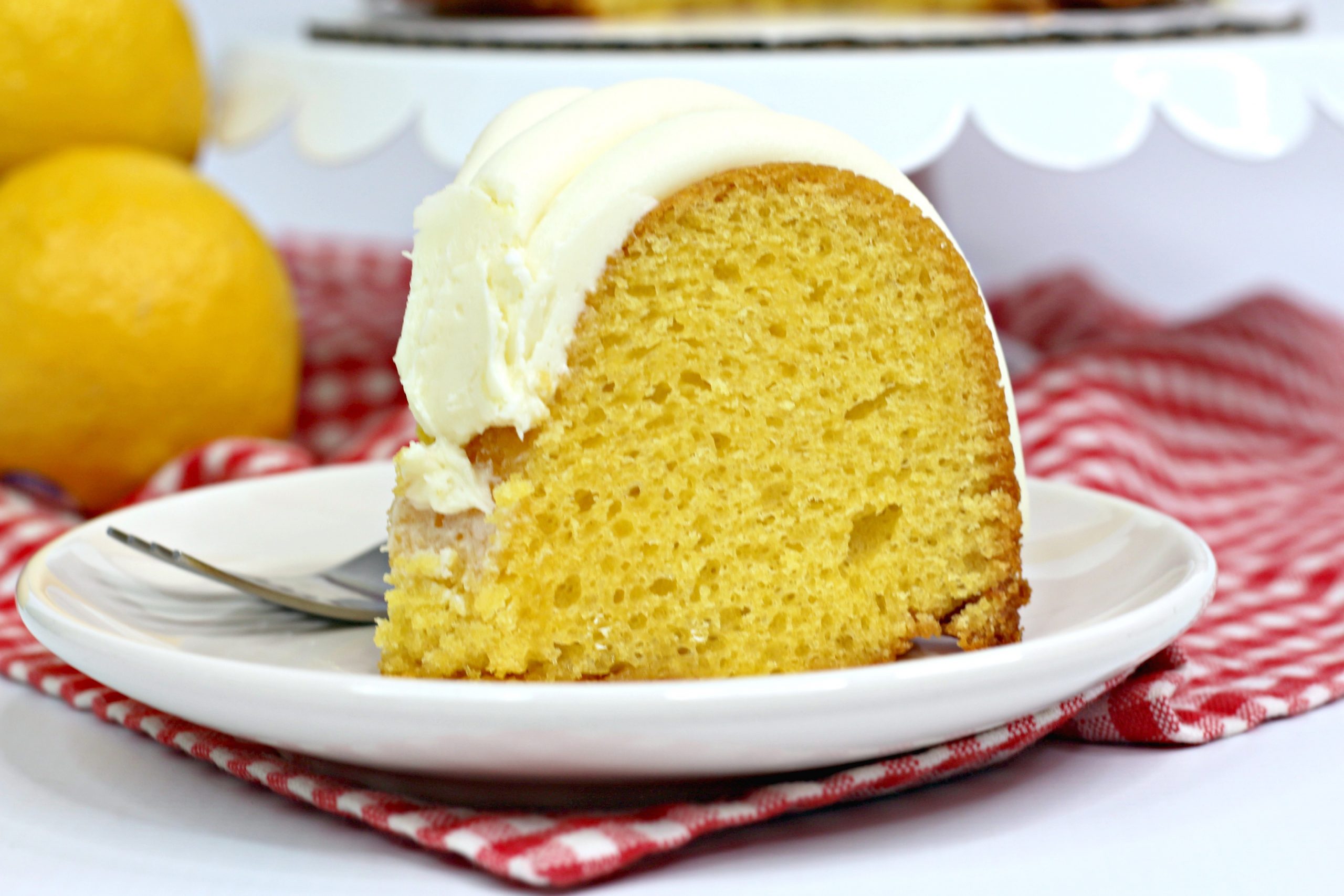 Apply the icing cleanly, pour it into a piping bag and use whatever tip you have available. A smaller opening will allow you to guide the frosting where you want without too much dripping off the side and onto the serving plate.
I usually pour the icing over the cake while it is on a regular dish, then once it dries, I move it to the serving plate to keep up the beautiful appearance.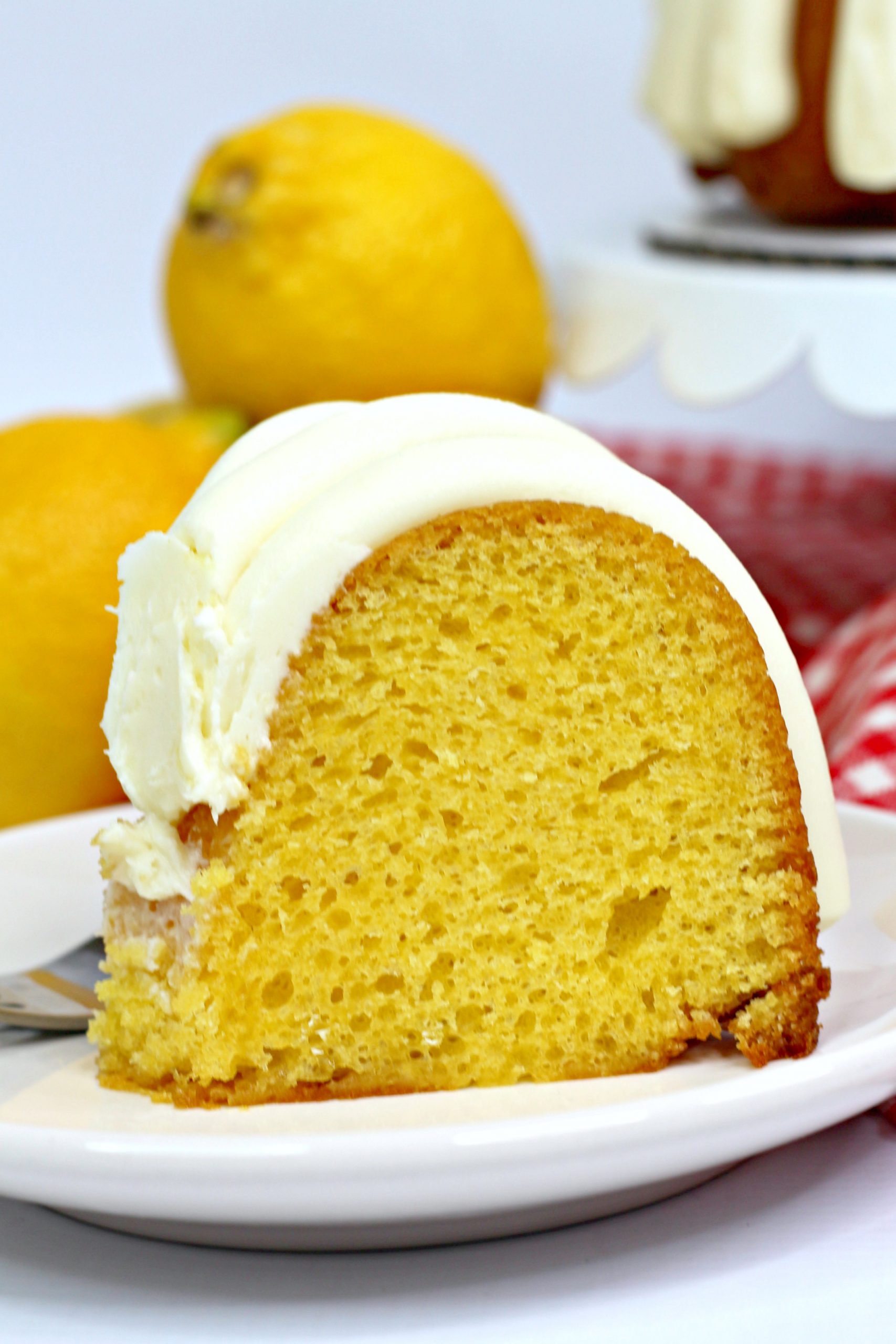 I have such a sweet tooth, so I layered the icing pretty thick, but by using the piping bag, you can control just how much is added if you don't want it to overpower the cake's actual taste.
I can't wait to hear what your friends thought of this recipe!
Did you make it? Tell us how it went in the comment section below. Let us know. Enjoy!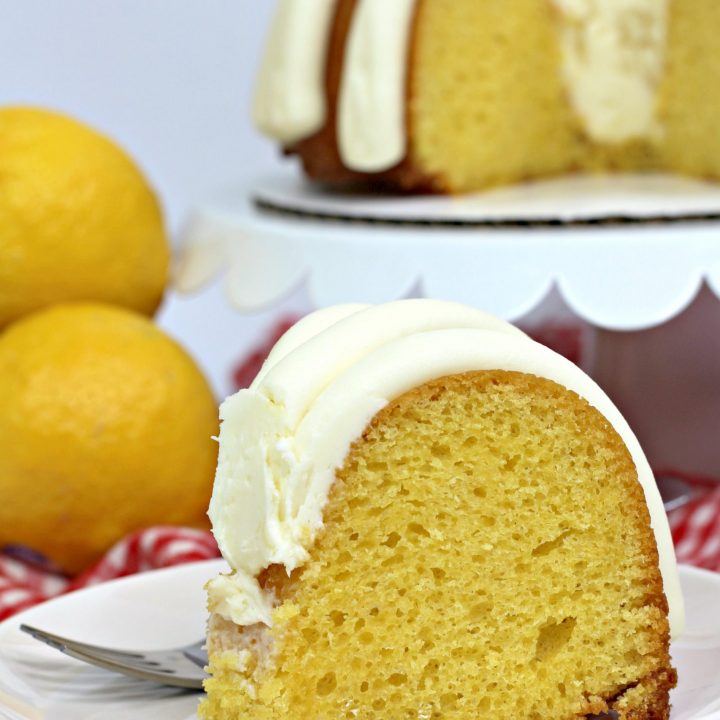 Copycat nothing bundt lemon bundt cake
Ingredients
1 lemon cake mix
1 - 3.4 oz instant lemon pudding mix
1 C sour cream
4 Lg eggs
½ C canola oil
¼ C fresh squeezed lemon juice
¼ C water
Cream Cheese Frosting :
1 - 8 oz cream cheese, room temperature
¼ C unsalted butter, softened
2 1/2 C powdered sugar
1 tsp pure vanilla extract
1 disposable piping bag
Instructions
Preheat oven to 350 degrees and spray a 9inch round bundt pan with pam
baking spray
Using a standing mixer, beat the cake mix, pudding, sour cream, eggs,
oil, lemon juice and water until combined
Pour the batter into the bundt pan
Bake in the oven for 45-55 minutes or until a toothpick comes out clean
Allow to cool completely
Place into the fridge overnight

Cream cheese frosting directions :

Using a standing mixer, beat all ingredients until combined and smooth
Scoop into the piping bag
Cut the tip off the piping bag
Pipe onto the frosting onto the bundt cake
Cut into slices and enjoy!