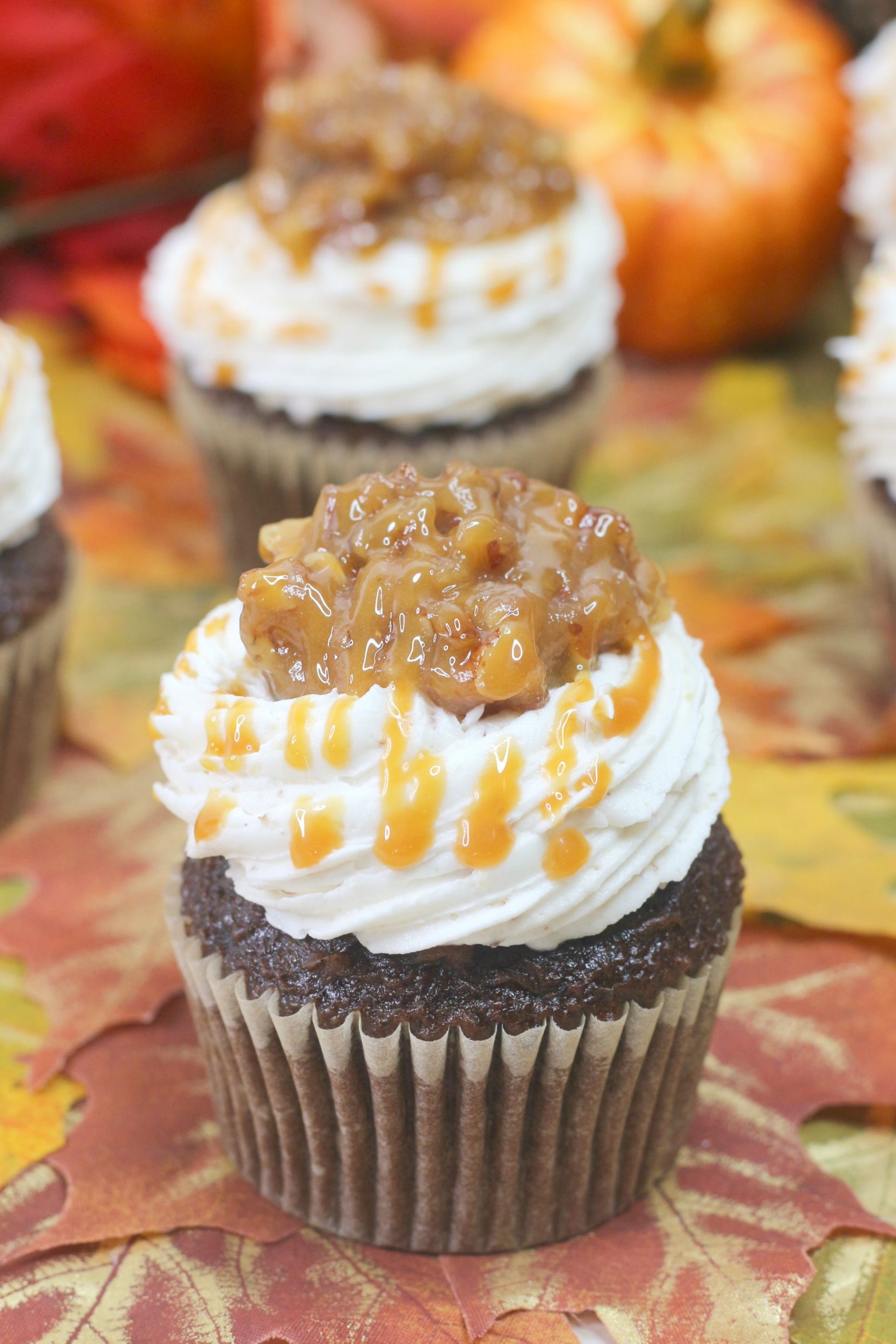 I am introducing my delectable Chocolate Bourbon Pecan Cupcake. The crunch of pecan pairs so well with the intense taste of bourbon. Chocolate goes well with everything! But it compliments any liquor perfectly.
Bourbon is a very intense taste. You either love it, or you hate it. I personally like an aged bourbon on a special occasion but only one. Any more, and at my age, that is a recipe for a headache the next day.
Why bourbon works so well in desserts is its hint of vanilla, caramel, and oak. It all depends on what kind you use and what type of barrel it gets aged inside of.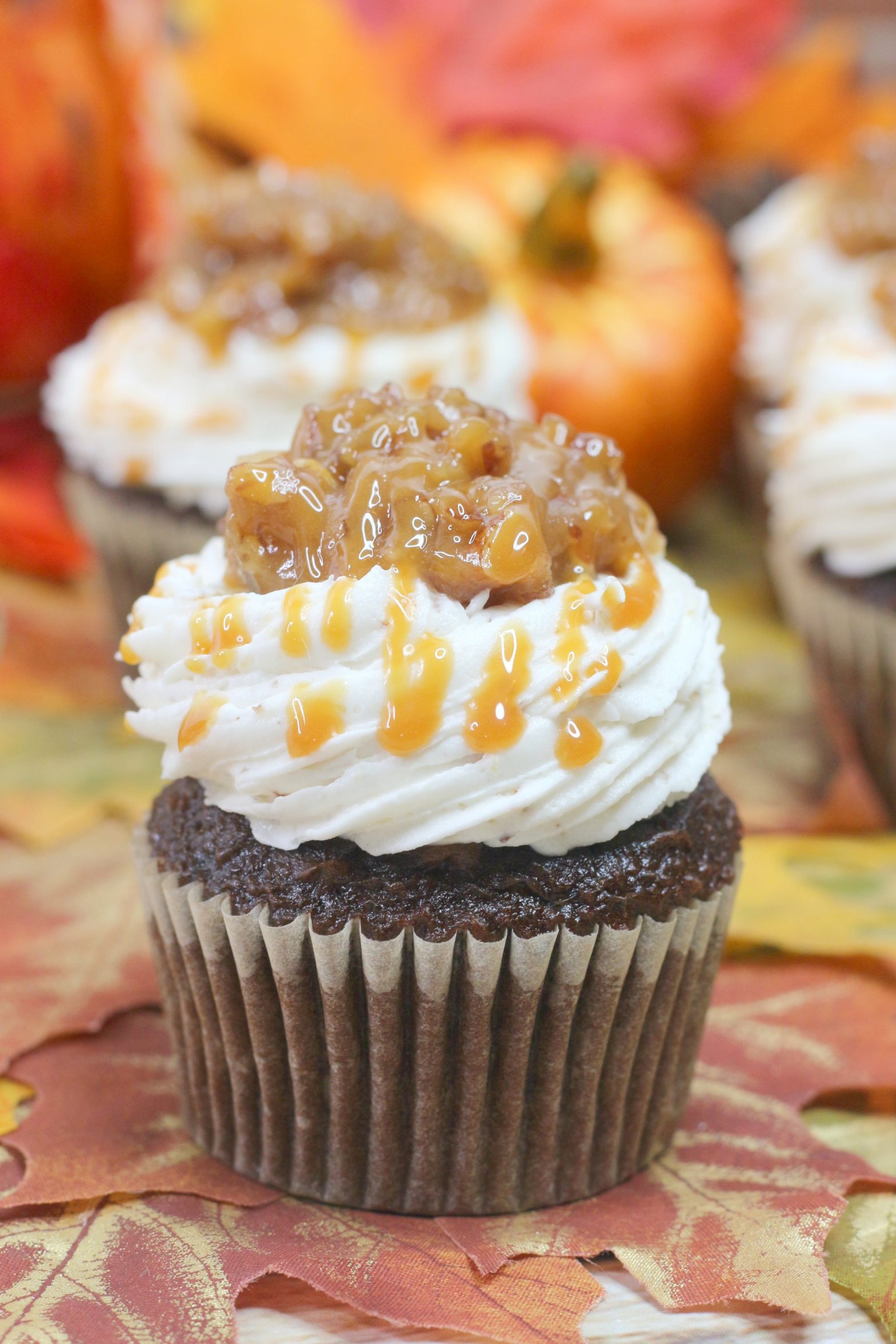 When using white chocolate, you want to use a full-proof bourbon. The fat content of the chocolate will help break down the bourbon. In traditional milk chocolate, you want to pair it with spicer bourbon to enhance the flavors.
Pecans are typically used in fall-themed foods, but you can enjoy this recipe any time of the year! You can purchase them whole or chopped. Pre-chopped pecans are what I use because they are easier to eat. It also saves you time having to cut them yourself. I want to make each recipe as easy for you as possible.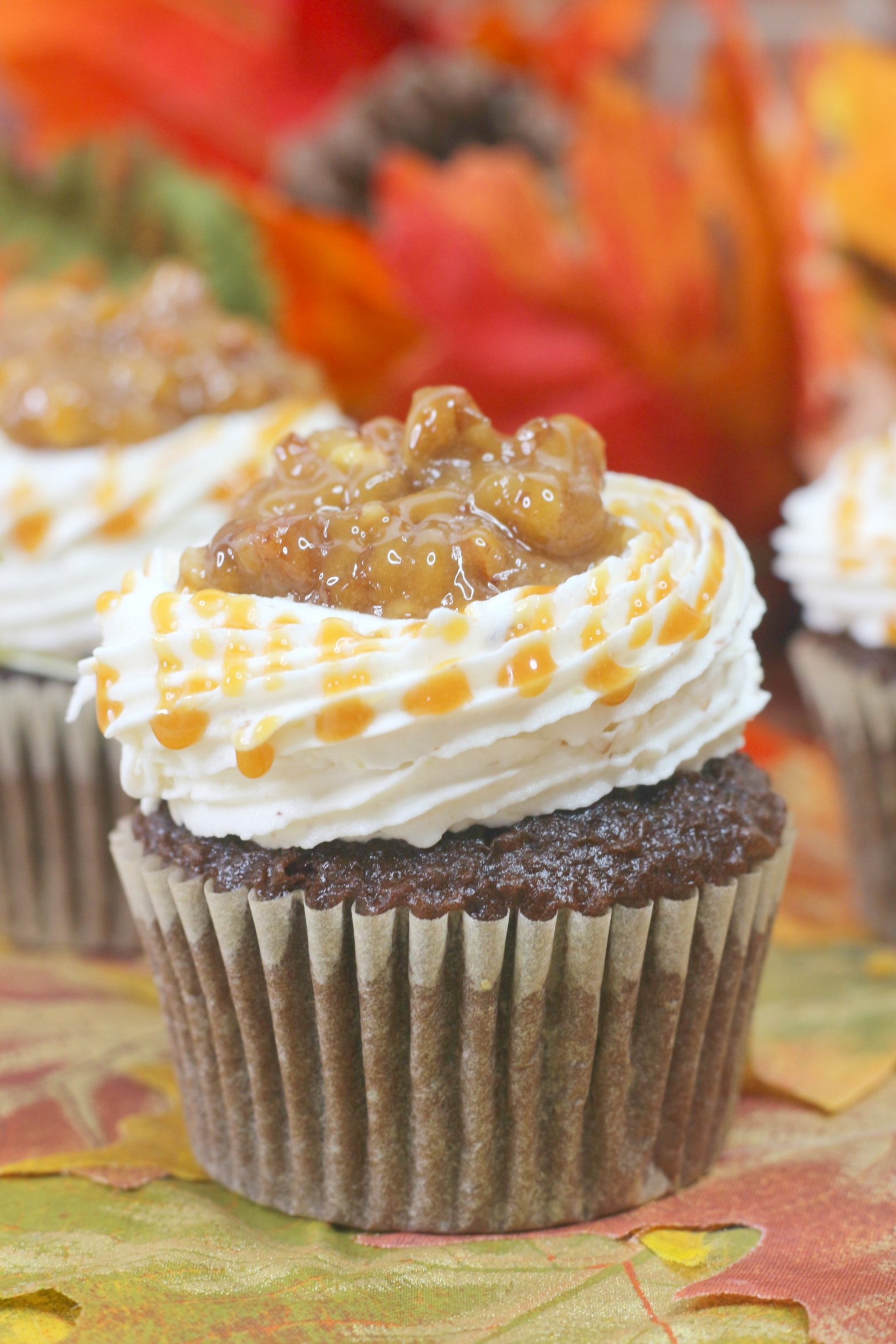 I used regular pecans in this recipe, but as with my other dishes, you can spice them up however you want. Pecan's also come salted, honey glazed, frosted pecans, rum, orange, sugar-glazed, key lime, cinnamon, and praline. For my recipe, I would recommend using any of those flavors previously mentioned besides the key lime. I played around with the orange and rum-flavored pecans. The bourbon brought out the entire citrus flavor profile of the orange. It adds a new level of flavor your taste buds will be thanking you.
For the base of the cupcake, I went with a triple-chocolate cake mix. It is a little bitter from the dark chocolate but doesn't worry if you aren't a huge dark chocolate fan; all the other ingredients will sweeten it just perfectly.
Now onto the topping, we have not one but TWO toppings! The first one is pecan pie topping, and the second is cinnamon frosting.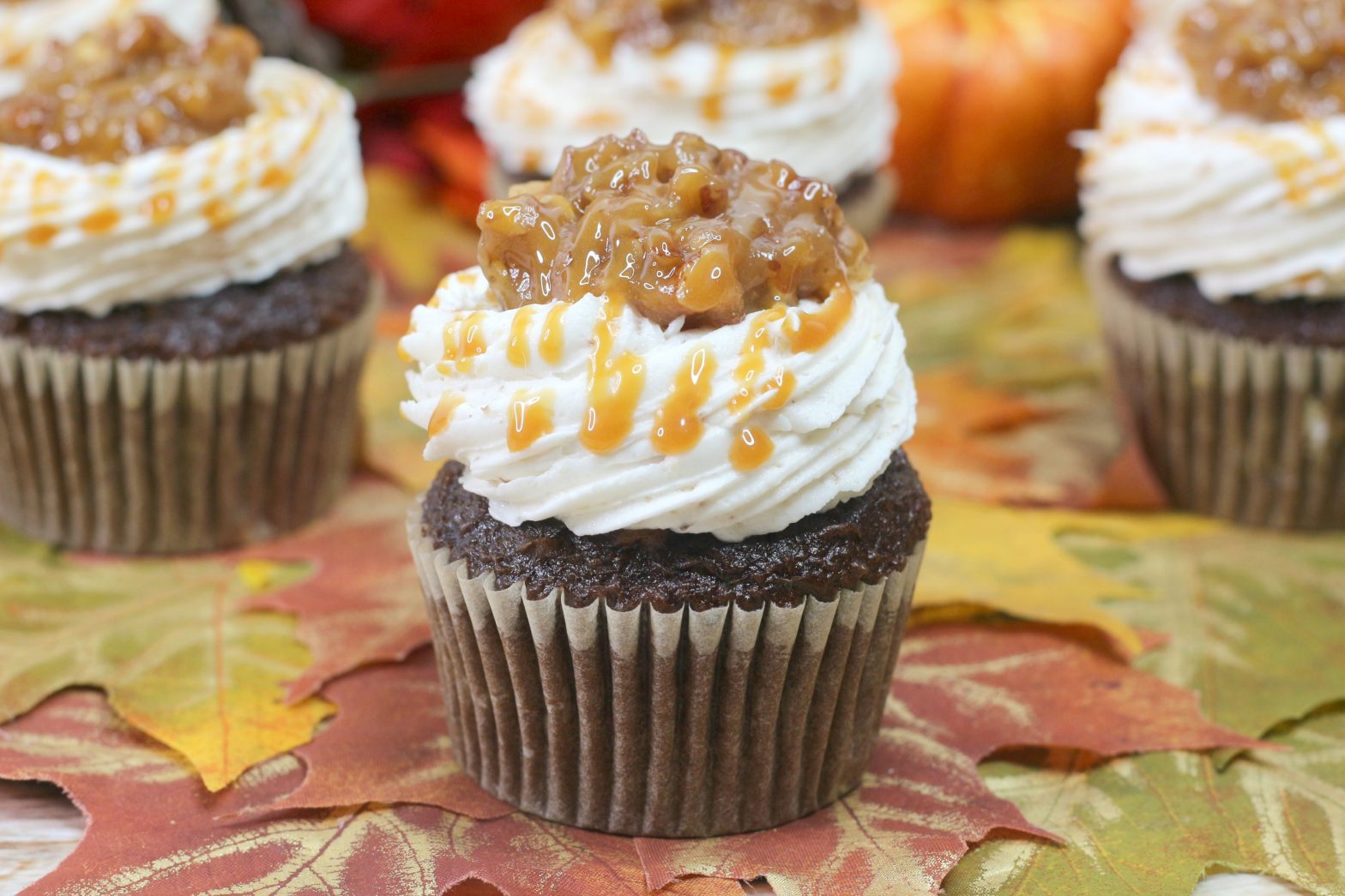 The base is Cinnamon frosting. I did use a store-bought caramel sauce, but you can always make your own if you have time! It is super easy and tastes just as good. Use your piping bag to distribute the frosting evenly around your cupcakes. I recommend using the star tip, but you can get creative and use any type of tip you may have available.
Pecan pie topping goes on top of your frosting—creating a bed for those perfect pecans. The corn syrup helps to firm up the topping and compliments the bourbon. Corn syrup is similar in consistency to maple syrup but not as sweet. A perfect dessert for anyone who does not like super sweet foods.
Leave a comment with what you think of the recipe after recreating it. I would love to know what type of pecans you used!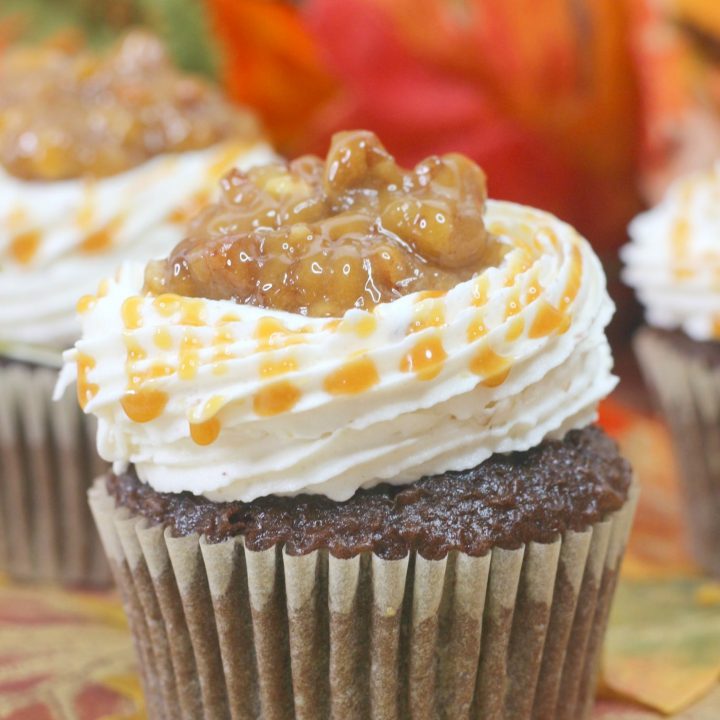 Chocolate Bourbon Pecan Cupcake
Ingredients
Chocolate Cupcakes Ingredients :
1 box of Triple chocolate cake mix
3 large eggs
1 ¼ C water
½ C canola oil
cupcake pan
cupcake liners
Pecan Pie topping ingredients :
1/4 C sugar
1/4 C brown sugar
2 tbsp cornstarch
3/4 C light corn syrup
4 tbsp unsalted sweet cream butter, melted
1/2 tsp kosher salt
2 large eggs, lightly beaten
1 1/2 C Chopped Pecans
1 tsp pure vanilla extract
Cinnamon Frosting ingredients :
1 C unsalted sweet cream butter, softened
2 1/2 C powder sugar
1 tsp vanilla
1 tbsp ground cinnamon
3-5 TBSP heavy whipping cream
1 large piping bag, fitted with a star tip
1 bottle of Salted Caramel Sauce
Instructions
Chocolate Cupcakes Ingredients :
Preheat oven to 350 degrees and line cupcake pan with cupcake liners
Using a large bowl, beat together until combined the cake mix, eggs,
water, and oil
Fill cupcake liners 2/3 full
Put in the oven and bake for 22 minutes
Remove from the oven and allow to cool. Transfer to a cooling rack andallow to cool completely before frosting.
Pecan Pie topping :
Using a medium saucepan stir together all filling ingredients EXCEPT
pecans and vanilla.
Bring to a boil.
Remove from heat and stir in pecans and vanilla.
Pour into a bowl.
Let mixture cool on the counter for 10 minutes and then refrigerate for 1 hour
Cinnamon Frosting :
Using a stand mixer, combine all ingredients and mix on medium speed.
Mix until you see stiff peaks in your frosting and scoop into piping bag
Frost cooled cupcakes around the edge leaving the center open
Scoop the Pecan Pie mix into the center of the cupcake
Drizzle the caramel sauce over the cupcakes



Enjoy!