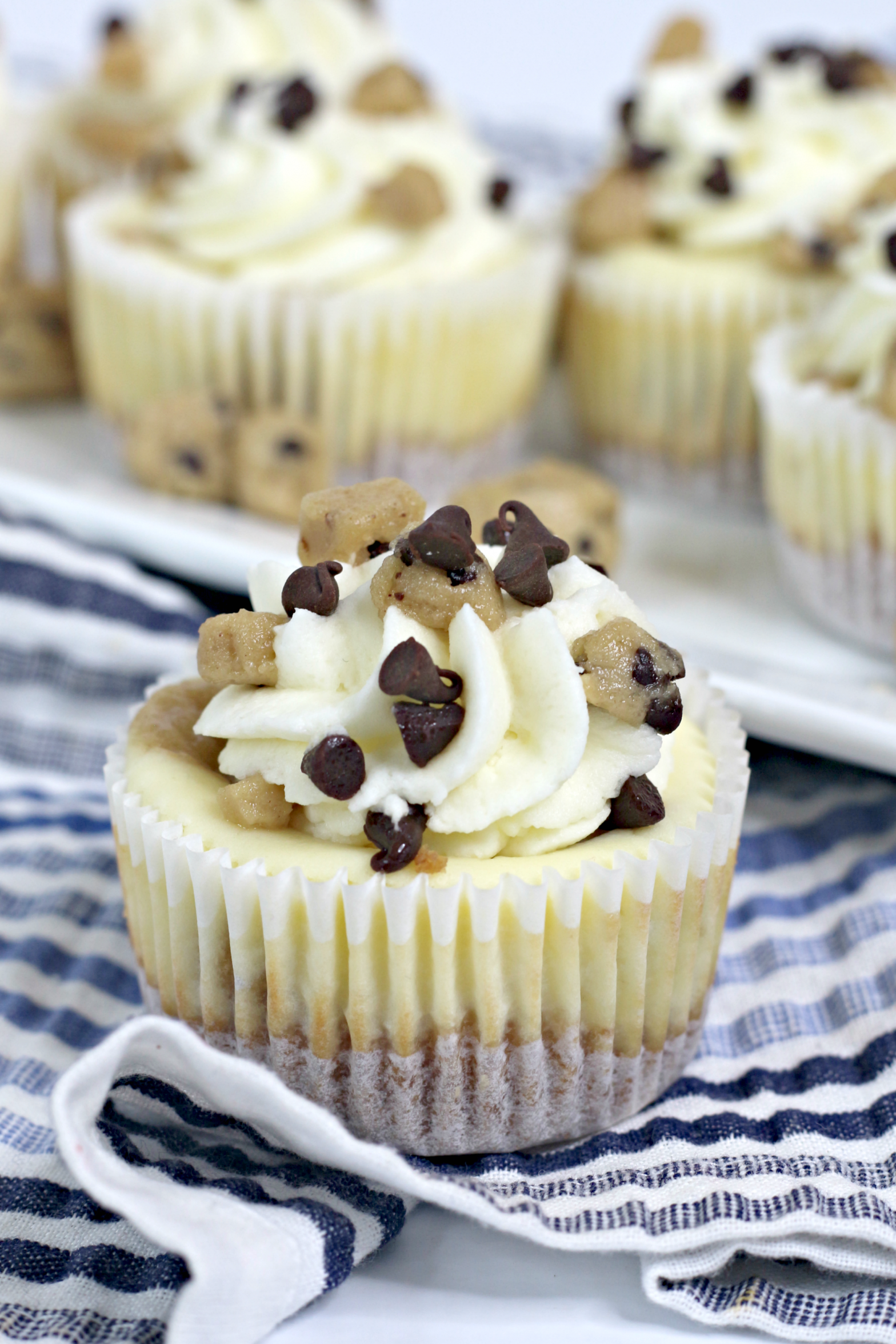 What was one of your favorite memories as a child? Mine was baking chocolate chip cookies with my grandmother. I always felt so special being allowed to mix all the ingredients and waiting for the result. I could not wait for those fresh cookies to come out, so I always stuck my finger in the batter bowl to get a little sneak taste.
I always had to move quickly, so my grandmother didn't see me, or I would get a wooden spoon to the hand. I can still hear her yell, "don't eat the raw batter! You will get salmonella!". I'd roll my eyes and just do the same thing again when she turned her back.
Thankfully, I never got sick, but my stomach would be upset after shoving finger fulls of batter in my mouth. When the cookies came out all warm and gooey, I was too full on the batter to eat them.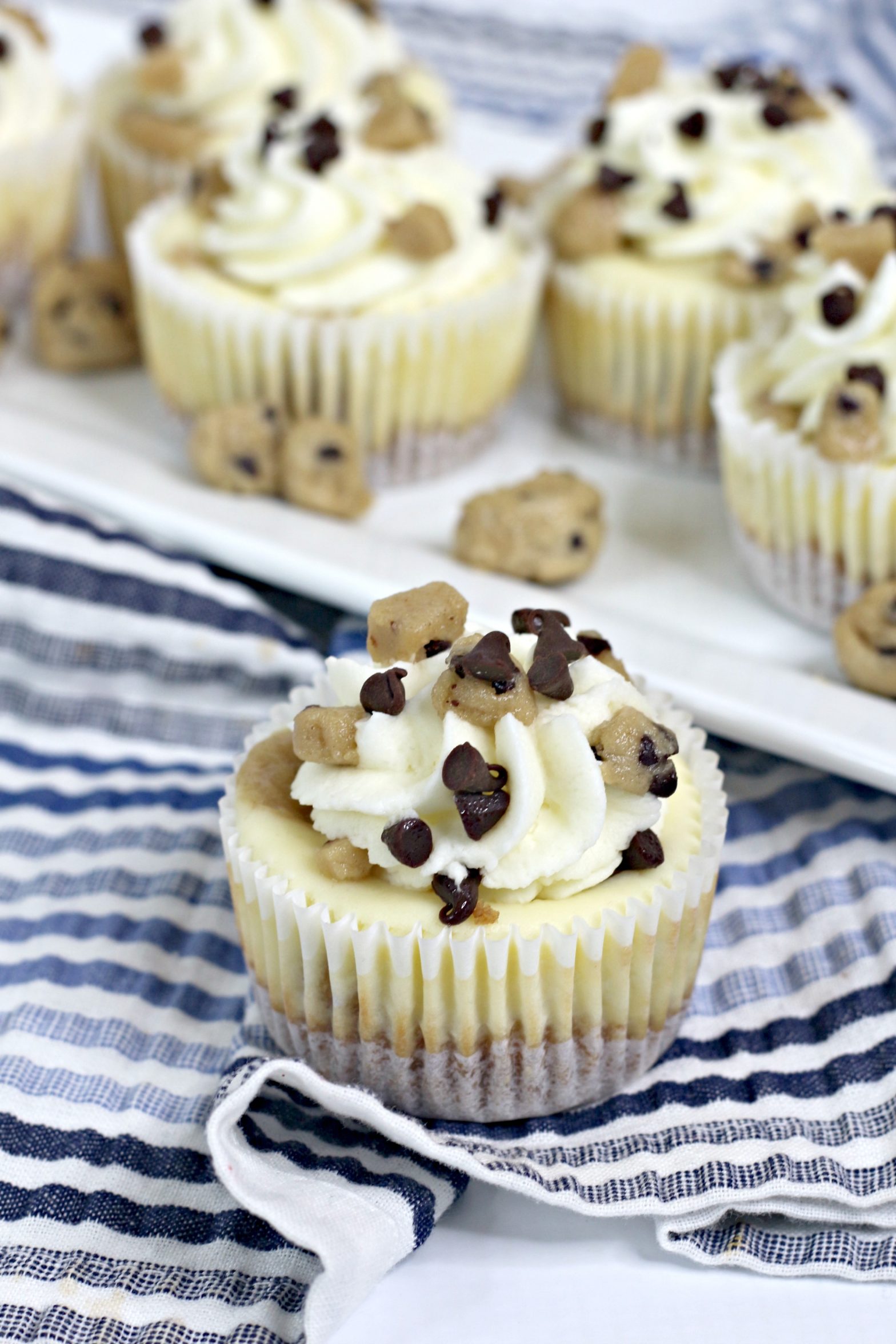 The recipe I bring you today allows you to enjoy the delicious taste of cookie dough without the worry of getting ill from eating it. I wish I had this as a kid! My Chocolate Chip Cookie Dough Cheesecake! My mouth is watering just writing this.
I went to the movies for the first time in forever and stood at the candy counter, contemplating what I wanted. I went through the traditional popcorn, snowcaps, and Twizzlers. When my eyes gazed upon the cookie dough bites, at that moment, I had a crazy idea. "How would these be on a cheesecake?" Well, I am here to tell you it is one of the best desserts I have ever made and super fun!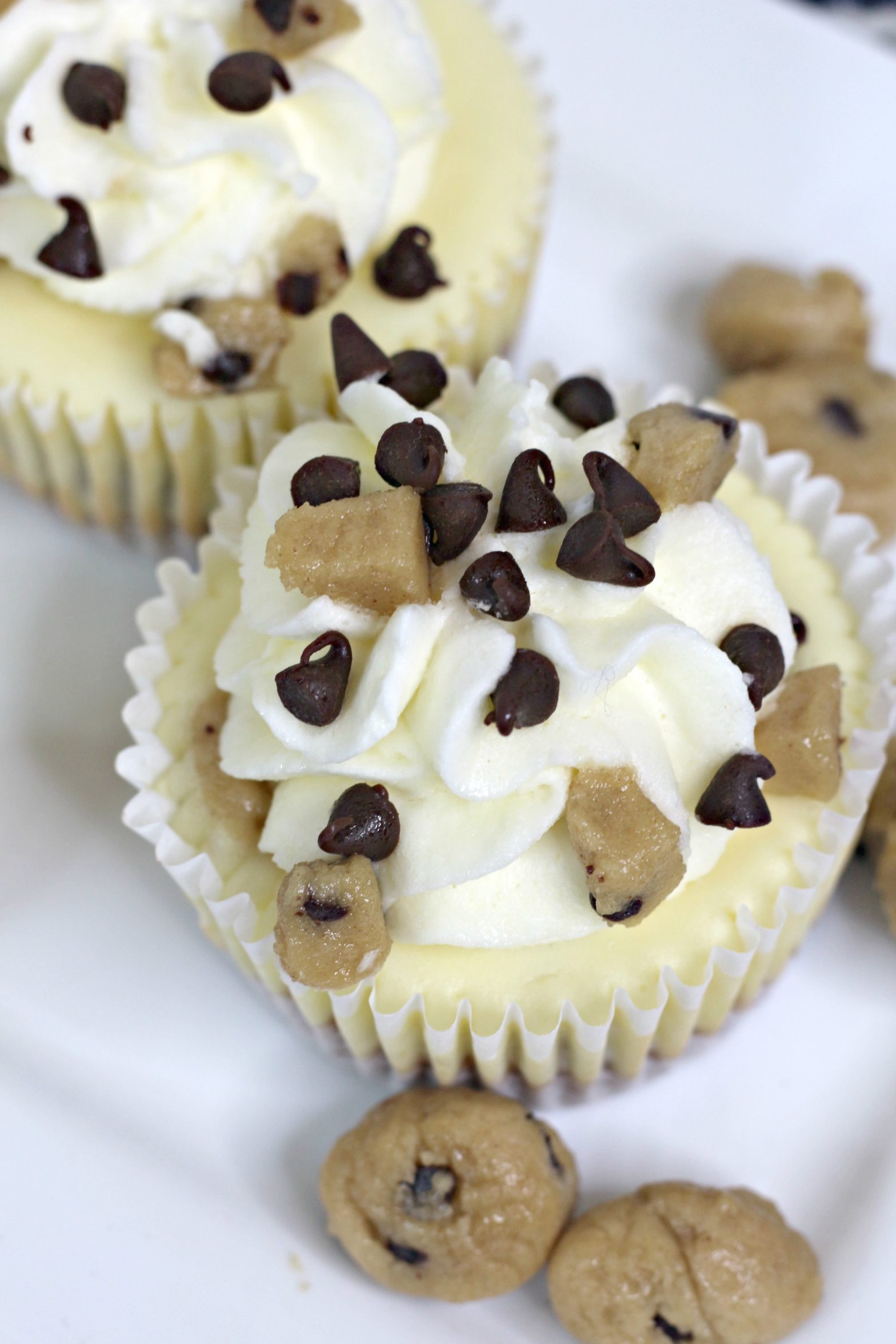 So the next day, I started playing around with ingredients. Then, an idea popped in my head "why not use ice cream cookie dough?". It is already prepared safely and saves me a step.
The base is your traditional graham cracker cheesecake crust. I put mine into muffin tins, so they are bite-size pieces and will bake faster.
I then added your traditional cheesecake filling of cream cheese, sour cream, sugar, eggs, vanilla extract, and salt. Then I mixed in some "Ben and Jerry's Dough Chunks Chocolate Chip Cookie Dough" into the filling.
Did you know they sell the chocolate chip cookie dough separately from the ice cream?! I did not until I found these goodies at Target.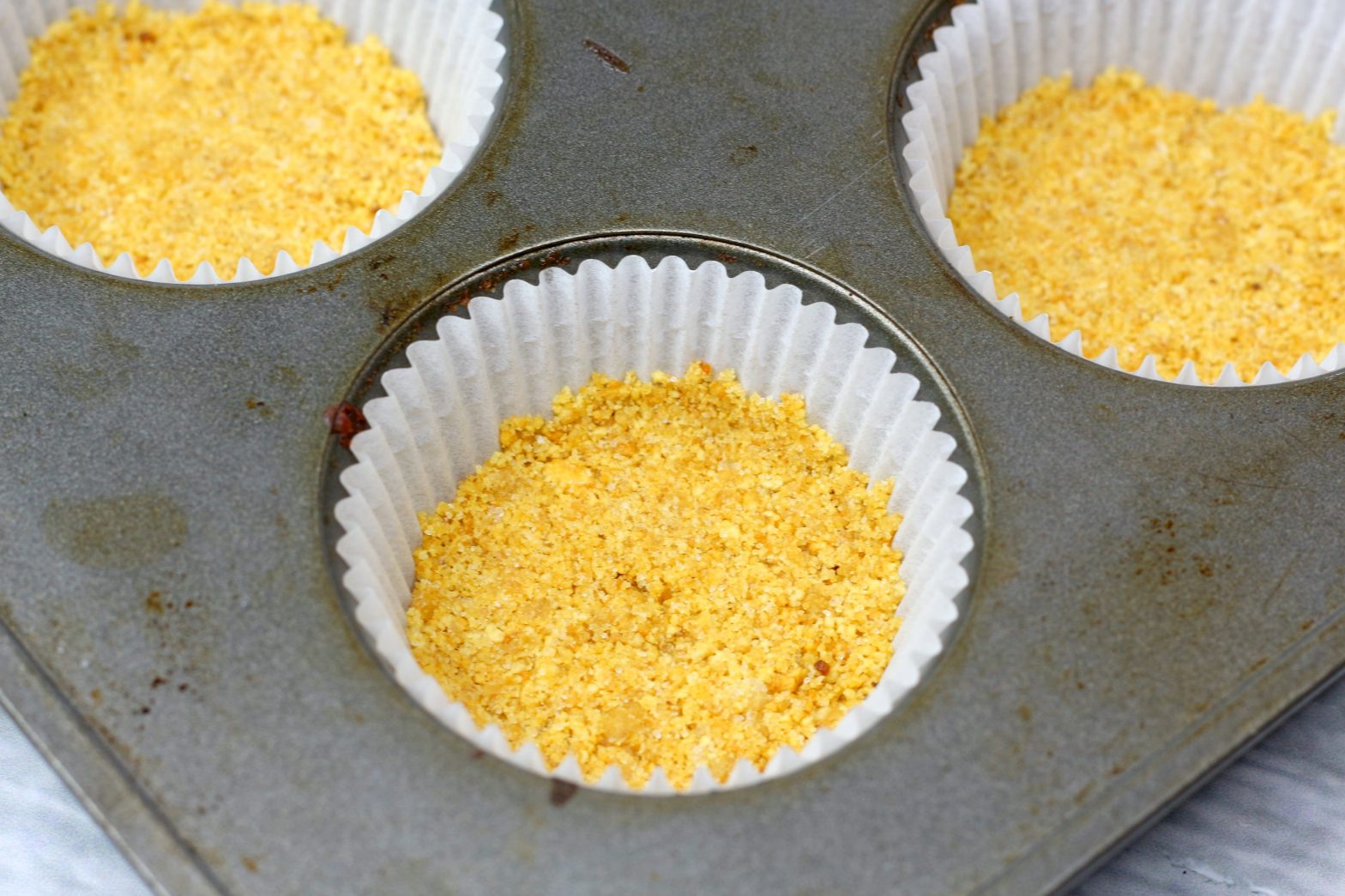 After the cheesecake was set, I added the topping and finished it off with some semi-sweet chocolate chips and chunks of cookie dough. The taste is out of this world!
So soft and sweet that it will make you grab a cold glass of milk. I hid them in the back of the fridge from the kids and my husband. Yes, they were that good! These are mama's special snacks.
I gave them some, but I was in love with the flavor. The graham cracker base holds up so well, and the whole dessert gets baked together.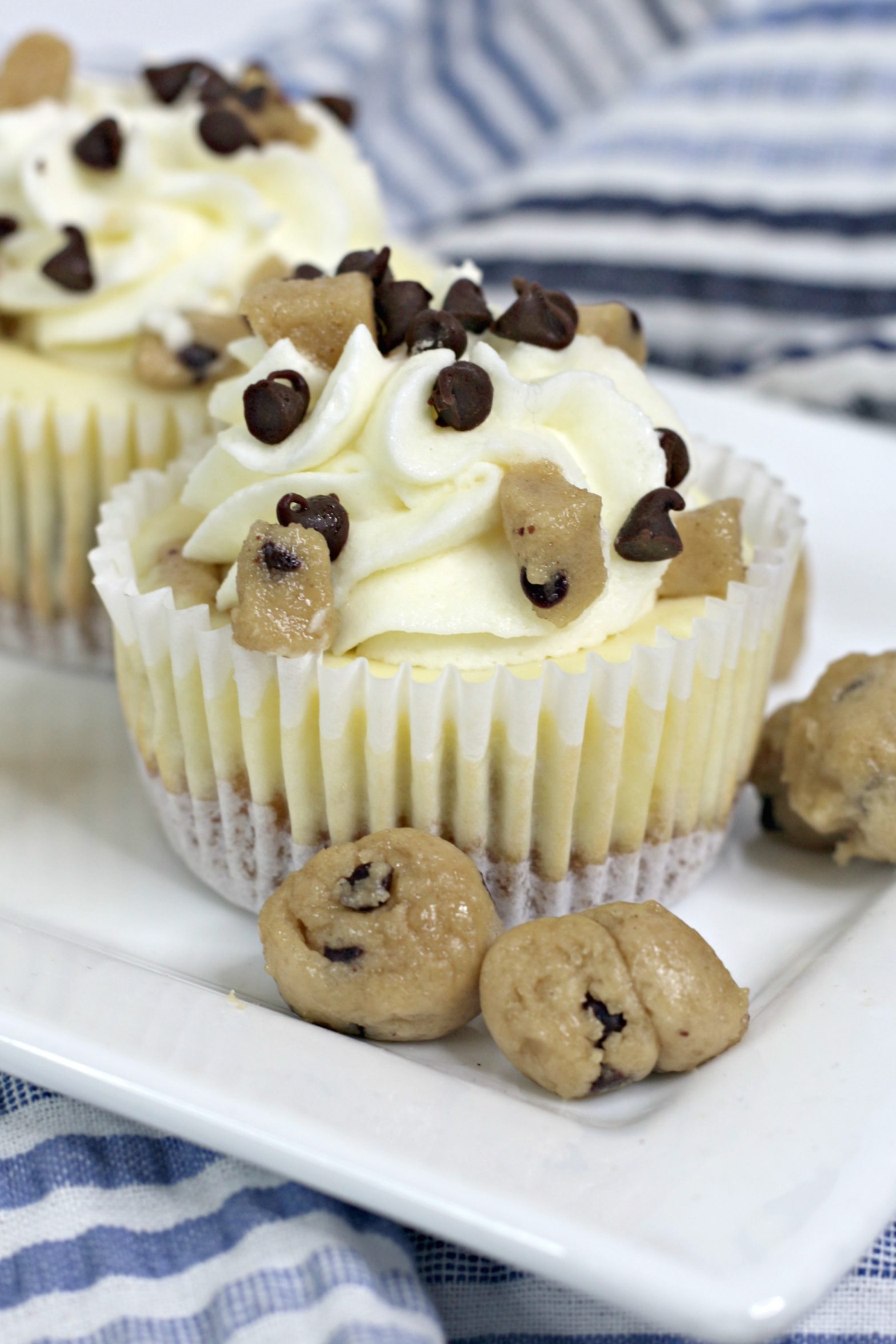 Leave a comment below with your thought on this dessert. If you recreate it at home, let me know what you think! It is sweet tooth heaven!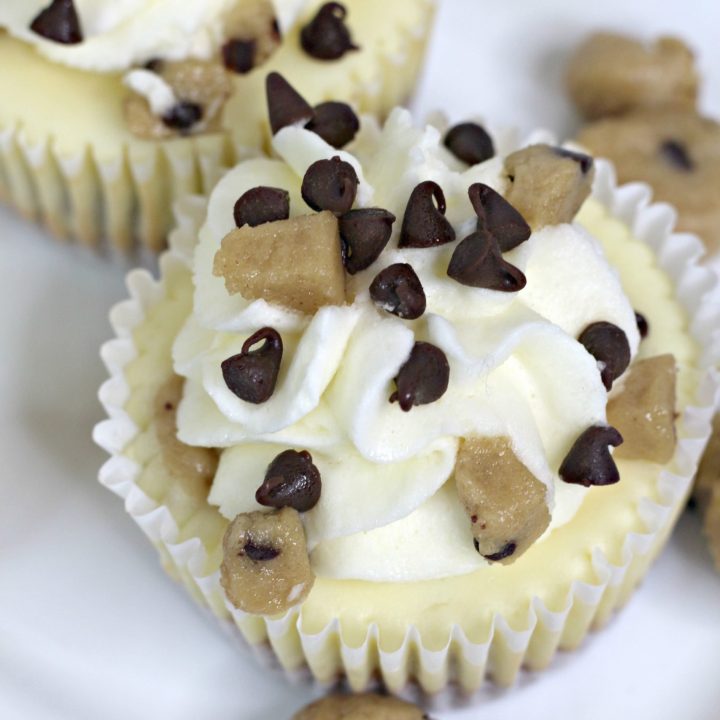 Chocolate chip cookie dough Cheesecake
Ingredients
Graham Cracker Crust :
¾ C graham cracker crumbs
1 ½ tbsp sugar
¼ C unsalted butter, melted
Cheesecake Filling :
2 - 8oz cream cheese, softened
½ C sugar
½ C sour cream
¾ tsp pure vanilla extract
⅛ tsp kosher salt
2 large eggs
Ben & Jerry's Dough Chunks Chocolate Chip Cookie Dough 8 OZ
Homemade whipped cream:
1C heavy whipping cream
¼ C powdered sugar
1 tsp pure vanilla extract
1 medium piping bag with star tip
Instructions
Graham Cracker Crust :
Preheat oven to 325 degrees and line a cupcake pan with cupcake liners
Using a medium bowl, combine all ingredients and mix until combined
Using a tablespoon, scoop the crust into the cupcake liners
Using a flat bottomed round cup, press the cup into the crust to make a firm crust

Set aside
Cheesecake Filling :
Using a hand mixer, beat together the sugar and cream cheese until
combined and smooth
Beat in the sour cream, vanilla and salt until combined
Beat in 1 egg at a time until combined
Mix in ½ C of the cookie dough bites into the batter
Scoop 2 ½ tbsp of the cheesecake mixture into the crust

Bake in the oven for 17-22 minutes or until the edges are firm and a
really light golden brown starts to form
Allow the cheesecakes to cool for a few hours in the fridge
Homemade whipped cream :
Using a medium bowl, beat on medium to high speed the heavy whipping
cream, powdered sugar and vanilla until stiff peaks form
Topping the cheesecake
Pipe on a dollop of whipped cream on top
Top with cookie dough bites and mini chocolate chips


Enjoy!