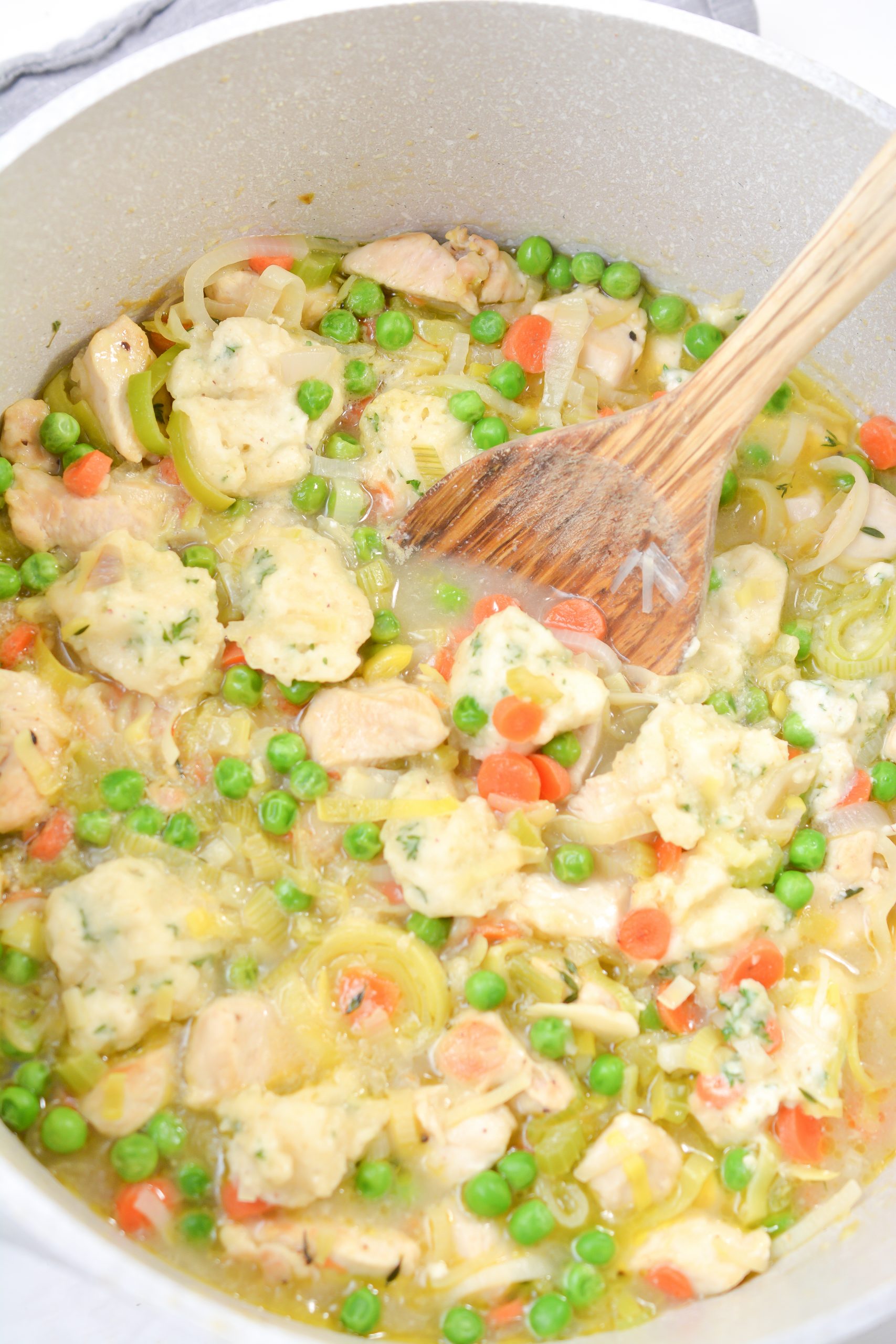 It's time for a family favorite meal you can make in just 30 minutes. Old Fashioned Homemade Chicken and Dumplings is one of the best dinners you can serve up. It is not just delicious but defines comfort food. It's good ol' comfort food at its best.
There just is nothing like a meal that is completely homemade. But don't fret – it's so easy! Anyone can make it in just a few steps. If you have never had the classic family-friendly dinner or made Chicken and Dumplings – now is the time to make it happen.
You don't need an endless amount of ingredients and believe it or not, most of them you probably will find in your pantry!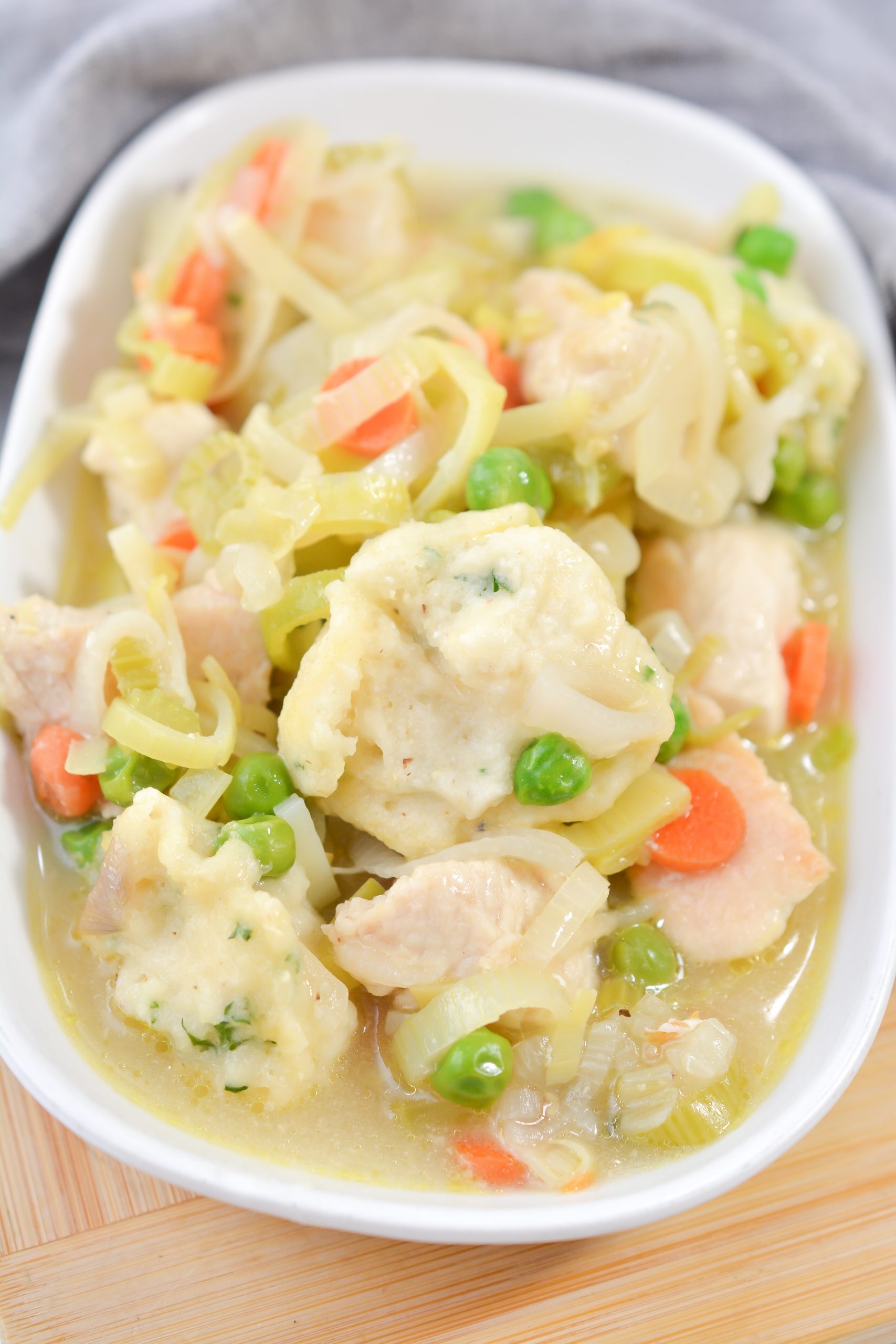 Created from scratch, this easy recipe includes an easy homemade broth, juicy chicken, and tender dumplings. This recipe begins with boneless chicken breast simmered to perfection. It's going to just melt in your mouth! You know this is a family favorite that will be on rotation in your kitchen.
It will be requested for dinner again and again. Your family might fight for who gets seconds on this ultimate comfort food dish. Everyone will be rushing to finish first to make sure they get another bowl. 
Now when you think of homemade you think of hours and hours in the kitchen. But making these Chicken and Dumplings are much easier than you would ever imagine. They hardly take any time to prepare and most of the waiting game is letting the homemade broth simmer.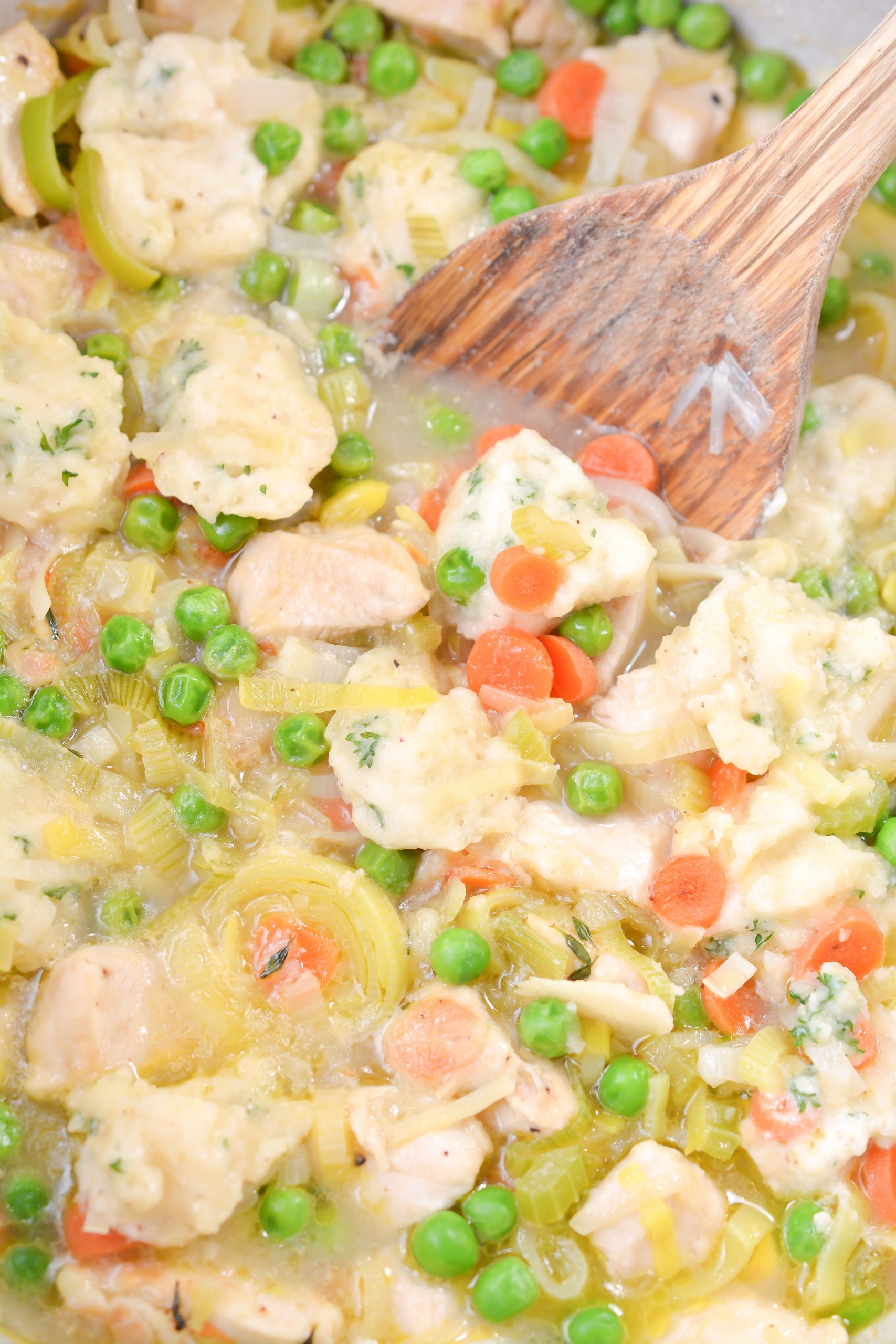 This recipe is just so easy and convenient. We all need easy dinner meals especially when it comes to comfort food days. Is there anything more comforting, filling, and warming than a hot bowl of soup? On those long, cold, and dark nights there is nothing like a yummy meal to fill you up at the end of the day. 
Chicken and Dumplings are a meal in itself! But there are always options on just what you can serve with them. Sometimes you just feel like you need something additionally on the side like steamed broccoli or even a simple salad would be great. You could even put them over a big bowl of mashed potatoes. No matter how you eat them they are just so good!
If you do have any leftovers which aren't likely, they are easy to reheat and have for lunch or dinner the next day. They are just as good the second and third time around.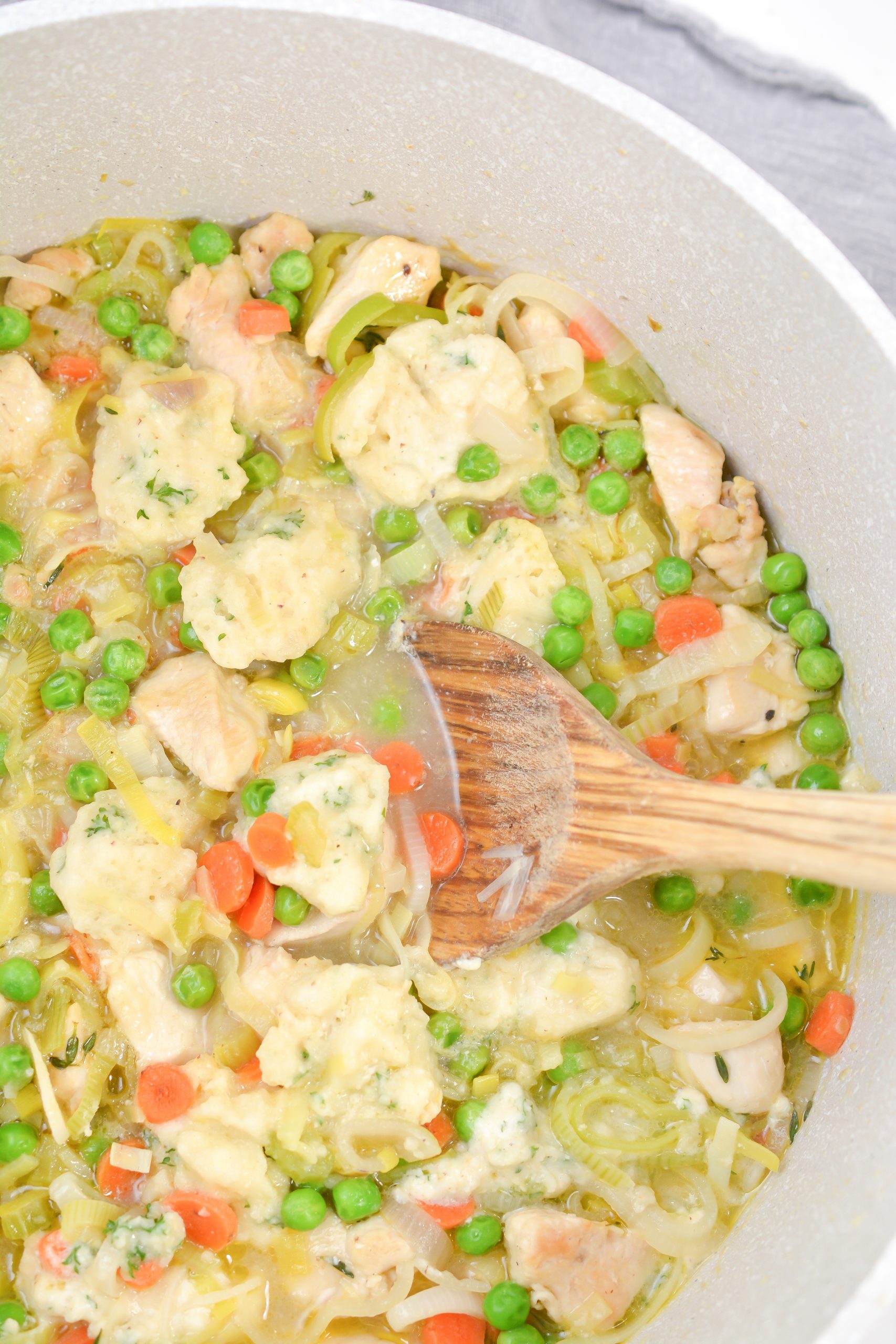 Now while this recipe is thrown together on the stove-top for an easy meal in under 30 minutes, you can always opt for the slow cooker. It's just as easy to throw all the ingredients in your crockpot. After a long day at work, you come home to an oh-so-yummy bowl of comfort food ready to warm your soul. 
Did you make it? Let us know! Tell us just how it went in the comment section below. Did you serve it over mashed potatoes or eat it alone? Enjoy!
Yield: 6
Chicken and Dumplings
Ingredients
1 ¼ lb. Boneless skinless chicken breasts cut into pieces
Salt and pepper to taste
2 Tbsp. All purpose flour
2 tsp. Vegetable oil
4 Shallots thinly sliced
4 Leeks thinly sliced, only the white and light green parts at the bottoms
2 Carrots cut into rounds
2 Ribs of celery chopped
1 tsp. Fresh thyme
1 Bay leaf
2 ½ C. Chicken broth
½ C. Apple juice
½ C. Frozen peas thawed
For the dumplings:
2 Tbsp. All purpose flour
2 Tbsp. White cornmeal
¾ tsp. Baking powder
1 ½ tsp. Parsley chopped
¼ C. Milk
Instructions
In a small bowl, mix together 2 Tbsp. flour and salt and pepper to taste.
Season the chicken pieces with salt and pepper, and pour 1 Tbsp of the seasoned flour over the chicken, tossing to coat.
Heat the oil in a deep sided saucepan over medium high heat, and brown on all sides. Remove and set aside.
Add the leeks and shallots to the same saucepan, and saute over medium heat for 6 minutes or until becoming tender.
Place the carrots, celery, bay leaf and thyme to the saucepan, and saute another 3 minutes.
Add the rest of the seasoned flour to the saucepan, and stir to combine well.
Slowly whisk in the chicken broth and apple juice, as well as the chicken. Bring to a boil, reduce the heat to a simmer and cook for 6-8 minutes.
In a bowl, combine the ingredients for the dumplings, adding more flour as needed if the mixture is too wet.
Drop the dumplings by the teaspoonful into the saucepan along with the frozen peas that have been thawed. Cook until the dumplings are done, about 5 minutes.
Notes
Weight Watchers Points : 2
Now, remember to save this recipe on Pinterest for later 🙂