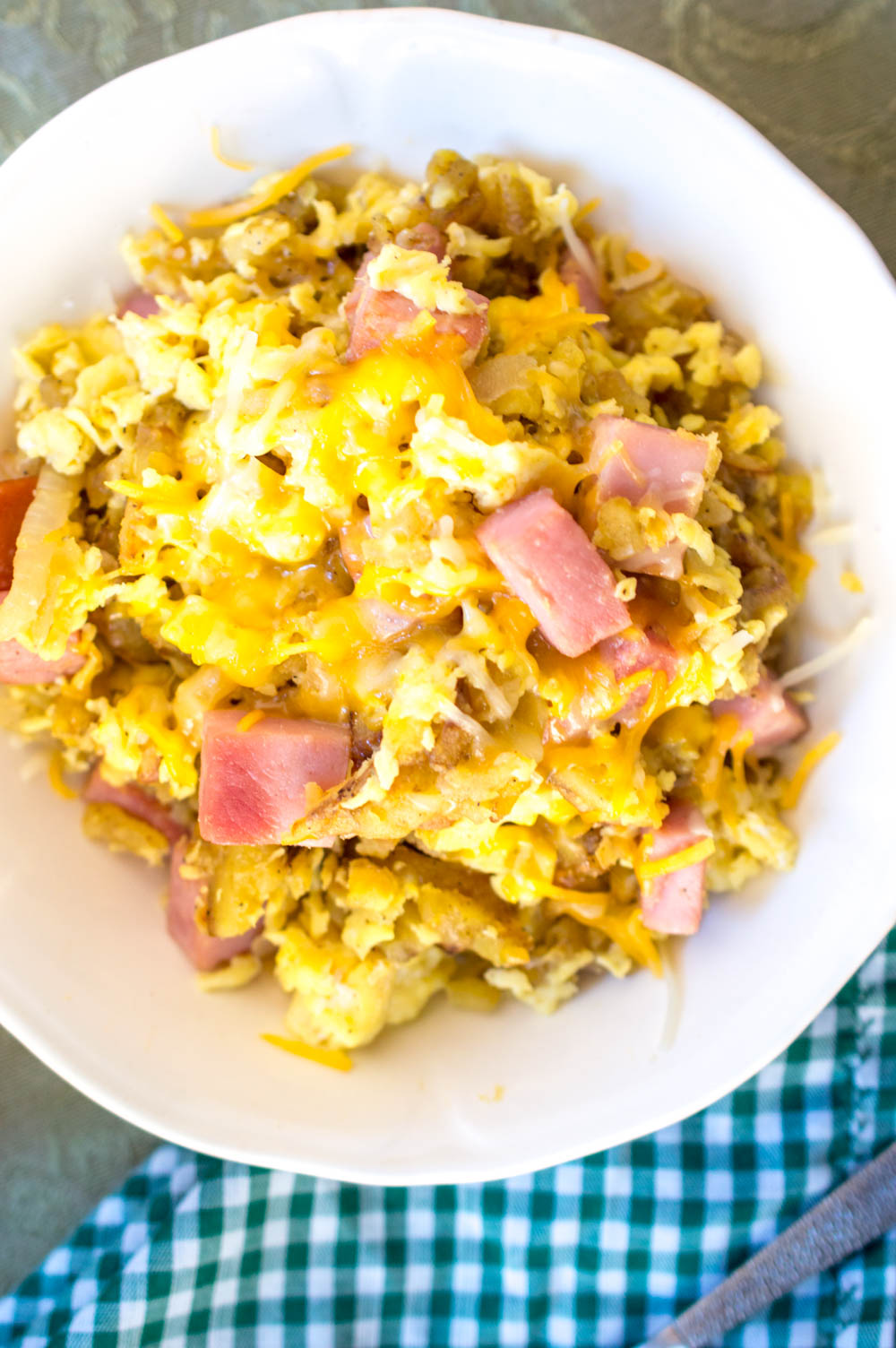 Doctors tell us that breakfast is the most important meal of the day. It fuels our bodies for a busy day. They are giving us the necessary nutrients we need. Do you find yourself heating a bowl of oatmeal or grabbing a smoothie to go? I do this quite often.
However, I have been working on easy and healthy breakfast ideas that are good for us, easy to make, and taste outstanding.
I am introducing my Breakfast Scramble. When we think of scramble, we usually think of scrambled eggs. This recipe cooks the egg in the center of all the fun! Bringing together beautiful ingredients such as ham steak, potatoes, onions, and fresh garlic cloves. The best part is you can add other beautiful ingredients to cater to your preference. I have also tried adding spinach to the egg or bright-colored peppers to the onion and garlic to intensify the flavor profile.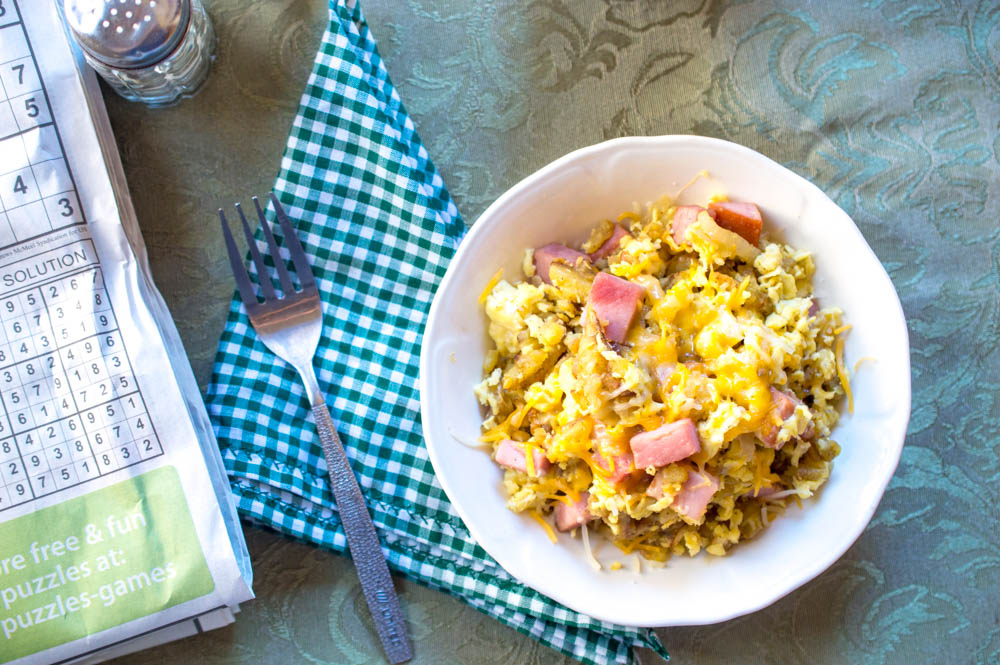 For your potatoes, you want to Julienne them. Which simply means cutting them into a fry shape for easier cooking. Potatoes take a while to cook, so by cutting them into small match stick-like sizes, you will get an even cook quickly. You can either use your mandolin or cut them by hand. I prefer my mandolin or any kitchen tool you have that can cut food into even pieces. It is essential for them to all be even so you don't end up with burnt components or uncooked ones, either.
You can also use your mandolin for the onion as well. You are achieving the same size pieces, so they caramelize just perfectly. If you don't have any kitchen tools for the job, then simply watch a youtube video. There are so many out there that can help you with the perfect cut.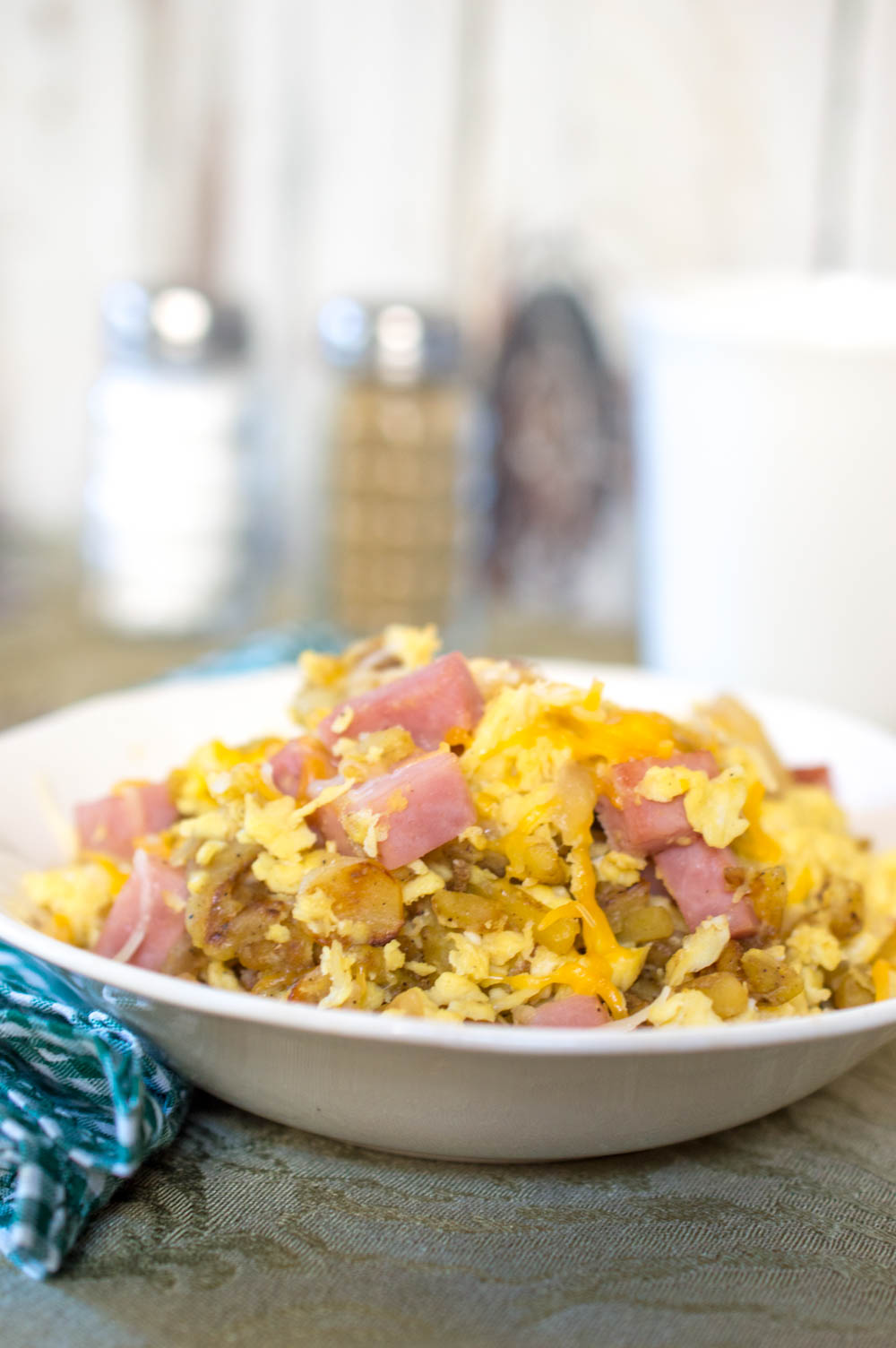 If you are ready to get started, let's turn on the skillet! Using a cast-iron skillet would be preferred as they become seasoned from years of baking and cooking. Once you cook the potatoes for five minutes, you simply scoot them to the side of the pan and add them to your next ingredient. Then drop in your onions and garlic.
One of my favorite scents is the aroma of fresh cooking onion and garlic. I would like to thank whoever created this beautiful marriage years ago.
Your ham is going in next. Suppose you need to add more oil, then go ahead and do so now. Sometimes you actually may end up with extra oil released from the potatoes, onions, and garlic. The oil is vital to ensure you achieve crispiness, and it holds all the beautiful flavors we have released before the ham and egg. With each new ingredient added, make sure to flip everything halfway through.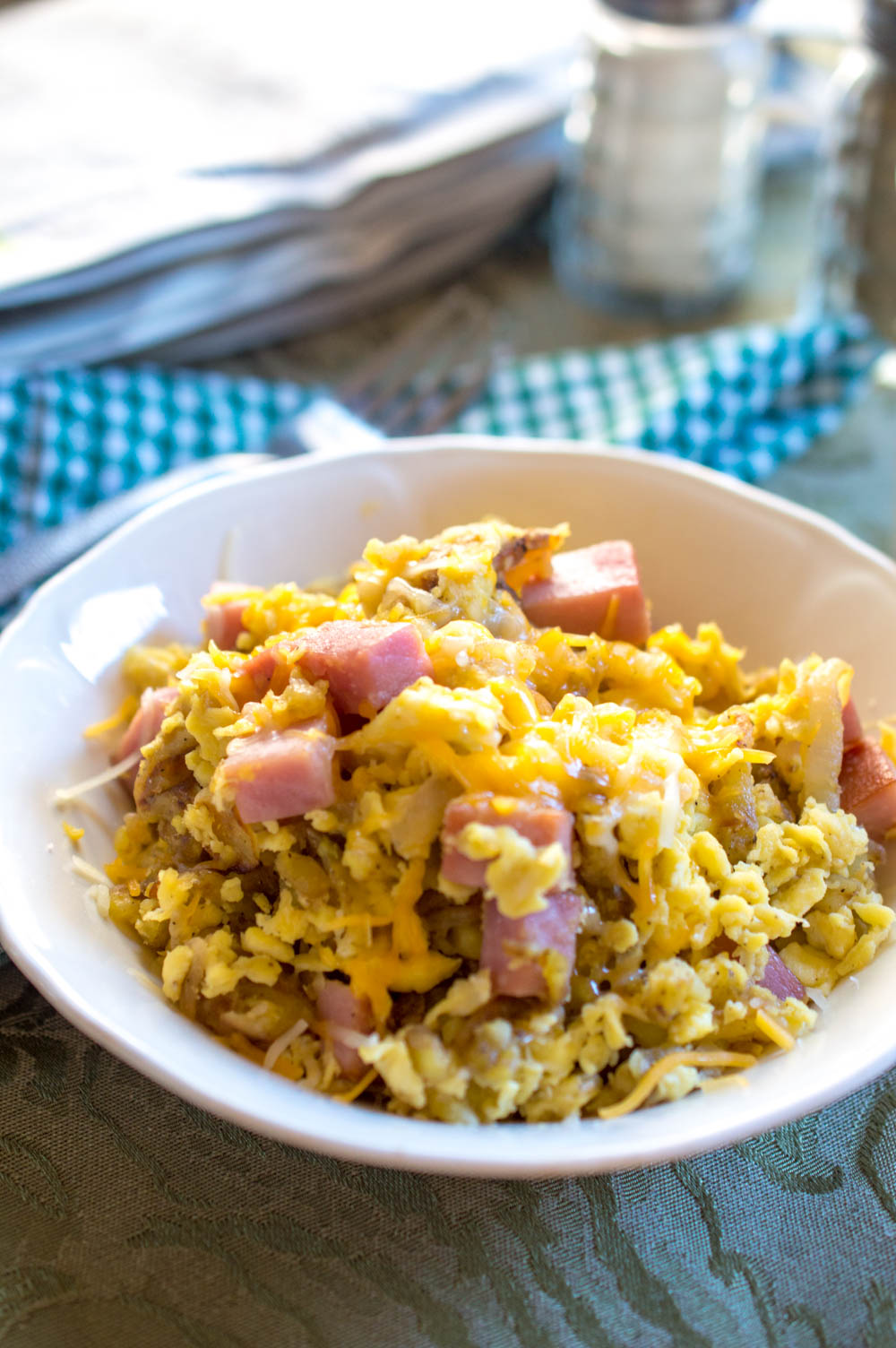 Make a bowl in the center of the pan for your egg. You are pushing everything else to the side. Once the egg is almost entirely cooked, then you incorporate all other ingredients together so the egg can bind everything together.
Top with cheese and watch it slowly melt in between each open crevis of your breakfast. Pair with a fresh cup of coffee, orange juice, or a smoothie. Once it is complete, you can even take it to-go!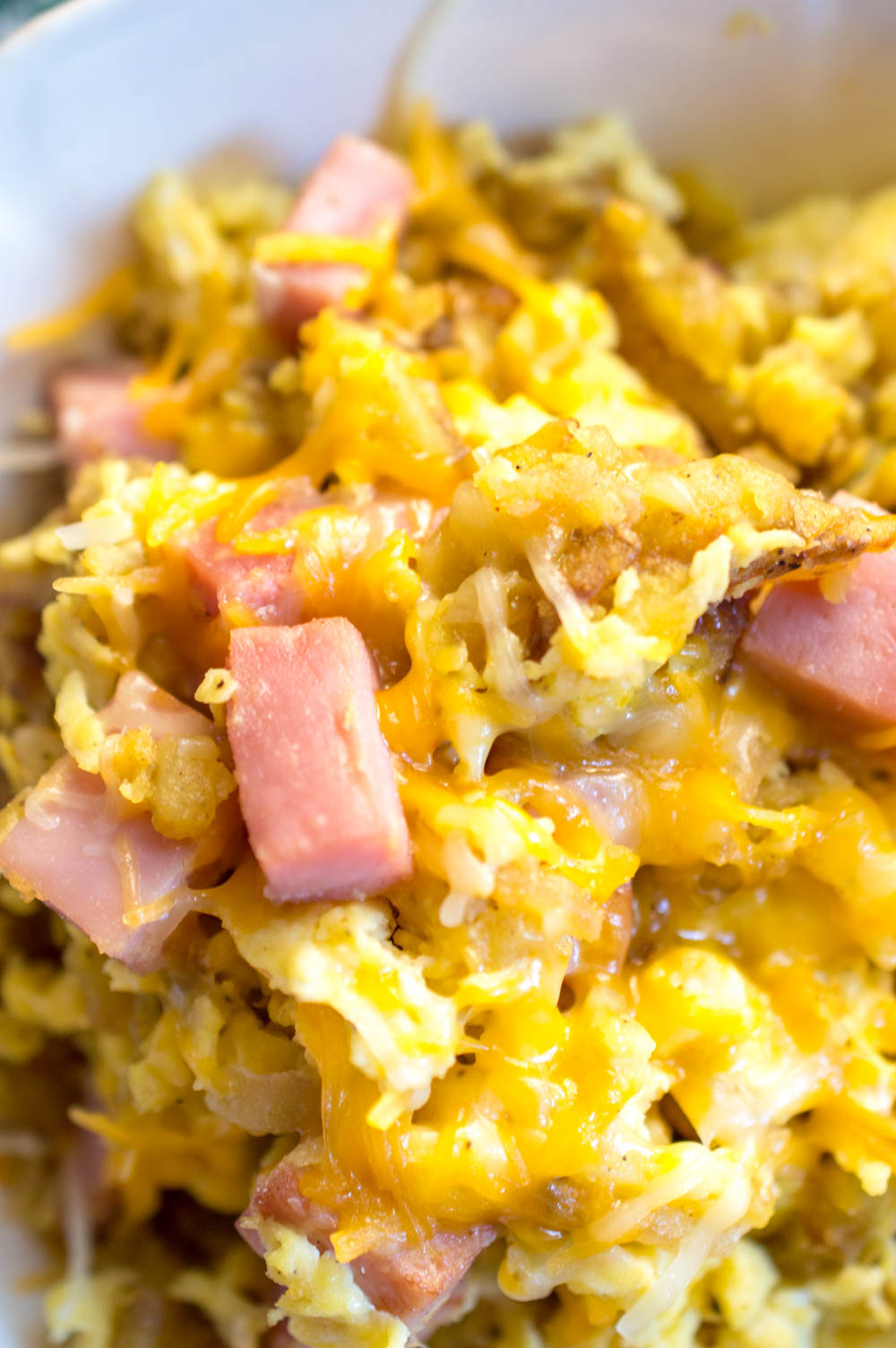 I hope tomorrow you will try my Breakfast scramble! If you do so, then please share with me what you think! If you added anything, I would love to know what you included. Leave a comment below!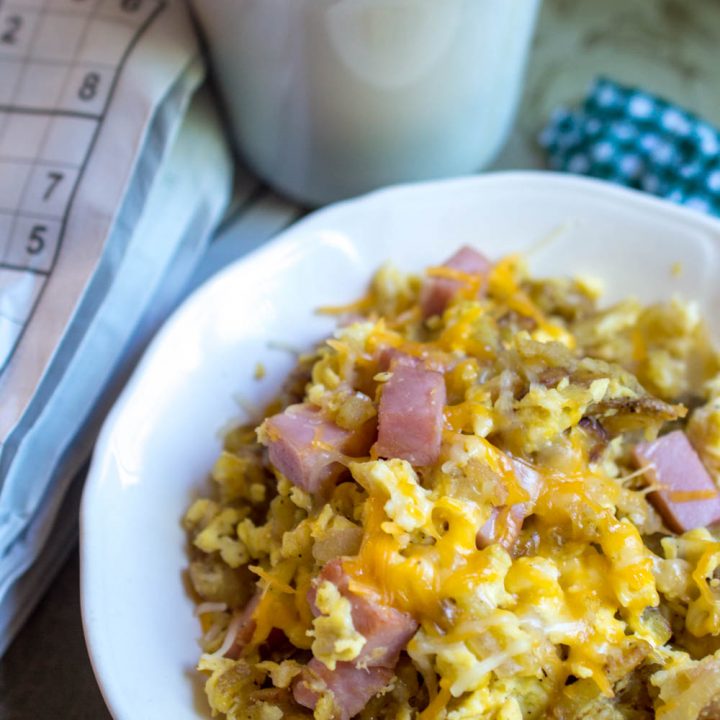 Breakfast Scramble
Additional Time:
5 minutes
Ingredients
4-5 med. potatoes
1 small onion
2 garlic cloves
4 eggs
½ tsp salt
1 tsp pepper
½ C. Shredded Cheese
1 small ham steak
3 tsp olive oil
Instructions
Julienne potatoes using a mandoline.
Cut onion in half and use the madoline on the same setting to make strips.
Slice garlic cloves.
Cube ham.
Add oil to a large pan over medium-high heat.
Add potatoes and fry for 5 minutes, flipping to crisp all sides.
Push the potatoes to the side and add a tsp. of oil.
Add onions and garlic.
Cook for 1-2 minutes.
Add ham and cook for another minute, stirring.
Scramble eggs in a bowl.
Push everything to the sides, leaving a well in the middle and add 1 tsp oil.
Add eggs.
Start to scramble the eggs and once they are almost cooked, mix everything together.
Season with salt and pepper.
Top with shredded cheese