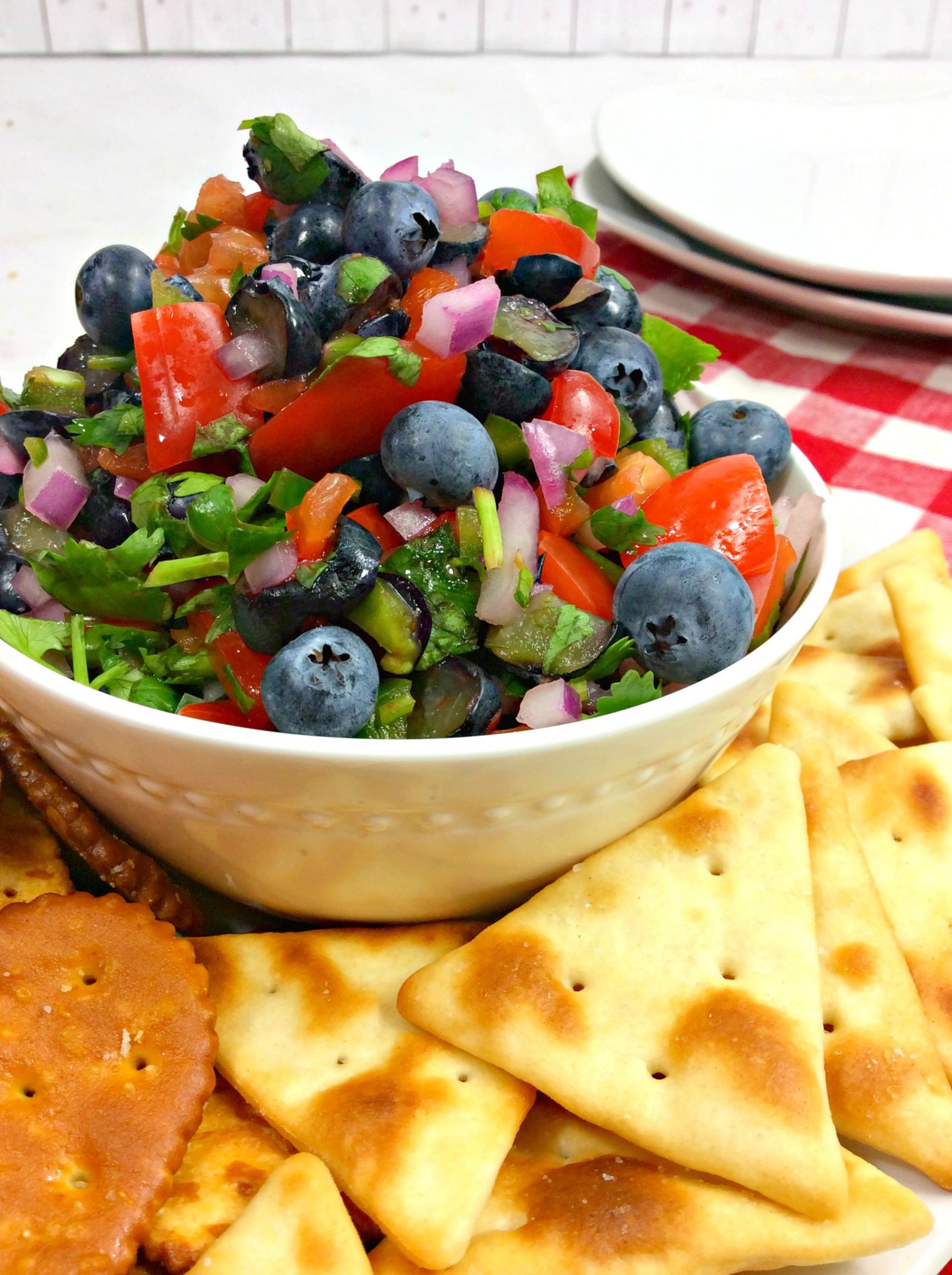 This new recipe is so fun and different. It is Blueberry Salsa! Would you ever think those two flavors would go together? I indeed didn't until I sampled it, and Woah! The intense flavors go together, like peanut butter and jelly. I was shocked!
One morning I was making breakfast which I usually have oatmeal and fruits. In a rush that day, I left my blueberries on the counter. When I came home a few hours later, it was time for a snack. I knew I wanted: something fresh, light, and full of flavor. I also wanted something healthy and not pre-packaged.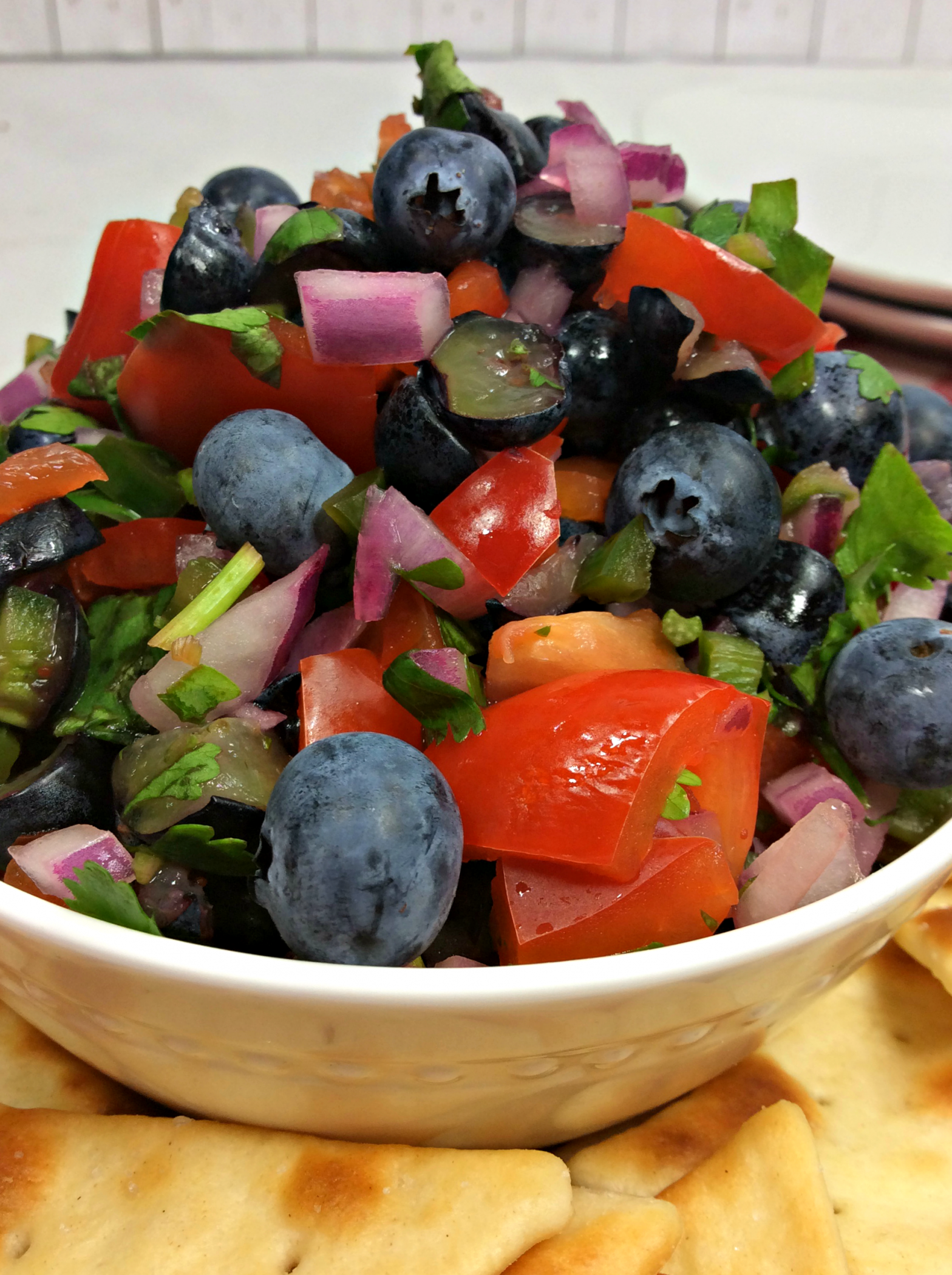 My day was busy, and I needed an easy meal. I had all the ingredients for some delicious salsa: whole Jalapenos, fresh cilantro, onions, peppers, and lemons. Once I started dicing and juicing my selection for salsa, I saw my blueberries just sitting there. The thought came across my mind "What if?"
So being the curious person I am, I prepared my salsa as usual and added blueberries. Immediately my eyes lit up, and I could not imagine these two different ingredients would pair so well. Blueberries add the perfect amount of sweetness to the heat of the jalapenos. If you like hot foods, then leave the seeds in the jalapenos when you prepare the salsa.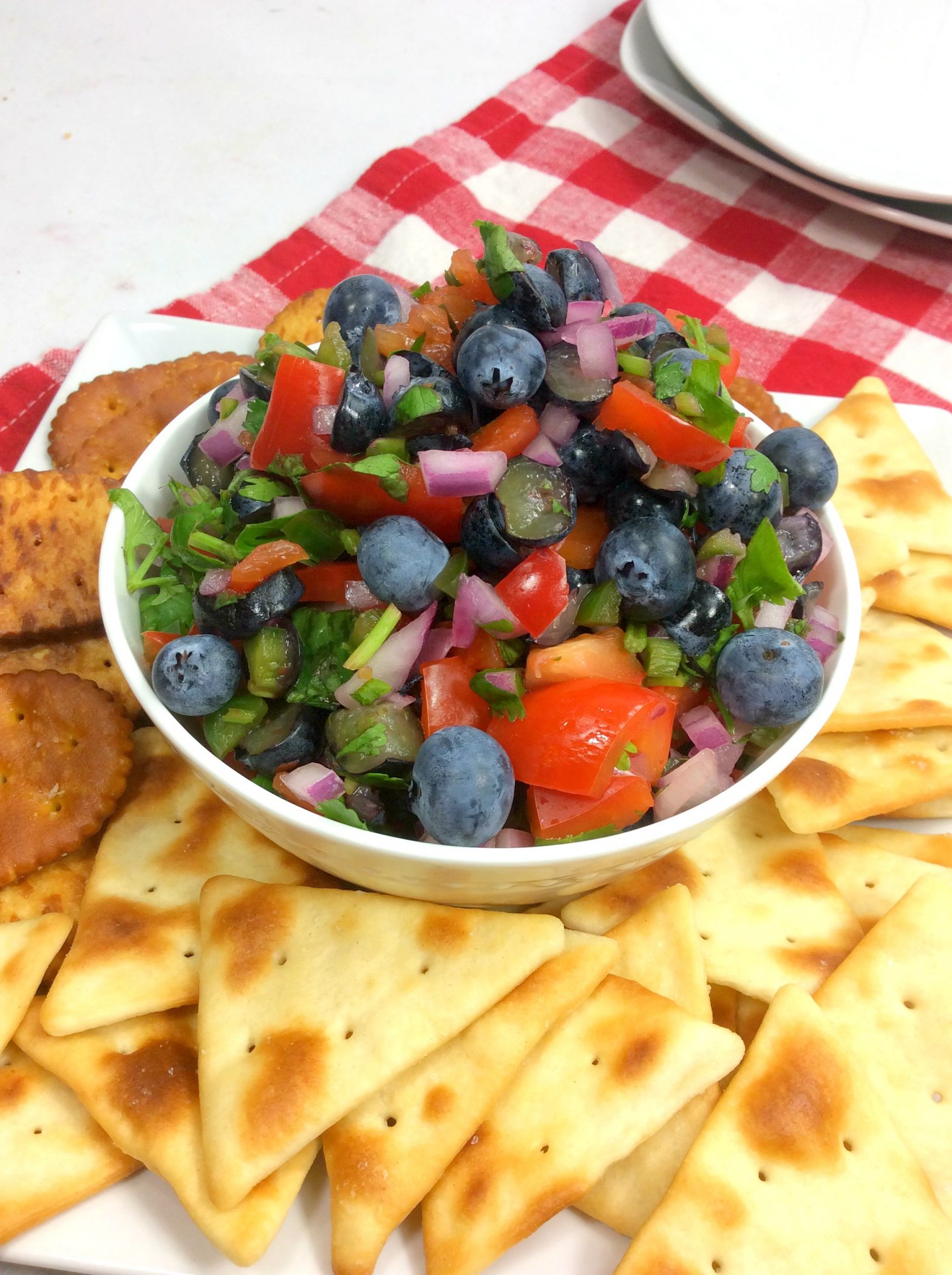 With the warmer months quickly approaching, you can show off your culinary skills by serving this unique appetizer to the guests.
The second most important ingredient in salsa is the chips you use. You want to use a sturdy chip that can withstand the weight of all the fantastic elements. So my go-to is either restaurant-style or scoops.
Since we are changing the game on salsa, why not change up what you dip in it? Pita chips or naan bread. You can purchase naan bread and cut it into bite-size pieces, bake, so they are crispy and serve!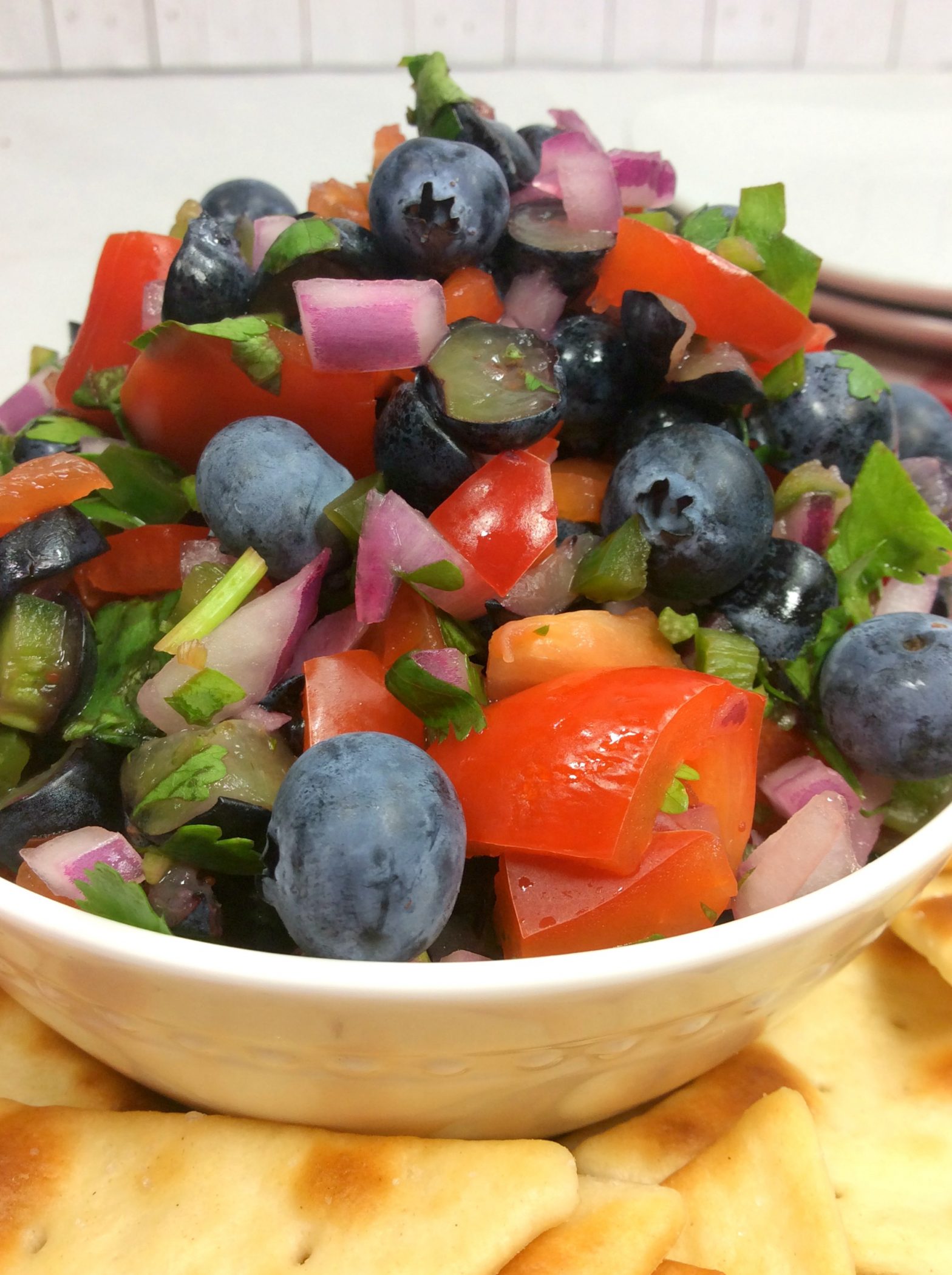 Each of these options is denser than regular chips and typically not as salty. Pita chips are usually made with Italian seasoning and olive oil, while naan bread is made with yogurt, which has more of a dairy flavor base. These options are frequently used in dessert-style recipes worldwide, so they complement the sweet blueberry very well.
Blueberry salsa also adds the benefit of antioxidants from blueberry. Antioxidants are well known for their help in fighting heart disease and cancer. They also protect your body from free radicals. So many tremendous benefits! You will also get incredible health benefits from the other ingredients: natural and not soaked in preservatives.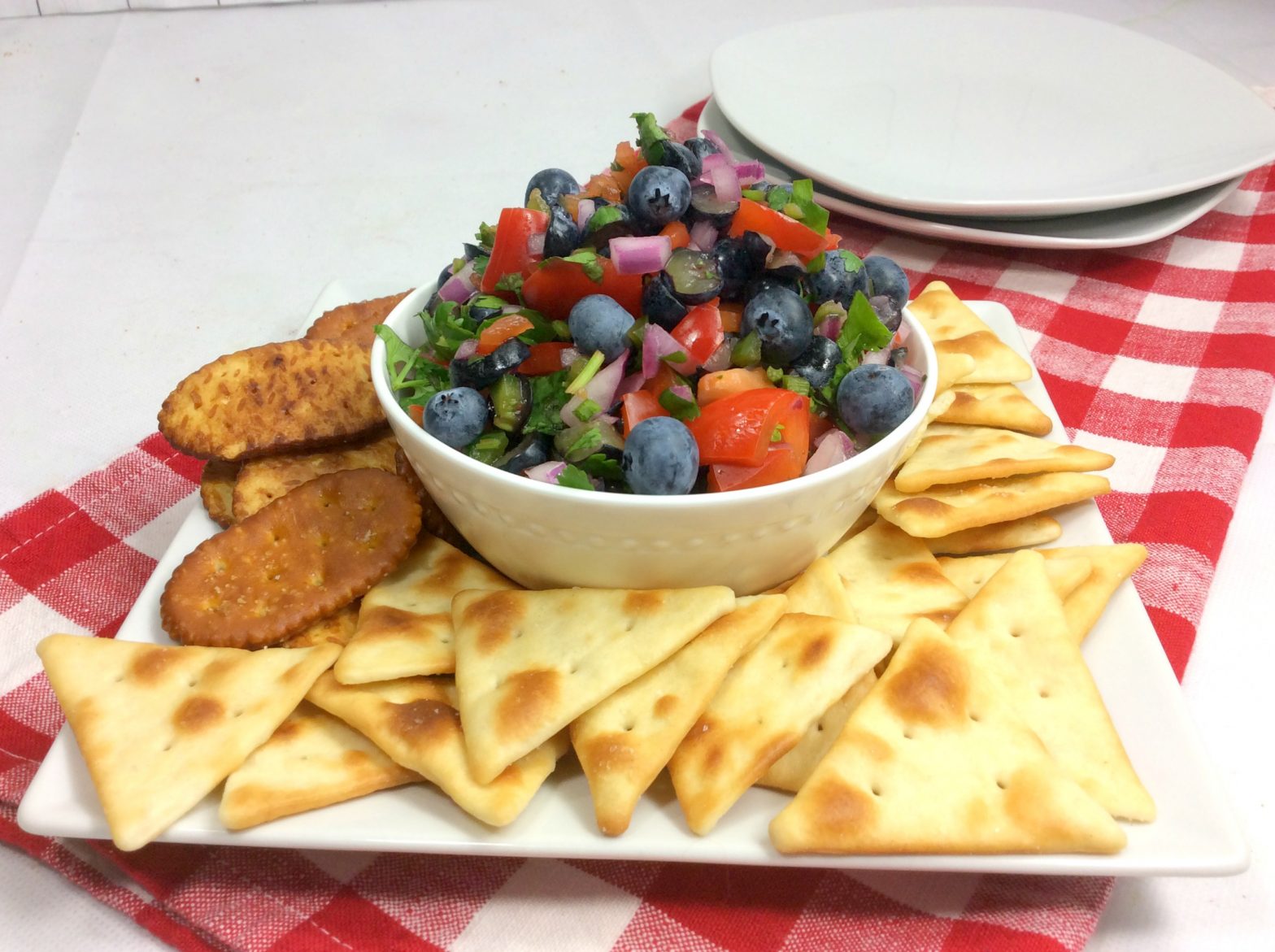 My lunch choice was the BEST! It birthed a new recipe for me I was not even trying to create. Sometimes the best dishes are created by accident. My next girls' night is involving Blueberry Salsa and Merlot. Can you imagine a better pair?
If you try this recipe, I would love to hear your thoughts on it! Leave a comment with what type of chip you used and what your friends and family thought.
Blueberry Salsa
Additional Time:
5 minutes
Ingredients
3 cups fresh blueberries cut in half
1 bunch fresh cilantro, stems removed, chopped
3 jalapeños, minced, seeds removed
1 red onion, minced
2 red bell peppers, diced small, seeds removed
½ tsp. salt
1 lemon, juiced
Instructions
Wash and pat dry your blueberries.
Cut the blueberries in half.
Set to the side.
Dice your onion, cilantro, red onion, red bell peppers, and jalapeno.
Add in your salt, and lemon juice.
Stir until combined.


ENJOY !!
Notes
To add heat leave the seeds in the jalapeños