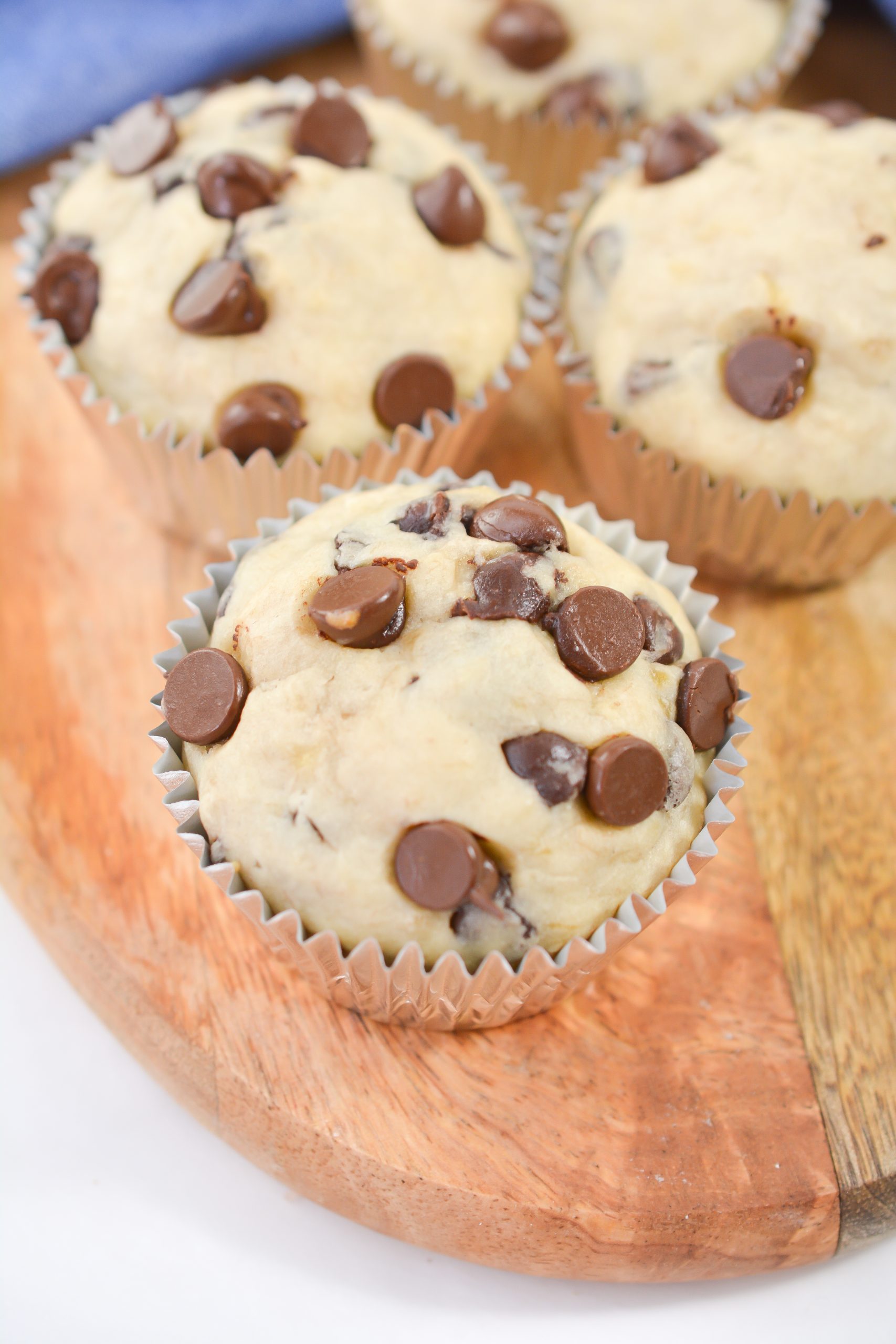 You will soon be craving the most amazing muffins! Let's introduce the very easy-to-make Banana Chocolate Chip Muffins. Filled with fresh bananas and chocolate chips they are moist, flurry and so soft. With just a few pantry staples, they are easy and quick to make. In no time your house will smell like a bakery. You can't get over how amazing they will smell as the chocolate chips melt in your oven. Everyone will be asking what you are baking and when the time will be going off.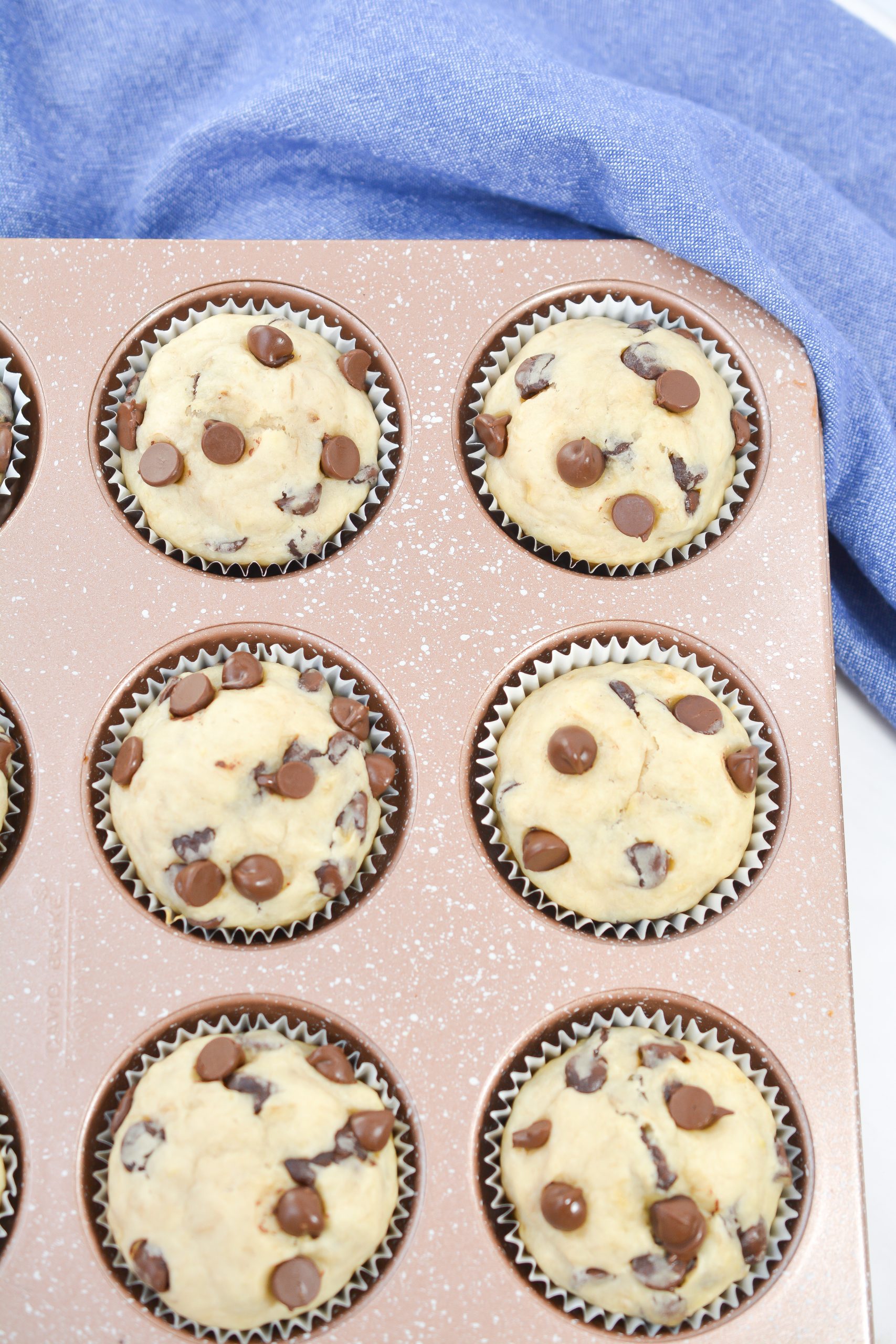 If you are looking for a good way to use up those ripe bananas you've been holding too this is a great recipe. You can even freeze them for later! With a fresh spin on the classic banana bread, the soft and moist muffins are an all-around treat. After all, chocolate chips do make everything better! Right?
Don't go thinking these Banana Chocolate Chip Muffins are for breakfast only. They are great mid-day or after-school snacks. You could even serve them after dinner. Make a little dessert for your family by warming them in the microwave so they have the fresh from the oven baked feel. Serve them with a scoop of vanilla ice cream. These muffins are the perfect after-dinner treat.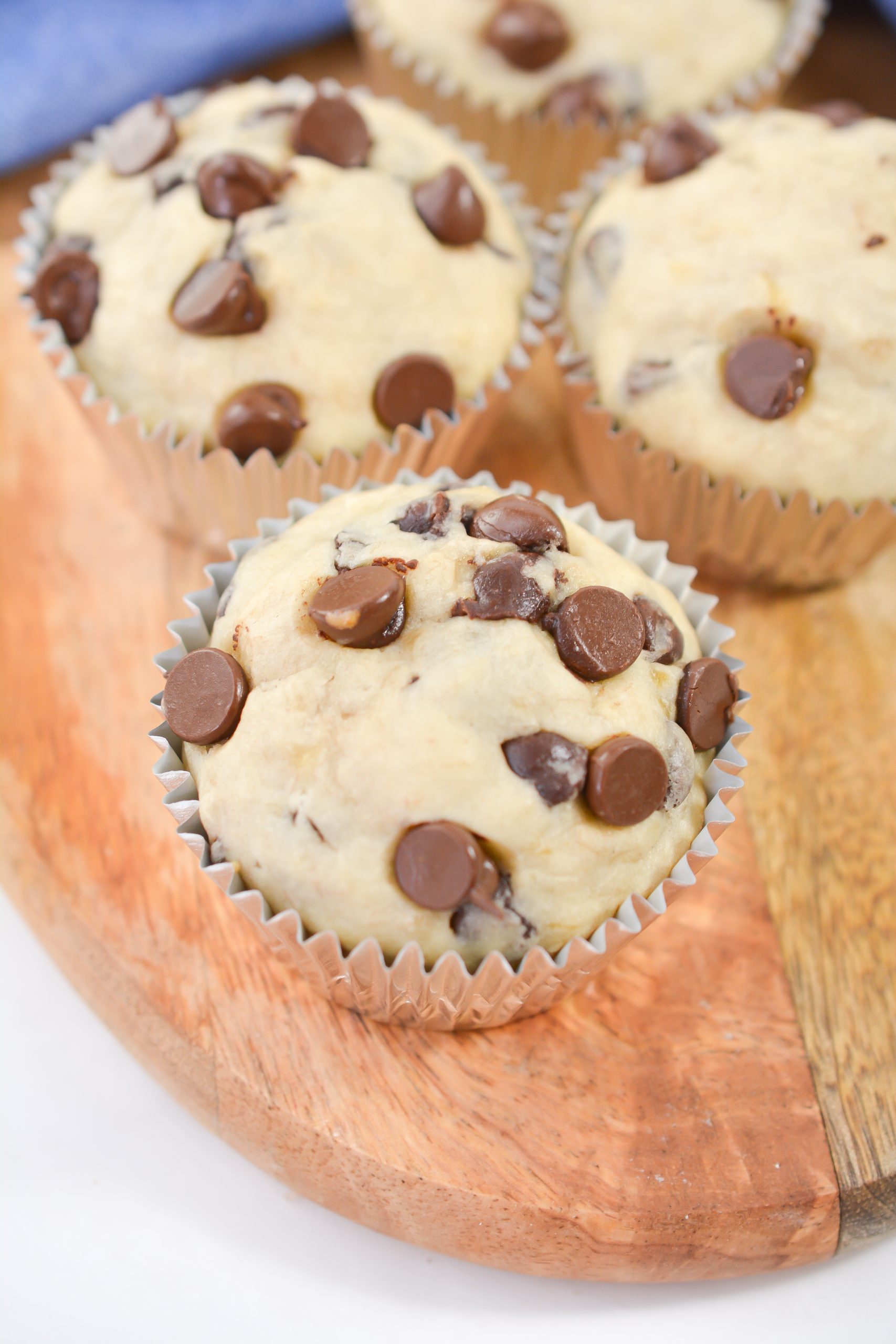 As always you can make this recipe your own if you want to make peanut butter banana chocolate chip muffins just add in 2 tablespoons of peanut butter. You can always take out the chocolate if you prefer just a basic banana muffin or substitute the chocolate chips with chopped walnuts for Banana Nut Muffins.
If you want a smaller muffin you can use mini chocolate chips and a mini cupcake pan to make them mini-muffins. They are great for tiny hands to eat. You always have options!
If you have new neighbors moving in next door or across the way, this is a great way to welcome them to the neighborhood or give a homemade gift to old friends. Anything home-cooked is always a kind gesture for anyone and is a sure way to put a smile on a loved one's face. They will soon be asking you for your secret to the best muffins they have ever tasted. In no time, delicious Banana Chocolate Chip Muffins will be on their table again and again. This recipe is so easy and over and over you still have the same results. They turn out just amazing!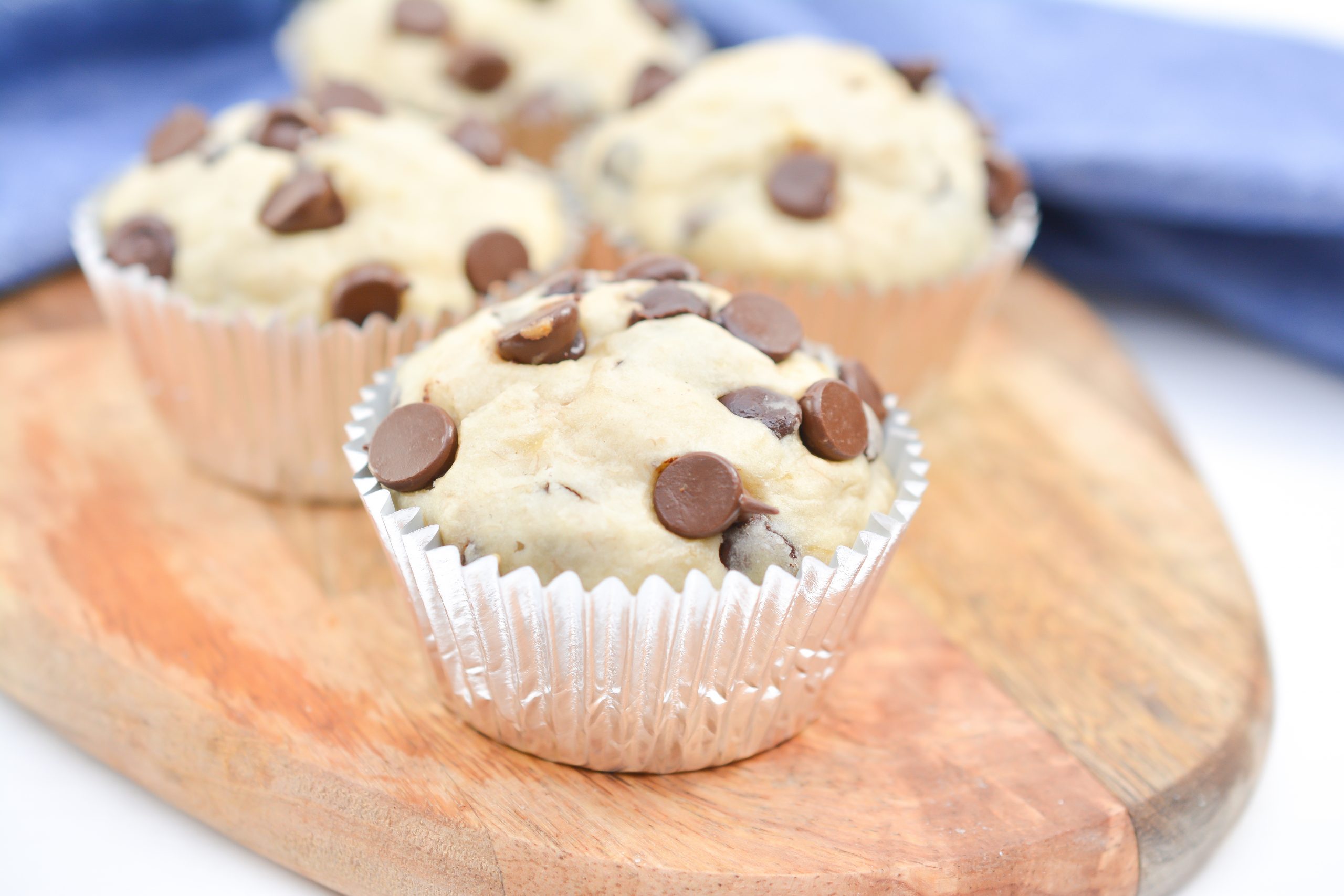 If you are wondering just how to store these muffins, we've got you covered. The best way to store them and keep them fresh is in an airtight container or zippered bag at room temperature. They won't last long on your countertop because everyone will be eating them up but they will keep about 5 days if you do have leftovers. They will soon be your family's favorite muffins! You must go try them now. Don't wait another second. You won't be disappointed! It's a promise.
Did you make it? Tell us just how it went in the comment section below. Let us know. Enjoy!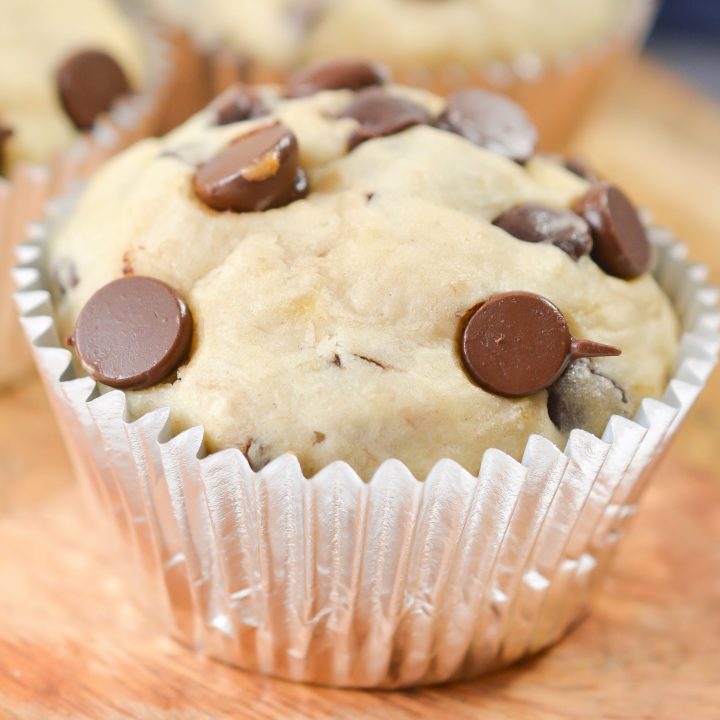 Banana Chocolate Chip Muffins
Ingredients
1 ½ C. All purpose flour
1 tsp. Baking soda
½ tsp. Salt
⅓ C. Granulated sugar
1 Large egg
3 Bananas mashed
1 tsp. Vanilla extract
½ C. Oil
1 C. Chocolate chips + some additional for topping the muffins
Instructions
Preheat the oven to 350 degrees.
Add all of the ingredients except for the chocolate chips to a mixing bowl, and blend on high until smooth.
Fold the chocolate chips into the batter.
Distribute the batter evenly between 12 lined sections of a muffin tin.
Sprinkle some additional chocolate chips on top of the muffins and bake for 25-30 minutes, or until cooked through.
Notes
Weight Watchers : 8 Smart Points
Nutrition Information
Yield

14
Serving Size

1
Amount Per Serving
Calories

256
Total Fat

14g
Saturated Fat

3g
Trans Fat

0g
Unsaturated Fat

10g
Cholesterol

16mg
Sodium

207mg
Carbohydrates

33g
Fiber

2g
Sugar

17g
Protein

3g
Now, remember to save this recipe on Pinterest for later 🙂