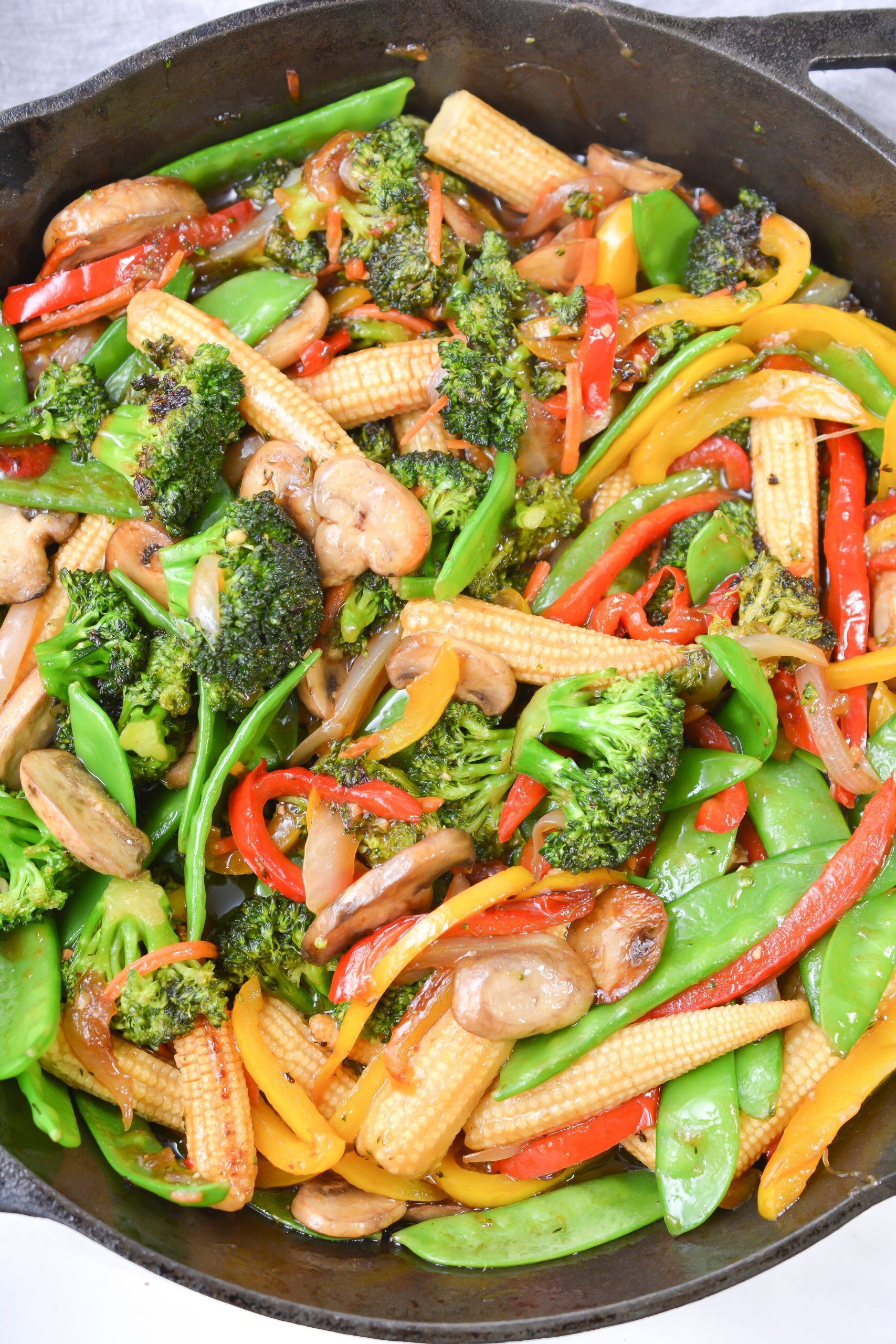 You know when you are in the mood for Asian food but you just don't feel like carrying out? Forget take-out tonight, you are going to make your own delicious vegetable stir-fry in under 30 minutes.
A recipe doesn't get much easier than this Vegetable Stir-Fry. Let's fill the skillet with all of your favorite vegetables in this one-pan recipe.
Baby corn, broccoli florets, onion, red and yellow bell peppers, snow peas, sliced mushrooms, and matchstick carrots sautéed in a delicious soy sauce with peanut oil, red pepper flakes, and minced garlic topped off with ginger and fresh herbs.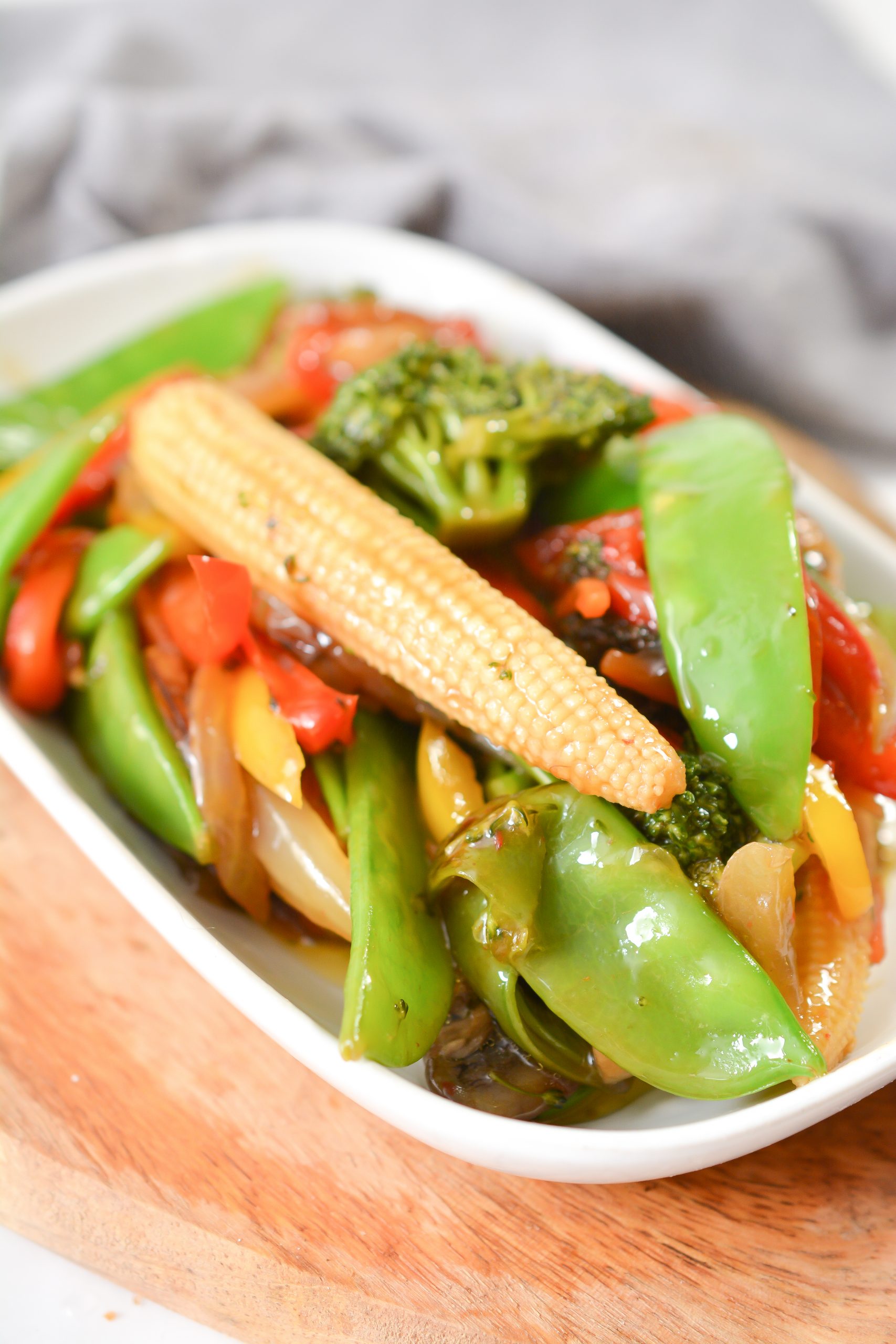 If you want a fresh and warming springtime stir-fry that is easy to make and hardly anytime, you found the best recipe on the web. Asian stir-fry's seem like they take so much time but really, it's only 15 minutes prep work and 15 minutes of cooking. Easy peasy! Everyone loves to have dinner ready in under 30 minutes. 
This Vegetable Stir-Fry is a flavorful side dish that can easily be turned into an entree. Keep in mind lucky for you stir-fry is one of those dishes that can be made to your liking. If you don't like a vegetable in this recipe you can always swap it out to one that you do love.
You could serve it on top of cooked brown rice, jasmine rice, and even a fried egg or any type of protein. There are many ways you can make this dish your own and customize your options. They are endless! You can always add in some meat like chicken, shrimp, or beef. Many even add nuts like cashews and almonds you can stir in as well. Everyone will love it and be asking for seconds!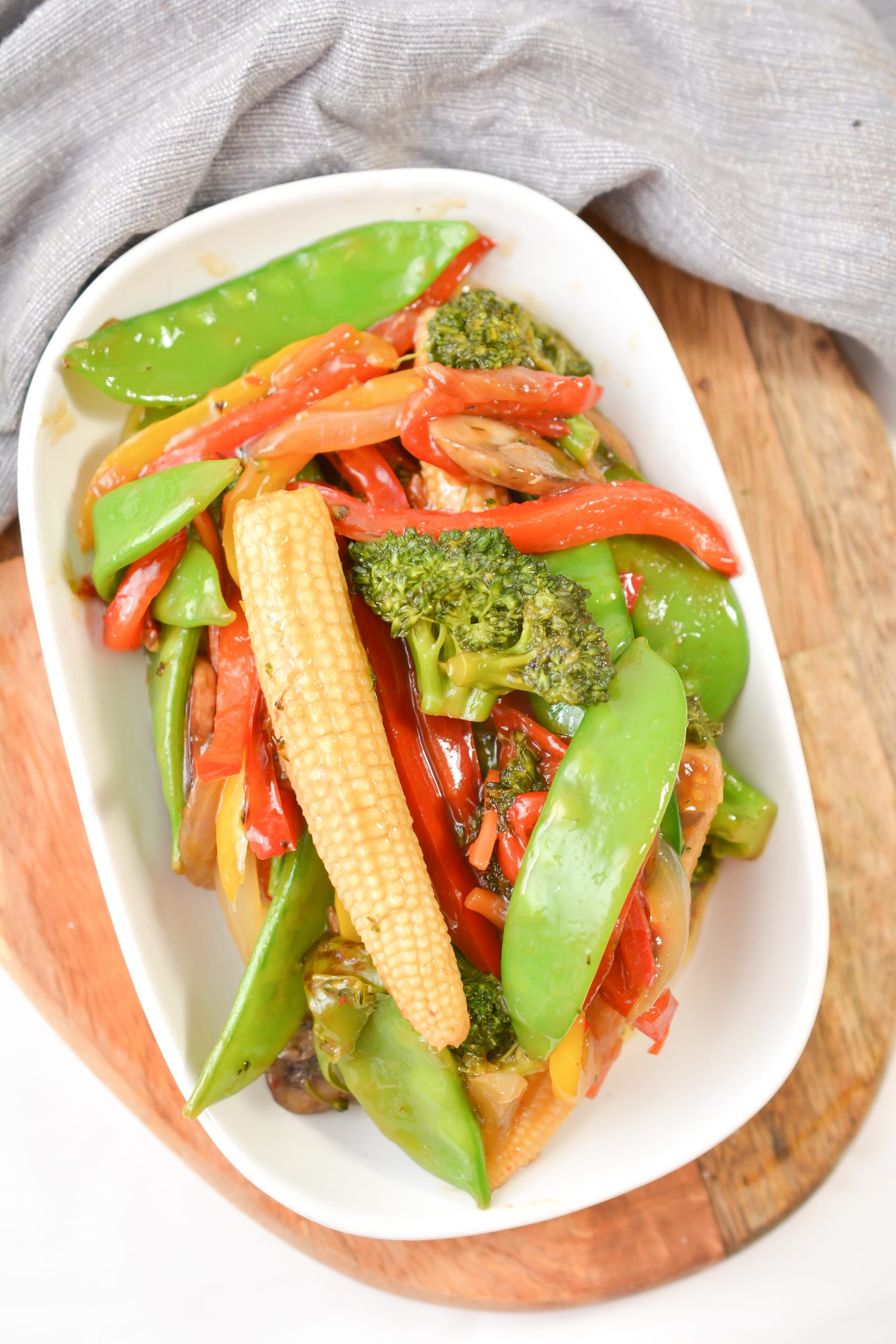 You won't believe how quickly your vegetable stir-fry comes together. It's such a simple weeknight meal and how can you not love a simple meal? From stovetop to table in less than 30 minutes you will have a beautiful mixture of your favorite colorful veggies sautéed in a savory and sweet sauce. It is the easiest vegetable stir-fry you can make while still being absolutely delicious. 
This is another recipe that is a great option for meal prepping. It's so healthy for you as the vegetables retain more nutrients than if they were boiled. Plus, it will fill you up all day. If you need to meal prep your lunches or dinners, it's great to prepare ahead of time and just heat up in the microwave. You will be wanting every last bite.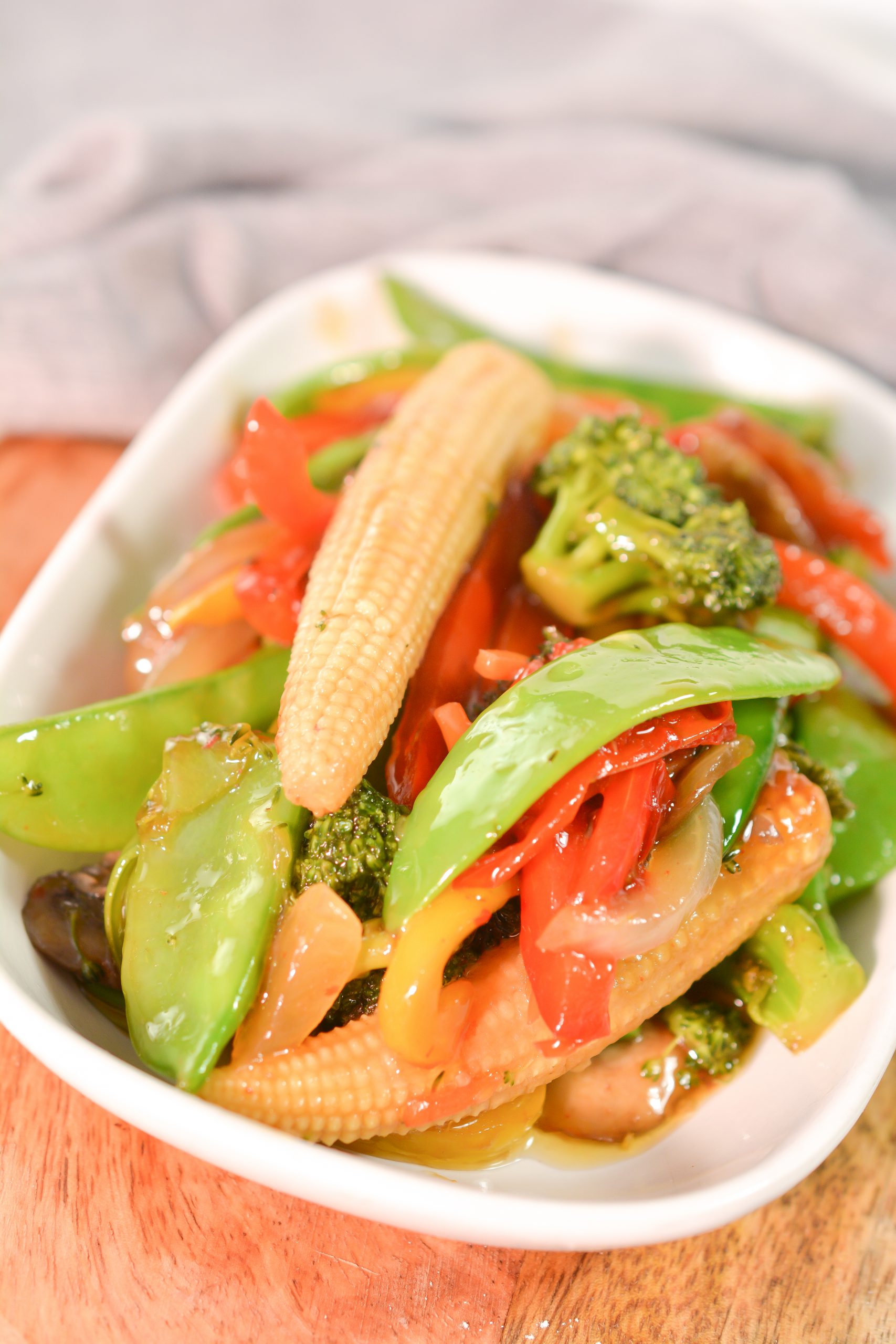 Did you make it? Tell us just how it went in the comment section below. Did you add anything to this recipe? Did you serve it with rice? Let us know. Enjoy!
Yield: 4
Vegetable Stir Fry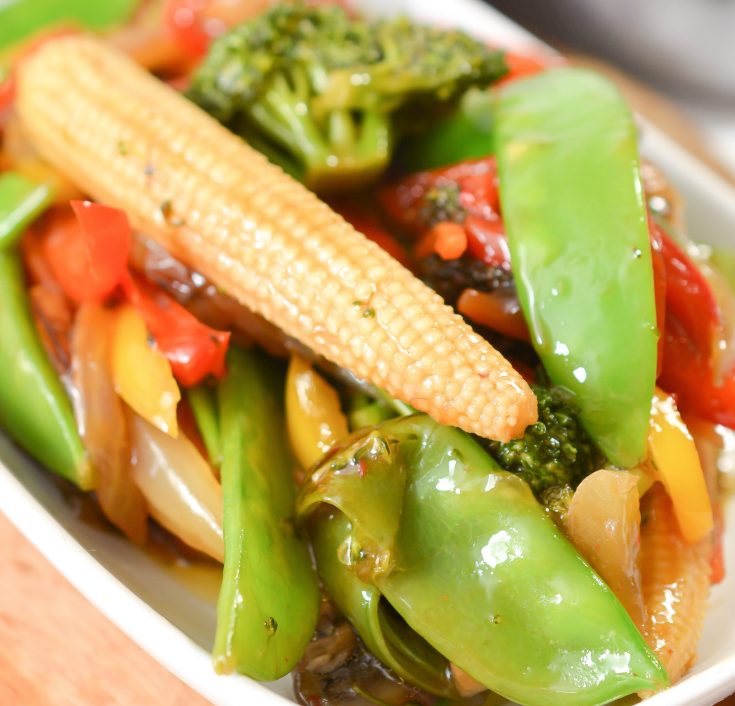 Ingredients
1 Can baby corn drained, but reserve the liquid in a bowl
1 Head broccoli cut into florets
1 Onion sliced
1 Yellow bell pepper sliced
1 Red bell pepper sliced
8 oz. Snow peas
8 oz. Sliced mushrooms
¼ C. Matchstick carrots
¼ C. Peanut oil
2 Tbsp. Cornstarch
2 Tbsp. Light soy sauce
1 tsp. Red pepper flakes
4 tsp. Minced garlic
Ginger and fresh herbs
Instructions
Heat the oil in a large skillet or wok over high heat on the stove.
Add the broccoli, onion, peppers and mushrooms to the skillet, and stir to combine. Cook for 6-7 minutes until the vegetables just begin to become tender.
Add the baby corn, snow peas and carrots to the skillet and cook for 3-4 minutes longer.
In a bowl, combine the liquid from the baby corn, the cornstarch, soy sauce and red pepper flakes. Whisk to combine well.
Reduce the heat on the stove to low, stir in the garlic, ginger and any fresh herbs that you like, and cook for a minute longer.
Pour the sauce over the mixture, stirring to combine well. Cook for 2-3 minutes until the sauce thickens.
Notes
MAKES 4 SERVINGS. (EACH SERVING, ~2 CUPS)
WW FREESTYLE : SMARTPOINTS: 5
Now, remember to save this recipe on Pinterest for later 🙂