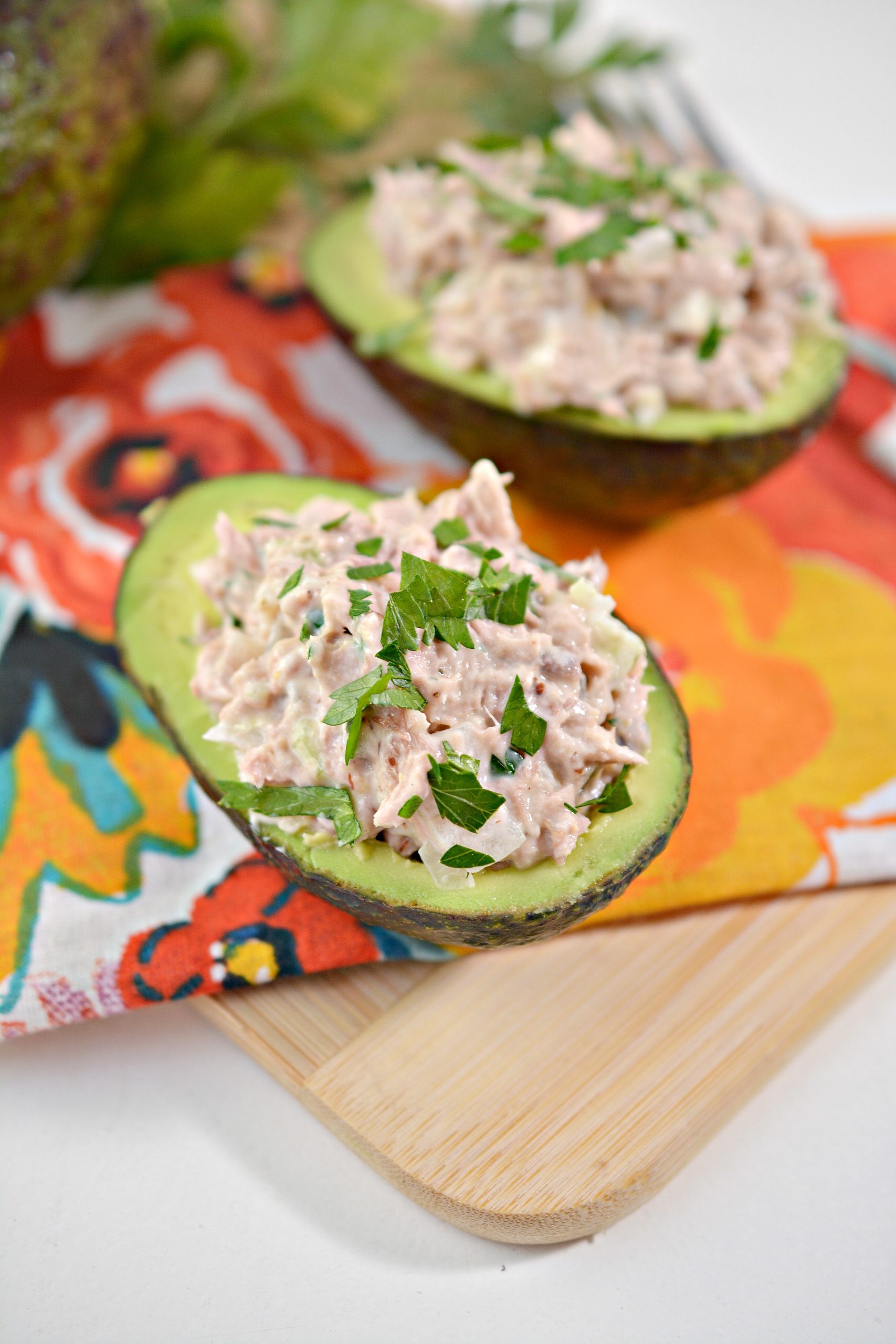 There are no more unhealthy meal options, heading to the fast-food drive-thru or grabbing for carbs at lunchtime. You are just going to flip over these!
It's time to spruce up your boring tuna sandwich or Tuna with crackers. On the days you don't want to spend a lot of time cooking, Tuna Salad Stuffed Avocados should be your go-to quick, healthy lunch or dinner fix. Also known as Avocado Boats, it's a delicious low-carb meal. These will indeed become a fast favorite!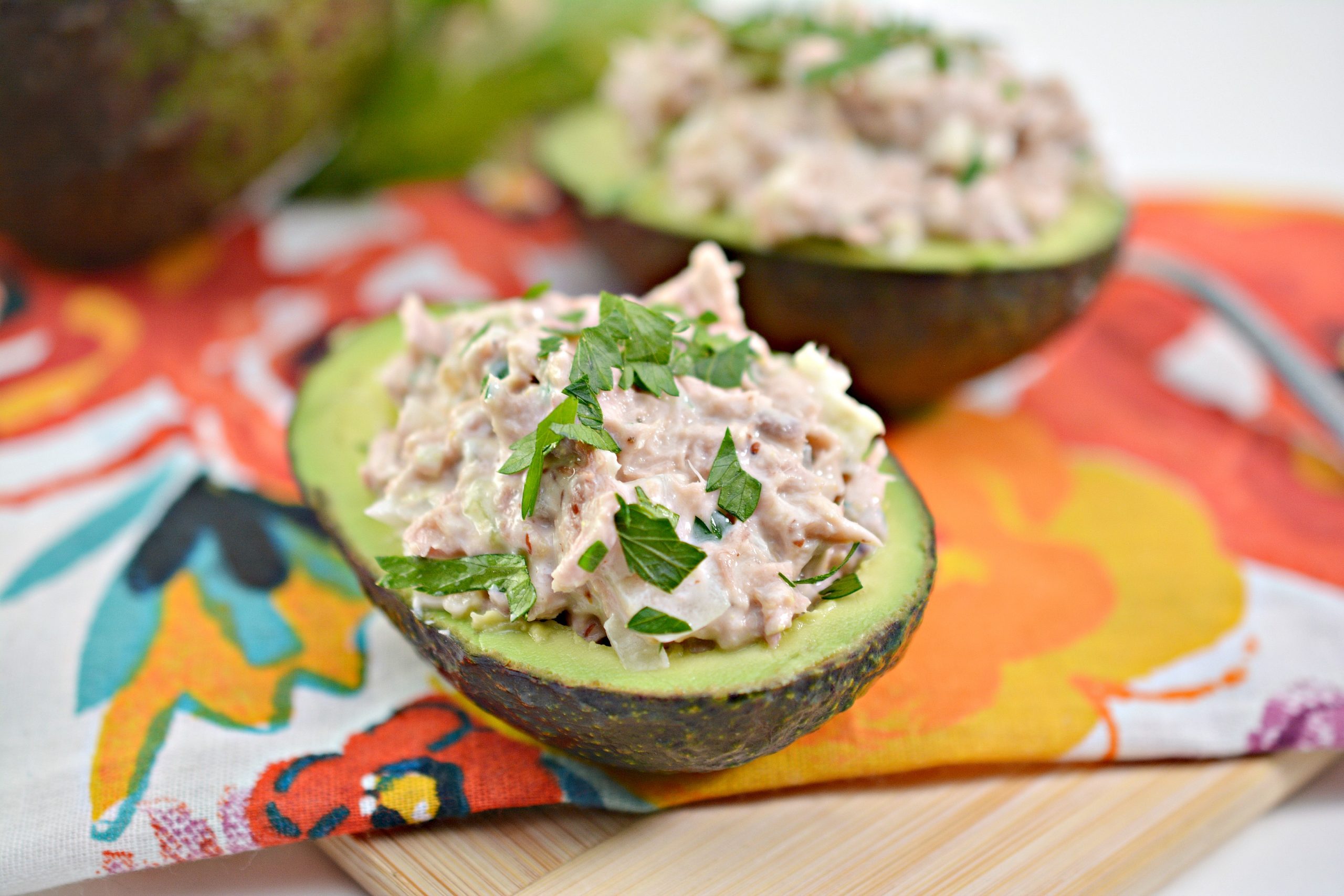 What's so great about Tuna Salad Stuffed Avocados? They are healthy for you! This recipe checks off multiple dietary boxes. Whole30, paleo-friendly, keto, and just oh-so-delicious!
Tuna Salad Stuffed Avocados isn't just a good snack but a great meal that is loaded with healthy fats and healthy proteins. It will keep you filled up long after lunch is over. You won't need a snack until dinner, that is for sure! It's easy to meal-prep the night before with all the healthy fats you need. They are easy to make and a simple combination of avocados topped with tuna salad. You almost don't even need a recipe to follow! They speak for themselves.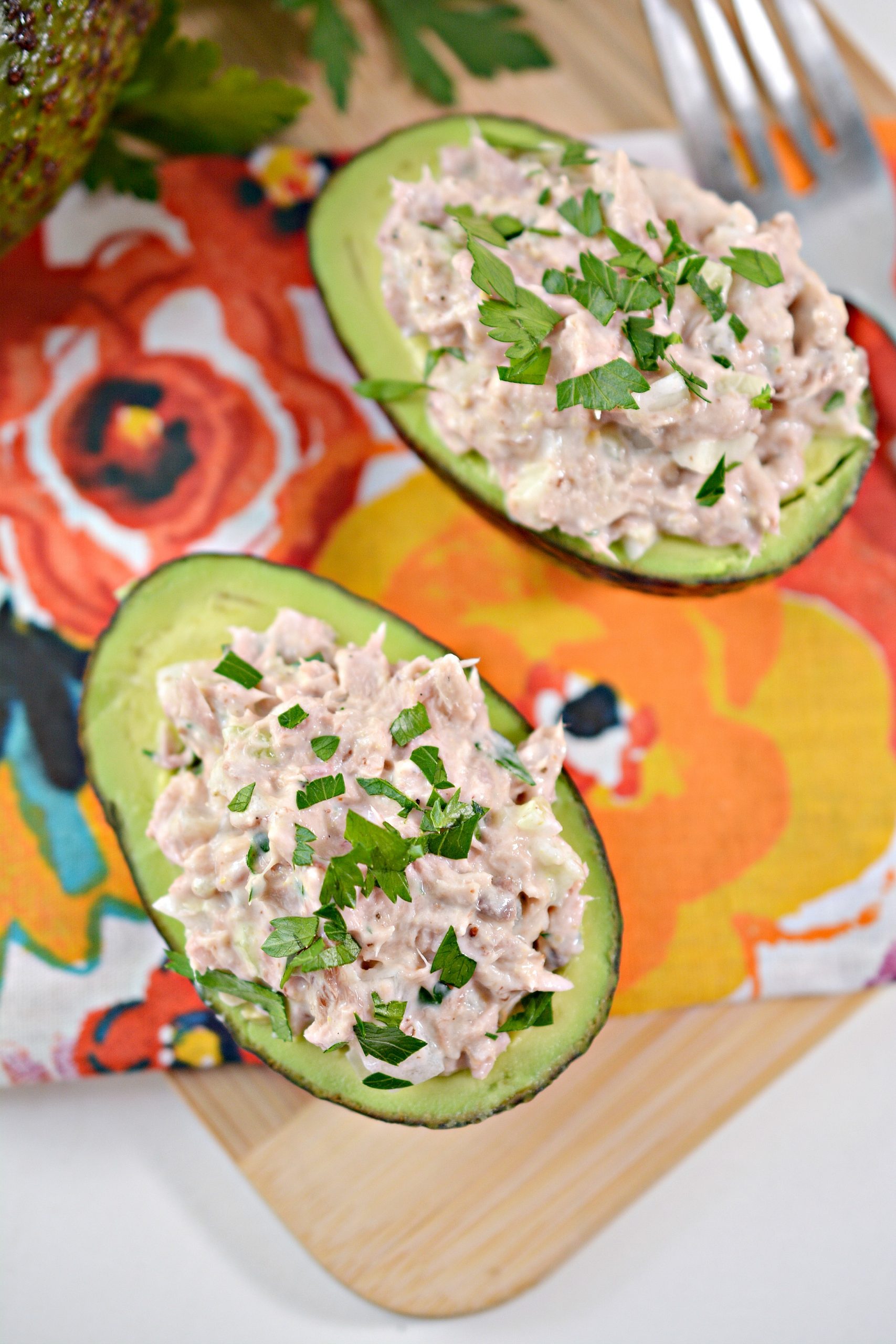 Wondering what canned Tuna is best? Do not stress about the Tuna! When in the canned goods section at your local grocery store, there are usually a few different Tuna types you will most likely grab light Tuna or solid white albacore.
As most might be aware, solid white albacore is more expensive but less of a "fishy" taste. It also has two to three times the amount of mercury. So watch out! If you decide to go with solid white albacore, just make sure you are only consuming this dish once a week.
Keep in mind solid albacore does have three times the amount of omega-3 fatty acids too. It's so good for you! Opting for a high-quality tuna such as WildPlanet tuna is recommended.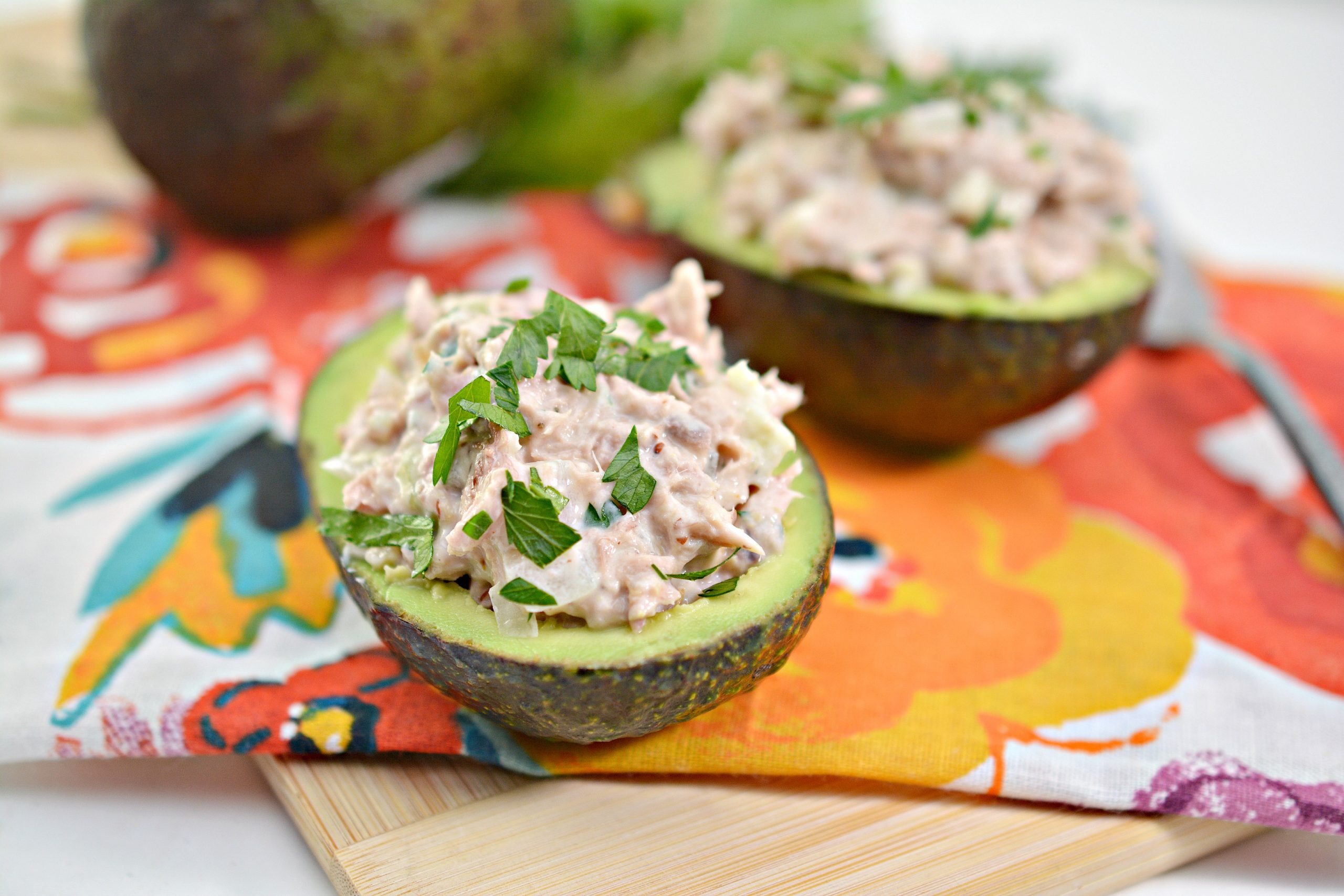 Using easy pantry items you most likely already have laying around, it's one of those super-easy recipes you don't even have to think about how to make it. Almost everyone has mayonnaise in their fridge and Tuna in the pantry, right? You can get creative and add in all sorts of ingredients, depending on just how you want to customize it, but overall, it's a winning dish. If you wish, you can add some red peppers, red onion, and cherry tomatoes for an extra touch. But you don't have to. It's just another option!
If you are bringing this to your next potluck, you might want to grab some small avocados. This way, guests can have mini tuna avocado bowls, and you can feed more people. They will go so fast and be flying off the table. A healthy keeper, these Tuna Salad Stuffed Avocados are refreshing and delicious.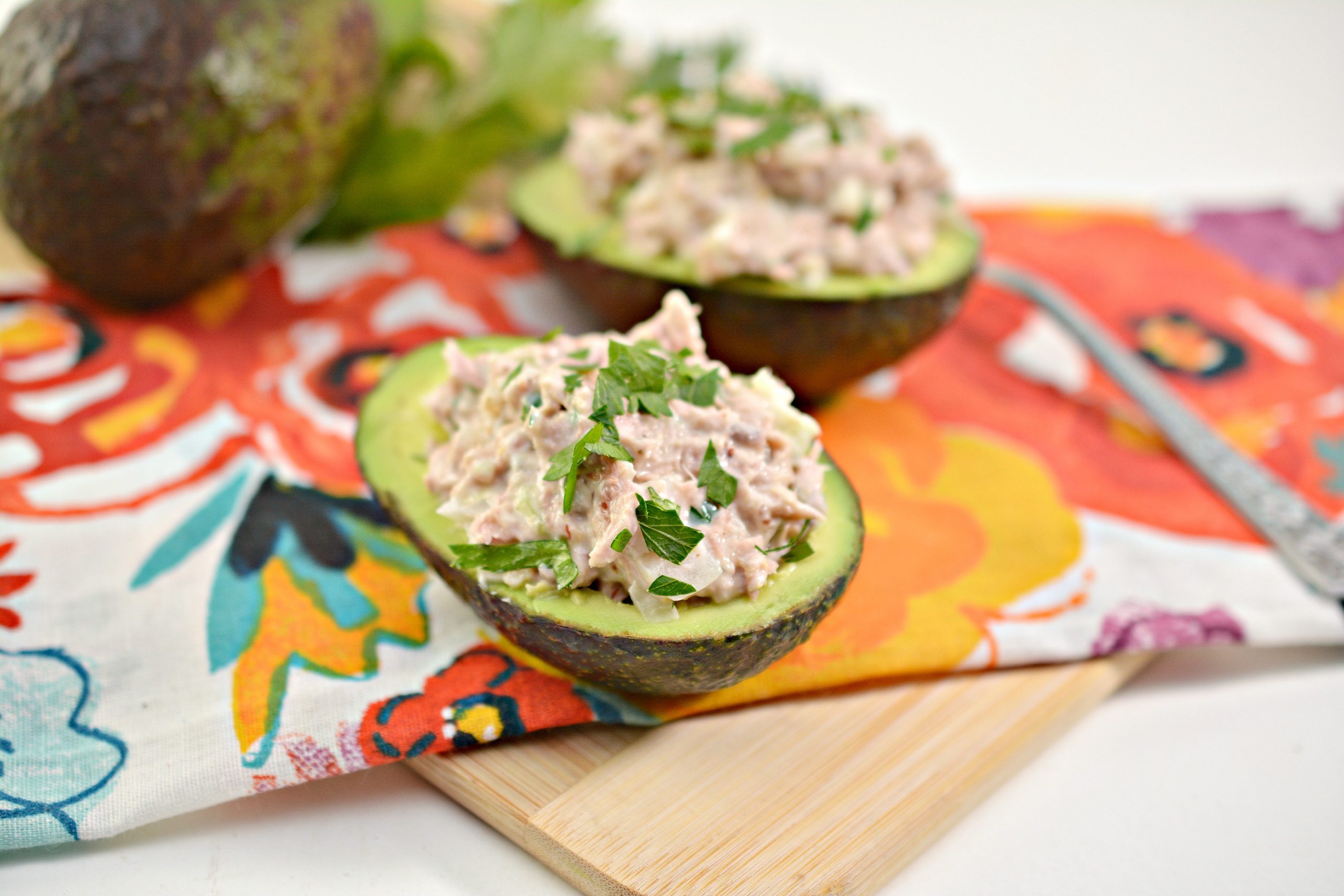 Did you make it? Tell us just how it went in the comment section below. Let us know. Enjoy!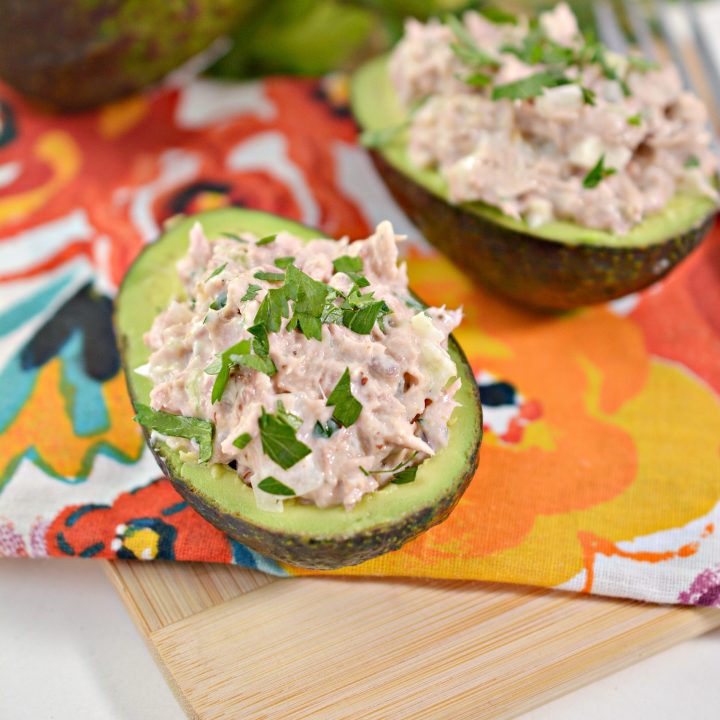 Tuna Salad Stuffed Avocados
Ingredients
2 Ripe avocados
1 Can of tuna fish drained well
3 tbsp Celery finely chopped
2 tbsp Onion finely chopped
⅛ c Mayo
1 tsp Dijon mustard
½ tsp Garlic minced
Salt and pepper to taste
Chopped parsley for garnish
Instructions
Cut each avocado in half, and remove the pit from the center.
Use a spoon to scoop out a bit of the center of each avocado so that you have room to fill it with the tuna salad.
In a small mixing bowl, add the drained tuna.
Mix in the mayo, dijon mustard, celery, onion, garlic as well as salt and pepper to taste. Stir to combine well.
Add the finished tuna salad to the center of each avocado half, and serve garnished with some freshly chopped parsley.
A serving is one whol avocado filled with half of the tuna salad mixture.
Nutrition Information
Yield

Servings 2
Amount Per Serving
Net Carbohydrates

4 g
Now, remember to save this recipe on Pinterest for later 🙂