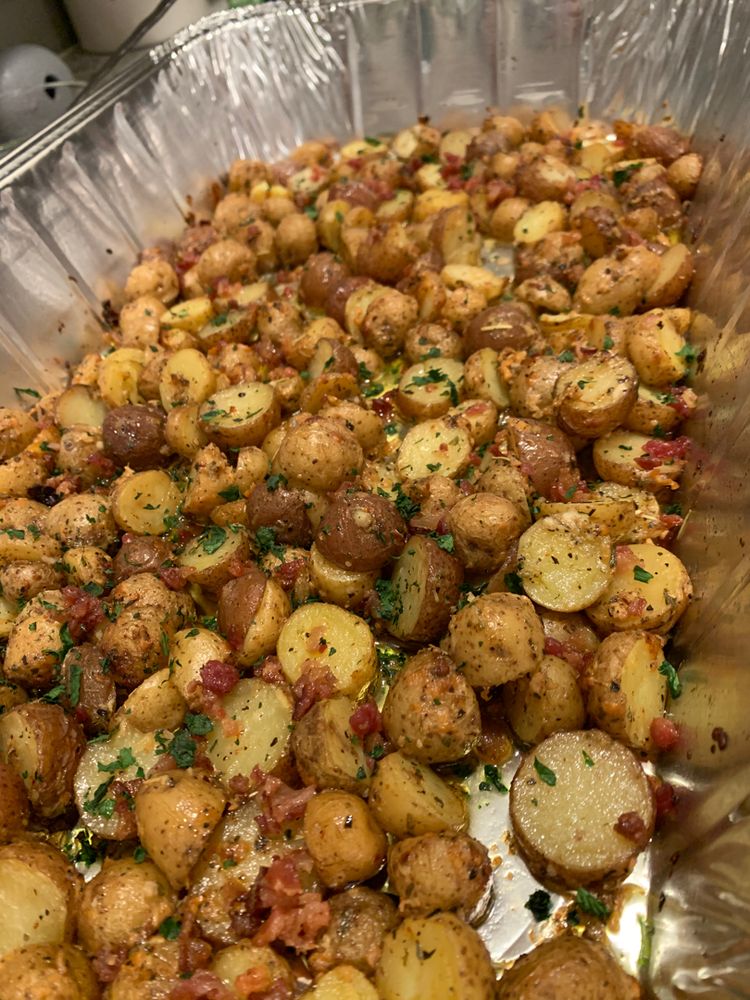 There is always a time when you are making dinner or planning your meals and you get stuck on what to put on the side. How many times do you just resort to one-minute rice or mac and cheese? Well, that ends today! No more half-done sides. If you are looking for the perfect side to go with your salmon, chicken, or steak – look no further. Garlic Parmesan Roasted Potatoes is a go-to dinner side to complete any meal. When it comes to dinner parties, it should always be on the menu for your guests. The buttery parmesan bites of heaven are crispy on the outside but don't let it fool you. The center is oh-so-tender and soft. Sometimes it's hard to find a good side without having multiple carbs to make your dinner complete and fill you up.
Garlic Parmesan Roasted Potatoes are a good option when you don't want to go with pasta. They pair well with broccoli, asparagus, and really any vegetable. They are simple and easy to cook any day of the week. They hardly take any time!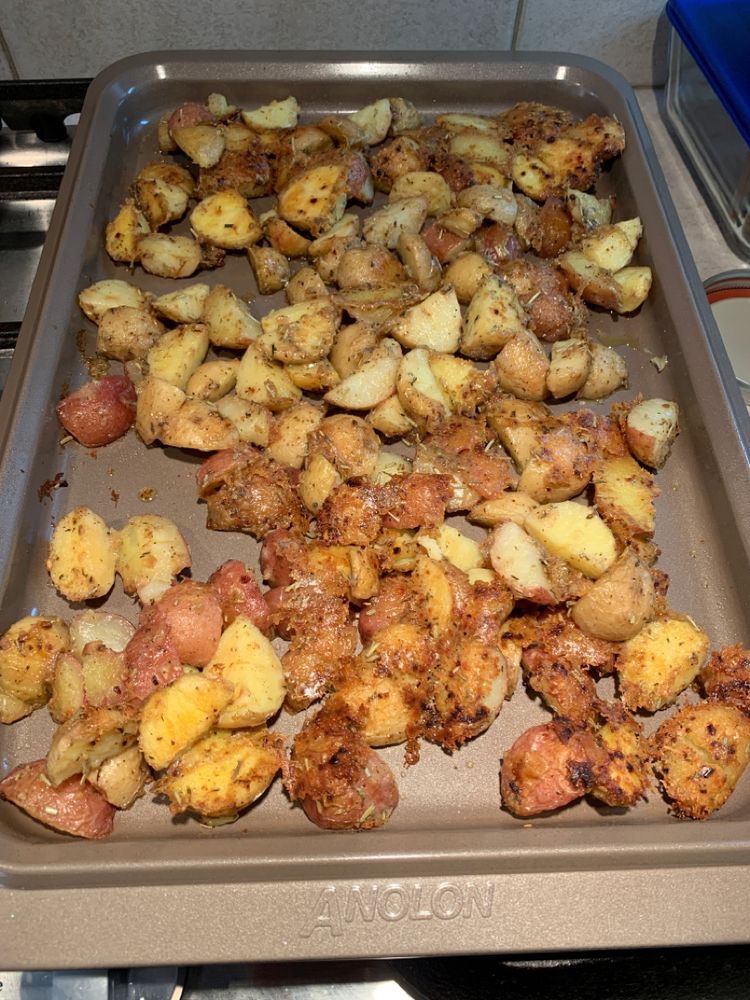 If you love potatoes, you are sure to love this recipe. It really does put a kick into the regular, classic baked potato topped with sour cream. Deliciously seasoned with olive oil, garlic, thyme, dried oregano, basil, and more. Combine these species with parmesan and garlic! These are two things almost everyone loves but it's the spices that truly take this side dish recipe up a notch. They pack a flavorful punch but are so simple to toss in the oven while you are whipping up the rest of your meal. You almost can't mess up this recipe. Anyone can make it! It's such an easy side dish with little prep time. It comes together so quickly! Toss it all in the pan and mix it up. One-pan dishes are always the best because it's fewer dishes for the cook.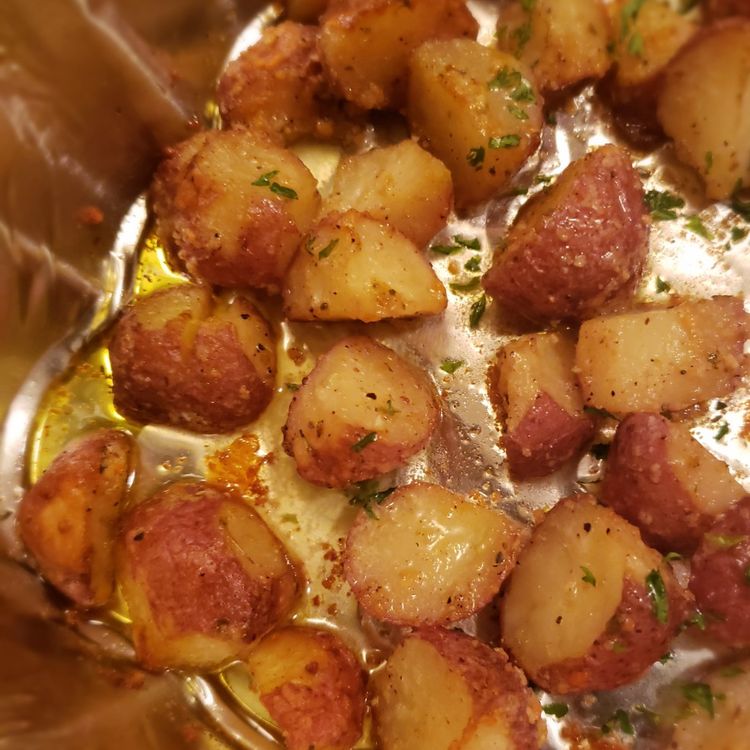 Stuck on what to make with them? While a steak is always a great option you could try something in the Instant Pot. If you love these roasted potatoes and are looking for another recipe to pair them with you could try the Instant Pot Pork Tenderloin. Add a green veggie on the side and it's the perfect entree. You could even make these on the grill as the summer months approach us. It's a great side when cooking out! You just can't go wrong with a good potato side dish. Especially when everyone will eat them right up and they are easy to make. It barely takes any time to prepare while the rest of your dinner is cooking. 
Ingredients Needed to make this recipe:
Red potatoes
Olive oil
Garlic
Dried thyme
Oregano
Dried basil
Grated Parmesan
Salt and ground black pepper
Butter
Parsley leaves
Did you make it? Let us know! Tell us just how it went in the comment section below. You are sure to be going back for seconds. Enjoy!
Yield: 7
Garlic Parmesan Roasted Potatoes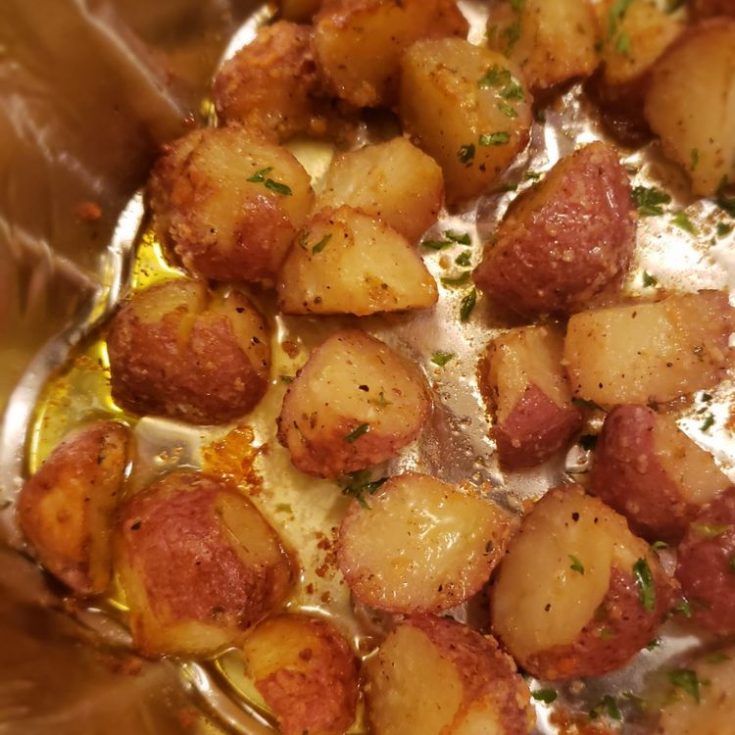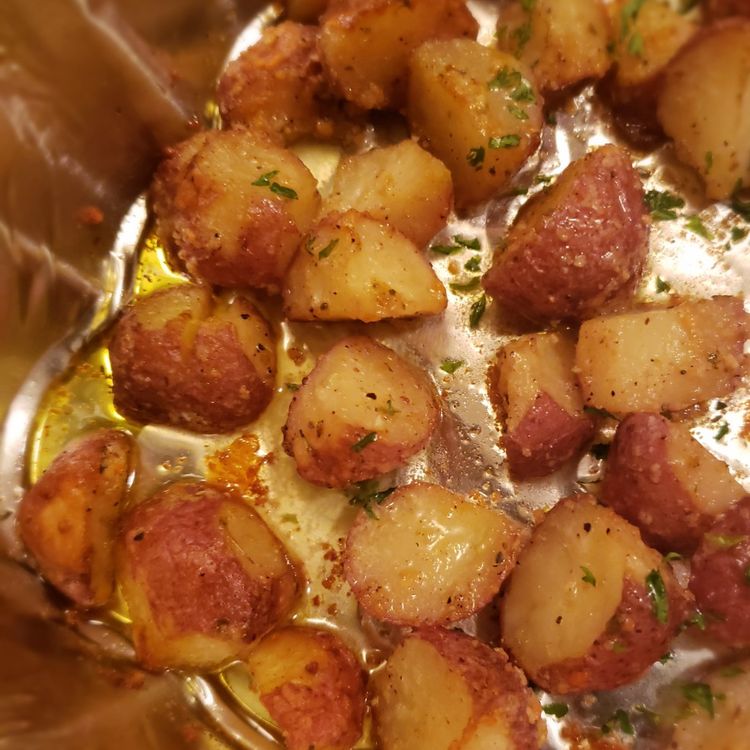 Additional Time
10 minutes
Ingredients
3 pounds red potatoes, halved
2 tablespoons olive oil
5 cloves garlic, minced
1 teaspoon dried thyme
1/2 teaspoon dried oregano
1/2 teaspoon dried basil
1/3 cup freshly grated Parmesan
Kosher salt and freshly ground black pepper, to taste
2 tablespoons unsalted butter
2 tablespoons chopped parsley leaves
Instructions
Preheat oven to 400 degrees F. Lightly oil a baking sheet or coat with nonstick spray.
Place potatoes in a single layer onto the prepared baking sheet. Add olive oil, garlic, thyme, oregano, basil and Parmesan; season with salt and pepper, to taste. Gently toss to combine.
Place into oven and bake for 25-30 minutes, or until golden brown and crisp.
Stir in butter until melted, about 1 minute.
Serve immediately, garnished with parsley, if desired.
Notes
Weight Watchers Points Info :
WW Blue plan  –  6 SmartPoints per portion
WW Purple plan  –  6 SmartPoints per portion
WW Green plan  –  6 SmartPoints per portion
Nutrition Information:
Yield:
7
Serving Size:
Per Container 7
Amount Per Serving:
Calories:

102
Total Fat:

10g
Saturated Fat:

3g
Trans Fat:

0g
Cholesterol:

14mg
Sodium:

98mg
Carbohydrates:

36g
Fiber:

4g
Sugar:

2g
Protein:

10g