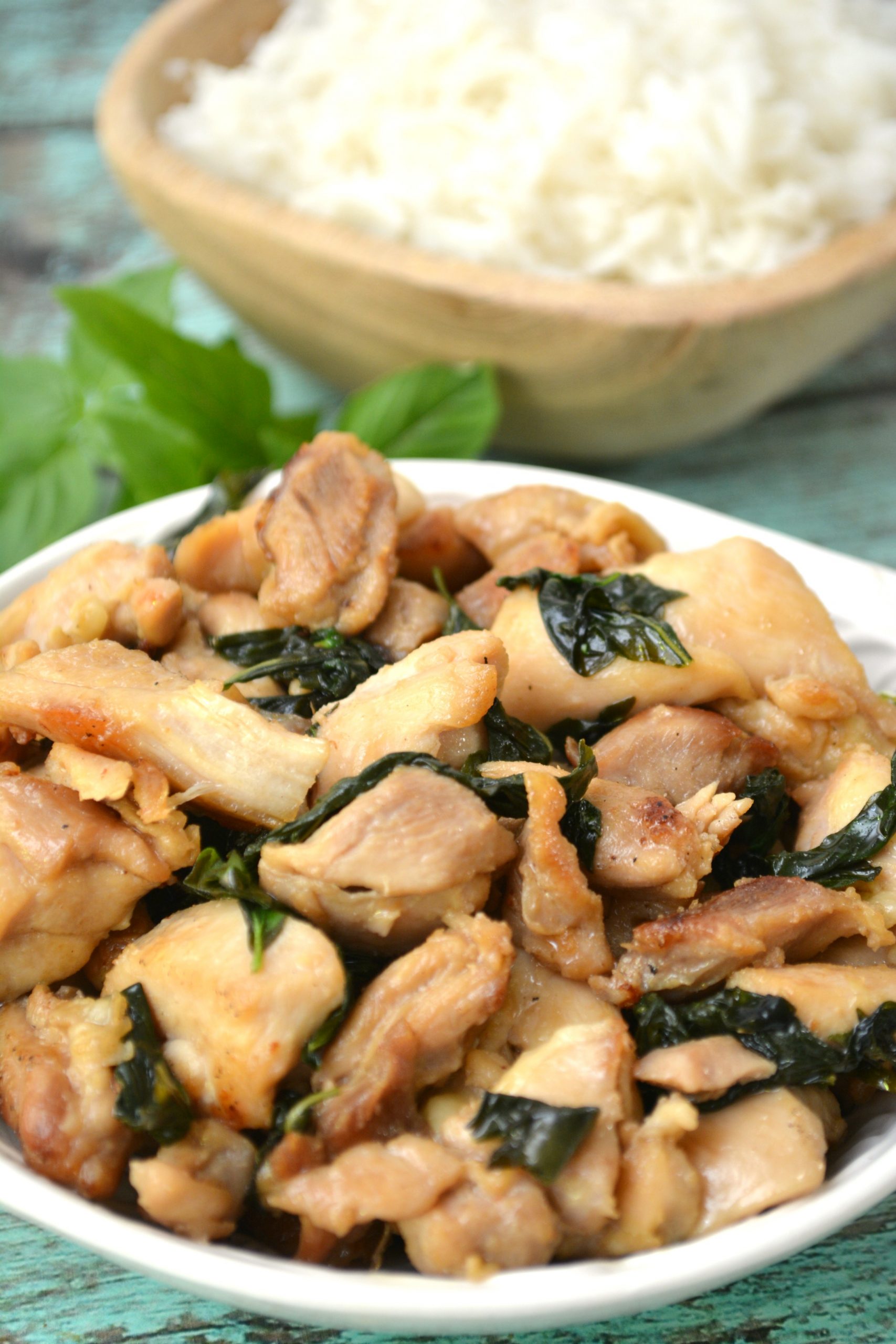 Oh, Thai Basil Chicken. You are so good! Two words: simply delicious. If you haven't tried to create this Thai-inspired dish at home, your time has come to make it for lunch or dinner. You don't have to worry about hunting down unusual ingredients. But, it still tastes as good as your favorite, local Thai restaurant.
It's absolutely perfect served over jasmine rice. Bite after bite, you won't want to stop eating it. It fills you up and leaves you feeling stuffed, in a good way though.
When it comes to quick stir-fry and Thai recipes, this is most likely going to be your easiest and most popular to make for dinner. It's quick, flavorful, and is going to become one of your fastest dinners to whip up on the stove-top. It's incredibly fast and easy to make you just can't believe it!
This Thai Basil Chicken is so worth trying! It's true comfort food. If you can use basil from your garden it's even better. Anytime you can use fresh herbs when cooking you should definitely go the extra mile and pick some from the garden.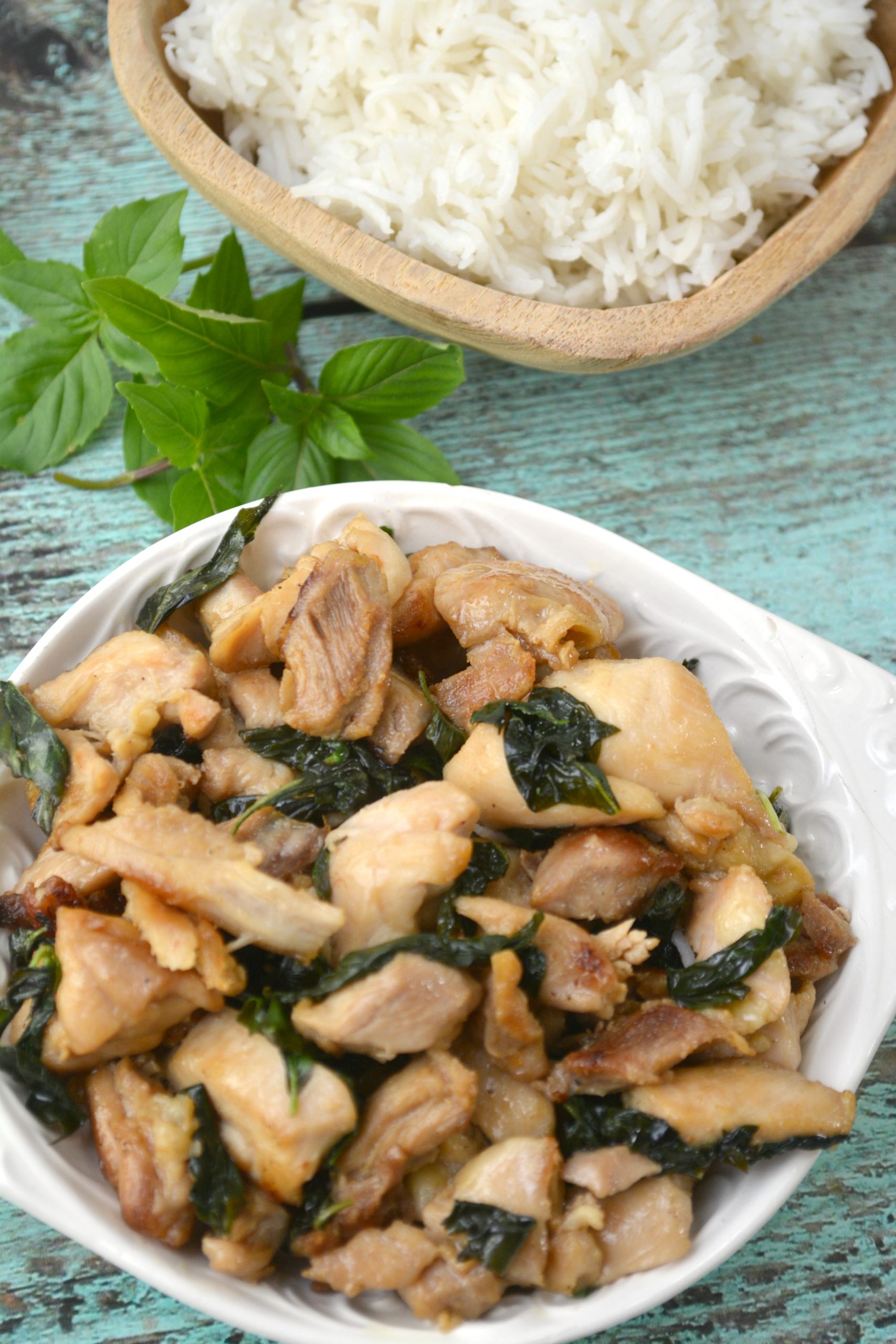 This is one of those recipes that is just perfect just as it is. For those times you are craving Thai but don't want to order delivery this is a super-fast dinner meal you can have ready in 15 minutes. Honestly, this will soon hands-down be your absolutely favorite recipe when it comes to a quick, easy and inexpensive dinner.
The bonus is it doesn't require a ton of ingredients, it's less than 400 calories and it's meal-prep friendly. All reasons this recipe is the best! If you need a low-calorie, clean eating, budget-friendly, high energy meal prep meal to add to your list, this would be number one. Add it to your weekly rotation stat!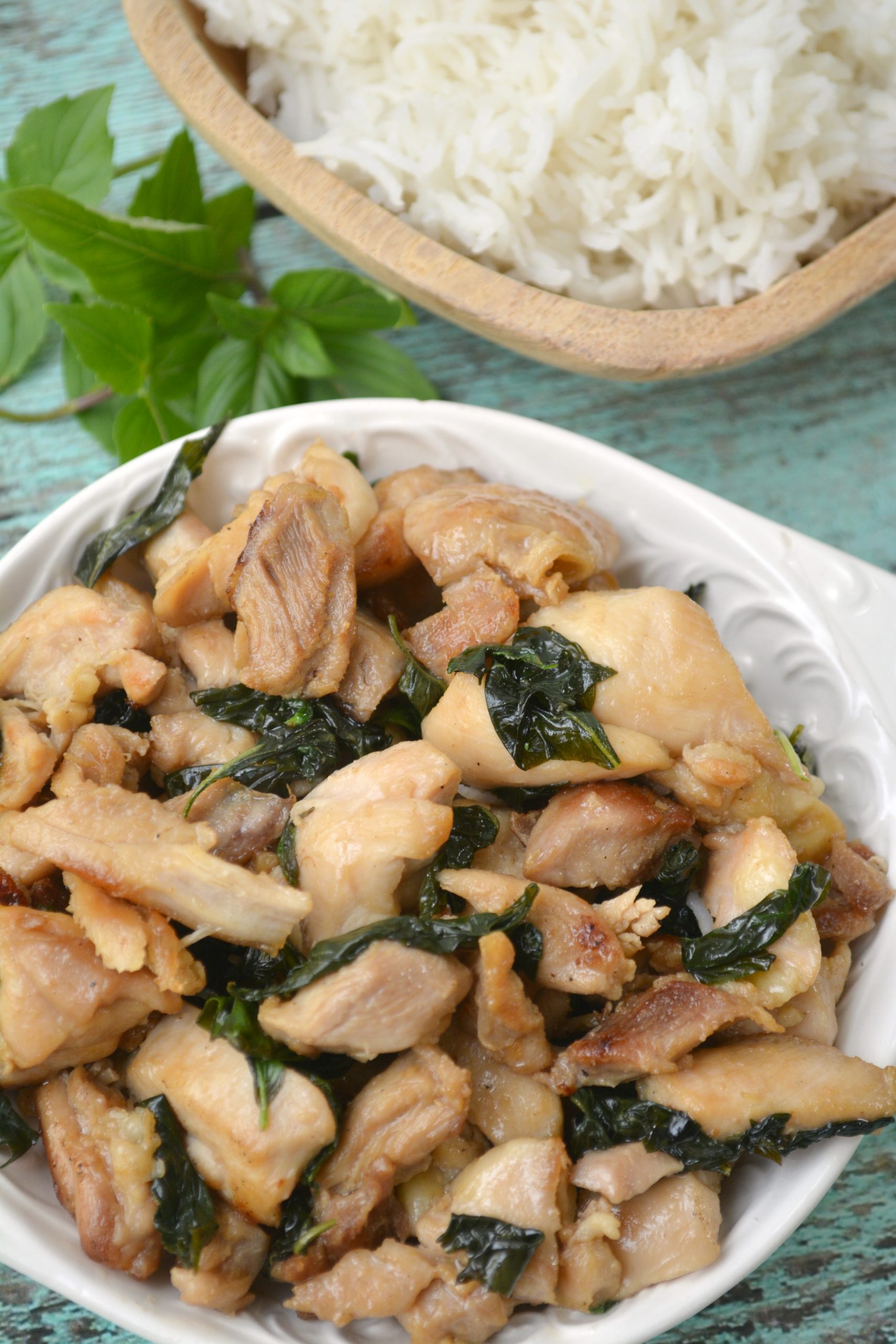 Looking to spice it up? You can always add mushrooms, broccoli florets, onions, or even red pepper strips to this Thai Basil Chicken. Really any vegetables can be added to this stir-fry. It's easy to customize! Just toss it all in and it will become your family's new favorite chicken bowl. It's just phenomenal and a keeper. Oh, and can we discuss how good the leftovers are? If you have any that is they are even better because they really give time for the flavors to sit.
Did you make it? Tell us just how it went in the comment section below. Did you have leftovers or make a double batch? Let us know. Enjoy!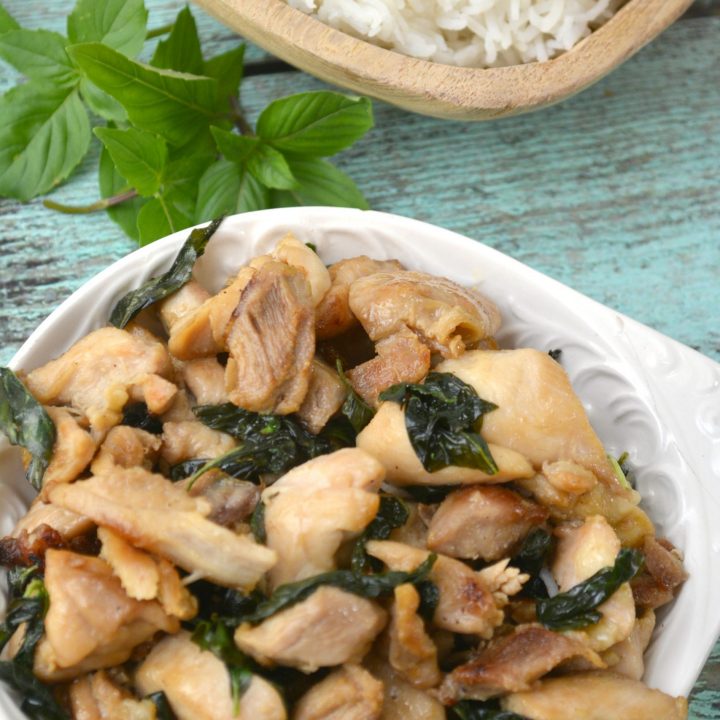 Thai Basil Chicken
Ingredients
2 lbs. Boneless skinless chicken thighs
3 tbsp. Oyster sauce
3 tbsp. Soy sauce
½ tbsp. Sesame oil
4 cloves Minced garlic
1 tbsp. Olive oil
2 c. Thai basil leaves (regular basil can be substituted)
Salt to taste if desired
Instructions
Cut the boneless skinless chicken thighs into thin strips, and place them into a mixing bowl.
Add in 3 tablespoons of oyster sauce and 3 tablespoons of soy sauce. Toss the chicken to coat it, and marinate in the fridge for at least an hour.
Heat ½ a tablespoon of sesame oil and 1 tablespoon of olive oil in a large skillet over medium high heat.
Place the marinated chicken into the skillet and cook until the chicken is browned and cooked through.
Add in the minced garlic and 2 cups of thai basil leaves, and cook stirring often until the basil leaves have wilted. If you cannot find thai basil locally, regular basil can be substituted.
Garnish with fresh basil and salt to taste if desired.


Serve over a bed of white or cauliflower rice.