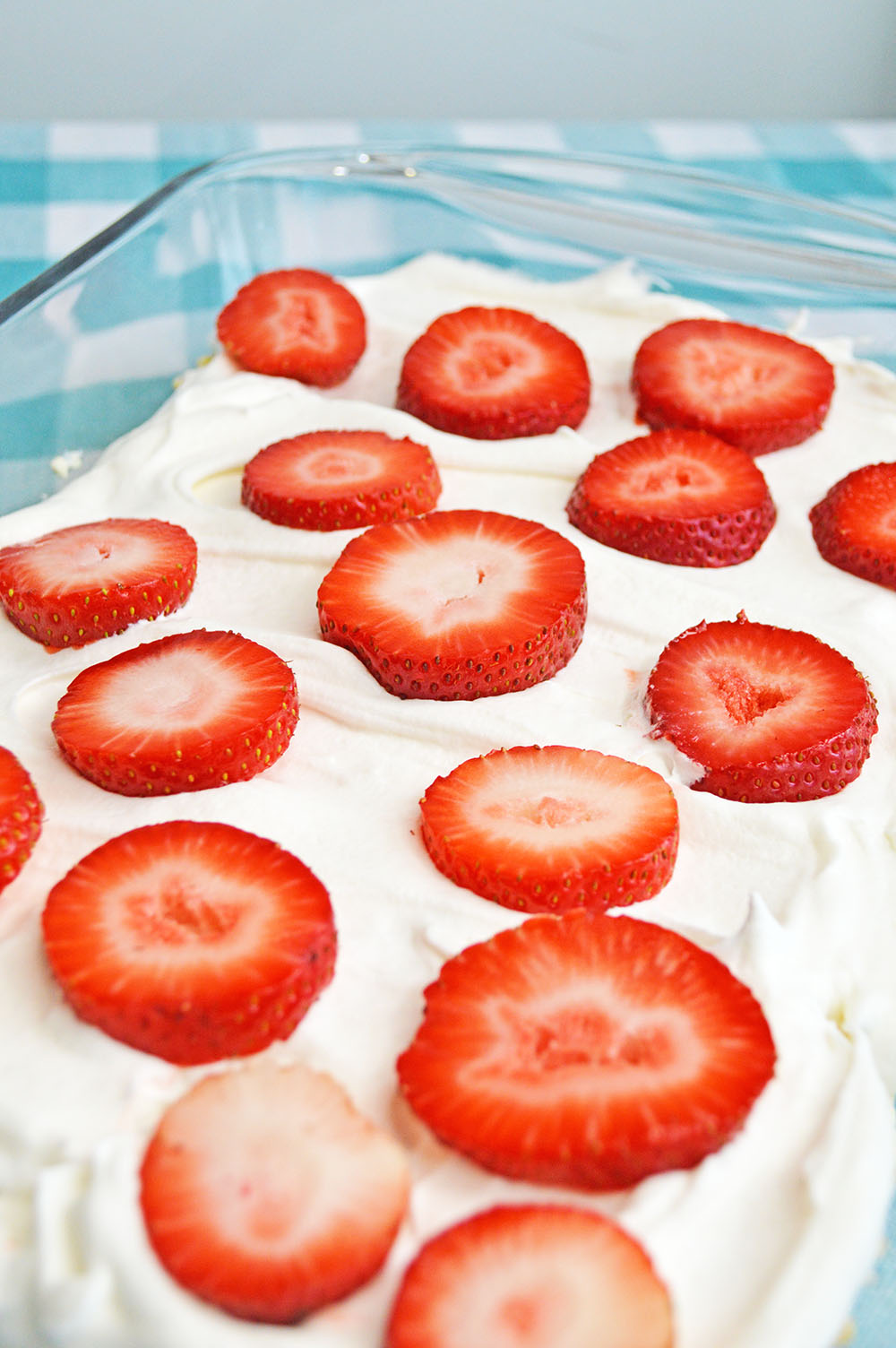 Strawberry Delight will soon become a cherished recipe in your home. It's time to fall in love with this too-good-to-be-true Strawberry Delight dessert.
A hint of cheesecake with the sweetness of strawberries combined with delicious cookies! The pudding mix, greek yogurt, and whipped topping are dreamy mixture.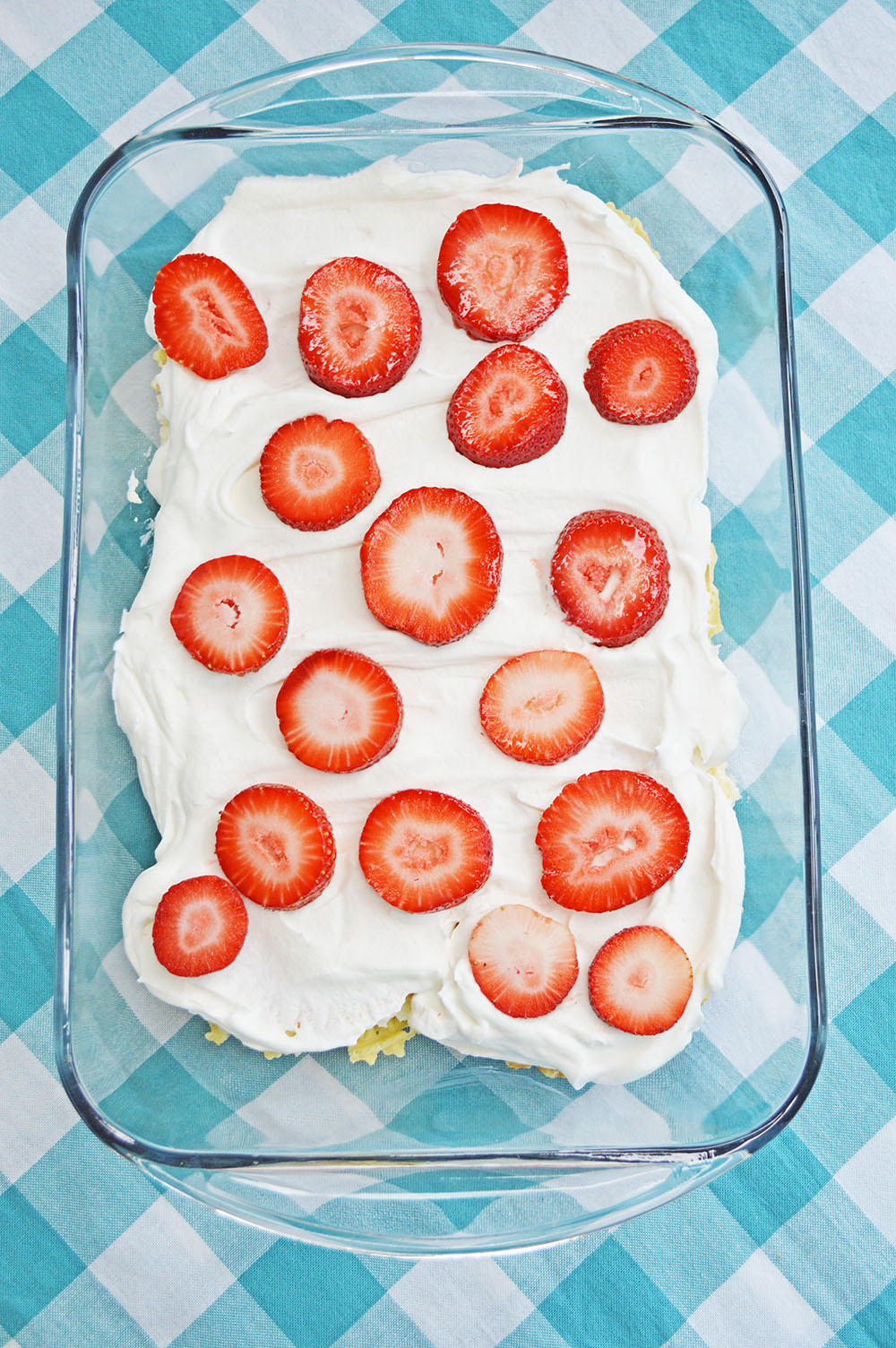 When you return home from the produce stand or your local grocery store with a carton of strawberries, the first thing you might want to do is wash them and eat them right out of the carton. But sometimes, you might just want to dress them up in a delicious dessert just in time for Spring and Summer. Strawberry Delight is the perfect dessert to satisfy every craving you have!
Whether you make it for a special occasion or just for an after-dinner dessert for your family to enjoy, everyone will be thanking you.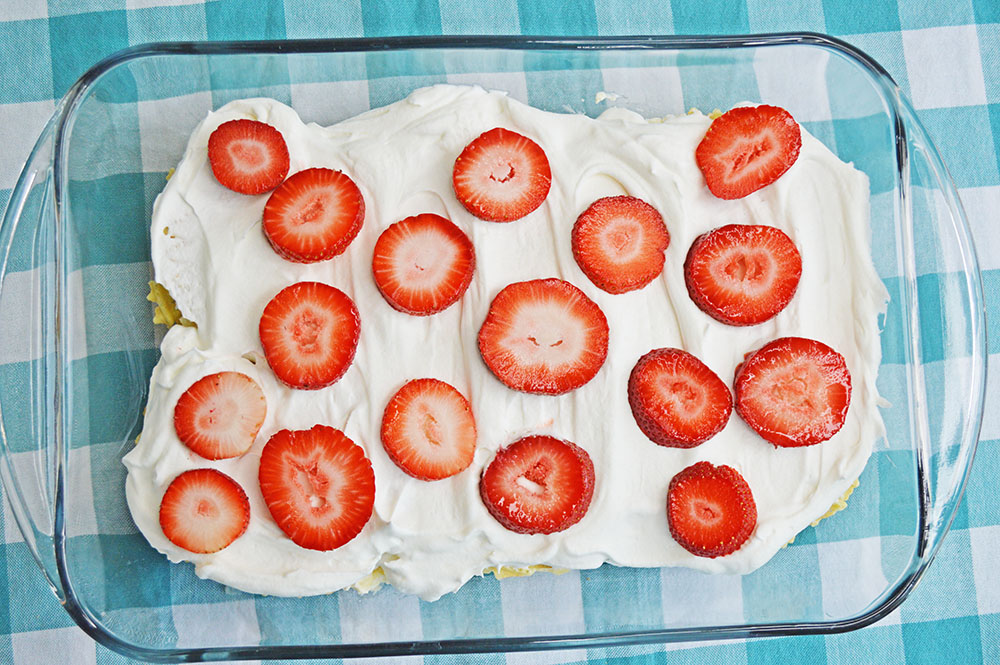 Strawberry Delight is a great, quick, and easy treat that doesn't go over your calorie count for the day and fits right into your meal plan. What a win! Sweets and barely any calories. It may remind you of your grandmother's classic strawberry short-cake, and this little twist is just as good.
The best part is you don't even have to buy a ton of ingredients! This dessert is a great way to stay on track to losing weight without indulging on too much sugar and feeling you've caved on bad cravings. It's nice to enjoy a little sugar but not worry about breaking your diet plan.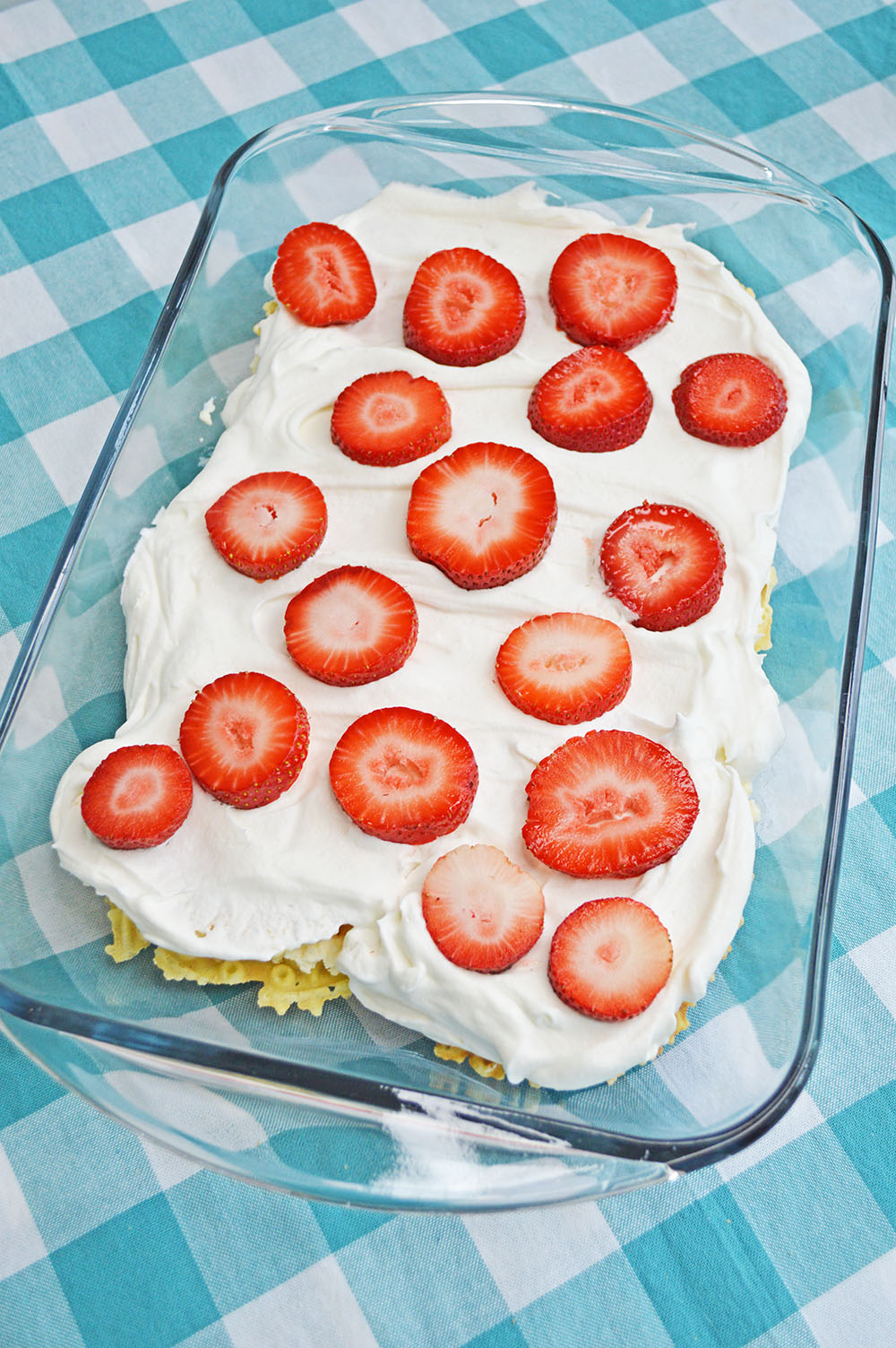 Crisp, creamy and oh-so-soft and yummy. The Strawberry Delight is simply magical. How can you not love the presentation of this cake? It just looks so beautiful and you will love the way it looks on the table. You can't wait to dive in for a sensational bite.
If you aren't a big fan of strawberries, you can customize this dessert with fresh fruit like blackberries or raspberries. You can use fresh fruit or frozen. Blueberries are always a great option! Or you can add both blueberries and strawberries for the perfect Fourth of July treat.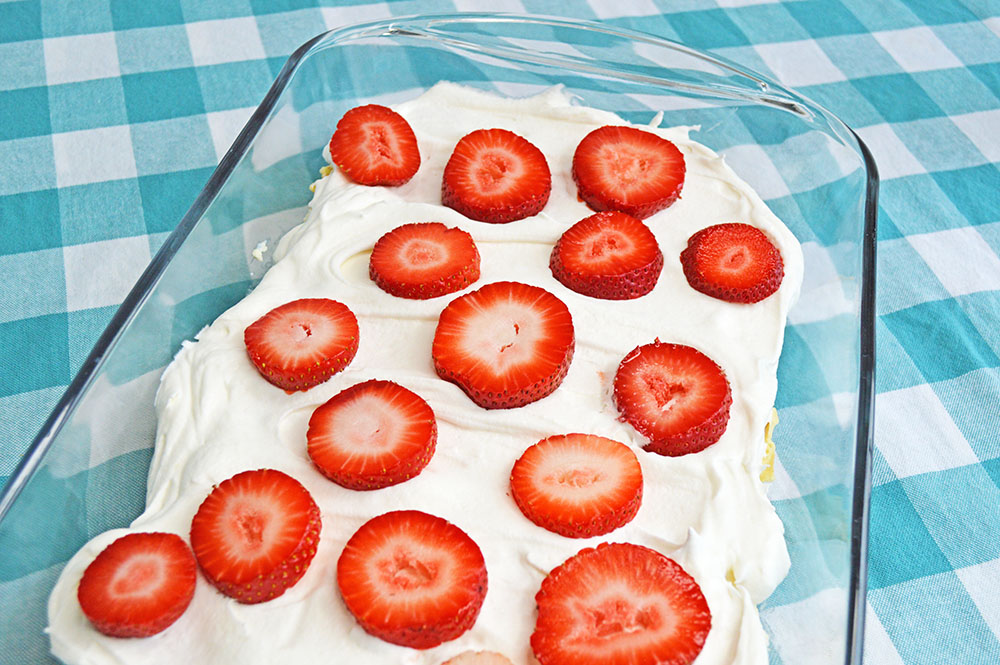 If you are looking for a show-stopping strawberry dessert for your next party or cookout, you don't have to search the internet anymore. It's time to make the most of strawberries this season with this fantastic dessert featuring pizzelle cookies.
Did you make it? Tell us just how it went in the comment section below. Did you use strawberries or a different fruit? Let us know. Enjoy!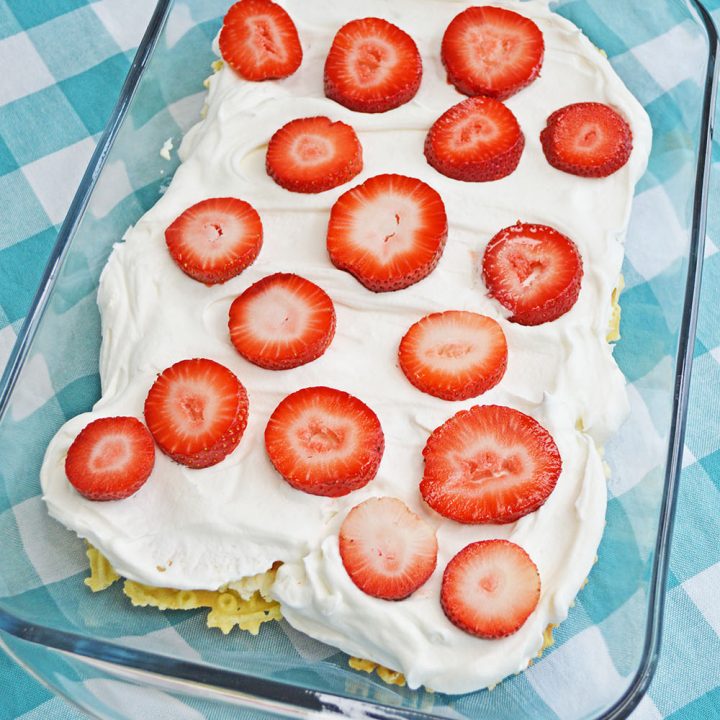 Strawberry Delight
Ingredients
8 oz. nonfat plain Greek yogurt
3 (1 oz.) packages of fat-free, sugar-free cheesecake pudding
2 cups strawberries, sliced
1 8 oz. tub fat-free whipped topping, divided
12 pizzelle cookies
Instructions
Layer 6 of the pizzelle cookies in a 9x13 inch pan.
In a large bowl, combine pudding mix, Greek yogurt, and 4 oz of the whipped topping.
Layer the cheesecake pudding mixture into your 9x13 pan.
Add a layer of sliced strawberries.
Add another layer of 6 pizzelle cookies.
Top with remaining whipped topping and another layer of sliced strawberries.
Chill in the refrigerator for 30 minutes, serve immediately.
Now, remember to save this recipe on Pinterest for later 🙂