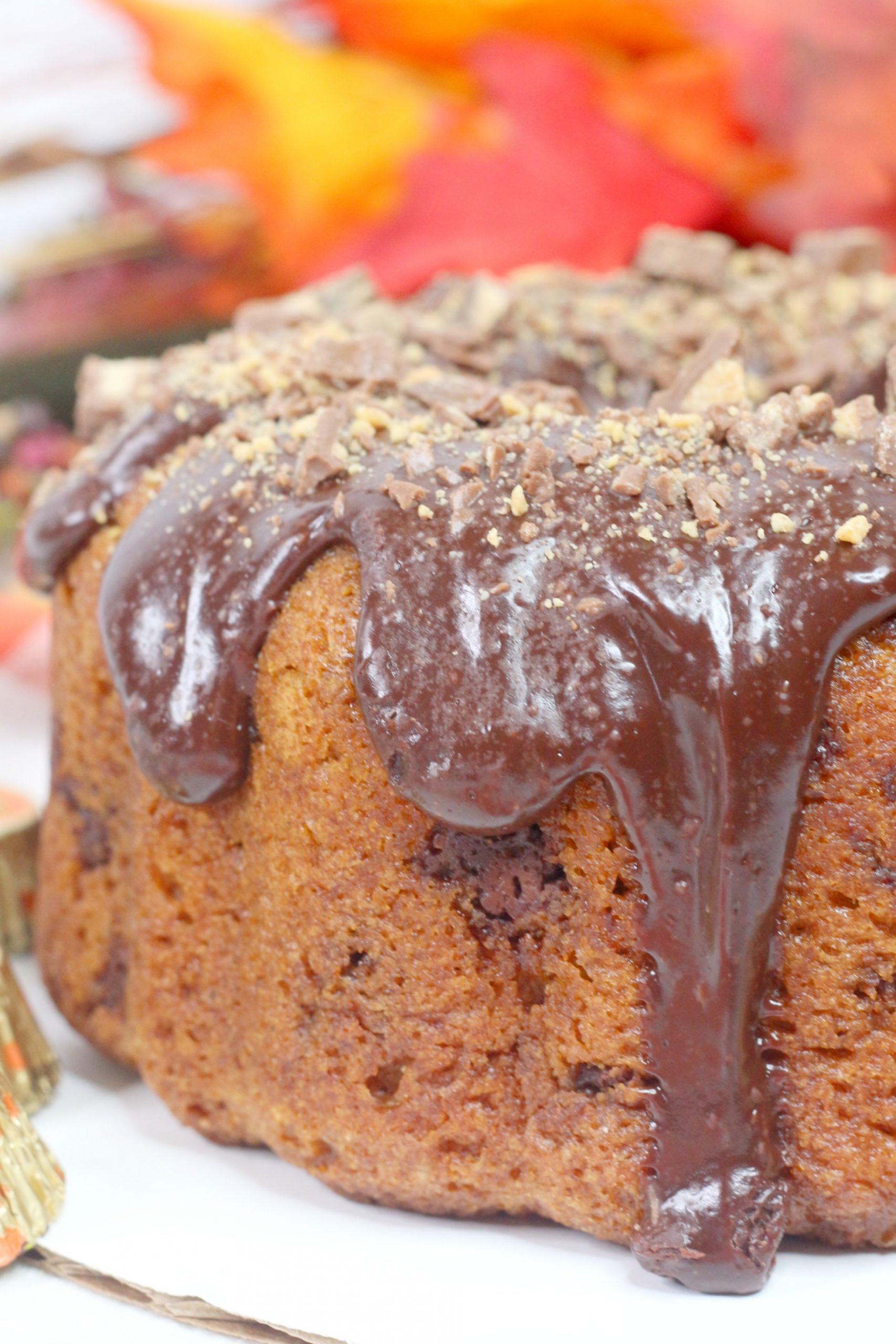 What would you consider to be your favorite candy of all time?
There are so many to choose between. Candies come in sweet little squares or sour strings. Nothing is better in our book than chocolate.
Peanut butter and chocolate complete the perfect marriage of flavors. Can you guess what candy we are talking about yet? It's Reese's Peanut Butter Cups! They are an American candy produced by The Hershey Company since November 15th, 1928! That's almost 100 years of delicious gooey goodness. They have a slightly gritty center with smooth milk chocolate coating the entire outside. People eat these in so many different ways. Everything from biting the corners to removing the bottom and top and just eating it in one bite! We all can agree that we try to savor the taste as long as possible.
Reese's Peanut Butter Cups have been used in desserts for decades. Everything from pretty pies to irresistible ice cream.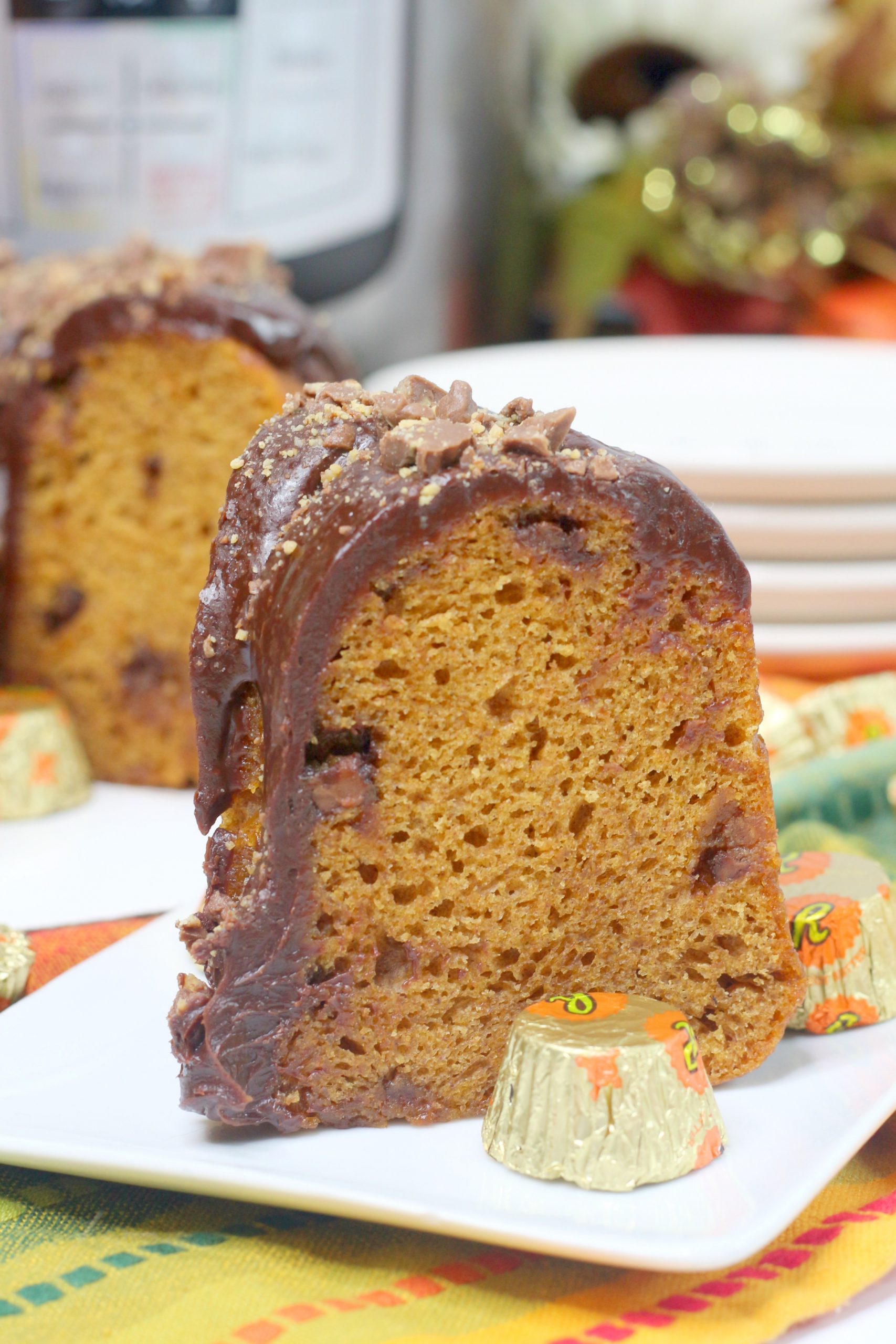 What inspired you to create this delectable dessert?
Halloween is always a big celebration for kids across the globe. That is no different for our little ones. As parents, we always go through our kid's candy and take a few pieces for ourselves to "test" to make sure they are acceptable to eat.
When the kid's pillowcase is overflowing with candy, it gets our creative juices flowing. We reach in while the kids were sleeping and snuck out some Reese's Peanut Butter Cups, but how to incorporate them? With Thanksgiving quickly approaching, we wanted to get our menu down for the big day. All the main foods were taken care of, but what to do about desserts? Then the lightbulb went off, "Why not add Reese's Peanut Butter Cups to our traditional Pumpkin Bundt Cake?".
Most of us have our Bundt Cake pan, but I am sure a close family member would be happy to let you borrow theirs for your dish.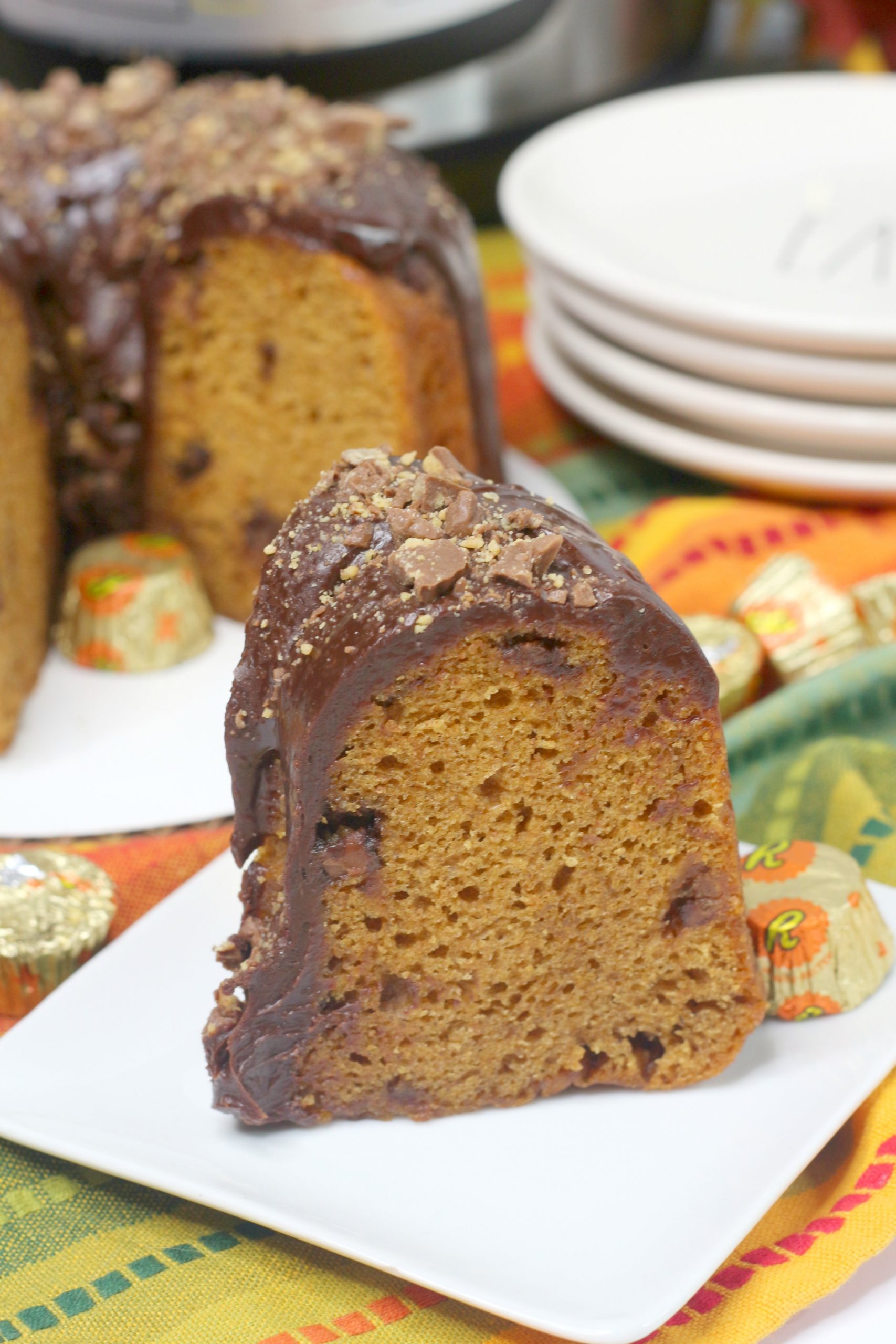 What is a Bundt Cake?
It is a specialty pan that creates a doughnut-shaped cake with ridges to soak up the drizzled icing. A Bundt Cake pan was inspired by a European-style dish called Gupelhupf. It is best known for its circular opening in the center. The design allows for as much of the batter to reach the inside of the pan as possible.
This design also ensures that your cake is baked evenly, especially a very dense recipe you may be trying.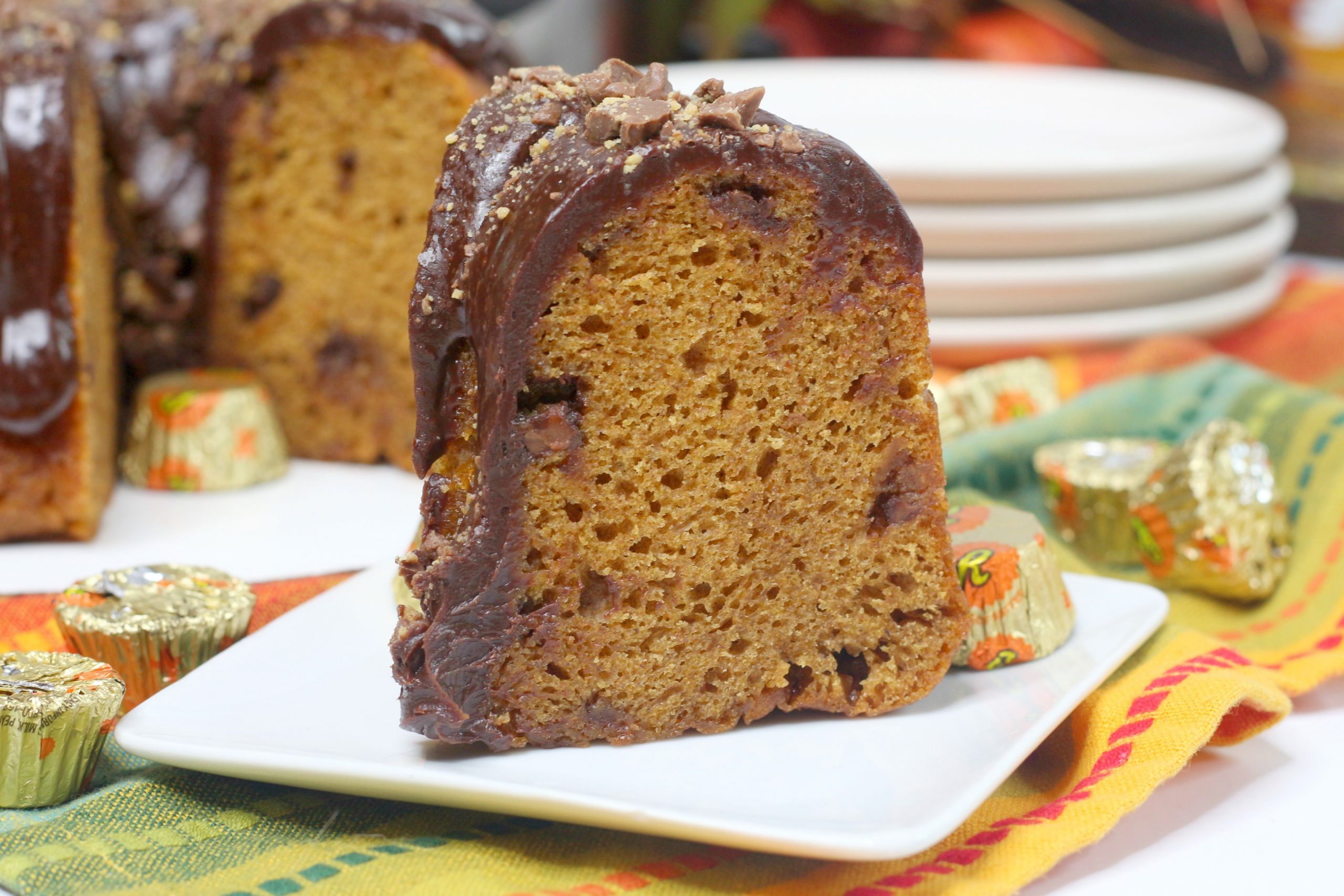 Can you recommend a beverage to enjoy?
For anything pumpkin or chocolate, we always recommend medium to dark roast coffee. The bitter taste of the beverage will cut the sweetness of the chocolate ganache glaze. If you enjoy this dish around Halloween and Thanksgiving, you should be able to find Pumpkin ale beer at your local liquor store.
The hops and mix of pumpkin flavor compliment the bundt cake so well. It brings out more of the pumpkin pie spice that is infused right into the dough.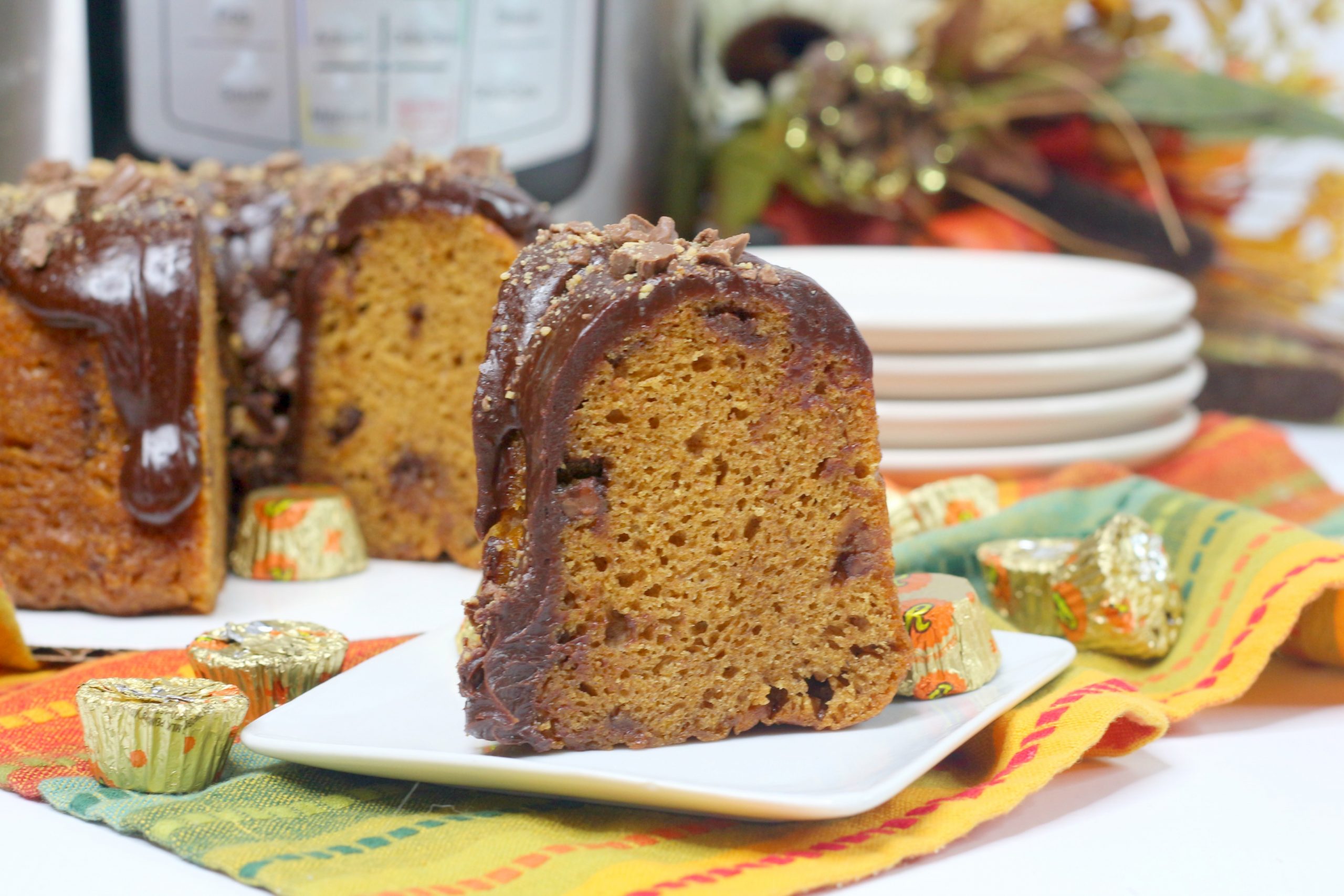 We hope you try this recipe with your friends and family for the holidays!
Did you make it? Tell us how it went in the comment section below. Let us know. Enjoy!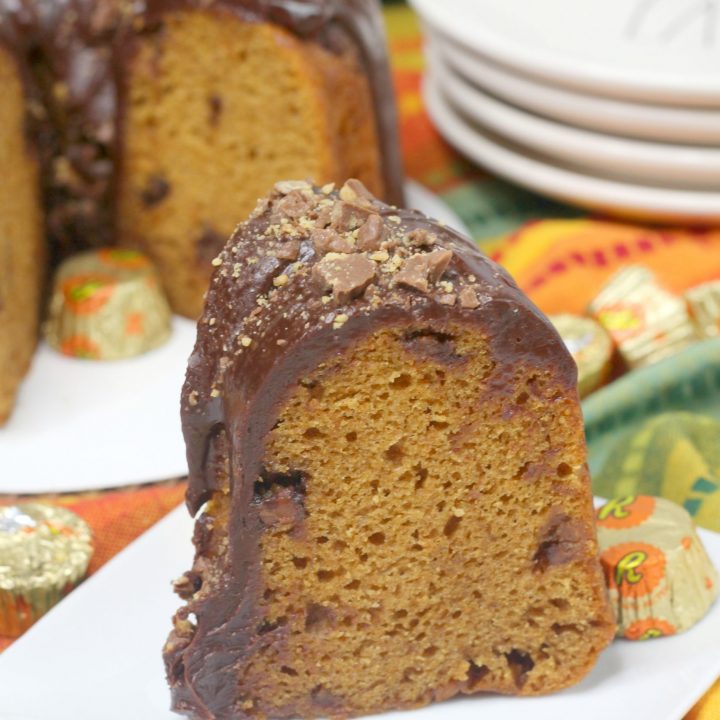 Reese Pumpkin Bundt
Ingredients
Makes 1 7in round bundt cake
2 C flour
1 TBSP Pumpkin pie spice
1 tsp Baking soda
1 C unsalted butter, softened
1 ¼ C sugar
1 large egg
2 tsp pure vanilla extract
1 C pure pumpkin puree
2 - 6 packs of Reese Peanut Butter Cups, chopped (About 2 ½ C)
Chocolate Ganache :
1 C Semi sweet chocolate chips
½ C heavy whipping cream
Remaining chopped Resse for topping
Instructions
Spray the instant pot bundt cake with pam baking spray and set aside
Using a small mixing bowl, whisk together the flour pumpkin pie spice
and baking soda until combined
Using a larger mixing bowl, beat together the butter and sugar until
light and fluffy
Beat in the egg and vanilla until combined
Beat in the pumpkin puree until smooth and combined
Gradually beat in the dry ingredients until combined
Fold in 1 ¼ C of the chopped Reese's
Scoop batter into the bundt pan
Place a paper towel over the top of the bundt pan
Place a piece of foil over the paper towel and wrap the foil around
the paper towel and pan
Pour 1 ½ C of water into the instant pot
Place the bundt cake onto the trivet and place the trivet into the pot
Lock the lid in place and close the pressure release valve
Set the timer on manual, high pressure for 20 minutes
Allow the instant pot to naturally release for 10 minutes
Release the pressure and open the lid
Carefully remove from the trivet and place onto the counter to cool completely

Chocolate Ganache :

Using a small pot, heat up the heavy whipping cream until slightly boiling
Pour chocolate chips into a heat safe bowl
Pour heavy whipping cream over the chocolate chips and whisk until smooth
Pour the ganache over the cake and let sit for a few minutes
Sprinkle chopped Reese all over the top
Allow ganache to set before cutting and enjoying!