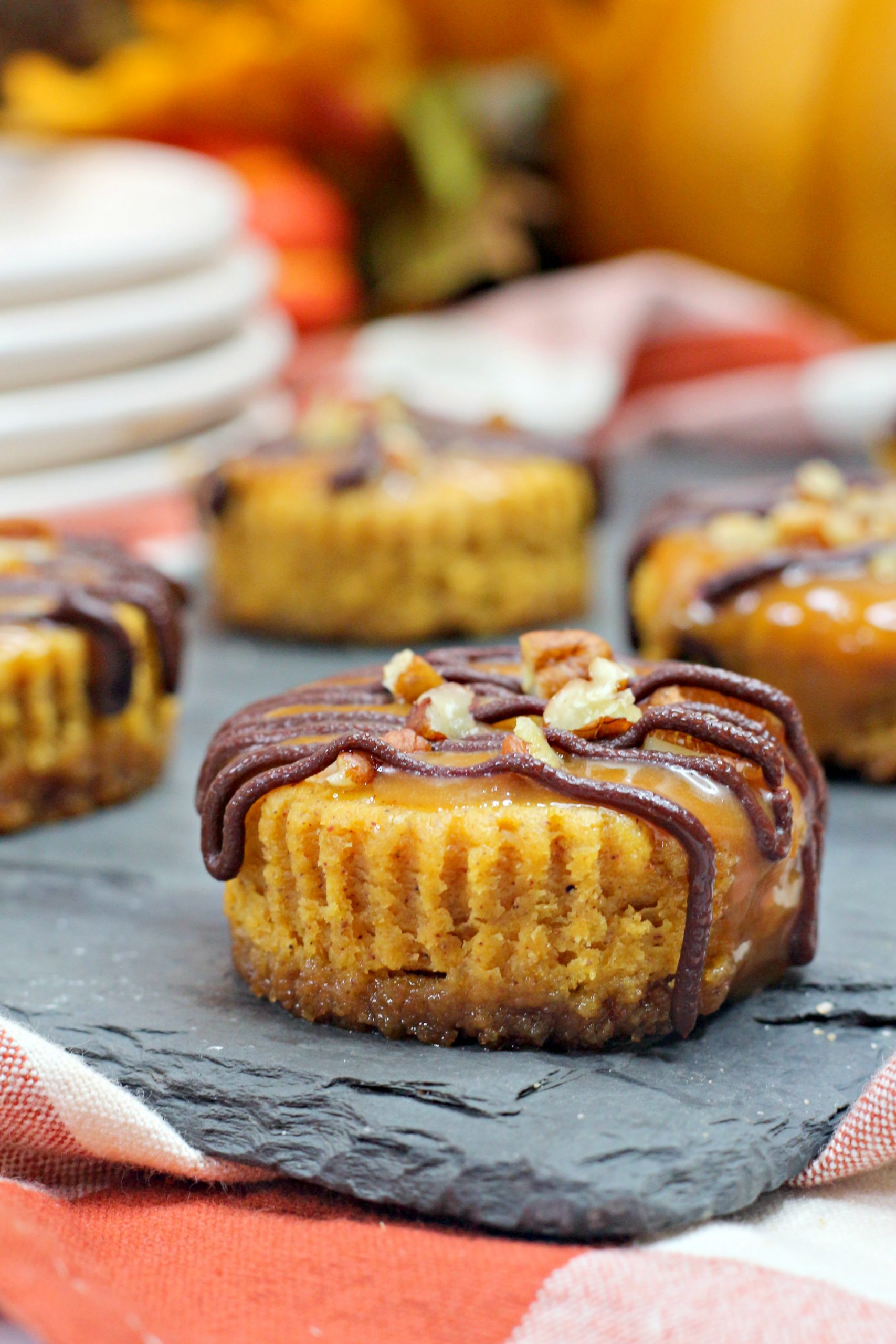 We are so excited to share this new recipe with you all; Pumpkin Spice Turtle Cheesecake.
What is Turtle Cheesecake?
The Turtle Cheesecake uses the same graham cracker crust that most cheesecakes begin with but with an added bonus. We all know how tasty cheesecakes are by themselves, but what happens when you drizzle caramel, chocolate, and chopped pecans. The name came about because of how closely they resembled DeMet's Chocolate Turtles. If you ask us, the dessert also resembles a real-life turtle shell! So fun, right?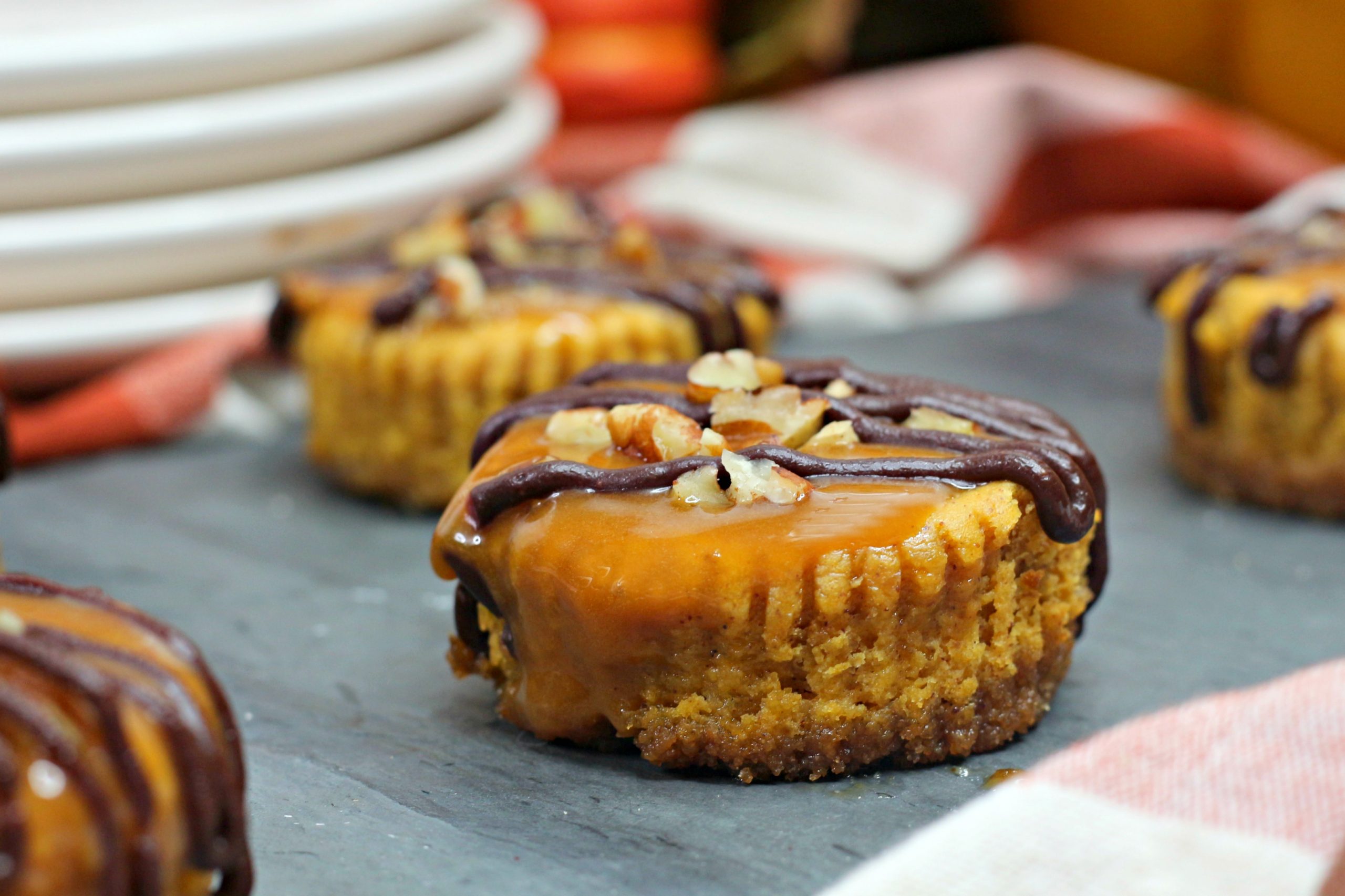 Our recipe follows the traditional one pretty closely. Still, when it comes to displaying this dessert, we took it up a notch—baking each one individually in cupcake tins and topping them to resemble spiders. Perfect for Halloween snacks!
Every year we go to the freezer section at the grocery store and buy the pre-made Halloween jack o lantern sugar cookies to bake while enjoying all the things fall has to offer us. Those bake so quickly, and most of the time, we burn them. Our kids take them to the other room to eat while playing video games. Take a step back from your busy life and show them how fun it can be to create your very own foods.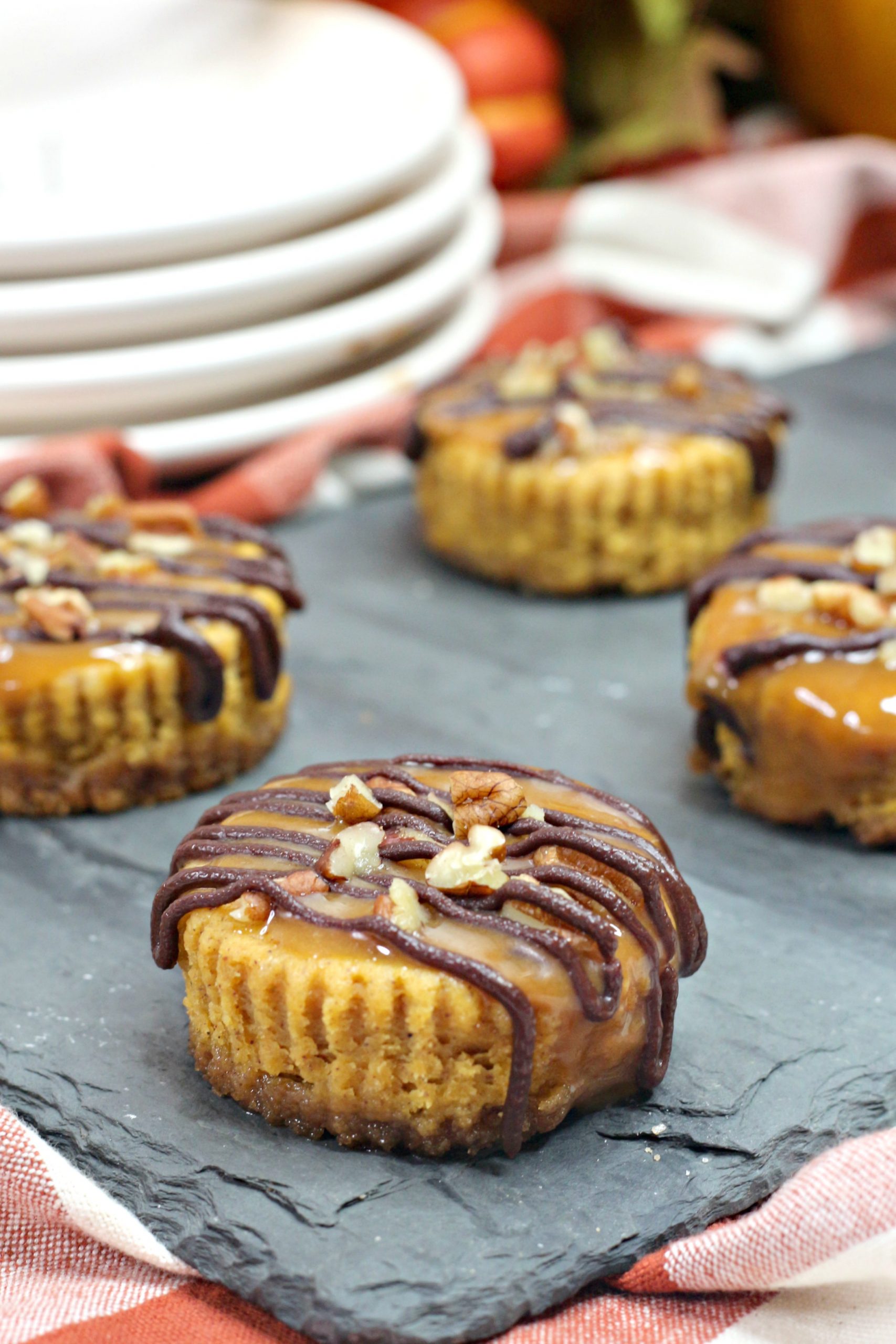 You can drizzle the topping in any design you want; get creative with it! Using a piping bag will allow your kids to have fun decorating without having to clean up a ton of mess. You will still have some, but at least you won't have dried icing all over the kitchen table.
With a hint of ginger, these treats are not as sweet as other ones. If you have even had gingerbread, you know, they bring more of an intense flavor to the cookie instead of all the sugar coming through and giving you a belly ache if you overeat.
Baking them individually also makes it easier for your kids to grab a snack without asking you to cut them into cheesecakes. If you have ever seen a child cut a cake, it is pretty comical. It also ensures that all ingredients are baked evenly and cook quicker. Cheesecake is a very dense dessert, so if you are baking an entire cheesecake, you must be careful with the center becoming undercooked.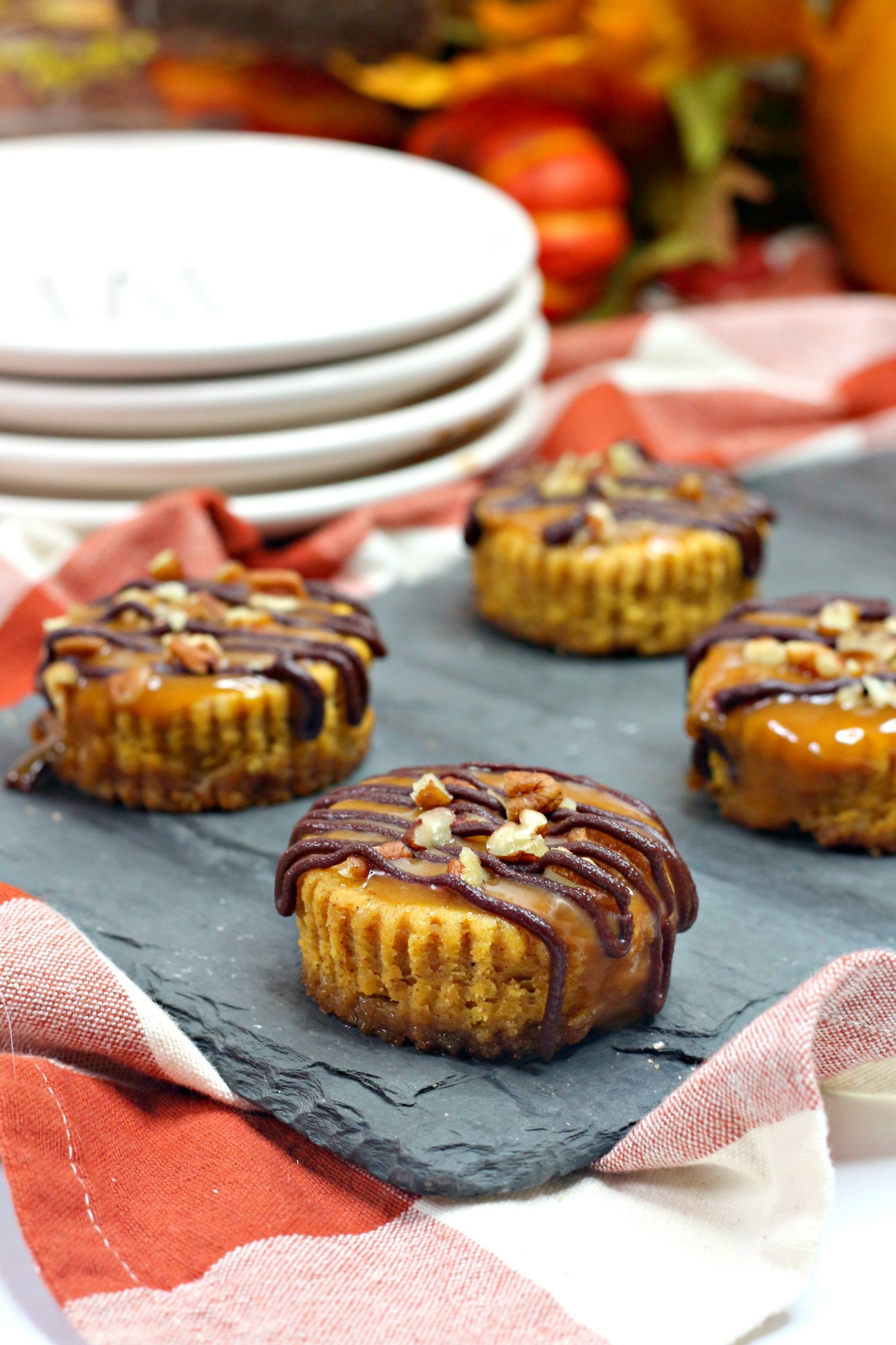 Our Pumpkin Spice Turtle Cheesecake creates 24 mini cheesecakes! Enough to share with neighbors and family. Even baking for your kid's school Halloween Party! Make sure you mark them as dairy products for any child that has allergies. Once your kids tell their friends fun how it was to make, they will dash home to ask their parents when they can bake together.
Whatever the occasion or event, you can't go wrong with bringing some yummy Pumpkin Spice Turtle Cheesecakes.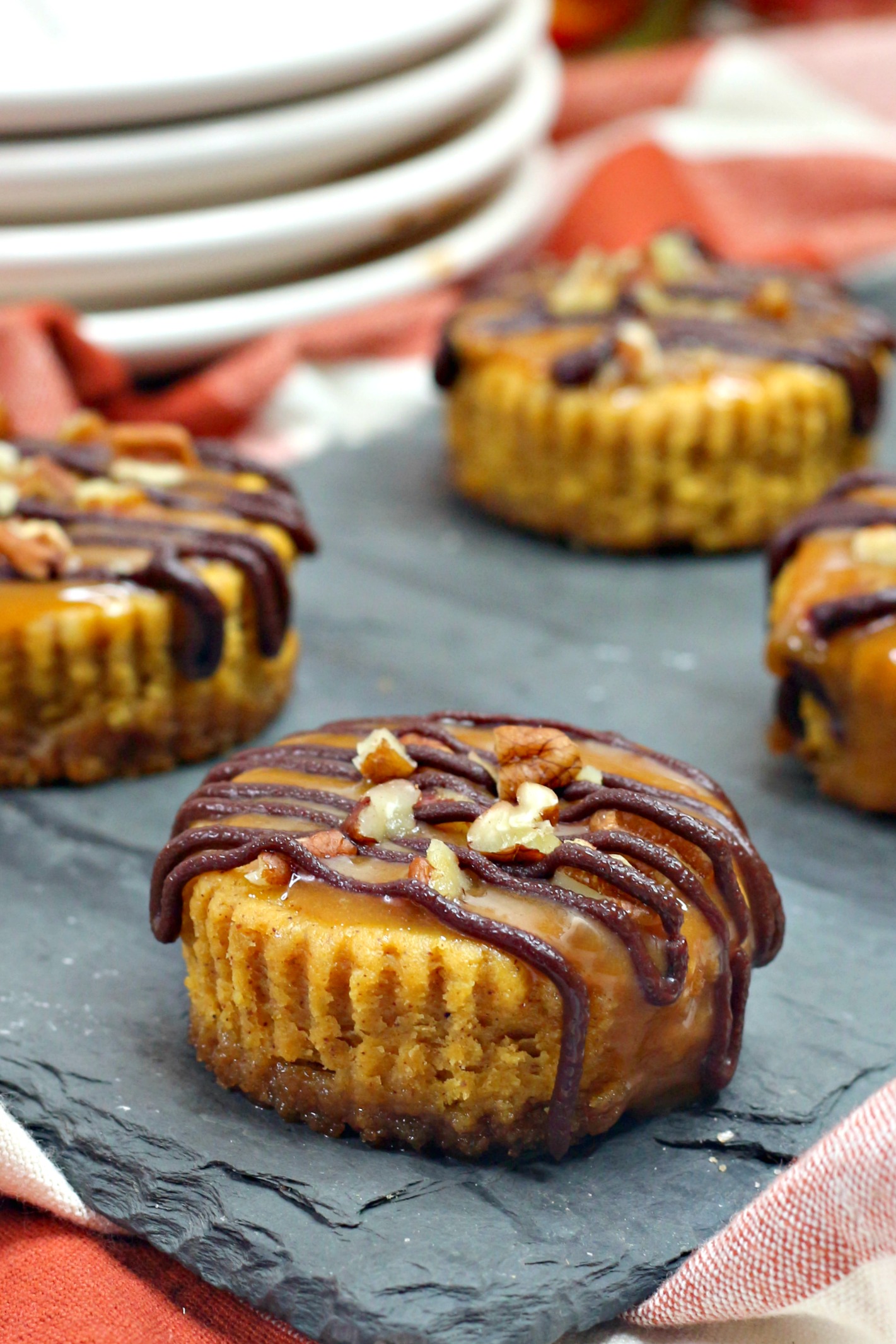 Did you make it? Tell us how it went in the comment section below. Let us know. Enjoy!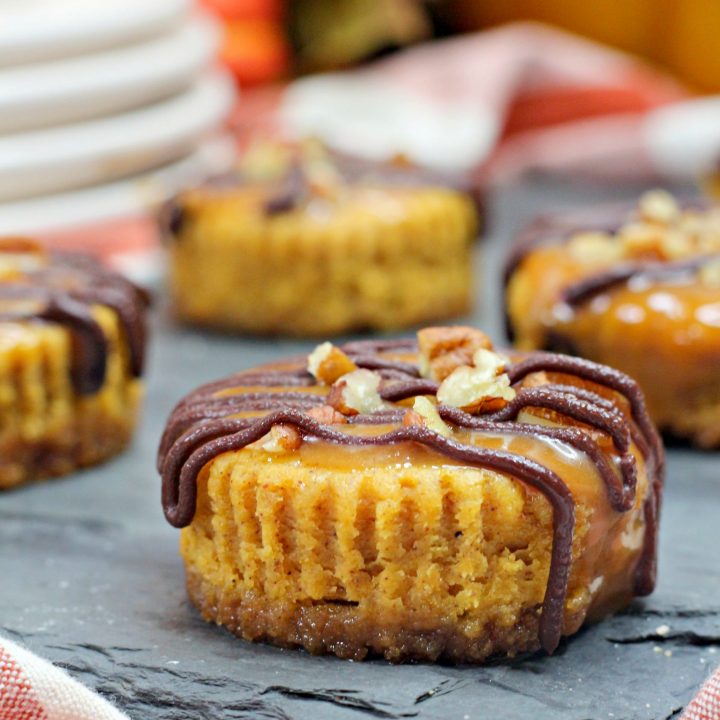 Pumpkin Spice Turtle Cheesecake
Yield:
Makes 24 mini cheesecakes
Ingredients
1 1/4 C graham cracker crumbs
1/4 C Sugar
1/4 C Light Brown Sugar
1/4 C Unsalted Sweet Cream Butter, melted
Cheesecake ingredients :
1 1/2 C Pure Pumpkin Puree
3 Large Eggs
1/2 C Light Brown Sugar
1 1/2 tsp Ground Cinnamon
1/2 tsp Ground Nutmeg
1/2 tsp Ground Ginger
1/4 tsp Kosher Salt
3 - 8oz oz. Cream Cheese, softened
½ C Sugar
1 tsp Pure Vanilla Extract
Chocolate Ganache :
1/4 C Semi sweet chocolate chips
1/8 C heavy whipping cream
1 12in disposable piping bag
Instructions
Preheat oven to 350 degrees and line a cupcake pan with white cupcake liners
Using a medium bowl, combine graham cracker crumbs, ¼ C sugar, ¼ C
brown sugar, and melted butter
Using a tablespoon, spoon graham cracker crust mixture into the cupcake liners
Using a flat bottomed cup or measuring cup, lightly press down onto the crust
Set aside
Cheesecake :
Using a large mixing bowl, mix well until combined the pumpkin puree,
brown sugar, eggs, cinnamon, nutmeg, ginger and salt
In another large, beat together the cream cheese, sugar, and vanilla extract
Combine the pumpkin mixture into the cream cheese mixture and beat until smooth and combined
Using the tablespoon again, scoop about 2 ½ tbsp of the cheesecake
batter into the cupcake liners
Once all is filled, place into the oven and bake for 25-30 minutes or
until the edges are firm and the middle slightly jiggles
Remove from oven and place onto the counter to cool to room temp
Once cooled, move tray into the fridge for overnight
Chocolate Ganache :
Using a small pot, heat up the heavy whipping cream until it starts to simmer
Pour over the chocolate chips in a small bowl
sit for 1 minute
Whisk until smooth
Scoop into the piping bag and set aside

Topping :

½ C salted caramel sauce
1 12 in disposable piping bag
1 C chopped pecans
Drizzle the salted caramel sauce onto the top of the cheesecakes
Sprinkle the chopped pecans on top
Drizzle the chocolate ganache


Enjoy!